Beattie was a leading Scottish architect, whose estate at the time of death was greater than that of any of his contemporaries. Son of the Edinburgh architect George Beattie (c.1809-1872), he was articled to David Bryce in about 1855, then practised with his father from about 1860. He continued to practice under the name of "George Beattie & Son" even after his father's death. He built various schools, institutions, and galleries, as well as tenements (in Scotland, meaning simply large apartment blocks, often very impressive) in the Grassmarket, Canongate and so on; but he is best known for his grand hotels, including the North British Hotel (now the Balmoral) beside Waverely Station. Another of his buildings, also a much-loved Edinburgh landmark, is further up Princes Street on the opposite side — Jenner's Department Store, completed after his death by his assistant Andrew Robb Scott. — Jacqueline Banerjee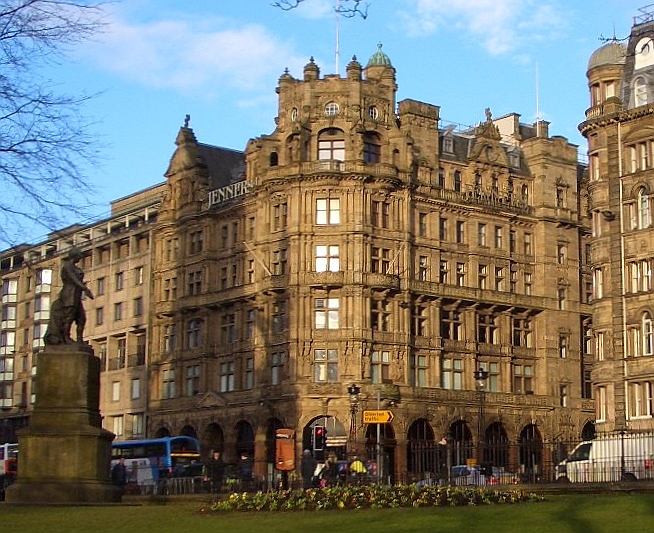 Works
Sources
Brodie, Antonia, ed. Dictionary of British Architects. Vol. I (A-K). 2nd ed. British Architectural Library, RIBA, 2001.
Gifford, John, et. al. Edinburgh (The Buildings of Scotland series). London: Penguin, rev. ed. 1991.
Glendinning, Miles and Aonghus MacKechnie. Scottish Architecture. London: Thames & Hudson, 2004.
McNabb, Christopher. Pocket History of Edinburgh. London: Flame Tree (for Lomond Books), 2008.
Nenadic, Stana. "Charles Jenner (1810-1893)." The Oxford Dictionary of National Biography. Online ed. Viewed 3 March 2010.
"William Hamilton Beattie." Dictionary of Scottish Architects. Viewed 3 March 2010.
---
Last modified 3 March 2010