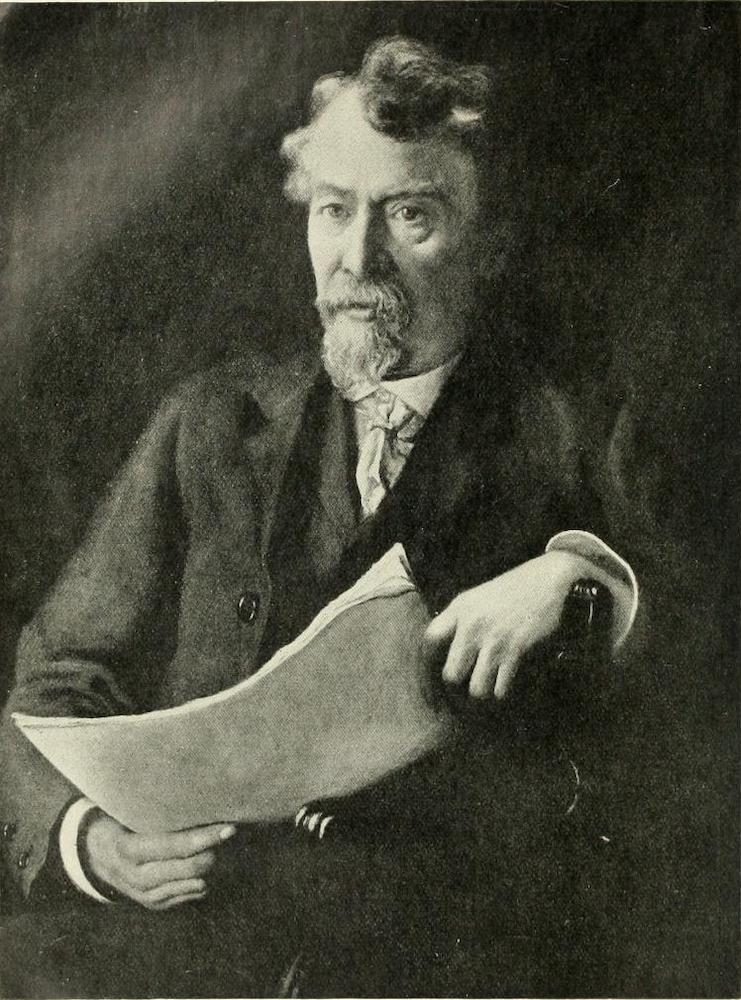 John Francis Bentley, aged 59, from the frontispiece of de l'Hôpital, Vol. 2.
John Bentley was the son of a Doncaster wine-merchant. Despite his father's opposition, he was drawn to a career in architecture, and eventually entered the offices of Henry Clutton, a well-established Roman Catholic architect with a varied domestic and ecclesiastical practice. In 1862, Bentley too became a Catholic, and was received into the church by the first Archbishop of Westminster, Cardinal Wiseman. He marked the occasion by adopting Francis as his middle name (Doyle 29). However, he rejected Clutton's offer of partnership, and indeed never became part of any movement, or even a member of RIBA. In this respect, he was something of a "loner" (Howells).
Having opened his own practice in Covent Garden, Bentley busied himself with designing in various materials for other architects, very much in the Arts and Crafts spirit of the time. Amongst his output were designs for stained glass, woodwork, metalwork, stonework and even embroidery. The works of this period included a font, altars, many organ cases, and (significantly) a Byzantine-style monstrance, all displaying a "conscientious anxiety for perfection and soundness of construction" (Waterhouse). Bigger commissions began flowing in, and, like some of his fellow-architects before him, Bentley moved his offices to the Adelphi. Marriage followed, and a large family of eleven children, all but two of whom survived him. His eldest daughter, who married a Huguenot nobleman, was to become his biographer.
Fittingly, the Catholic convert's major work was the spectacular Byzantine-style Roman Catholic Cathedral of Westminster, the fabric of which was practically complete when he died after a battle with tongue cancer. On the very morning of his death, he had been in his office, showing his drawings for the cathedral's marble pavements and great crucifix to a close friend, and planning ahead enthusiastically (see de l'Hôpital, I: 311). An added irony was that he just missed being presented with the gold medal of RIBA, which is not awarded posthumously. Nevertheless, he left behind him what many consider to be "a great architectural masterpiece" (Rogers x). — Jacqueline Banerjee.
Works
References
de l'Hôpital, Winefride. Westminster Cathedral and Its Architect. 2 vols (Vol. 1, The Building of the Cathedral; Vol. II, The Making of the Architect). London: Hutchinson, 1919. This detailed, readable and copiously illustrated biography is available in the Internet Archive. See especially Volume II, about Bentley's life.
Doyle, Peter. Westminster Cathedral, 1895-1995. London: Geoffrey Chapman, 1995.
Howell, Peter. "John Francis Bentley: Cathedral Architect." Part of the excellent Westminster Cathedral website. Web. Viewed 17 September 2010.
Rogers, Patrick. Westminster Cathedral: From Darkness to Light. London: Burns and Oates, 2003.
Waterhouse, Paul, revised by Peter Howell. "John Francis Bentley (1839-1902)." Oxford Dictionary of National Biography. Online ed. Viewed 17 September 2010.
---
Last modified 24 August 2020