Photographs and text by Jacqueline Banerjee, except for the last photograph, of August 2016, kindly contributed by Bob Morgan. You may use these images without prior permission for any scholarly or educational purpose as long as you (1) credit the photographer and (2) link your document to this URL or credit the Victorian Web in a print document. [Click on all the images to enlarge them.]
Exterior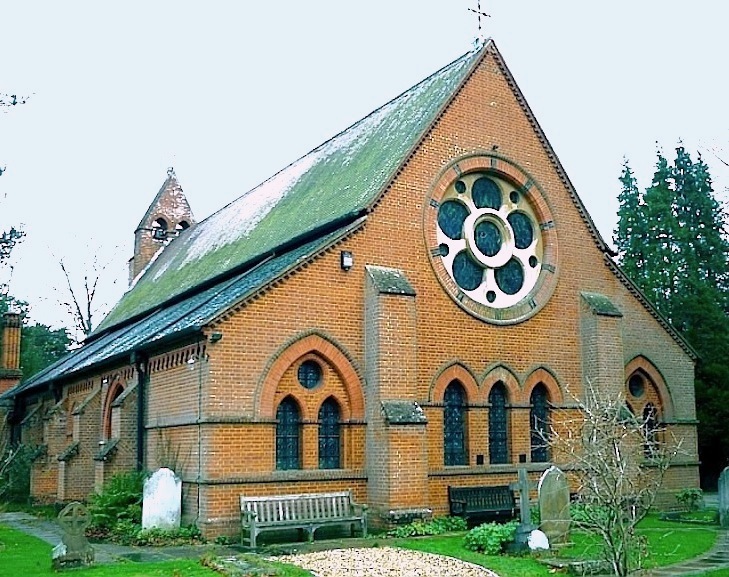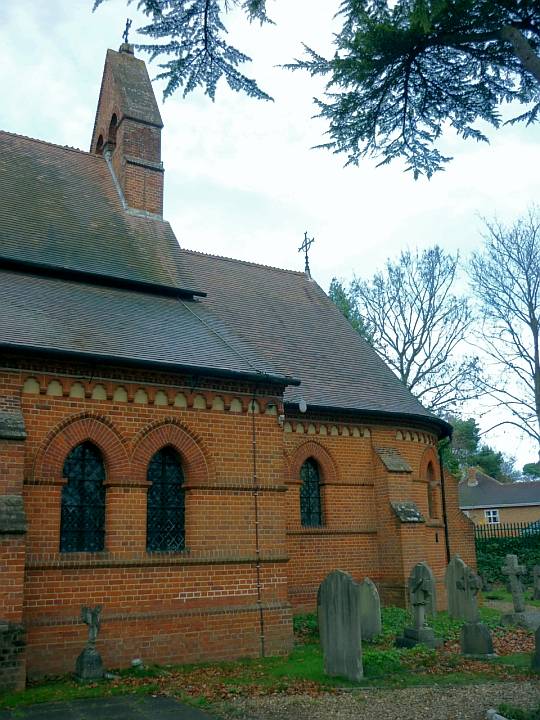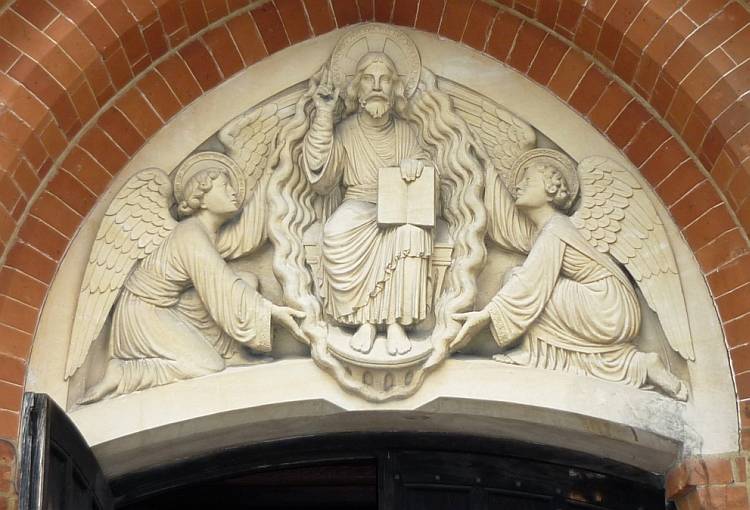 Left to right: (a) All Saints, west front with Burges's stone rose window, retained in the extension by 1934 A. J. Stedman. (b) The east end of the church, showing bell tower for two bells, and apse. (c) South entrance with tympanum of Christ in Majesty, probably executed by Burges's usual sculptor, Thomas Nicholls. (d) Close-up of tympanum.
Designed by William Burges, All Saints was built in 1861-2 in Church Road, Fleet, a small country town in Hampshire. It was extended to the west in 1934 by Arthur Stedman (1868-1958), a fine Hampshire architect who was a fellow of RIBA and skilled at restorations: the extension was absolutely in keeping with Burges's work, and incorporated Burges's rose window. Nikolaus Pevsner and David Lloyd give useful explanatory notes: "The original W end was an open narthex. The church is of red brick and externally astonishingly restrained. Good steep bell cote over the lower end of the nave. Lower chancel and apse. Lancets and plate tracery all of brick" (234).
Interior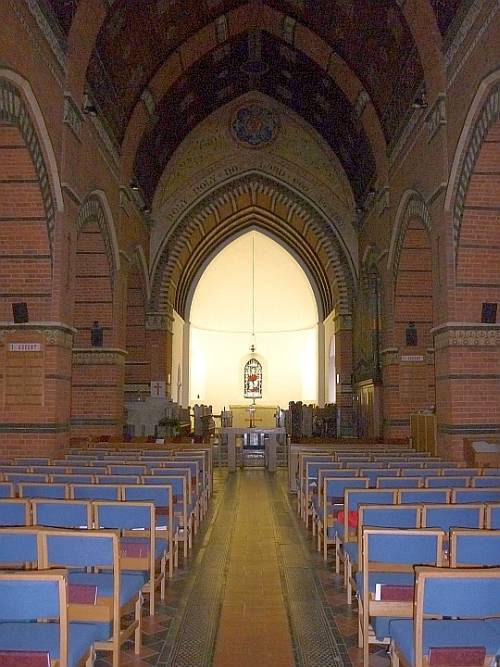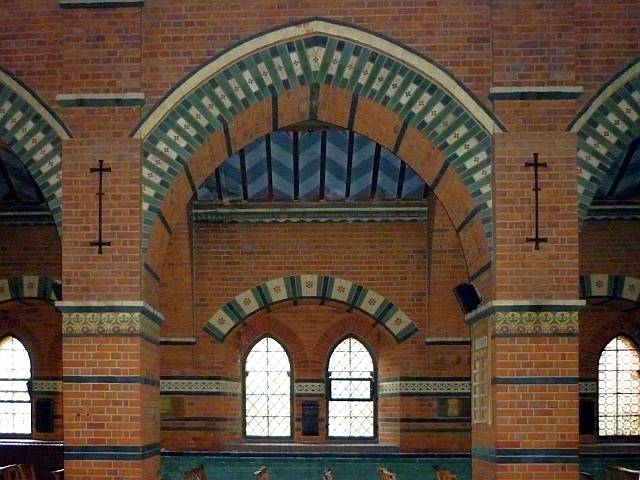 Interior, left to right: (a) Looking towards the choir and apse. (b) Close-up of east end. (c) Square brick pillars, pointed arches, blue-brick banding and painted-on decoration of the brickwork (note the circular leading on the right-hand lancet, which matches the panes on the south porch doorway). (d) Decorated brickwork over the doorway.
Thanks to all the decorated brickwork, the church interior is much more striking than its exterior. It has a very high nave, stout square pillars, and pointed arches, with blue brick banding and painted-on geometrical decoration. The barrel vault over the nave is also vividly decorated. Despite its being so obviously High Victorian, the effect is not altogether typical of Burges: "At All Saints, Burges perfected his simple, bold, Early French-inspired forms and details," writes C. M. Smart, who includes it amongst the "muscular churches" of the period."He must have been disappointed with the brick and the painted polychrome decoration, however, because almost all his later work was done in stone, and painted geometrical decoration disappears altogether" (148).
Rose window and Lefroy Monument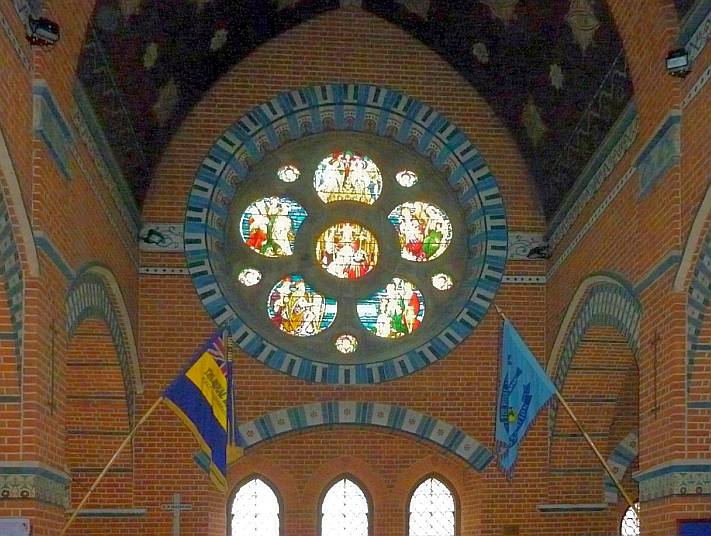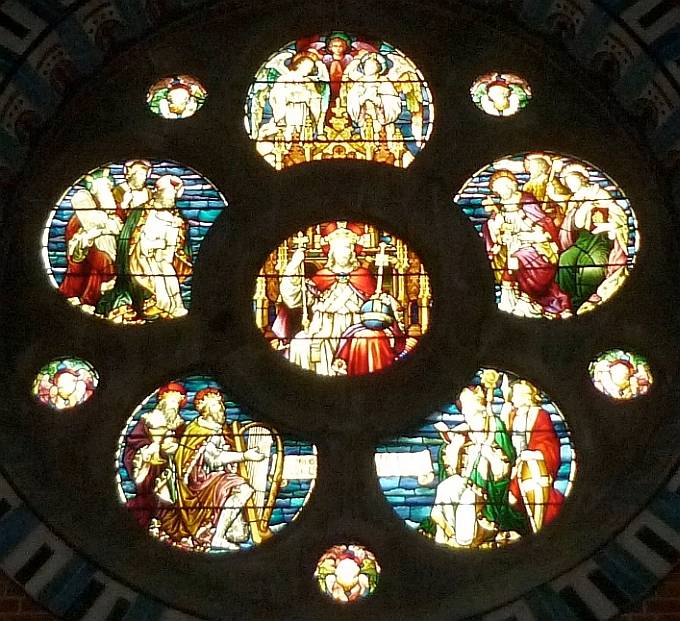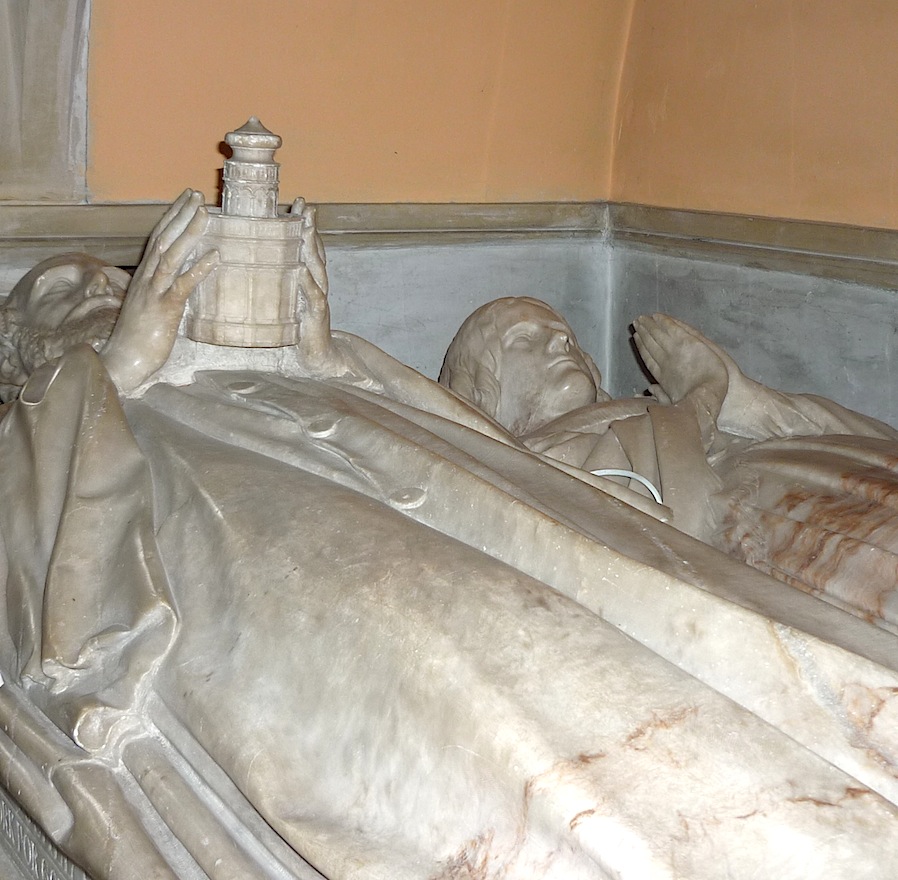 Left to right: (a) Rose window, by A. L. Moore (1906); the decorated barrel vaulting can be glimpsed here. (b) Close-up of rose window. (c) Monument to the founder of the church, Charles Edward Lefroy, and his wife Janet, probably by Thomas Nicholls. (d) Detail of the monument, showing the couple's pet dogs at their feet.
All the windows in the church are leaded, some with a lattice design and some with circular patterning in a French-Gothic style (see the third image in the previous section). Stained glass by Clayton & Bell was added in the apse windows in 1902, then Arthur Louis Moore (1849-1939), another leading London designer/supplier, added the stained glass for the rose window in 1906 (Eberhard). Moore's window, like the tympanum over the south door, depicts Christ in Majesty. Angels worship him from above, while various Biblical figures surround him. St Peter, just to his right, holds his keys, David, lower left, plays his harp etc. The most important monument inside the church is to Charles Edward Lefroy, Secretary to the Speaker of the House of Commons, and his wife Janet. It was Lefroy who commissioned Burges to build the church, but he himself died not long afterwards. The realistic, lively-looking pet dogs at the couple's feet are a characteristic Burges/Nicholls touch.
Tragically, this precious Burges church fell victim to arson in 2015. It was insured, and is being rebuilt, but was so severely damaged that it is unlikely to be restored to its original state.
References
Eberhard, Robert. "Church Stained Glass Windows." Viewed 15 December 2009.
Pevsner, Nikolaus, and David Lloyd. Hampshire and the Isle of Wight (The Buildings of England series). London: Penguin, 1990.
Smart, C. M. Muscular Churches: Ecclesiastical Architecture of the High Victorian Period. Fayetteville: Arkansas University Press, 1989.
---
Last modified 29 August 2016