Photographs by Robert Freidus, reproduced here by kind permission of Highgate Cemetery. Text and formatting by Jacqueline Banerjee. [Click on the images for larger pictures.]
The Julius Beer Mausoleum. Grade II* listed building. Architect: John Oldrid Scott (1841-1913), son of Sir George Gilbert Scott, with sculpture inside by Henry Hugh Armstead (1828-1905). c. 1878. Portland stone, with bronze doors by ​the Arts and Crafts Bromsgrove Guild (NB unlike most other sources, James Stevens Curl attributes them to Farmer and Brindley [89] but this seems unlikely; the latter would more probably have supplied the marble for the sculpture, and carved the stonework). ​Location: above the Egyptian Catacombs (the Circle of Lebanon), the Western Cemetery of Highgate Cemetery, Swain's Lane, London N6.
​
Left to right: (a) Fine workmanship on the right- ​hand​ façade​. ​(b) Bronze door ​s.​​​ (c) Close-up of one of ​one of ​the door panels.
​
​Bridget Cherry and Nikolaus Pevsner call this the "most strikingly spectacular individual monument" in the cemetery" (354). ​The design of th ​e square ​structure, with its pyramidal roof, was inspired by the famous Mausoleum of Halicarnassus, one of the Seven Wonders of the Ancient World. The roof is "carved to appear as tiled, with oculi and cross finial. Panels beneath windows have Ionic pilasters. Architraved doorway with cornice and inscription 'Mausoleum of Julius Beer' in panel below; good bronze gates by the Bromsgrove Guild" (listing text). Beer seems to have gone to the top craftsmen for the doors: the Bromsgrove Guild would later be responsible for work on the gates of Buckingham Palace, and for the splendid Canada Gate at Green Park.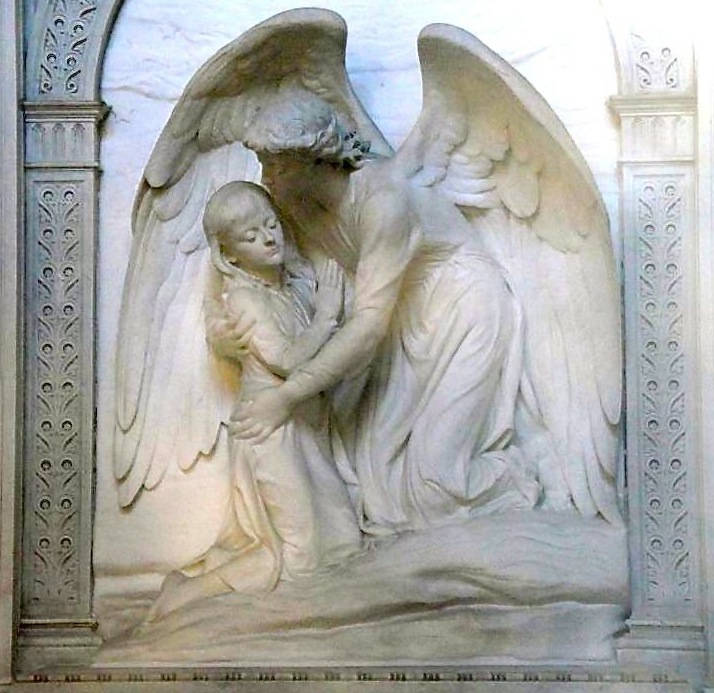 Armstead's deep bas-relief, opposite the mausoleum's doors, of a prayerful child or a child's spirit being raised from her deathbed by an angel, on the first stage of her journey to heaven.
The interior is as finely and richly crafted as the outside, with tiled walls, Corinthian columns and a lovely ribbed dome in blue and gold mosaic. The centrepiece on the far wall is this moving relief by ​ ​Armstead showing a child being raised up by an angel. The child was Julius' daughter Ada, who had died in 1875 at the age of eight, so it seems that the mausoleum was originally commissioned in 1876 with her in mind.
The Beers were an extraordinary family. Julius Beer, who had been born in Frankfurt, amassed his fortune on the London stock exchange, and bought up The Observer newspaper. Perhaps "too ostentatious" for English liking (Barker 33), he spared no expense on this family resting place in the fashionable cemetery, and when it was completed moved his little girl's remains here from another part of the cemetery. His own elegantly stone-swagged sarcophagus stands lengthwise right in front of it, almost like an altar beneath a reredos. According to the Mausolea & Monuments Trust, "Also interred here are his wife Thyrza (d.1881) ..., son Frederick (d.1903) and his brother Arnold (d.1881)." However "ostentatious" Beer may have been, it seems unfair to apply this epithet to the building itself, which evidently started as a tribute to his young daughter.
Related Material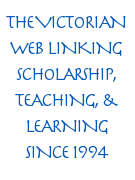 Sources
Barker, Felix. Highgate Cemetery: Victorian Valhalla. Salem, N.H. (by arrangement with John Murray): Salem House, 1984. Print.
"Beer Mausoleum." The Mausolea & Monuments Trust. ​ Web. 20 August 2013. (NB This gives Ada's age as 6, but a quick check of genealogical records confirms that her death was registered in Marylebone, in the first quarter of 1875, at the age of 8 — though the name is given there as Ada Louise S. Beer. See FreeBMD).​
Cherry, Bridget, and Nikolaus Pevsner. London 4: North. Buildings of England series. New Haven and London: Yale University Press, 2002. Print.
Curl, James Stevens. The Victorian Celebration of Death. Paperback ed. Stroud: Sutton, 2004. Print.
"Mausoleum of Julius Beer in Highgate (Western) Cemetery, Camden." British Listed Buildings. Web. 2​1August 2013.
---
Last modified 21 August 2013