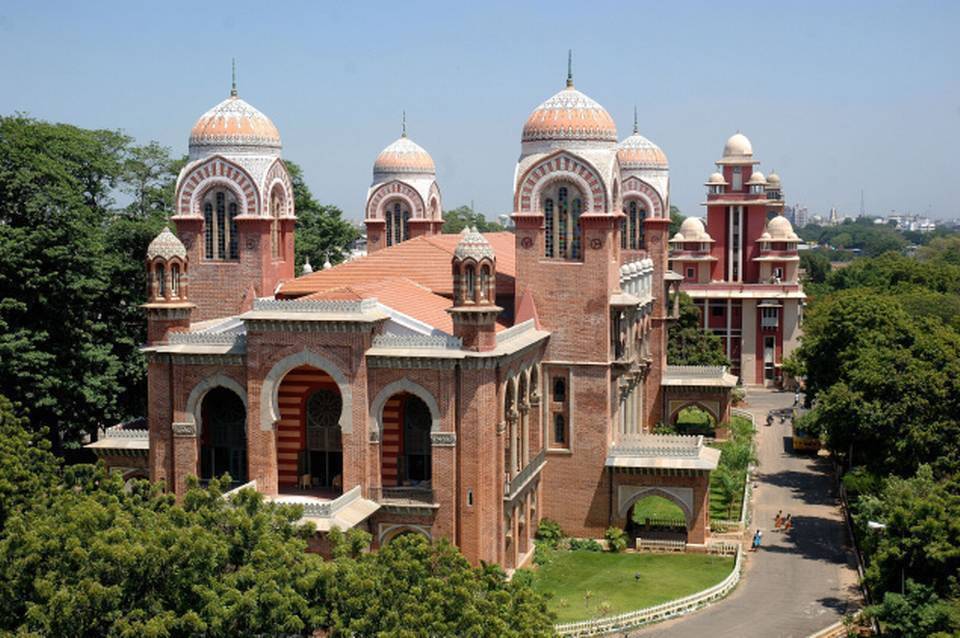 Photograph accompanying S. Muthiah's article in the Hindu (see bibliography for details; thanks to THG Publishing Private Ltd for permitting the sharing of their material for non-commercial academic purposes).
Senate House. Robert Fellowes Chisholm. 1869-73. Built for convocations of the University of Madras, but more recently used for storage. Winning the competition for designing both this building and Presidency College, Madras, brought the young architect to the city and to the most successful phase of his career. Admired by the then Governor General of Madras, Lord Napier, he became Consulting Governor to the Government of Madras, went on to design and oversee the transformation of the Madras skyline. Of the two buildings that he designed first, Senate House is considered the "more ambitious Sarcenic exercise. Conceived symmetrically in a Byzantine manner, it has four corner towers crowned by onion domes, each face of each of the towers bursting into arcuated fans of polychrome brick and stonework with carved voussoirs, tiled domes and pendentives" (195-96).
Because of its sophistication in this new hybrid style, and its date of completion, Paul Walker speculates convincingly that Senate House may not have been built to his original design, but to a later one (see p. 133).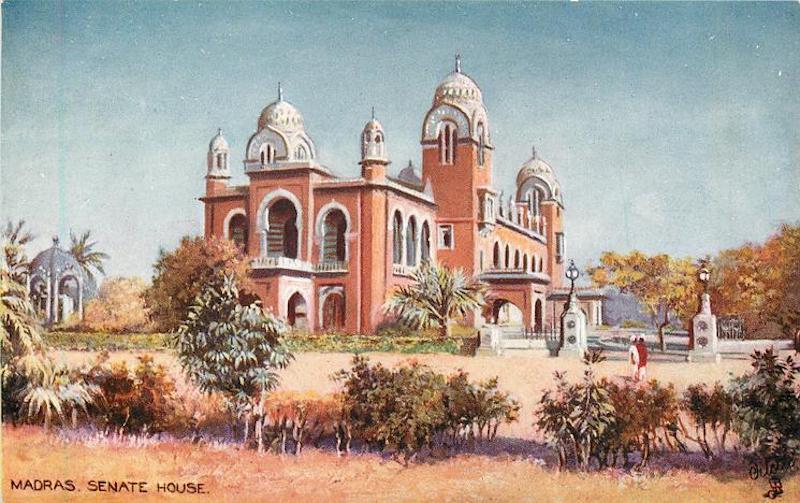 Senate House as represented in an early twentieth century Tuck postcard (see bibliography for details).
This postcard is important for illustrating, on the far left, the statue of Queen Victoria which Philip Davies describes as "seated in Imperial majesty under a magnificent pavilion of intricate cast-iron work supplied by Macfarlanes of Glasgow" (196). According to Edgar Thurston, this is a replica of a statue by Sir Joseph Edgar Boehm (see 259), but Mary Steggles tells us that it was executed by the sculptor himself at the cost of £4,700, and that this sum was paid for by Rajah Goday Naranyanan Gujputel Rao (46). The statue was unveiled on 20 June 1887, on the Queen's Golden Jubilee, and is still there, to the south of the university, on the Wallajah Road (see below). The postcard also shows the Senate House in splendid isolation, without any later building behind it.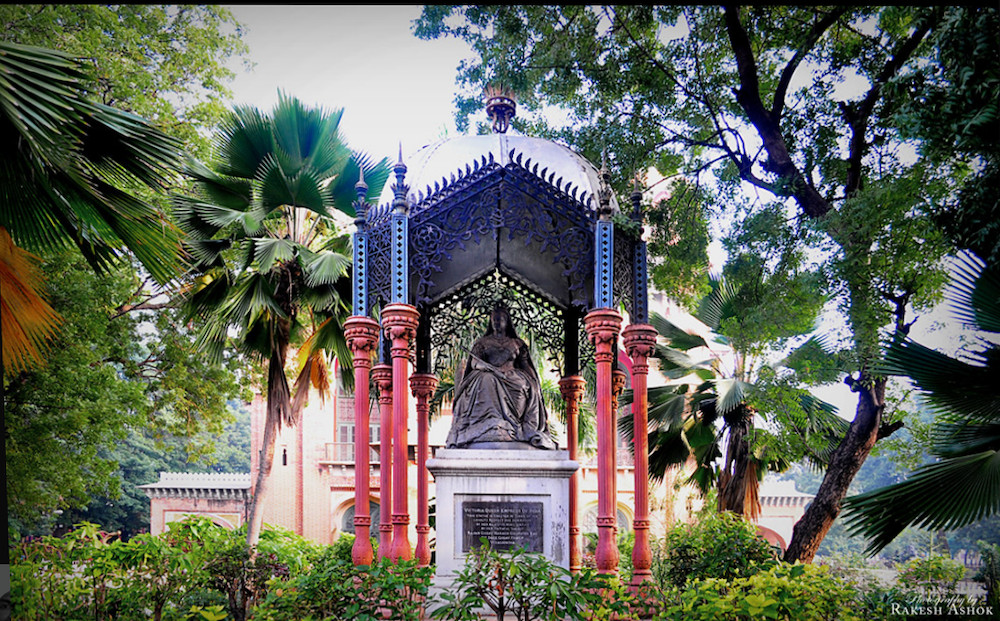 Photograph of the statue by Rakesh Ashok, reproduced from his Flickr stream on the Creative Commons Attribution-NonCommercial-NoDerivs 2.0 Generic (CC BY-NC-ND 2.0) license. If you reuse it, please check that you do so on the same terms. It has been very slightly straightened here.
Bibliography
"Senate House." TuckDB Postcards. Web. 22 April 2019.
Davies, Philip. Splendours of the Raj: British Architecture in India 1660-1947. London: Penguin, 1987.
Muthiah, S. "The Unused Hall." The Hindu. 25 August 2013. Web. 22 April 2019.
Steggles, Mary Ann. The Empire Aggrandized: Study in Commemorative Portrait Statuary Exported from Britain to Her Colonies in South Asia, 1839-1900. Vol. I: Text and Catalogue Entries. PhD Dissertation, Leicester University, 1993. Web. 22 April 2019.
Thurston, Edgar. The Madras Presidency: With Mysore, Coorg, and Associated States. Cambridge: Cambridge University Press, 1913. Preview on Google Books. Web. 22 April 2019.
Walker, Paul. "Institutional Frameworks and Architectural Style." Colonial Modernities: Building, Dwelling and Architecture in British India and Ceylon . Edited by Peter Scriver and Vikramaditya Prakash. London: Routledge, 2007. 127-47.
---
Created 20 April 2019