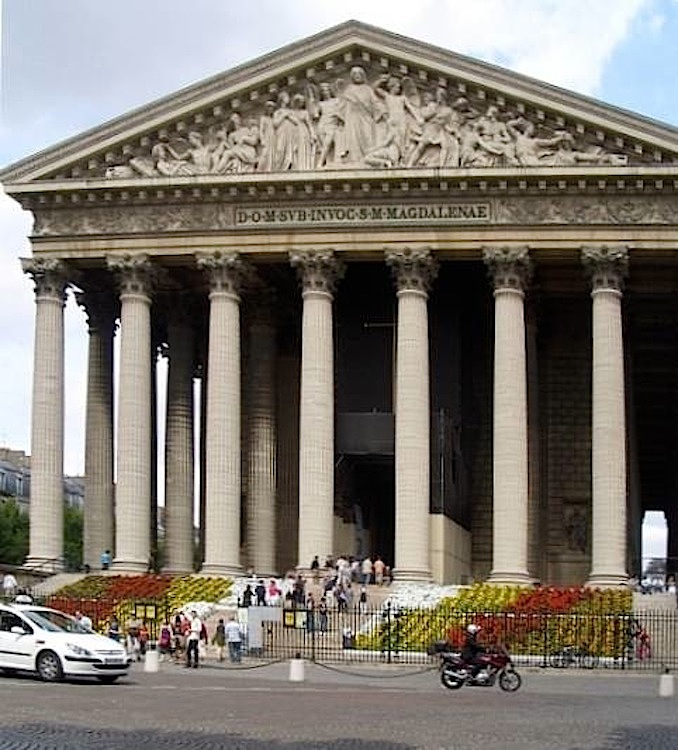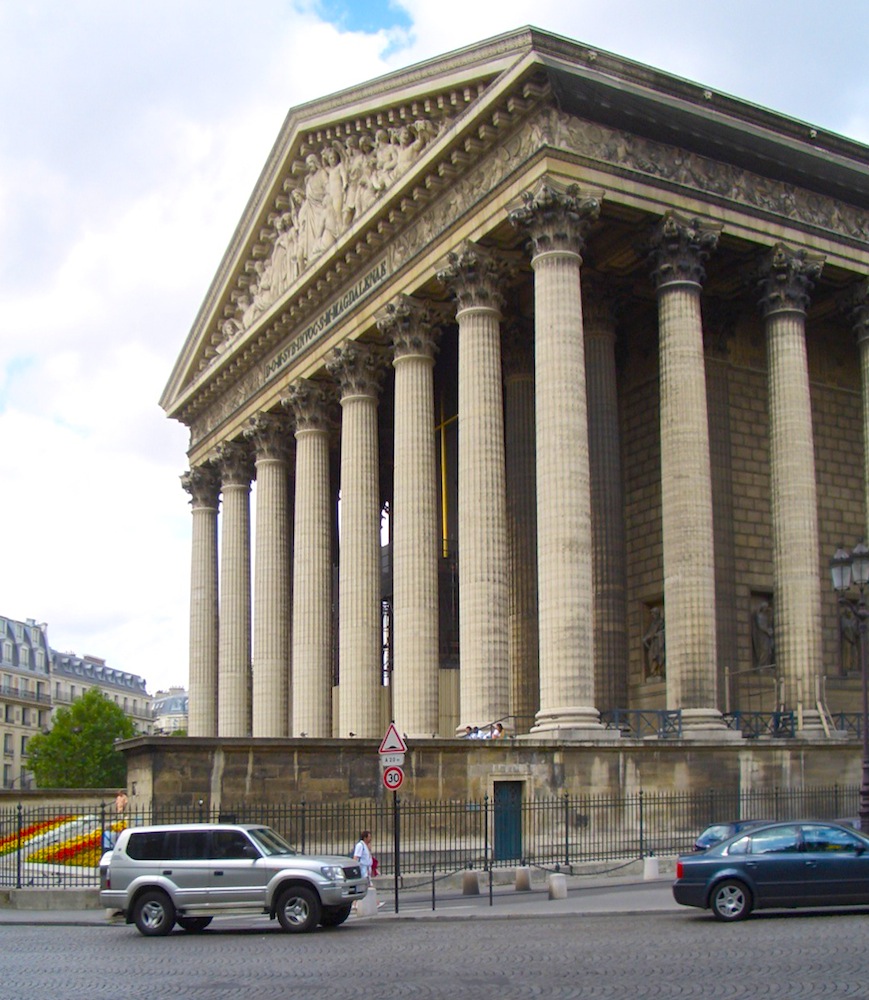 La Madeleine, by Pierre-Alexandre Barthélémy Vignon (1763-1828), with interior work by Jacques-Marie Huvé (1783-1852). Consecrated in 1842. This grand neo-classical edifice stands in the Place de la Madeleine, Paris. It is of special interest for the future of Victorian sculpture because of its sculptural decoration by two French émigré sculptors, Baron Henri de Triqueti, and Baron Carlo Marochetti.
The building itself was based on the famous "Maison Carrée" in Nîmes. It had a long and chequered history: at one point it was even earmarked for the city's first railway station. David Watkins describes it now as having an "imposing if somewhat lifeless exterior" and an "opulent interior," and explains that while the outside is on the Roman Corinthian model, the inside (curiously, for a church) was "modelled on Roman baths" (442). Nevertheless, it looks impressive from a distance, with its flight of broad steps and its twenty-metre high columns going all round the church: there are fifty-two of these columns in all (see "Monuments in Paris: Madeleine"). So it really is vast. One of the biggest events to take place here in its first decade was Chopin's funeral, attended by 3000 people, on 30 October 1849.
In general, the sculptural work here is more important than the architecture itself. Among the main points of interest are the pediment frieze depicting the Last Judgement, by the major French neo-classical sculptor Philippe-Henri Lemaire (1798-1880), completed in 1842; the huge bronze doors with dramatic bas-reliefs illustrating the Ten Commandments by Triqueti; and, inside the church, the group above the high altar depicting the Assumption of Mary Magdalene by the Italian-born Marochetti, like Triqueti a sculptor who would have strong English connections. Both soon followed Louis-Philippe into exile in England after the fall of the July Monarchy, and spent most of the rest of their lives there, becoming favourites of the British royal family. Their work would again appear in close proximity: Triqueti's, in the marble decoration of the Albert Memorial Chapel at Windsor Castle, and Marochetti's in the effigies of Victoria and Albert at the Royal Mausoleum of Frogmore, in the Castle's grounds.
Related Material
Photographs, caption, and commentary by Jacqueline Banerjee. You may use these images without prior permission for any scholarly or educational purpose as long as you (1) credit the photographer and (2) link your document to this URL or credit the Victorian Web in a print document.
References
"Monuments in Paris: Madeleine." Web. 30 March 2009 [site under construction again when revisited in 2016].
Watkin, David. A History of Western Architecture. 4th ed. London: Laurence King, 2005.
---
Last modified 23 May 2016