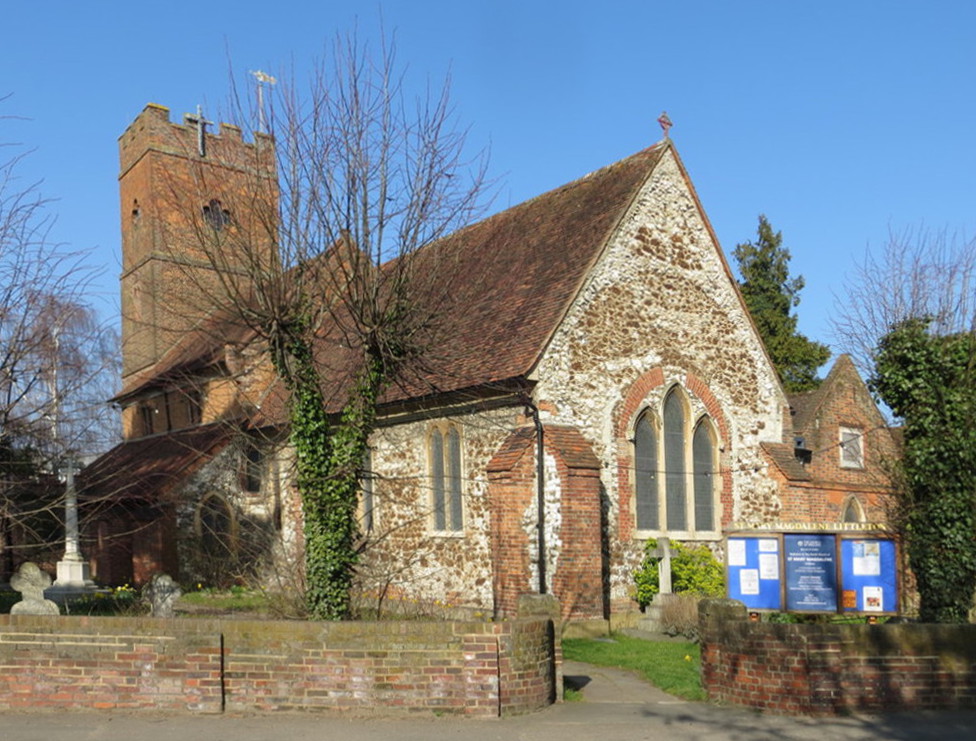 St Mary Magdalene, Littleton is a Grade I listed church, with twelfth century origins, in a small village in north Surrey. Ian Nairn and Nikolaus Pevsner call it "a study in brick" (351), but originally, in the thirteenth century, the building was of "ragstone and flint rubble," and plenty of that can still be seen. The listing text puts its evolution succinctly: "chancel and south aisle C13, north aisle C14, clerestory C16 and tower raised in C18." But it also points out that the north chapels, which are now vestries, came later.
Two views along the south side. Left: This shows the early sixteenth-century west tower, battlemented porch. Right: This shows the variety of building materials: there have been two earlier east windows.
Some attractive details are the tower itself, with its high quatrefoil windows and battlements, the battlemented porch matching the tower, the stout buttresses, and the variations of brick colour along with other building materials. Successive stages of work on the east window surround, especially, are quite visible.
Left: The interior, looking towards the sanctuary, with the elaborate rood screen, and loft. Right: Delightful Martin Travers window in the north aisle (1939), in memory of the Benedictine monks of Chertsey Abbey, who served the church in medieval times.
Inside, the crown-post roof, the old choirstalls and pews, and the various fittings are all of great interest, as is, most obviously, the rood screen, which Nairn and Pevsner describe as "very much and fancifully restored" (without saying when). Much more could be said about the interior, but the salient features for the Victorian period are some of the stained glass windows either installed at that time, or installed later by firms established in Victorian times.
Angel praying over the grave of John Gibson Bennett, who died aged 83 in 1899.
Photograph (top) © Peter Wood (originally posted on the geograph website, and available for use on the Creative Commons CC BY-SA 2.0 [Attribution Share-Alike 2.0] licence, very slightly modified here for perspective. Thank you!). Remaining photographs, commentary and formatting by Jacqueline Banerjee. You may use these images too without prior permission for any scholarly or educational purpose as long as you (1) credit the photographer and (2) link your document to this URL, or cite the Victorian Web in a print document. [Click on the images to enlarge them].
Related Material
Bibliography
"Church of St Mary Magdalen." Historic England. Web. 4 August 2019.
Eberhard, Robert. "Stained Glass Windows at St Mary Magdalene, Littleton, Surrey." Church Stained Glass Windows. Web. 3 August 2019.
Nairn, Ian, and Nikolaus Pevsner. The Buildings of England: Surrey. 2nd ed. London: Penguin, 1971.
---
Created 4 August 2019