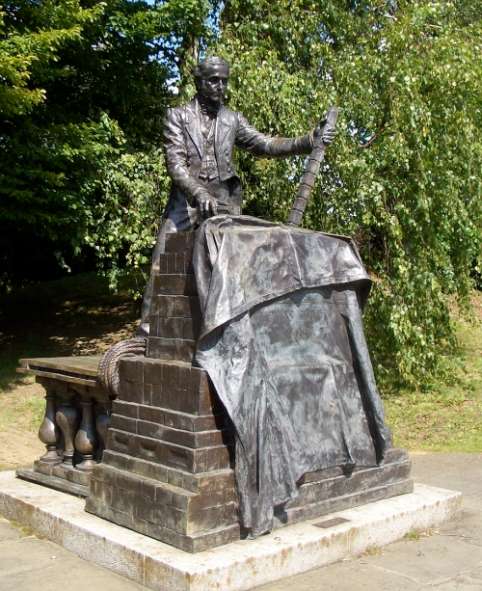 Thomas Cubitt by William Fawke (1955).
[Click on thumbnail for larger image.]
Thomas Cubitt (1788-1855) was born in Norfolk, as the son of a carpenter. He too trained as a carpenter, taking his first voyage to India as a ship's carpenter, and earning enough money from it to enable him to set up business in Holborn on his return. That was the start of a steady rise, facilitated by family partnerships with two of his younger brothers, William and Lewis (designer of King's Cross Station in London). Thomas had extraordinary amounts of energy, organizational skill, dedication to his men, and high principles. His reputation for integrity and dependability was impeccable. By the mid-twenties, he was active not only in Belgravia but "in almost every other expanding metropolitan district" (White 75). At his vast works on his own stretch of the Embankment he brought together every branch of the building trade — a truly pioneering arrangement — and provided them with all the latest equipment and facilities, including a reading room and a lending library; he even arranged evening classes for his apprentices. Later he developed a new, equally state-of-the-art works site at Aylesford in Kent as well. By now he was a close friend of the royal family, having collaborated with Prince Albert on the design for Osborne House, which he then built for him. He also won the contract to extend Buckingham Palace, and it was Cubitt as well who orchestrated the dismantling of Nash's Marble Arch there, and its reassembly at Hyde Park, ready for the Great Exhibition. The Exhibition itself was a project suggested to Prince Albert by Cubitt, after a conversation with a friend who had recently visited an exhibition in Paris (Halliday 77). From 1839 Cubitt was an active member of the Institution of Civil Engineers; he was a leading figure in the campaigns for a main drainage system and a more extensive Thames Embankment, and rooted for limiting smoke emissions and conserving open space: Battersea Park owes its existence largely to him.
Cubitt had a good reputation in literary circles, too. For example, having built much of Tavistock Square in the twenties, his firm later extended Tavistock House for Dickens. In Chelsea, another area in which he had been active earlier, his men put in a soundproof study at the top of Carlyle's house. Both authors expressed themselves delighted with the work. Carlyle is on record as having met Cubitt socially, describing him in his journal for 24 July 1850 as "a hoary modest sensible-looking man" (Carlyle Letters, n.6).
The great builder's best-regarded development is Eaton Square, Belgravia; but it is really the scale of his work that astounds: "Pimlico and Clapham, terrace after terrace and square after square, were later ventures in which Cubitt improved upon all the speculative building which had ever been done before, or, one supposes, will ever be done again" (Turnor 21). The lay-outs of these areas, sometimes on the immediate and unattractive flood plain of the Thames, were themselves highly influential.
Like so many of his peers, Cubitt finally built himself a country house in Surrey, on the land now occupied by Denbies Vineyard, Dorking. Prince Albert visited him there. Although the house has since been replaced, its owner is commemorated nearby, on the main road into the town, by a statue to match the one near his old London works in Pimlico. Looking rather dapper, he is shown standing on a raised platform behind a partially uncovered stack of bricks, with a brick measure in his hand, as if checking his materials. The wording on the plaque is: "Thomas Cubitt — MasterBuilder. Born 1788 — Died 1855 at 'Denbies', Dorking. 'A GREAT BUILDER AND A GOOD MAN.'" Probably the latter accolade would have pleased him as much as the former. He was survived by his wife and (according to Hobhouse, who differs from Halliday in this) five of his twelve children. One of his sons became an MP for Surrey, and a Baron. Cubitt's great-grandson, Sir Hugh Cubitt, still lives locally and was present in 2000 for the formal unveiling of the statue.
Links to related material
Sources
Carlyle, Thomas. Collected Letters, Vol. 25. Online ed. Viewed 15 August 2008.
Halliday, Stephen. Making the Metropolis: Creators of Victorian London. Derby: Breedon, 2003.
"History of Tavistock Square" (Camden local government site). Viewed 15 August 2008.
Hobhouse, Hermione. "Cubitt, Thomas (1788-1855)." The Oxford Dictionary of National Biography. Viewed 15 August 2008.
"Thomas Cubitt." Mole Valley Online. Viewed 15 August 2008.
Turnor, Reginald. Nineteenth Century Architecture in Britain. London: Batsford, 1950.
White, Jerry. London in the Nineteenth Century: "A Human Awful Wonder of God." London: Cape, 2007.
---
Last modified 9 November 2021