Colour photographs by the author, and black-and-white illustration from Walter K. Firminger (see bibliography). [You may use these images without prior permission for any scholarly or educational purpose as long as you (1) credit the photographer and (2) link your document to this URL in a web document or cite it in a print one. Click on all images for larger pictures.]
The Indian Museum on Jawahar Lal Nehru (Chowringhee) Road, Kolkata, c. 1906 (Firminger, facing p.170).
Walter Granville's grand neoclassical Indian Museum of 1875, assumed to have been designed to emulate the British Museum (see Bach 247), is at least as handsome as his General Post Office. Perhaps it has even more claim to being considered his best classical composition. This was fitting. Jan Morris writes perceptively, "There was one class of public building in which the British in India truly excelled: the museum. It was the one class of building, too, that the Indian masses treated with reverence... They called a museum a House of Wonder" (114). Architecturally, as Morris says, this one is "the most important of them all, ... an Italianate palace ... around a colonnaded courtyard" (115). It is a truly gracious building.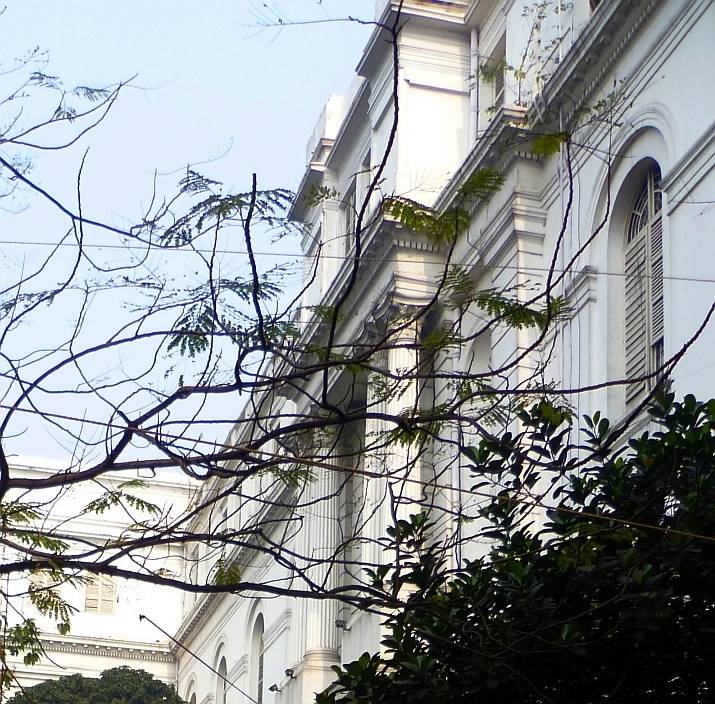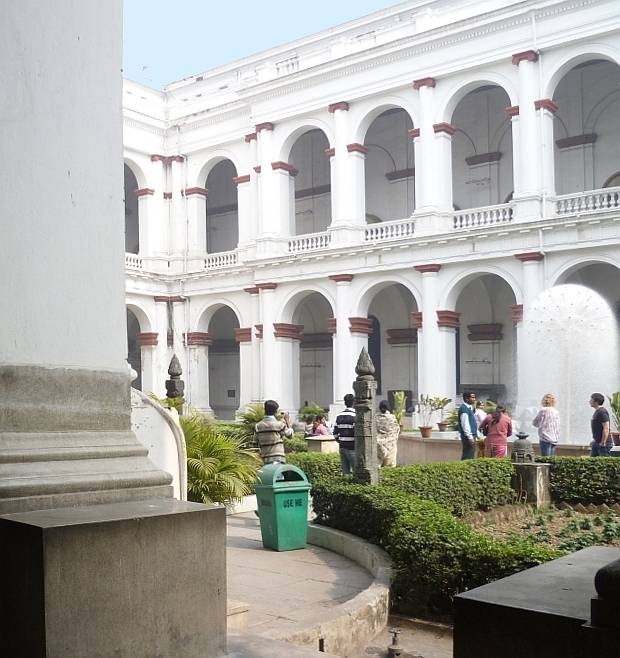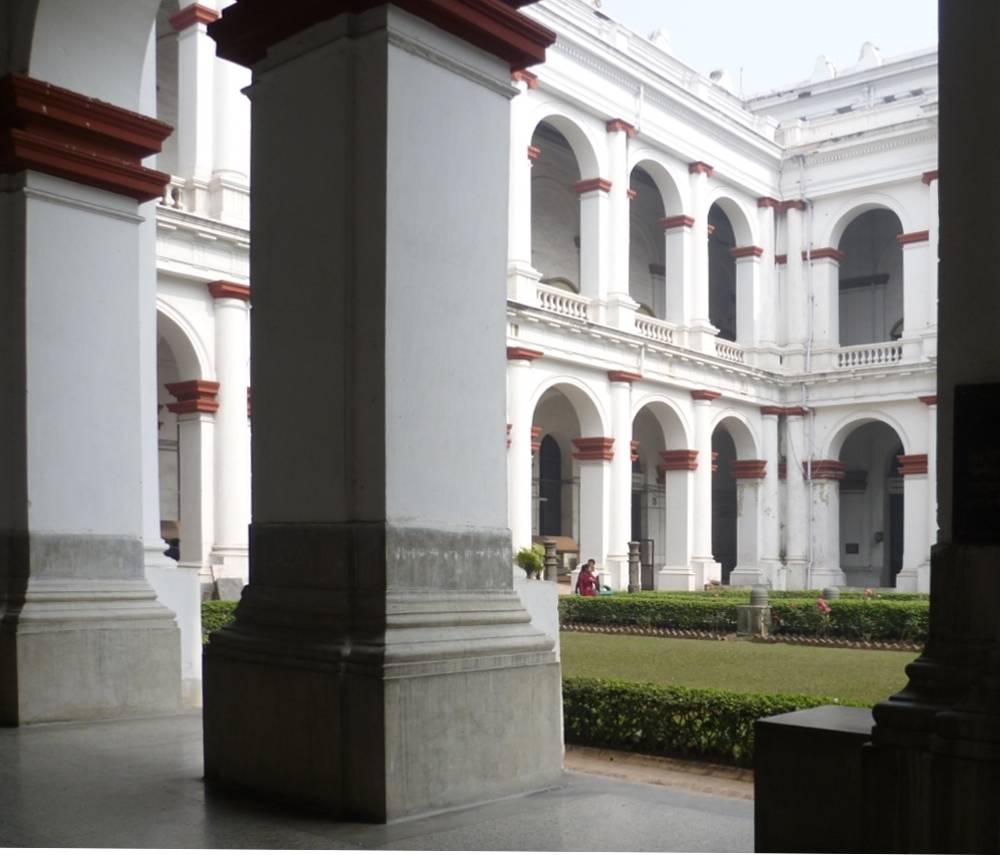 Right: A glimpse of the façade. Left two: views of the central courtyard.
Originally founded in 1814, the museum was for a long time not only the oldest such foundation in Asia, but the largest, and it is still the largest in India (see Director's Note). But since those early years, much has changed. In recent times, it has not been treated with reverence at all. A huge flyover has been set right in front of it. The "massive simplicity" (Davies 207) of Granville's composition is now best appreciated from inside the courtyard.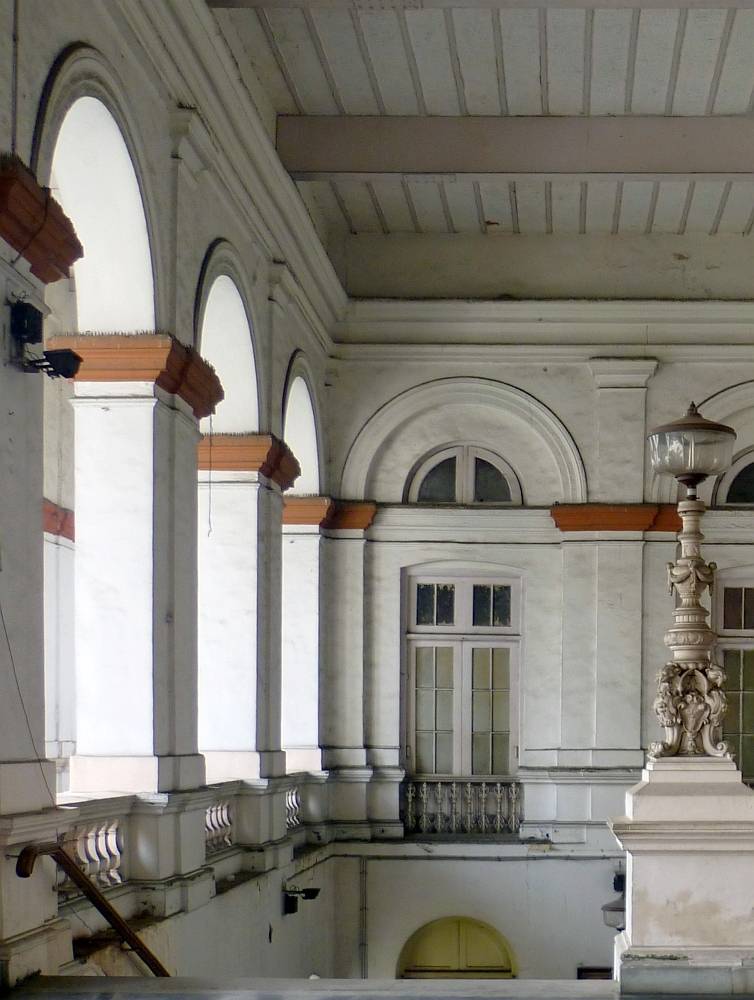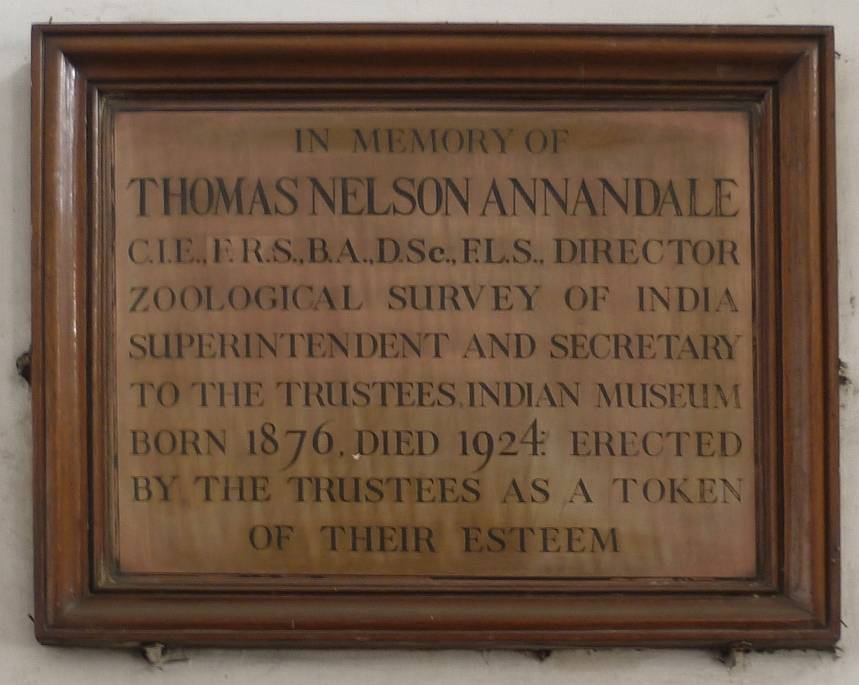 Left to right: (a) The top of of the stairwell, with its elegant balustrades and lamp standard. (b) Plaque to Thomas Nelson Annandale, an important early officer of the museum. (c) A medieval relief, one of a huge variety of exhibits going back to prehistoric times — exotic finds and artefacts that opened up new fields of scholarly research for the Victorians.
The interior of the museum still has many elegant features, with Marshall Wood's statue of a young-looking Queen Victoria (1874) still standing proudly at the top of the impressive stairway. A few other signs of these early years remain. Thomas Nelson Annandale (1876-1924), for instance, is commemorated by the plaque shown above. He was an eminent Scottish zoologist who joined the museum in his twenties as Deputy Superintendent, and became Director of the Zoological Survey of India, one of the important offshoots of the museum. His death at the age of 48 was considered "a severe loss to science and to Indian zoology in particular" (Dover).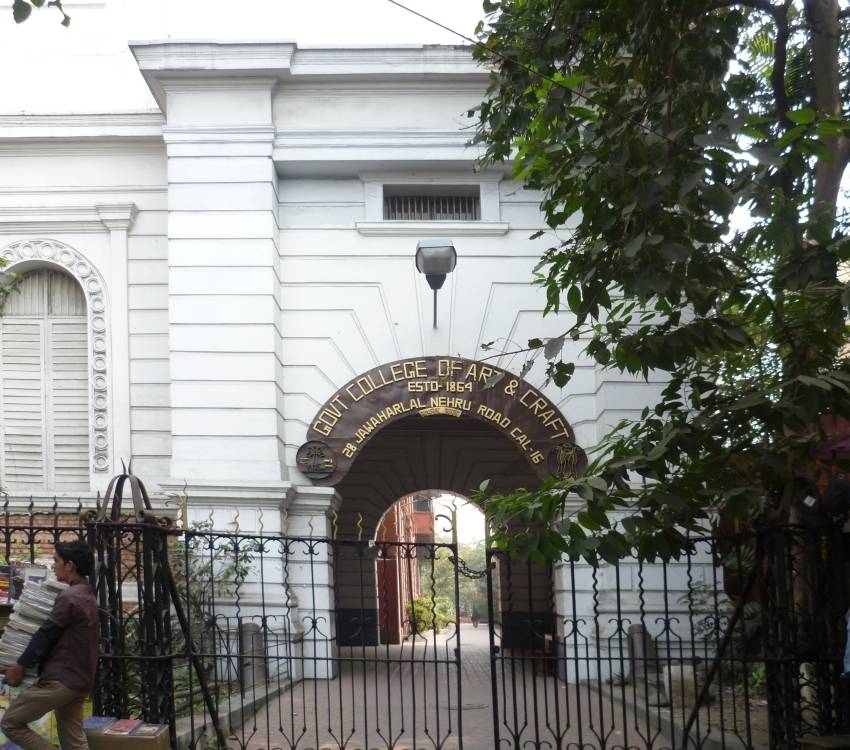 Left: Entrance to the Government College of Art & Craft (1864) next to the museum. Right: Entrance to the Geological Survey of India (1851) next to that.
Granville's beautiful building stands in what was once the very heart of "the City of Palaces." The Geological Survey of India building had already been constructed along here, as had the Government College of Art & Craft, and others. The area could perhaps be compared to London's museum area in Kensington. It even had its own version of the Great Exhibition. In 1883 an International Exhibition was held in Calcutta. Announcing this event in its "Foreign Intelligence" column, the Derby Mercury reported that the government of India had granted "the use of the Indian Museum together with the grounds and buildings adjoining" for the duration, adding: "It is a magnificent pile of buildings, said to be the very finest in India" (7). The exhibition was a huge one, and it attracted people from all over Asia and indeed the world. Sadly, Granville did not live to see his building's completion, or to know that it was the setting for such an event.
Related Material
References
Bach, Brian Paul. Calcutta's Edifice: The Buildings of a Great City. Kolkata: Rupa, 2006. Print.
Das, Soumitra. A Jaywalker's Guide to Calcutta. Mumbai: Eminence Designs, 2007. Print.
Davies, Philip. Splendours of the Raj: British Architecture in India, 1160-1947. London: Penguin, 1987. Print.
Director's Note. Indian Museum (the museum's own website). Web. 3 February 2013.
Dover, Cedric. "Dr Thomas Nelson Annandale, C.I.E" (obituary). Nature. Vol. 113, 26 April 1924: 615. Nature (the journal's online archive). Web. 3 February 2013.
Firminger, Rev. Walter K. Thacker's Guide to Calcutta. Calcutta: Thacker, Spink & Co., 1906. Internet Archive. Web. 3 February 2013.
"Foreign Intelligence." The Derby Mercury. 31 January 1883: 7. British Library Nineteenth Century Newspapers. Web. 3 February 2013.
Morris, Jan, with Simon Winchester. Stones of Empire: The Buildings of the Raj. Oxford: Oxford University Press, 1983. Print.
---
Last modified 3 February 2013