[Paul Johnson has kindly shared the photographs and research on his UK site about John Shaw, Junior and Senior, and Philip Hardwick, which he has "dedicated to the Memory of the Finest Architectural Family London Has Ever Seen." Readers might like to look at his original presentation. Color photographs by Jacqueline Banerjee replace those in the original version.GPL]
Philip Hardwick (1792-1870) was the only son of Thomas to follow his footsteps in architecture. He exhibited drawings at the Royal Academy between 1807-1814. In 1815 he repeated his father's trip to Europe and when staying in Paris he saw the Louvre with all the pictures brought from all parts of Europe by Napoleon, in 1818-19 he travelled round Italy. On his return to England Philip was already proving to be a promising architect.
Doric Arch at Euston Station, London and Birmingham Railway by Philip Hardwick. 1839. [added by GPL]
He became architect/surveyor to the hospitals of Bridewell, Bethlehem, and to St. Bartholomew's. He was appointed architect to the St. Katherine's Dock Company in 1825; the Goldsmiths Company in 1828; there he designed the hall which shows a fine example of classical Italian architecture. He was also architect to the Greenwich Hospital, and above all to the Duke Of Wellington for whom he did some alterations for his house at Hyde Park Corner. Between 1834-39 he worked for the London and Birmingham Railway Company for whom he built the terminus stations and the Euston and Victoria hotels. This company produced the best from him, he designed the great Euston Doric Archway, which has been described by the historian Peter Ackroyd as when London became "the new Rome." It was the first train station in the world to have given a traveller a great sense of entering and then departing. This famous piece of work is now long gone and may be regarded as one of London's most tragic loss's of nineteenth-century architecture.
Philip married a daughter of the architect John Shaw Senior (1776-1832) whose son was the architect, John Shaw Junior (1803-1870). The two families had often lived closely together in nearby streets in the area of Holborn, and marrying into another family of architects was one of the traditions of the London architectural profession. In 1822 their son Philip Charles Hardwick was born in London.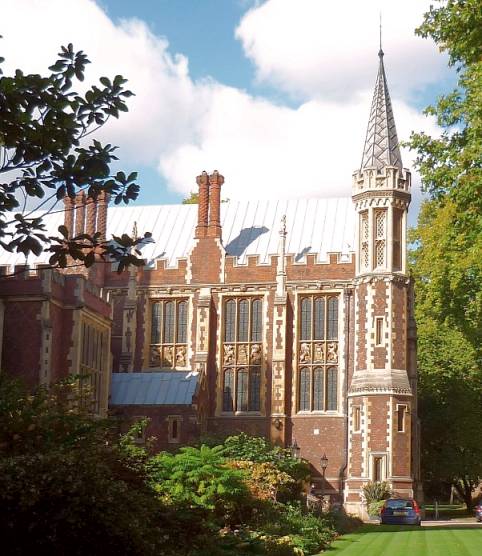 Philip Hardwick and Philip Charles Hardwick. Two buildings at Lincoln's Inn. c. 1843. Click on images for larger pictures.
When Philip Charles reached his early twenties he began assisting his father on work for a new buildings at Lincoln's Inn. They designed The Great Hall which has a wonderful hamerbeam roof. Although it was quite unusual for architects to make obvious signatures on their buildings, Philip Hardwick placed his initials on one external wall of the building with the date 1843. The father and son also designed a new part or extension of eighteenth-century Stone Buildings. It took two years to complete all this work and would have earned the Hardwicks a fortune. These two years proved a long and tiring time for Philip Hardwick, who he fell ill in the very first year, and throughout the rest of his working life he was often confined to working in his own bedroom.
Although illness kept him from practical work, he served on the Royal Academy committee, and throughout that difficult time during his life he acted as a referee for the competition to build the new Royal Exchange in the City. He even received the Royal Gold Medal from Queen Victoria. His son Philip Charles more or less took over his father's office, so as the architectural historian H.R Hitchcock points out, "Hardwick must stand for father and son." The family resided at 60 Russell Square when the 1851 census was taken and then at Cavendish Square in 1861.
From his design of the Goldsmiths Hall in Foster Lane, Philip Senior also gave London the City Club-House, Old Broad Street; The Globe Insurance Company's Office, Cornhill; the Freemasons' Hall, Great Queen Street. He had contributed massively to St Katherine's Docks in Tower Hamlets and his work inspired the docks of Liverpool. In Limehouse, in the East End of London, Hardwick restored Hawksmoor's wonderful church of St Anne's.. But once again it is worth remembering what he really was respected and known for, a piece of work and design that London had never seen before, the propylaeum fronting the London and Birmingham Railway terminus at Euston — the so-called Doric-arch modelled on the entrance to the Acropolis at Athens, only the finest gateway of antiquity being symbolically appropriate for such an amazing achievement as the world's first long-distance railway. He eventually retired to Westcombe Lodge, Wandsworth where he died in 1870. He is buried at Kensal Green.
---
Last modified 23 December 2005