Old Place, Lindfield, Sussex. According to its listing text, the original building here, dating from the late fifteenth century, was restored in about 1590. Aptly described by Ian Nairn and Nikolaus Pevsner as "spectacular" (561), this former manor house had been in use as a poorhouse, and then left empty, before being bought by the stained-glass artist Charles Eamer Kempe in 1875 (see Stavridi 34). Kempe made important additions to his newly-acquired old property, including: in 1884 to the east (Middle House), in 1891 (the East Wing), in 1894 (Turret House) and in 1908 (Archway Cottage), all of which are Grade II* listed (again, see listing text). In contrast to other such country house improvers, Kempe was not trying to boost his social status: he grew up at the grand family seat of Ovingdean Hall, just east of Brighton, so he was, quite literally, to the manor born. Photographs by John Kemp, Kempe's great-great-grandnephew, who has kindly allowed us to reproduce them here. Text by Jacqueline Banerjee. [You may use the images without prior permission for any scholarly or educational purpose as long as you (1) credit the photographer and (2) link your document to this URL or cite it in a print document.]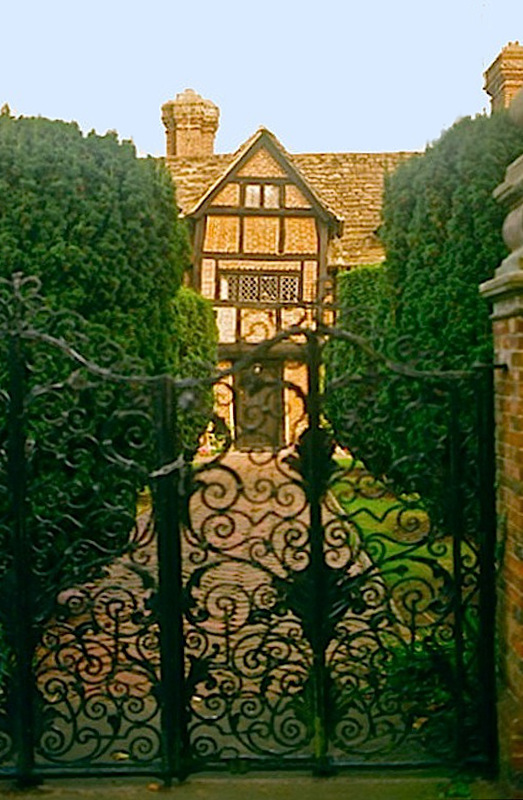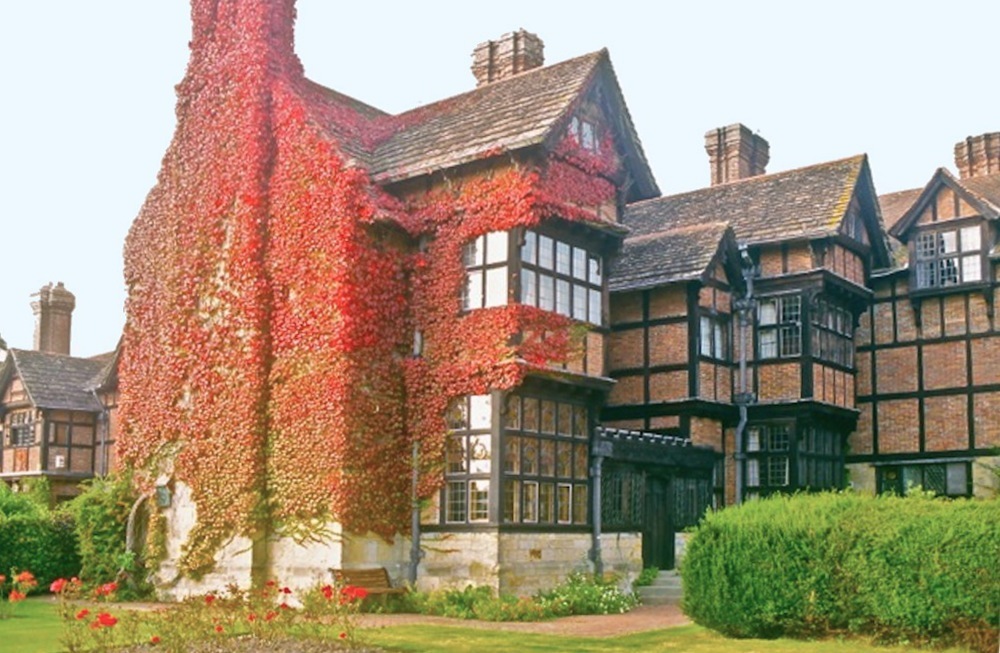 Near the church, in what is often seen as a "gem of a village," the picturesque timber-framed house of Old Place has "peaked gables, oak mullions, richly carved bargeboards, and soft red bricks," making it possible for anyone who peeps through the gate to imagine they are in Tudor England (Mee 248-49). Kempe is not only credited with adding the east wing in particular, but with adorning it with "elaborate architectural flourishes, oak panelling and grand fireplaces" (Dalton).
Kempe enjoyed entertaining here, and his guests included such luminaries as William Morris and William de Morgan. For all its cosy look, the house had some large rooms — "a grand drawing room, dining room, library and seven bedrooms, not to mention wine cellars," as well as a second-floor sitting room for the use of Kempe's twelve servants (Dalton). Perhaps the most beautiful feature now is the stained glass that Kempe designed for it. Several illustrative sequences are mentioned in the listing text, such as a set of six representing "The Round of Life," based on Tennyson's short poem, "Circumstance." The window featured in a recent newspaper article on it is a porthole-type window with a vignette of a rustic scene: within a leafy, embellished frame, a young shepherd, with a sheep at his feet, listens entranced to Pan.
Old Place also has a newer "place" in twentieth-century history as the home of Sir David Hunt (1913-1998), who wrote the famous "Winds of Change" speech delivered by Harold Macmillan in 1960, in South Africa: it marked "the beginning of the end of apartheid" (Dalton). The house is now divided into several different properties.
Related Material
References
Dalton, Janet. "The Winds of Change." The Sunday Telegraph ("Life/Property"). 15 June 2014: 11.
Mee, Arthur. Sussex: The Garden by the Sea.. The King's England series. London: Hodder and Stoughton, 1937.
Stavridi, Margaret. Master of glass: Charles Eamer Kempe, 1837-1907, and the work of his firm in stained glass and church decoration. John Taylor Book Ventures for the Kempe Society, 1988.
"West Wing Middle House East Wing Turret House and Archway Cottage at Old Place, Lindfield." British Listed Buildings. 18 June 2014.
---
Last modified 18 June 2014