Madeira Drive and Terrace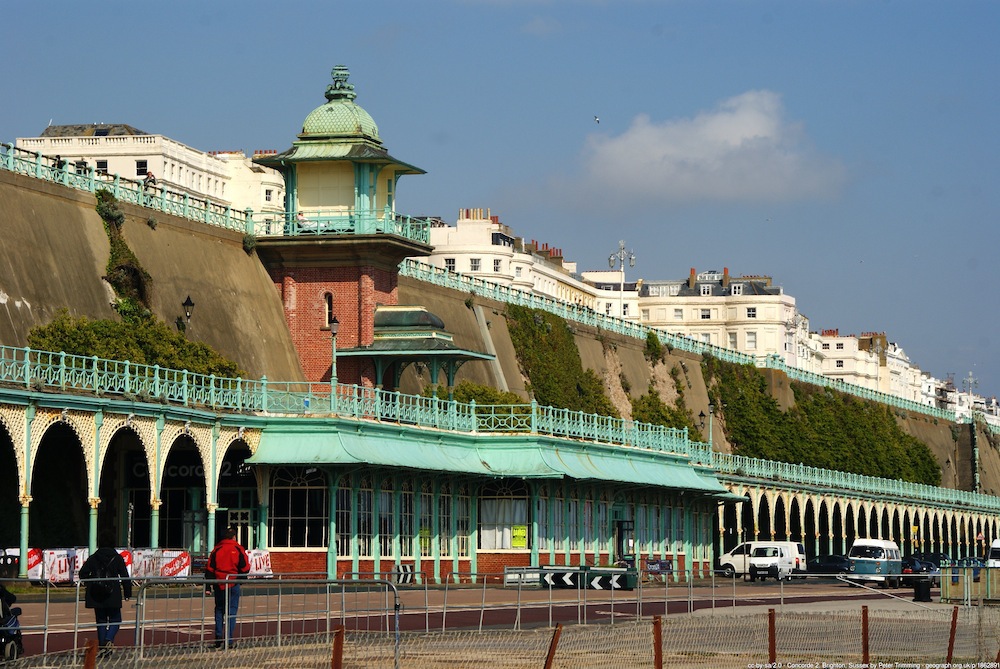 Madeira Drive and Terrace, taken from the south-west, showing the terrace above and the three-stage life.
Madeira Drive and Terrace, , Brighton, © Peter Trimming. Along the Drive runs a Grade II listed arcade designed by Philip Causton Lockwood (1821-1908), with cast-iron columns supporting an ironwork screen executed by a local foundry, John Every's Phoenix Foundry, Lewes. The first part was opened in May 1890; the project was completed in 1897. It was extended to the east in 1927-29. According to Brighton and Hove City Council's restoration appeal, this set of 151 seafront arches is thought to be the longest cast-iron structure in Britain (see "Save Madeira Terrace"). [Click on this and the following images to enlarge them.]
Left to right: (a) Close-up of the lift to and from the Terrace, © David Lally. (b) Close-up of the pierced ironwork on the arches, with Neptune's head at the centre, © Nick MacNeill (alternate arches have a female head, perhaps that of Venus). (d) Beyond Madeira Drive, a gradient linking the road to the Lower Esplanade west of Brighton Pier.
Paul Dobraszczyk describes Madeira Drive when first built as having:
a covered promenade 1,304 feet long projecting from the cliff wall on hundreds of cast-iron arches; an open-air terrace above the promenade connected to the latter and the Marine Terrace above by a series of stairs; and a lift connecting all the levels which delivered passengers to a large refreshment/assembly room on the terrace. [363-64]
Although "hundreds" of arches seems to be an exaggeration, from start to finish it was a costly and ambitious project, seen by some as a tremendous addition to the town's attractions, but by others as spoiling the natural scenic splendour of the seafront (see Dobraszczyk 365). Nowadays, it has the patina of history and there has been a great and, fortunately in view of its uniqueness, successful drive to restore it.
Parallel to Marine Drive runs a narrow gauge heritage electric railway, built by the German inventor and Brighton resident Magnus Volk (1851-1937). The first section was completed in August 1883: it was Britain's first public electric railway (see Antram and Morrice 131). Its recent revival makes it the oldest operating electric railway in the world ("History").
The Esplanades
View of the western part of the seafront: the upper and lower Esplanades
As can be seen, looking west, the seafront structure along the rest of the beach is complex, with further points of access. The Upper Esplanade, raised on the red brick vaults, was created by Lockwood in 1885-87, and the railings and shelters date to this time, though the ornate lampposts were added in 1893. These were executed by the Macfarlane Company in Glasgow. The ironwork again makes a very striking contribution to the scene. The large building above the seafront here is Alfred Waterhouse's Hotel Metropole.
Last two photographs, and text, by Jacqueline Banerjee. You may use these images without prior permission for any scholarly or educational purpose as long as you (1) credit the photographer and (2) link your document to this URL in a web document or cite the Victorian Web in a print one. The other photographs, individually identified, were originally contributed to the Geograph Project, and can be reused under terms of this Creative Commons Licence. They have been slightly modified here.
Related material
Bibliography
Antram, Nicholas, and Richard Morrice. Brighton and Hove. Pevsner Architctural Guides. New Haven and London: Yale University Press, 2008.
Dobraszczyk, Paul. Iron, Ornament and Architecture in Victorian Britain: Myth and Modernity, Excess and Enchantment. London and New York: Routledge, 2016. [Review]
"History." Volks Electric Railway. Web. 29 April 2018.
Hymans, Mike. Brighton Remembered: A Pictorial History. London: PublishNation, 2015.
"Madeira Terrace and Madeira Drive." Brighton and Hove City Council. Web. 29 April 2018.
"Madeira Terrace, Madeira Walk, Lift Tower and related buildings." Historic England. Web. 29 April 2018.
"Save Madeira Terrace Crowdfunding FAQS." Brighton and Hove City Council. Web. 29 April 2018.
"Timeline — Madeira Drive through History." building green. Web. 29 April 2018.
---
Created 29 April 2018