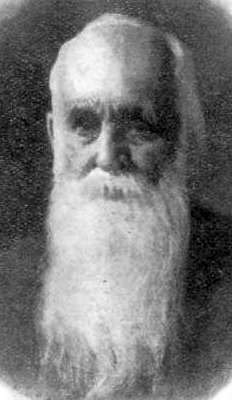 Ealing's "Grand Old Man," very much looking the part, in the report of his death quoted here.
Charles Jones (1830-1913) was born in Beccles in Sufflolk as the son of a leather merchant. Having trained as an architect, he set up a practice in Ealing in 1856. Here he became surveyor to the Local Board when it was formed in 1863, and did a considerable amount of good work in the borough, both in infrastructure (drainage, roads, lighting) and new public buildings: the Times reported that the Prince and Princess of Wales came to open his new Town Hall and Public Offices there in December 1888. In fact, Jones did so much for Ealing that when he retired after fifty years of service, now in his eighties, he was promptly invited to become its Mayor for the following year. Announcing this in the The Surveyor of 25 July 1913, the reporter adds:
it is no exaggeration to say that Mr. Jones is held in high personal regard by every burgess who knows him — and the number must be very great. His business abilities, his charming manners, his tactfulness, and his kindly disposition have gained him a place in the hearts of his brother officials and his fellow burgesses that will not easily be effaced.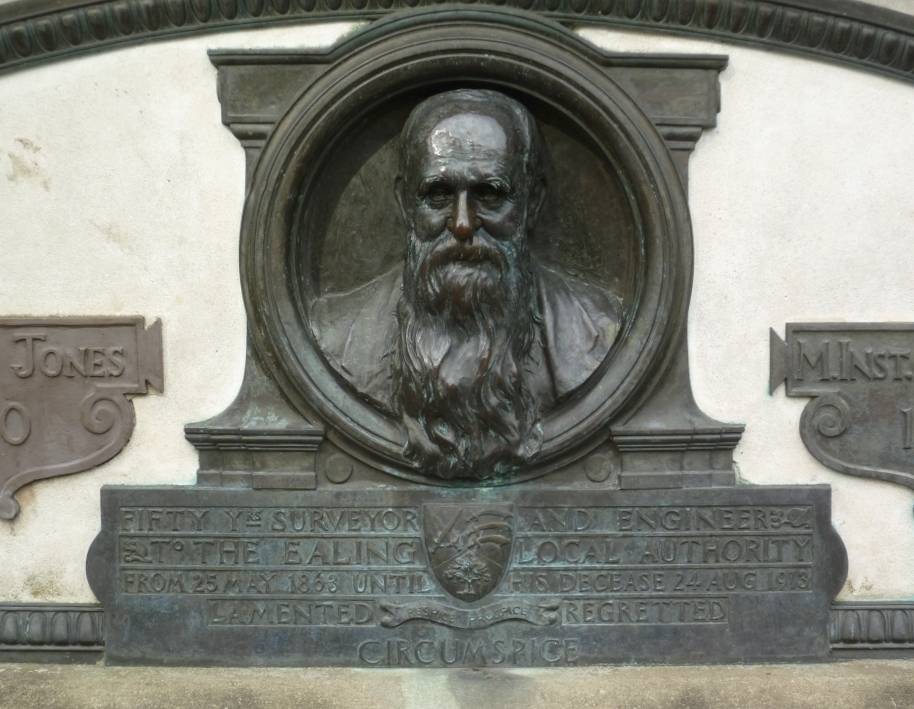 Monument to Charles Jones in Walpole Park, Ealing, by Frank Bowcher.
Unfortunately, "Ealing's Grand Old Man," who was considered the very "doyen of municipal engineers" (qtd in the same report), died before he could take office. His death was announced little more than a month later, and a move was immediately made to erect a suitable memorial to him. This can be seen in Walpole Park, a short walk away from the two town halls he built for the borough.
Jones' influence went further than Ealing. He was one of the founders of the Institution of Municipal and County Engineers, of which he was also president. He had found time to write two books about Ealing (Ealing: From Village to Corporate Town, and Ealing. 1901-10 — A Decade of Progress, as well as one on "refuse destructors" — he also invented a "fume cremator, which has been extensively adopted in refuse destructor practice" ("Mr Charles Jones"). — Jacqueline Banerjee.

Charles Jones's name on a plaque inside the Town Hall
Works
Sources
Cherry, Bridget, and Nikolaus Pevsner. London 3: North West. Pevsner Architectural Guides. New Haven & London: Yale University Press, 2002. Print.
"Death of Mr Charles Jones, Ealing's "Grand Old Man." The Surveyor and Municipal and County Engineer, Vol. 42 (4 July-26 December, 1913). 29 August 1913, 321. Internet Archive. Web. 3 March 2013.
"Mr. Charles Jones. Retirement after Fifty Years' Service." The Surveyor and Municipal and County Engineer, Vol. 42 (4 July-26 December, 1913) 25 July 1913, 159. Internet Archive. Web. 3 March 2013.
"Royal Visit to Ealing." The Times, 17 December 1888: 7. Times Digital Archive. Web. 3 March 2013.
White, John Foster. "Ealing: Queen of the Suburbs: A guided Walk." Ealing Civic Society. Web. 25 February 2013.
---
Last modified 3 March 2013