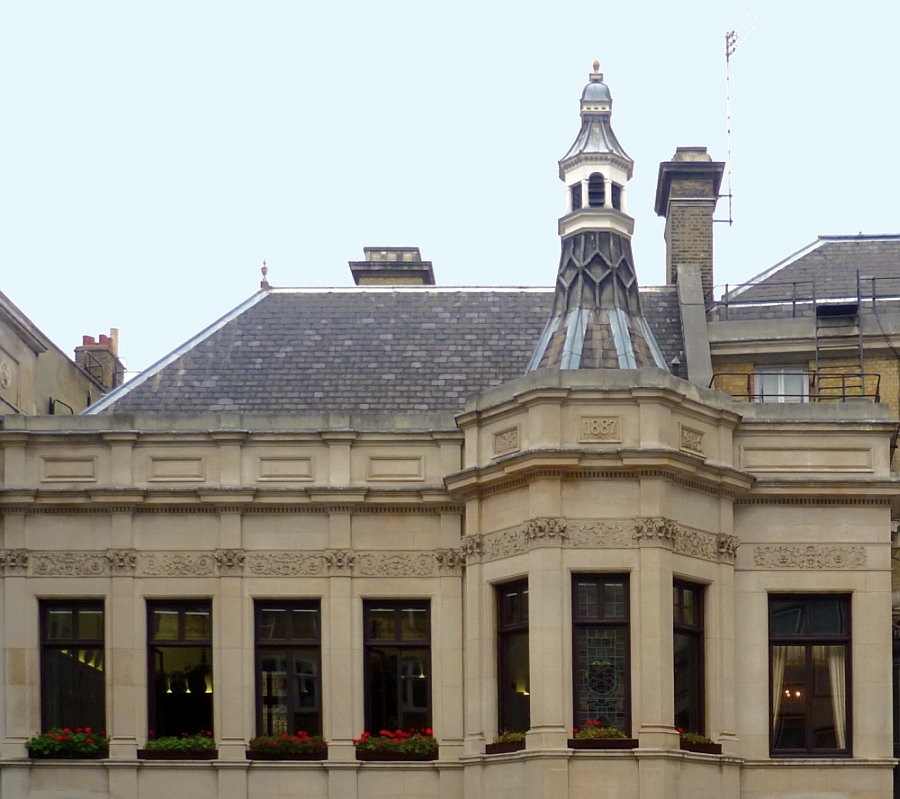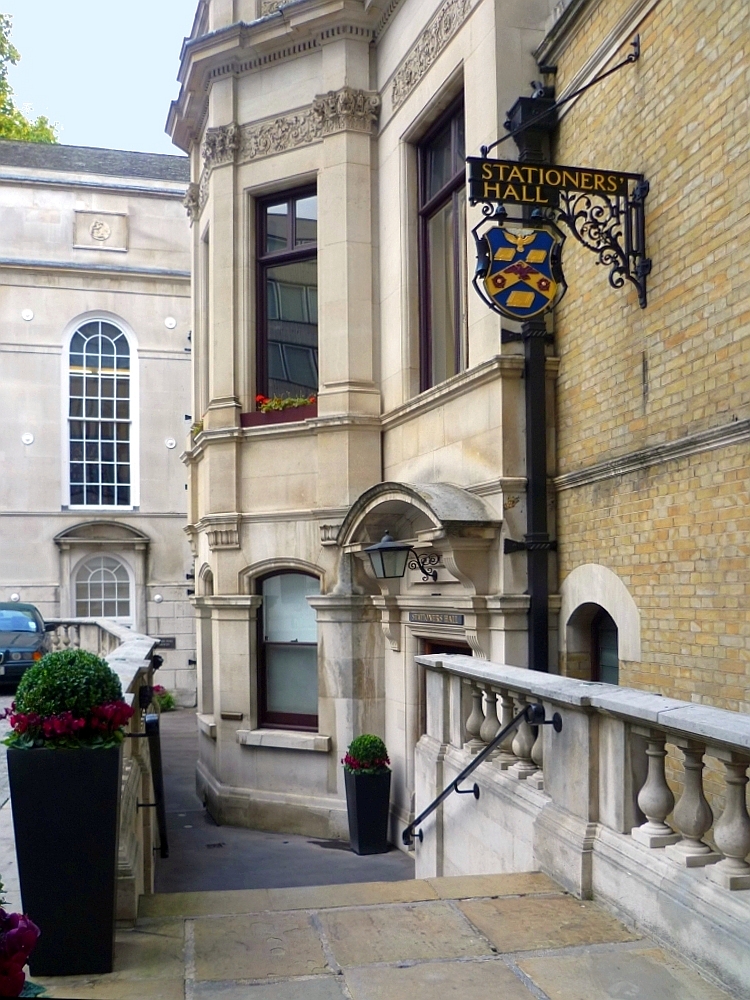 Close-up of the main storey of the east wing of Stationers' Hall, Ave Maria Lane, London EC4. 10 December 2007 Designed in its present form by Robert William Mylne (1817-1890), in the late 1880s. Faced with Portland stone, with a rather jaunty spire, resembling a lighthouse, over the bay. Photographs, caption and commentary by Jacqueline Banerjee, 2012. [You may use these images without prior permission for any scholarly or educational purpose as long as you (1) credit the photographer and (2) link your document to this URL or cite the Victorian Web in a print document. Click on the images for larger pictures.]
The Stationers were a fraternity of booksellers set up in 1403, who at first dealt with manuscript books, and were then joined and overtaken by printers in the early sixteenth century. A Royal Charter of 1557 was the first step towards the establishment of copyright. The site near Ludgate Hill was acquired in 1606, and the original building here dates back to 1670. Subsequent work included the reshaping and partial rebuilding of this wing by Mylne, a civil engineer, architect and geologist whose grandfather and father had both been surveyors to the Hall before him, and who held this position from 1860-90 (see Porter and Baker). The original panelling of the stock room, housed within, was preserved.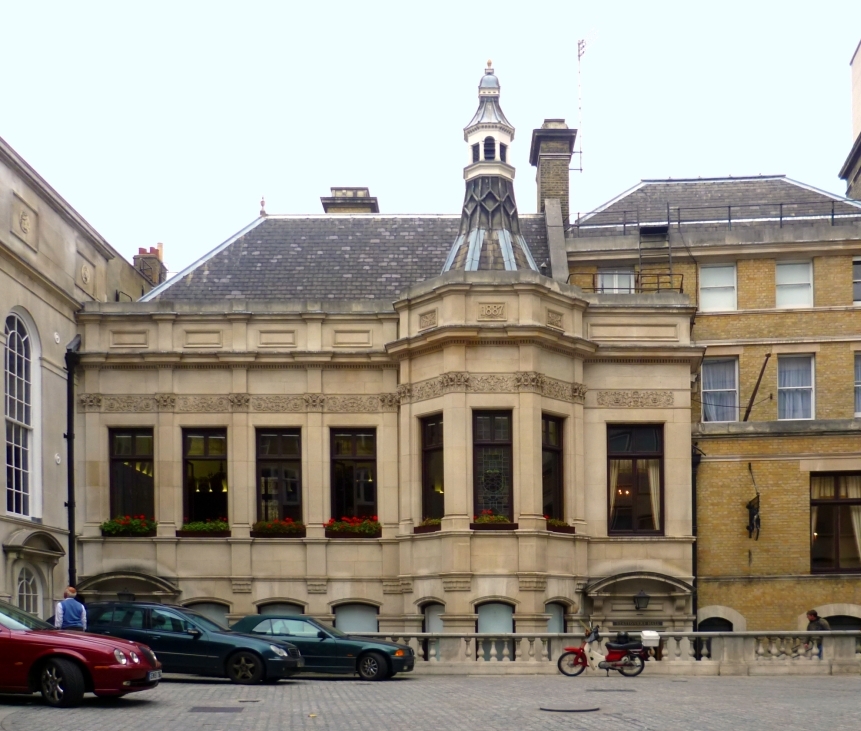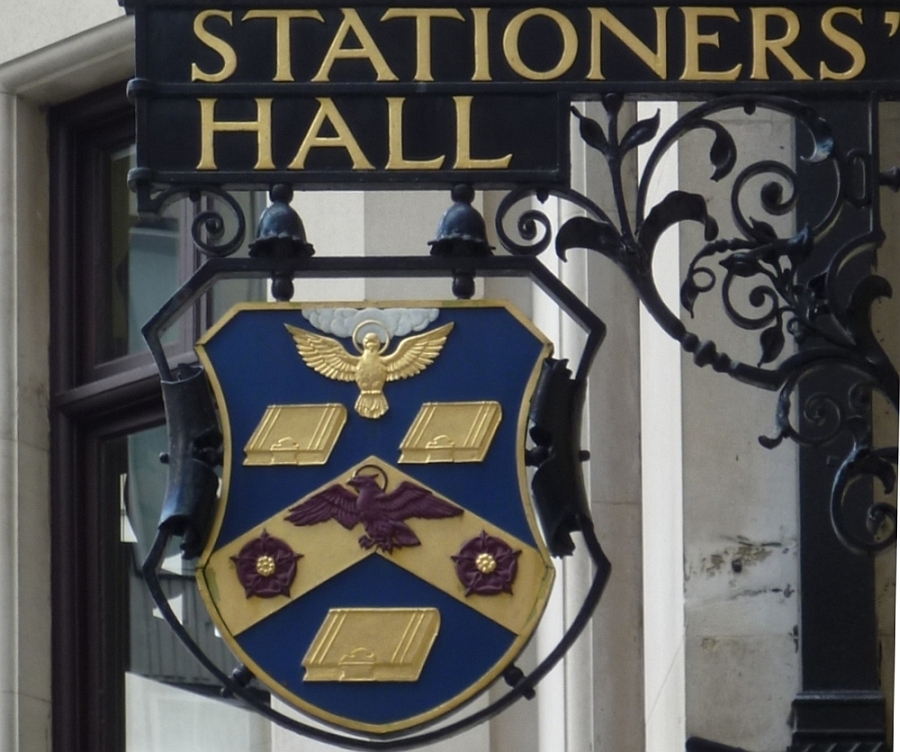 Left: The wing in its courtyard setting, with the Hall itself to the left. Right: The Stationers' shield with its heraldic devices denoting guardianship of literature.
The institution holds an important place in the history of intellectual property, for it was here from 1557-1923 that all published material, including sheet music, had to be registered. An anonymous polemical pamphlet of 1871 called it "the custom house of British literature," complaining, however, that it was "empowered by parliamentary wisdom to levy an impost upon knowledge, and the produce of the brain, for the sole and exclusive benefit of its owners" (2). There were other criticisms as well: on 11 May 1875, an article on the copyright laws in the Times contained the bitter complaint that "with regard to domestic copyright 'Stationers' -hall' discharges no really useful functions, while in the case of international copyright complaints of inefficiency and want of system are frequent" (10). A few years later, a playwright visiting the Hall to make sure that his play's title was not duplicated elsewhere reported to the same newspaper that earlier works were indeed registered there, but "how registered! not even under sections; authors of all kinds; dramatists, novelists, writers on science, authors of patent pin-papers, floral designs, &c., all jumbled together" (7 Sept. 1880, p. 6). It was inevitable, perhaps, that the Company should eventually cease to handle copyright.
However, the Stationers certainly had — and have — a very beautiful building:
From the stock-keeper's room, with its rich panelling and painted shields, we pass into the main hall where is a rich old oak screen and an array of modern glass [in fact, c. 1885]. One window has a charming scene of Caxton showing his printing to the king and queen, who have a child with them. We see Caxton again in another glass, as well as Shakespeare, St Cecilia, Cranmer, and a fine figure of Tyndale in his study, The Court Room is a beautiful chamber in cream and gold. [Mee 297]
The windows are rather celebrated. They are by the Munich-based firm of Mayer & Co, which was working in London at that time (see "St Cecilia"). A small head of Queen Victoria in one of the stockroom windows must date from around that time too.
Related Material
Sources
Entered at Stationers' Hall: A Sketch of the History and Privileges of the Company of Stationers. M. Thomas: London, 1871. Google Books. Web. 18 July 2012.
Mee, Arthur, ed. London: Heart of the Empire and Wonder of the World (The King's England series). London: Hodder and Stoughton, 1937. Print.
Porter, Bertha, rev. Anne Pimlott Baker. "Mylne, William Chadwell (1781-1863) ...including Robert William (1817-1890)." Oxford Dictionary of National Biography. Online ed.. Web. 18 July 2012.
"St Cecilia." Bridgeman Art Library: Art, culture & and history images." Web. 18 July 2012.
The Stationer's Hall. Stationers' Hall. Web. 18 July 2012.
"Stationers' Hall, City of London." British Listed Buildings. Web. 18 July 2012.
Times Digital Archive. Web. 18 July 2012.
Virtual Tour of the Hall. Stationers' Hall. Web. 18 July 2012. [This shows all the features mentioned here.]
---
Last modified 29 September 2012