Photographs and captions by the author. The historic photograph is one of many displayed inside the building. It has been slightly retouched (to remove a crease or tear), and appears here by kind permission of Workspace Management Ltd. [You may use the other images without prior permission for any scholarly or educational purpose as long as you (1) credit the photographer and (2) link your document to this URL in a web document or cite it in a print one. Click on the thumbnails for larger pictures.]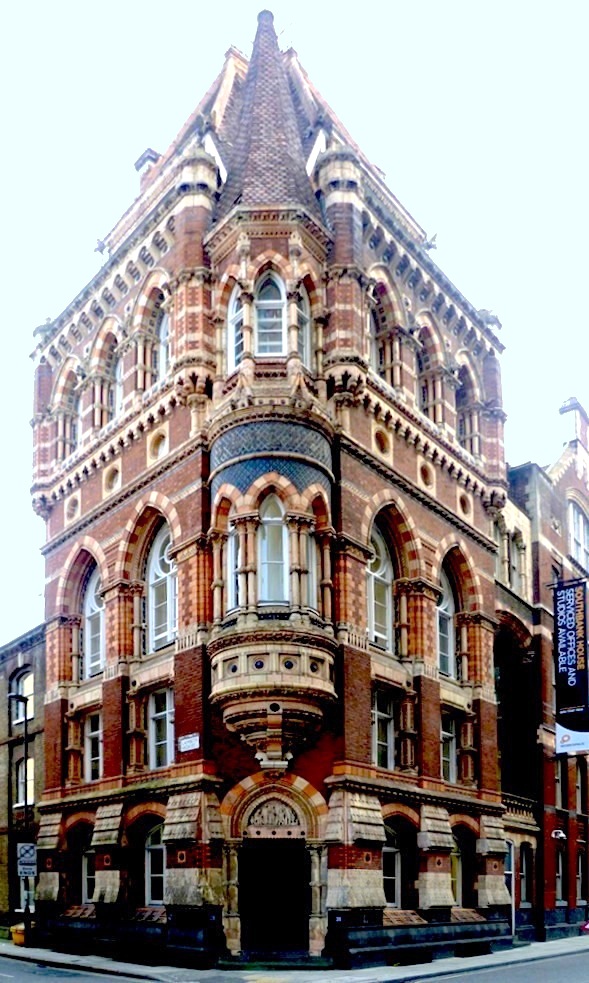 Southbank House, the only surviving part of the Doulton Pottery complex in Lambeth, south London. Tucked away behind the Albert Embankment, this Grade II Listed Building was probably designed by Robert Stark Wilkinson (1844-1936; see Brodie 993); but Wilkinson has different initials in different sources, and other architects are also mentioned, namely F. W. Tarring, and the partnership of Waring & Nicholson. It was built in 1876-78, of red brick with polychromy, and is boldly ornamented at every point with pink and sandy-coloured terracotta dressings. It stands at the junction of Lambeth High Street and Black Prince Road, SE11.
The building housed the pottery's museum and art school (Dixon and Muthesius 135). Although it is described in the listing text as "long," with two bays each side of the corner bay, its height is more striking, since it has five storeys, as well as a basement and attic. The main entrance at the angle is quite narrow, but has a fine tympanum relief by Doulton's then chief designer, George Tinworth, suggesting the purpose of the building — to display Doulton's already well-established, proud tradition. The pottery was founded in 1815, just a stone's throw away in Vauxhall Walk (see Cherry and Pevsner 367).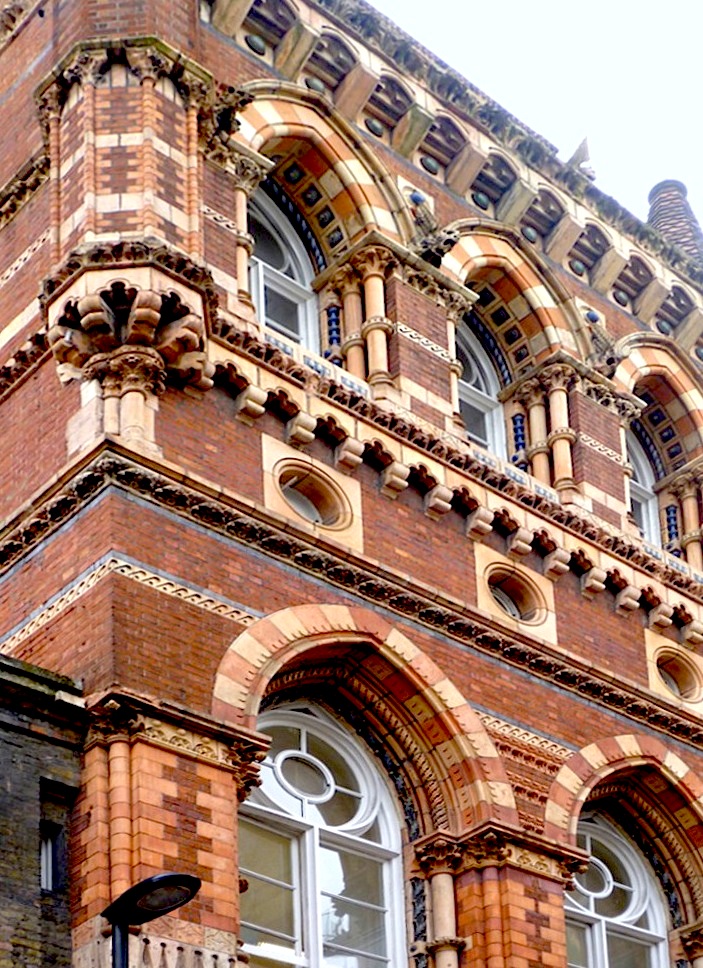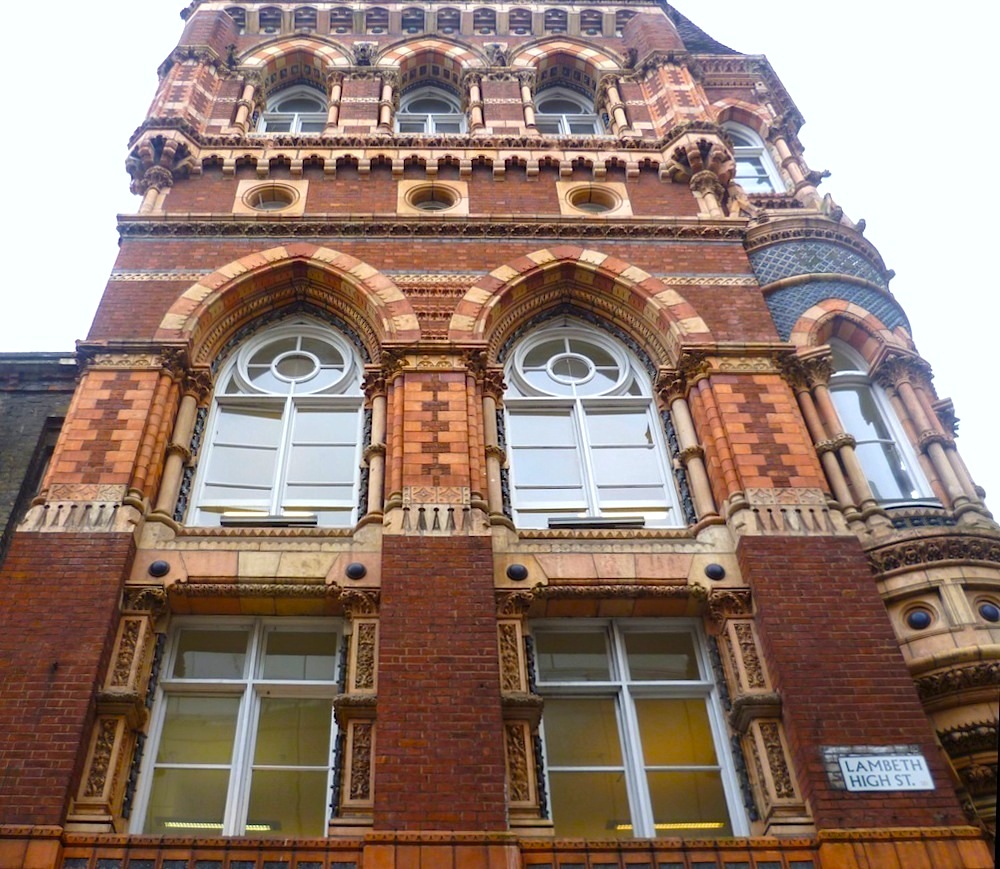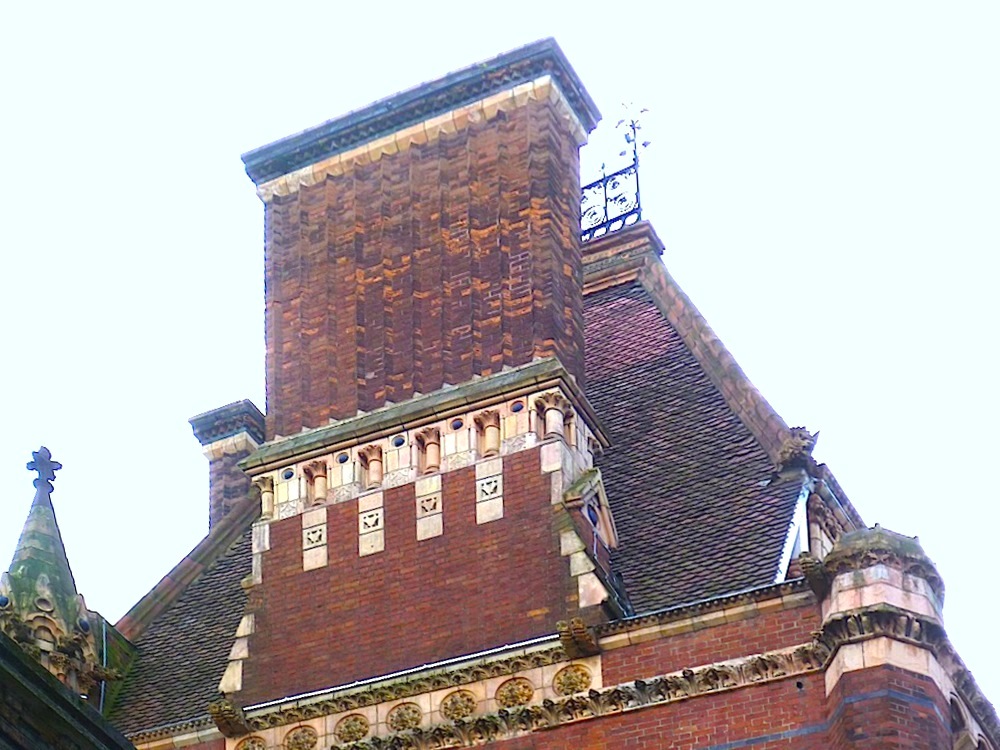 Left to right: (a) Looking along the Lambeth High Street bays, with their picturesquely varied window types, Gothic and circular here, with their different embellishments. (b) Square-headed windows at the ground floor, with much polychromy. (c) Behind the tiled roof with its fanciful wrought iron cresting, a massive chimney slab with a row of small columns in nooks underneath, and various other decorative elements — even at this height.
Apart from its general presence, what is most striking about this building is its extraordinary range of detailed ornamentation, obviously intended to show off the Doulton product. Gavin Stamp describes it as a "living advertisement," and calls the whole original complex an "elaborate, rumbustious exercise in Ruskinian Gothic" (91).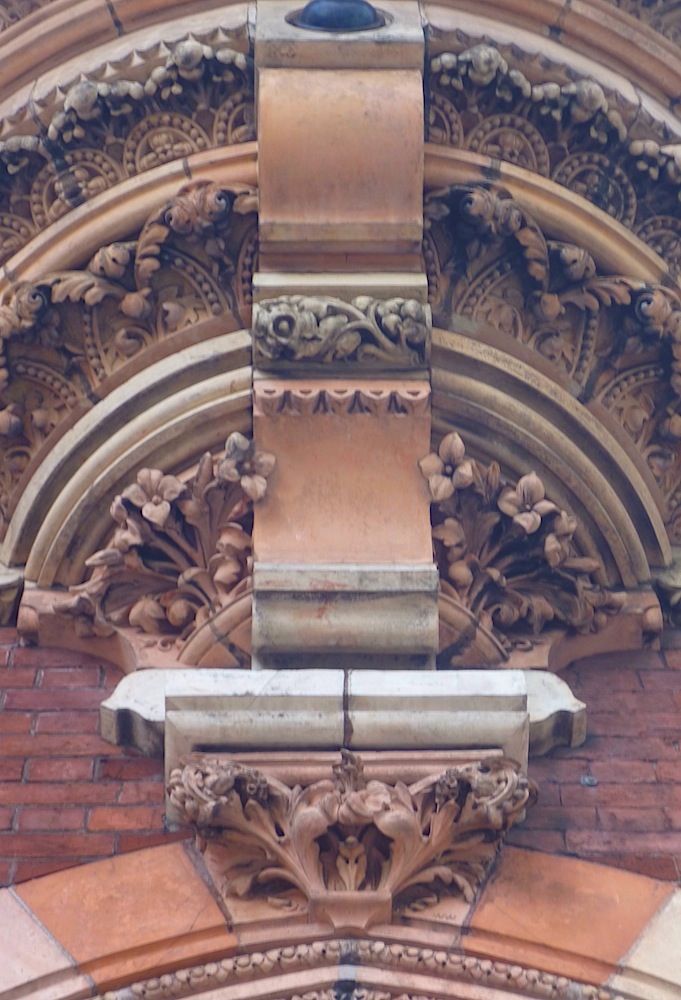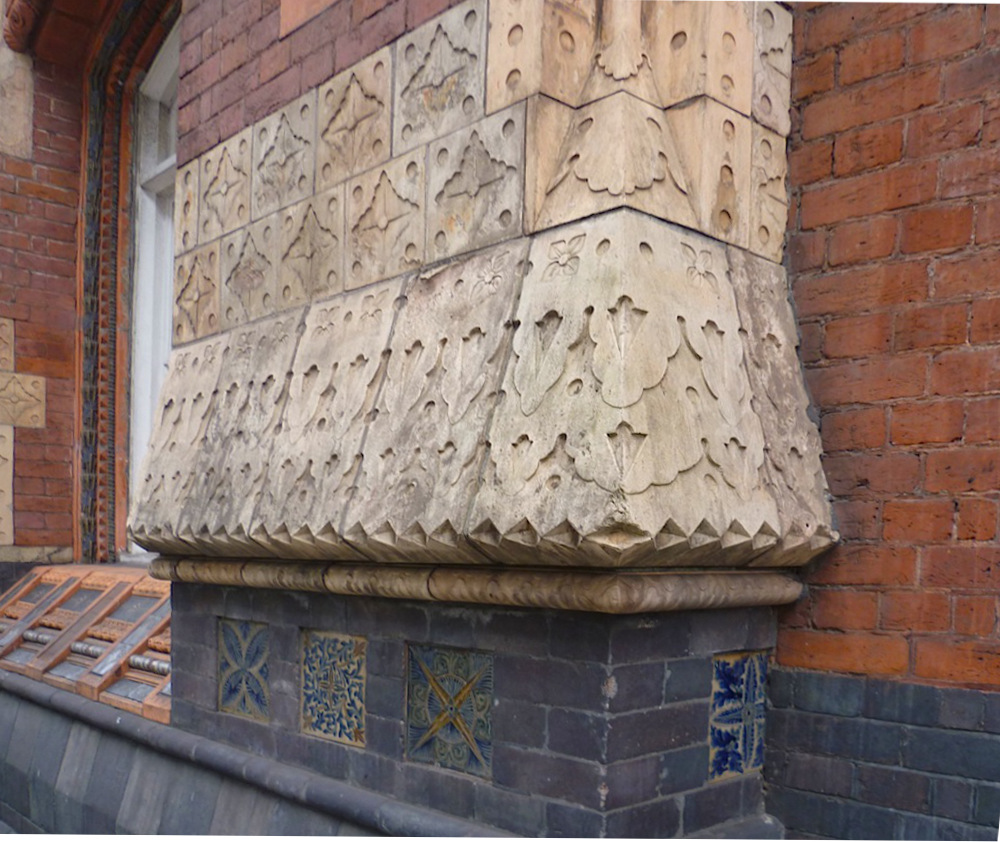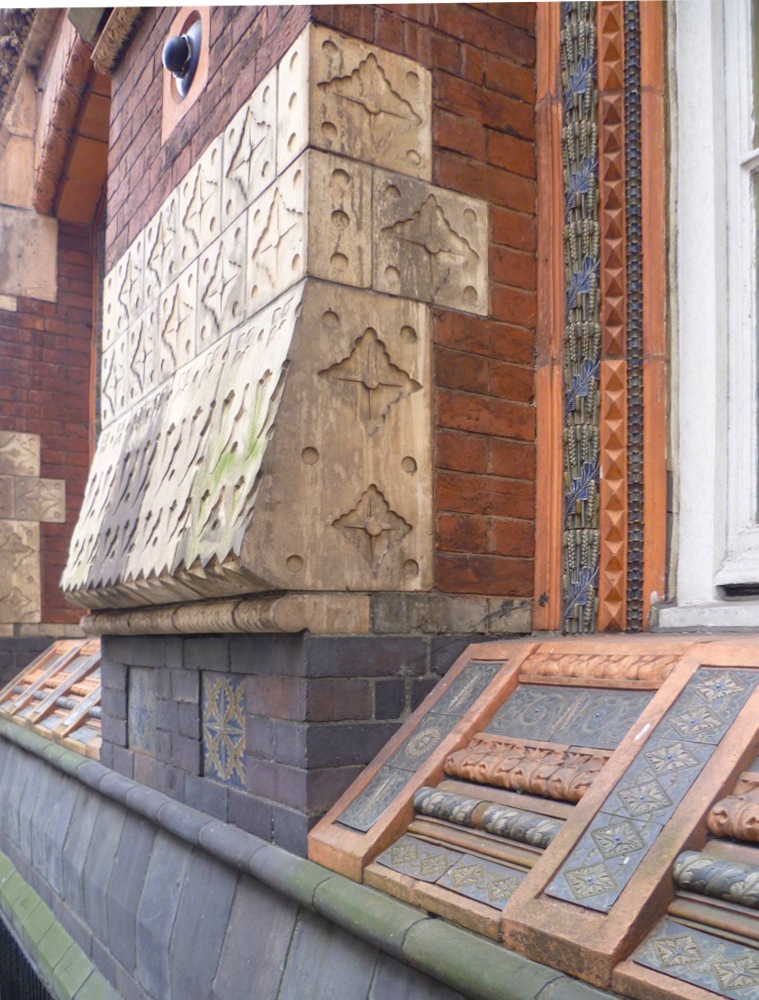 Left to right: (a) Layers of richly moulded terracotta support the double-storey oriel at the corner bay, depicting foliage and, lower down, lilies. (b) Next to the architraves of the ground floor windows are short heavy buttresses, with lacy patterning including leaf shapes, flower-heads and small circles, on a base with decorative glazed tiles. (c) Geometrically patterned architraves with polychromy, and sills with more glazed tiles — again, the natural forms are set geometrically.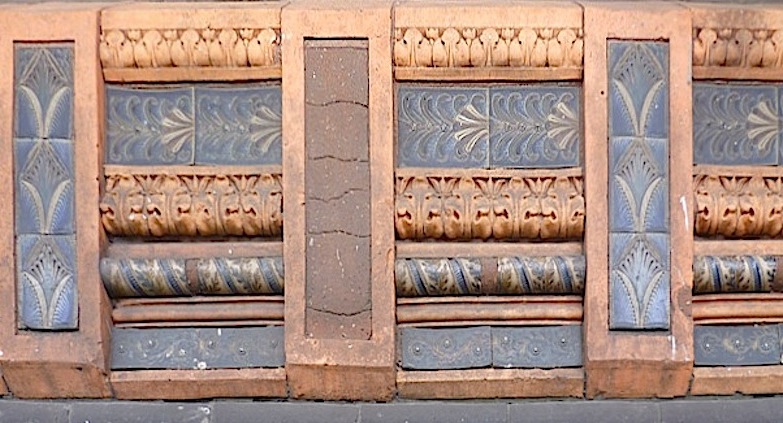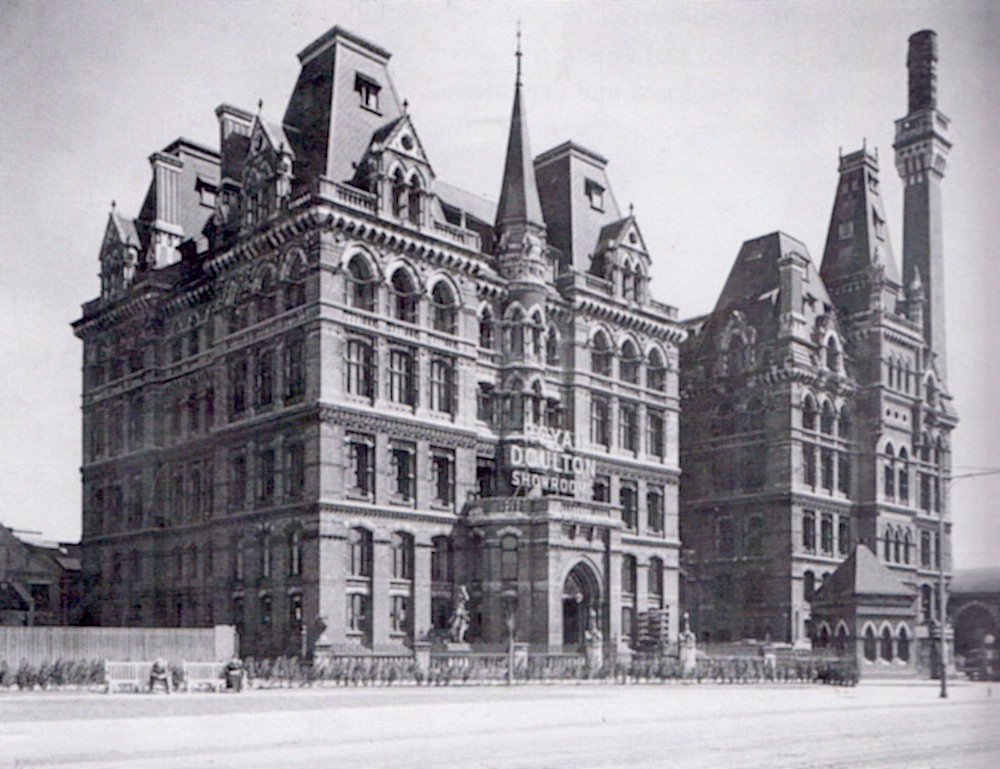 Left: Closer view of the sills. Right: The Doulton complex when intact was fronted by a massive showroom on the (then) recently constructed Albert Embankment.
Roger Dixon and Stefan Muthesius call the Doulton pottery complex, as it originally stood, "one of the most comprehensive commercial establishments in any city" and, like Gavin Stamp, say that its slender 233' high factory chimney to the right was "a slim version of the campanile of the Palazzo Vecchio in Florence" (135). It is thought to have been suggested by Ruskin himself. These Thames-side buildings with their prominent give-away chimney were targeted in World War II, gutted during air raids and demolished in the 1950s. Royal Doulton moved its operations to Stoke-on-Trent in 1856. It is sad that most of Doulton's London pottery premises were lost, but lucky that at least one building remains to give us some idea of what an impressive landmark they must have made.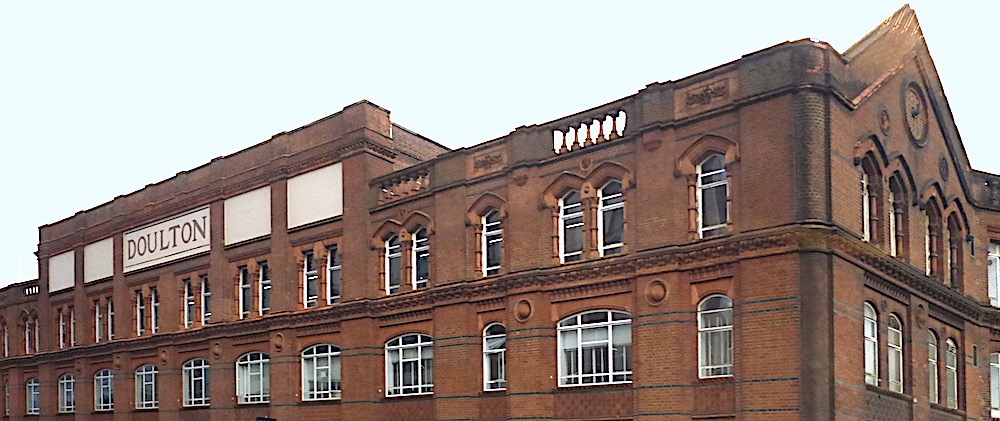 The name "Doulton" is still written on the building's Black Prince Road façade.
This last photograph, taken from a train coming into Waterloo, shows the other end of the building. The lower part of the wall, next to the tracks, is defaced by graffiti, but above it can still be seen not only the name, standing out plainly on a beige background, but balustrades, terracotta dressings and other refinements in the top two storeys — all in all, as the listing text concludes, "Good example of decorative art integrated with building."
Related Material
Sources
Brodie, Antonia. Directory of British Architects 1834-1914. Vol. II (L-Z). London: Continuum / RIBA, 2001. Print.
Cherry, Bridget, and Nikolaus Pevsner. London: South. Buildings of England series. New Haven and London: Yale University Press, 2002. Print.
Dixon, Roger, and Stefan Muthesius. Victorian Architecture. 2nd ed. London: Thames and Hudson, 1985. Print.
"Southbank House, Lambeth." British Listed Buildings. Web. 20 December 2013.
Stamp, Gavin. Lost Victorian Britain: How the Twentieth Century Destroyed the Nineteenth Century's Architectural Masterpieces. London: Aurum, 2010. Print.
---
Last modified (last photograoh added) 7 October 2019