All photographs except the last three by Bob Morgan, who has kindly contributed them to our site. The last three, and the linked one of the Hudson Memorial, are by the present author. [You may use these images without prior permission for any scholarly or educational purpose as long as you (1) credit the photographer and (2) link your document to this URL in a web document or cite the Victorian Web in a print one. Click on the images for larger pictures, to see the details discussed. Other details are found in the gallery that follows this description.]
St Mary's and Its Setting
St Mary's Church, Wreay. Architect: Sarah Losh (1785-1853). Stone-carver: William Hindson, a local mason whose son, William Hindson junior, also did some of the carving. The foundation stone of this Grade II* listed building was laid in May 1841, and the church was consecrated in December 1842. An atmospheric and deeply individualistic production, St Mary's incorporated stones and timber from an older church on almost the same spot, including some of the medieval flagstones from its foundations. There were ancient springs here — as the list entry notes, there is a well down some steps just by the west door — so the new church stands "upon a symmetry of mounds and ramps" (Hyde and Pevsner 706). Built at Losh's own cost and using local, sometimes untried talent, St Mary's church was a gift to the community, and carries on the kind of work that Losh did with her beloved younger sister Katherine, who had passed away in 1835. It is located in the Cumbrian hamlet of Wreay a few miles from Carlisle.
The West Front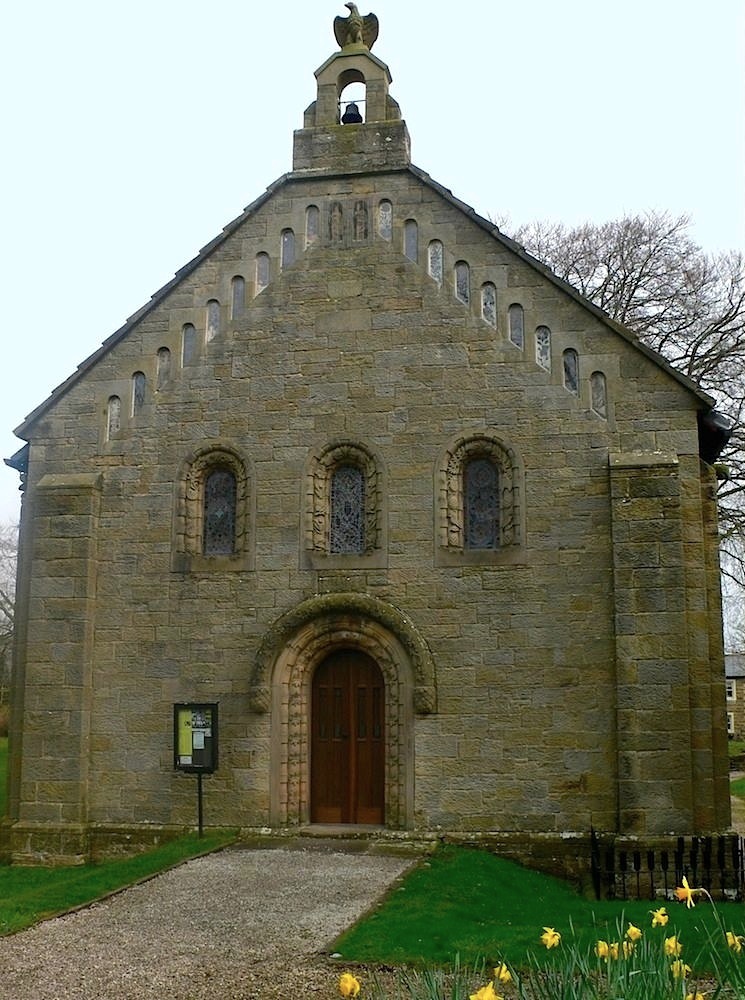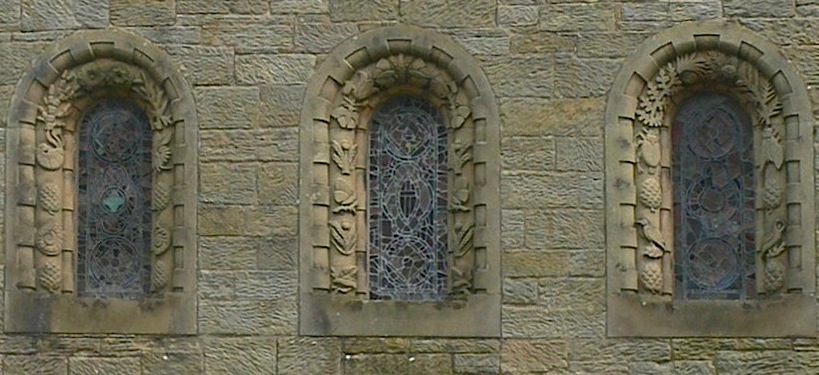 Left: The west front, presided over by a stone eagle on the bell-cote. Right: The three larger windows.
The eagle above the bell-cote, a traditional symbol of the resurrection, the ascension, and the spreading of the Word of God, sets the scene for a church decorated inside and out with stylised carvings of a natural world imbued with spiritual meanings. Below the eagle, rather small for their height, the two statues in their niches are of St Peter and St Paul, probably brought in from elsewhere (see Uglow 225), and more specifically Christian than most of the other carvings. The plainness of the façade is relieved by a stepped series of small windows mounting to the gable on either side, like so many ascending candles.
The outer arches ("reveals") of the three larger windows also gave opportunities for decoration. Carved by Hindson to Losh's designs, they feature a variety of natural forms. On each side of the middle one is a chrysalis on an oak leaf, rising to butterflies among poppies, with lilies and wheat at the top, touchingly suggestive of the journey of the soul through the natural cycle. Shown more closely alongside are the windows to its left and right. The former is set off by carvings of ammonites, coral and other forms of sea life; the latter by birds, a beetle, a bee and branches of evergreen fir — the forms of life that inhabit the air. These two window-surrounds include pinecones as well, a traditional symbol of regeneration and enlightenment, and a favourite motif throughout. Losh's use of local artisans and helpers to execute her designs was very much in the spirit of later Arts and Crafts architects and designers, for whom she is an important forerunner, and Jenny Uglow describes the carving here and elsewhere as having "a direct, childlike, almost two-dimensional quality." However, Uglow believes that this is deliberate, imparting a formal, archaic feel, as if the life-forms being depicted "were on the verge of being transformed into abstractions, or absolutes of their type" (226). Paradoxically, the stylisation has a modern air about it too, foreshadowing, for example, the stone relief panel on Jacob Epstein's Hudson Memorial in Hyde Park, with its bold lines and natural symbolism, installed in 1925 [image].
The West Door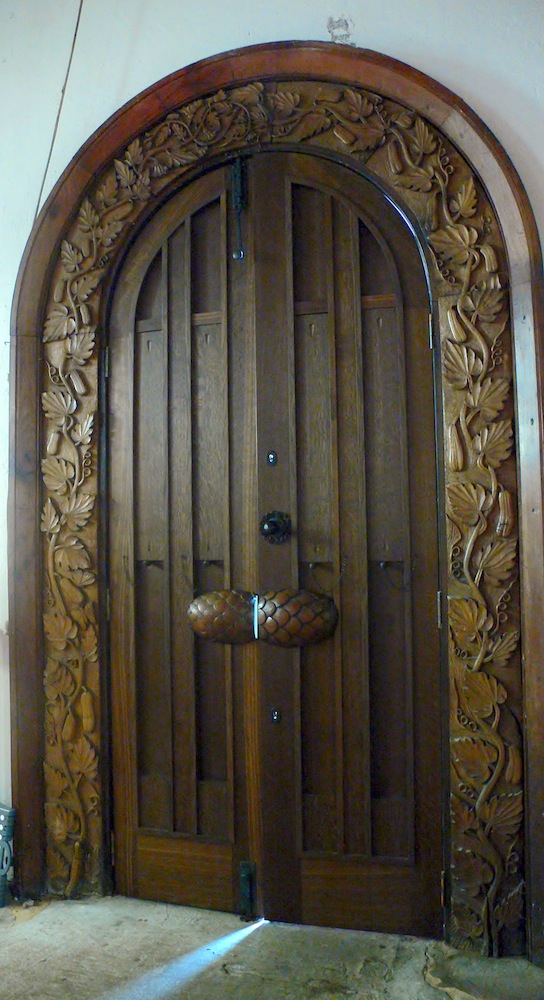 Left to right: (a) The west entrance, with its elaborately carved stone arches and hood-moulding, and, more curiously, its four inset arrows. (b) The inside of the door. (c) Detail of the carving.
As for the west door, this is a work of art in itself, and full of meaning. Round-arched and Norman in appearance like the windows, it has a semi-circular hood-mould carved with lotuses and end-stopped with pinecones. References to Eastern religions, as through the lotus, are found throughout. The arrows, a much more puzzling feature of the church's decoration, may relate to the death of the Loshes' friend, William Thain, who had recently been killed while serving in the Afghan war (this same friend, who was also a naturalist, had sent Losh a pinecone shortly before his death). Just beside the door is a well, and that has a fence in the form of arrows, too. The west door itself is as handsomely ornamented on the inside, this time with wood-carving carried out by Losh's gardener, Robert Donald. It has pinecone handles and, at the sides, gourd-bearing vines. A caterpillar is nibbling at the stem on one side, a fine naturalistic touch, on a par with other references to change (mortality as well as fertility, and then renewal) in the church decoration.
Interior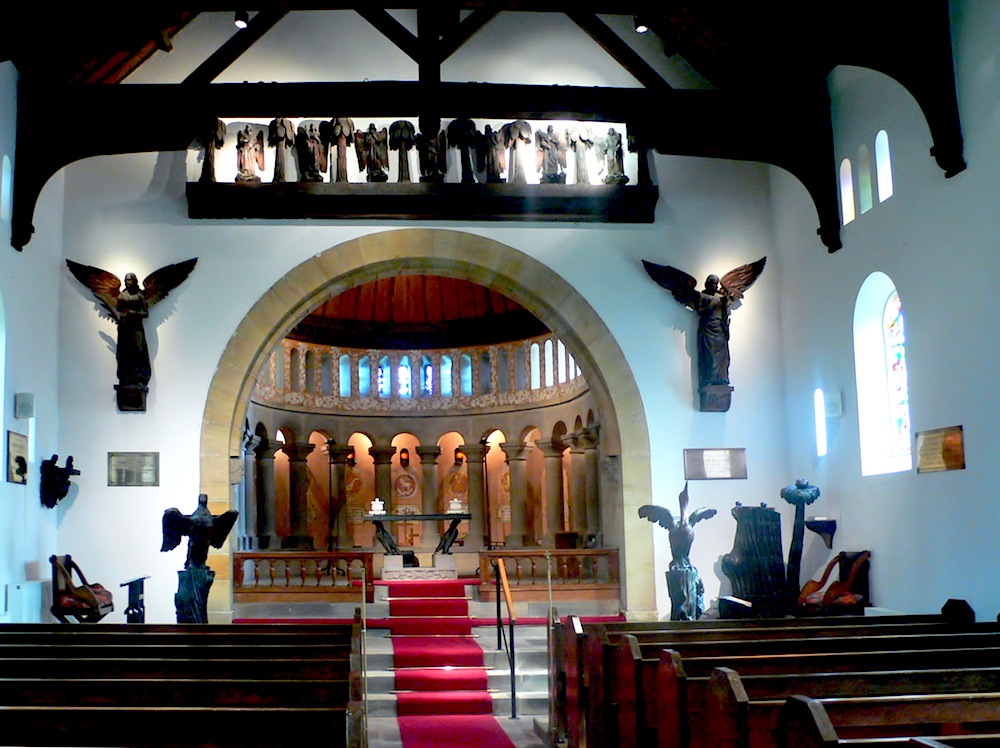 Interior of the church, showing some of its unusual fittings as well as the strikingly beautiful apse.
Losh is known to have read Thomas Hope's Historical Study of Architecture (1815), which uses the term "Lombardic" for the style brought into Italy from the early Christian churches of Constantinople, and she described St Mary's herself as being an "unpolished mode of building" that "most approximates to early Saxon or modified Lombard" (Uglow 217), suggesting that its features were taken from both early English and European sources. However, in reference to the origins of the "Lombardic" style in Constantinople, the church has often been identified as Byzantine (see Bullen 680). In complete harmony with its timeless setting, then, St Mary's is Basilican in form. Its steeply-pitched sandstone-slate roof covers a pine-panelled ceiling with oak trusses, and a simple hall-like nave of four bays.
On the left of the door, explains Losh's early biographer Henry Lonsdale, "hangs a Jewish lamp in front of one table of the Law; on the right, and against the south wall, the other table of the Law is above a bracket supported by the owl and cock — emblems of vigilance" (225-26). The church is on different levels, so there are now (as in some synagogues, Lonsdale points out) three steps down from a small baptistery into the main body of the church. This space has no aisles, so its whole width focuses first on the unusual pair of reading-stands, bog-oak and identified as "Early Christian in style" (Hyde and Pevsner 706), that use carvings in rich chestnut wood of a stork and an eagle, executed by a local workman called John Scott, as supports. To the right stands a bog-oak pulpit, clearly evoking an ancient tree trunk, but one that still has life in it: the candle-holder next to it is in the shape of a palm tree. Dramatically, though more conventionally, two angels look down on the congregation from either side of the broad chancel arch, and above it, shelved on a beam, is a row of carved angels interspersed with small palm trees. Each end of the apse arch is stopped by a head seen in profile, generic in style, serene in facial expression, a timeless female and male facing each other.
The Apse
Left: A closer view of the left part of the apse, giving a three-quarter view of the altar table. Right: One of the end capitals of the apse, with a carving of a bat.
Then, in full view since there is no screen, comes the semi-circular apse with its central altar, a table of green Italian marble supported by two brass eagles, and adorned with lotus-shaped candle-holders in lieu of a cross. Above it is a dome, not elaborately painted as might be expected, but simply patterned with alternating light and dark wood; and around it is an arcade of fourteen stout columns with carved capitals. Like the "monster" gargoyles outside, hiding the ventilation arrangements (a turtle, a tortoise, a crocodile, a snake and a dragon), the bat carving on one of the end capitals is not frightening but quirky. Other carvings are of birds with a snake or lizard, and plant-life. Above the columns, shafts of light from the high clerestory windows illuminate the wall that they pierce, with its pattern of lilies and passion flowers, while below, visible between the columns, is a row of painted panels bearing emblems of the twelve apostles, accompanied by passages of the creed. In the middle is the Lamb of God, above a cross. Over the central seven panels glow small "jars or lamps ... placed in the small window openings letting through pale and mysterious yellow, red, and orange light" (Bullen 684), in a climactic reference, it seems, to the "seven Spirits of God" in Revelations, 4, v.5. It is all brilliantly conceived and executed.
The Windows
Left: One of the larger nave windows, commissioned from William Wailes of Newcastle, the only well-known craftsman involved (and he was not very well-known at that time). Right: A row of three smaller windows in the nave, executed by local craftsman Geoffrey Rowell.
There are various kinds of windows here, as unconventional in their designs as the rest of the church fittings. Instead of saints, bible stories or church worthies, these designs call on nature or geometrical forms. Most are set against mosaic-like backgrounds produced by the recycling of glass shards and chippings, some of them pure in colour, some partially patterned — one window at the north-east, nearest the chancel, using precious recycled medieval French glass. Such work recalls the mosaic-work of Byzantine churches, and manages, in a characteristically quixotic way, to seem both old and new at once. Again, Losh used local artisans. The Carlisle firm of Geoffrey Rowell executed her designs of bright, bold flower-heads in the smaller nave windows, the flowers seeming to grow out of variegated "beds" or (in the case of the water-lily) glinting water. When she turned to William Wailes of Newcastle for the larger windows, he was just starting out on his successful career. Against similar backgrounds he set prominently outlined, geometric figures.
The fossil windows around the apse.
A few narrow windows, including the clerestory windows at the top of the apse, are even more striking, since they depict different kinds of fossils, for which Losh and her artistic cousin William Septimus Losh provided alabaster cut-out shapes (see Uglow 231). There is a brain-teasing over-all scheme here, too, reminding us of Losh's mathematical bent: "Arranged in threes, fours and sevens [the widows] recall the Trinity, the Gospels and the Gifts of the Spirit. There are 84 windows in total, the product of 3 x 4 x 7" ("Symbolism"). Engaging more than just the eye, Losh's designs require interpreting, to match the thought that has gone into them, to illicit and understand their meanings and references.
"A Most Beautiful Thing"
The mirrored font cover with its floating lotuses and leaves.
The church as a whole requires interpreting, too. Commentators often seem lost for words. At first, it might seem fair to call it "eccentric" (Jenkins 101). Certainly, Losh's own presence is keenly felt throughout. Deeply involved from start to finish, she even carved the alabaster font herself, also with the help of her cousin, who made the mirrored cover with its floating lotuses. In taking an active part like this, Losh was far in advance of her times: the decoration of churches by women was by-and-large a late-Victorian preoccupation, and even then their usual contribution was embroidery (see Walker 128-29). But St Mary's is also much more than the idiosyncratic expression of its creator. It is replete with traditional symbolism, even if this symbolism is unconventional in the way it is used, and often for its context — pinecones and lotuses, for example, instead of images of the Virgin and Child, and the crucified and risen Christ. We can read the whole history of human beings' spiritual life here, and as a result the church offers something for almost everyone of every religious affiliation, and even of none. Surely no other such space so successfully supplies "the wants of Christian worship according to the rights of the Established Church of England" while at the same time offering "Jew and Gentile, Rationalist and Ritualist ... something congenial to his taste and more or less tantamount to a support of his faith" (Lonsdale 230-31). The description of the church as a "remarkable creation" which is "highly original" in its "choice and mixture of styles" cannot be faulted, then (Hyde and Pevsner 704-5). But perhaps Dante Gabriel Rossetti has summed up St Mary's best. After visiting Wreay in 1869, he wrote to his mother saying that Losh "should be better known," describing the church as Byzantine in style, and singling it out from her various "real works of genius" as "a most beautiful thing" (202). From such a source, that simple praise is worth a thousand words.
Related Material
Bibliography
Bullen, J. B. "Sara Losh: Architect, Romantic, Mythologist." The Burlington Magazine. Vol. 143, No. 1184 (November 2001): 676-684. Accessed via JStor. Web. 3 May 2014.
Hyde, Matthew, and Nikolaus Pevsner. Cumbria: The Buildings of England (Pevsner Architectural Guides). New Haven: Yale University Press, 2010.
Jenkins, Simon. England's Thousand Best Churches. London: Penguin, 2009.
List Entry: Church of St Mary. National Heritage. Web. 3 May 2014.
Lonsdale, Henry, M.D. The Worthies of Cumberland: William Wordsworth, Susanna Blamire, Thomas Tickell, Jane Christian Blamire, The Loshes of Woodside, Sir Thomas Addison, Hugh Lee Pattinson. London: George Routledge and Sons, 1873. Internet Archive. Web. 3 May 2014.
Rossetti, Dante Gabriel. Dante Gabriel Rossetti: His Family-Letters, with a Memoir by William Michael Rossetti. Vol. II. Boston: Roberts Brothers, 1895. Internet Archive. Web. 3 May 2014.
"Symbolism." St Mary's Church. Web. 3 May 2014.
Uglow, Jenny. The Pinecone: The Story of Sarah Losh, Forgotten Romantic Heroine — Antiquarian, Architect and Visionary. London: Faber, 2012 (this totally involving and highly informative book is all that a biography of such a subject should be).
Walker, Lynne. "Women and Church Art." In Churches 1870-1914, the Victorian Society's journal, Studies in Victorian Architecture & Design, Vol. III (2011): 121-143.
---
Last modified 5 January 2016