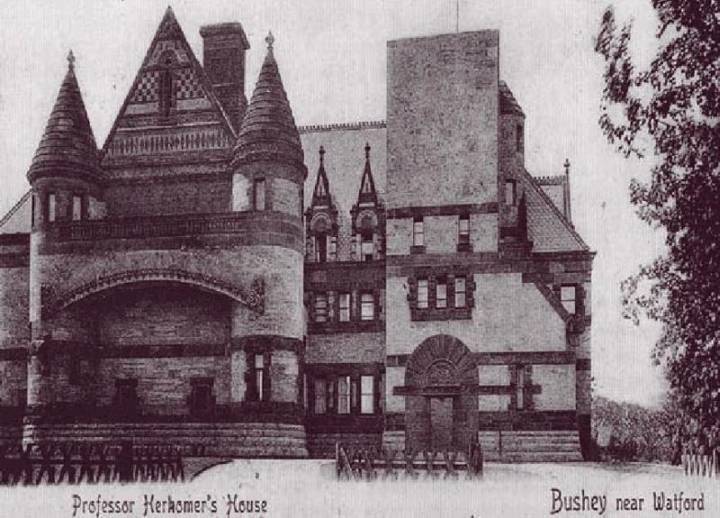 Lululaund, designed by Henry Hobson Richardson for the Anglo-German artist Sir Hubert von Herkomer, in lieu of payment for a portrait. 1886. Built later, and interiors completed in 1894. The stout gates at the entrance were designed by Giles Gilbert Scott. Demolished 1939. White Bavarian tufa and red sandstone. Bushey, Hertfordshire. The only example of this American architect's work in Britain, Lululaund had a long, low wide arch joining two conical towers, and was surely an important influence on Charles Harrison Townsend. Gavin Stamp writes:
this powerful elevation had all the rich texture, colour contrasts and solid massiveness of Richardson's American buildings. Like them, it was designed in Richardson's own version of French Romanesque but with unusual features such as a wide segmental arch, which straddled and wrapped around two round, turreted towers. (170)
Herkomer's Germanic interiors too, says Stamp, "must have been amazing":
The hall and staircase were lined with huge panels of redwood; his bedroom had a copper ceiling and walls covered in gold leaf; the dining room was decorated with a relief frieze of female figures painted by the artist and the great drawing room had a music gallery and a vast arched chimneypiece with interlaced mouldings. (171)
The house was named after Herkomer's second wife, Lulu, and he lived there until his death in 1914, fully contributing to village life. The demolition of such a unique home, designed by an architect of such "exceptional ability" (Turnor 110), was partly due to pre-World War II anti-German feeling. It is no consolation that the great front door and its tympanum were kept as the entrance to a club.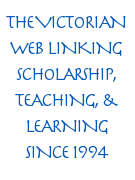 [Image kindly provided by Sarah Sullivan of the Charles Harrison Townsend website. Text by Jacqueline Banerjee.]
References
Stamp, Gavin. Lost Victorian Britain: How the Twentieth Century Destroyed the Nineteenth Century's Architectural Masterpieces. London: Aurum Press, 2010.
Turnor, Reginald. Nineteenth-Century Architecture in Britain. London: Batsford, 1950.
---
Last modified 23 February 2011