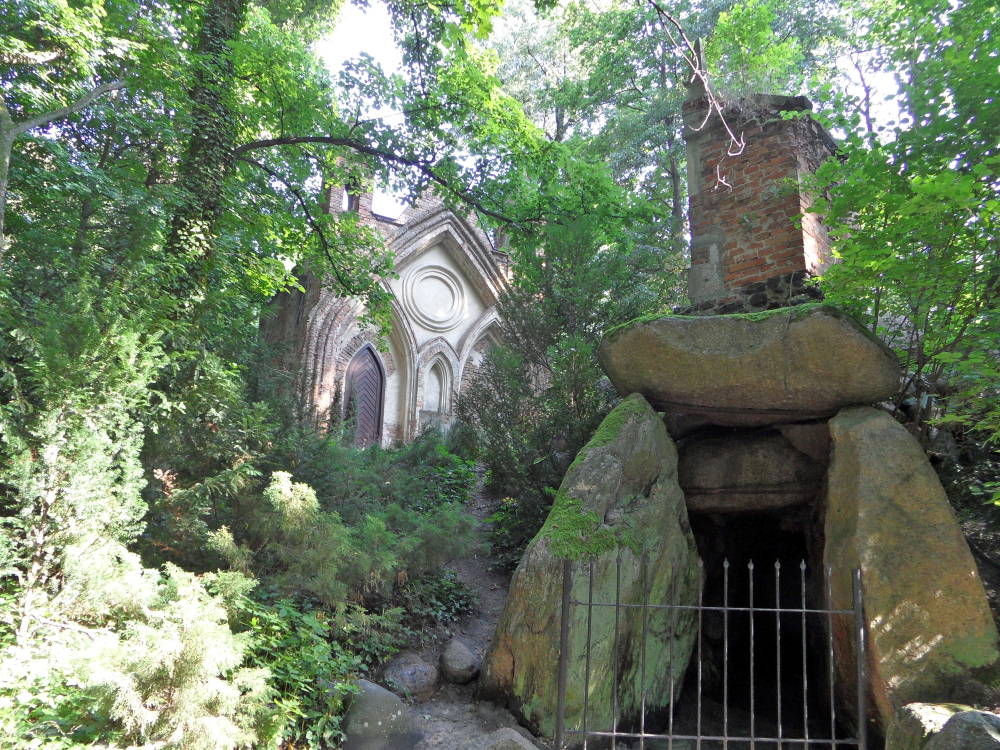 The landscape garden in Arkadia: the Gothic House with Sybil's Grotto. designed by Szymon Bogumil Zug (1733-1807) with the assistance of Princess Helena Radziwill (1753-1821). 1778. [Click on this image and those below for larger pictures.]
One of the early manifestations of the Gothic Revival in Poland was the growing popularity of English landscape gardens, containing unrestrained vegetation, follies or mock ruins, like Horace Walpole's Strawberry Hill at Twickenham (1750). Arkadia Park, situated near Lowicz, 85 kilometres west of Warsaw, is a remarkable example of a late-eighteenth-century English landscape garden in Poland and deserves to be more widely known.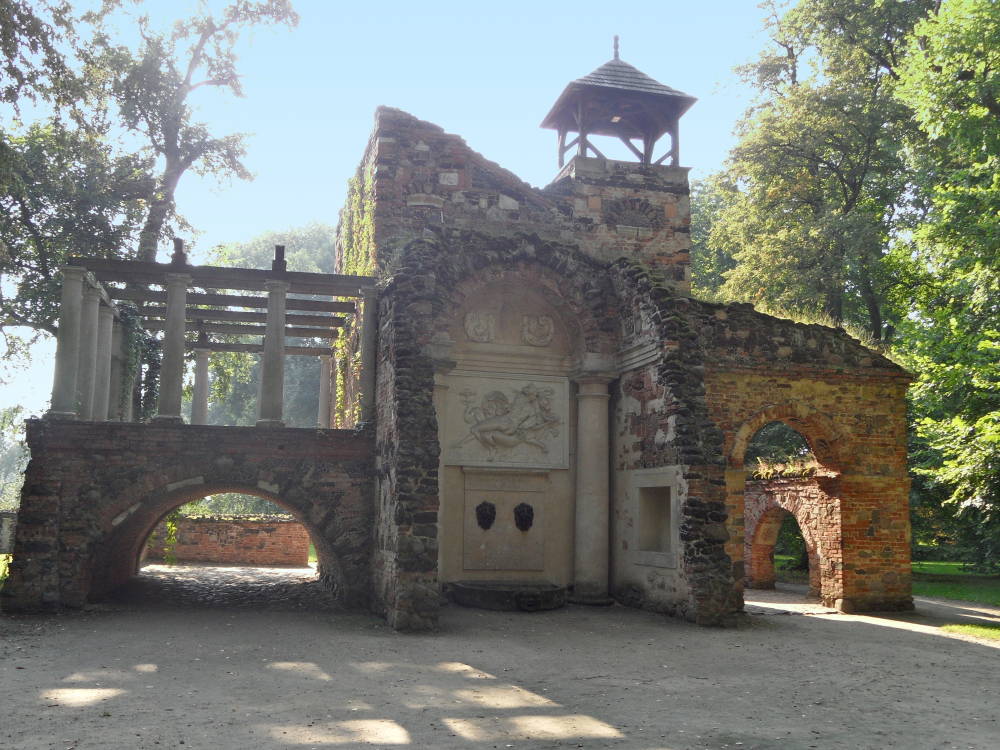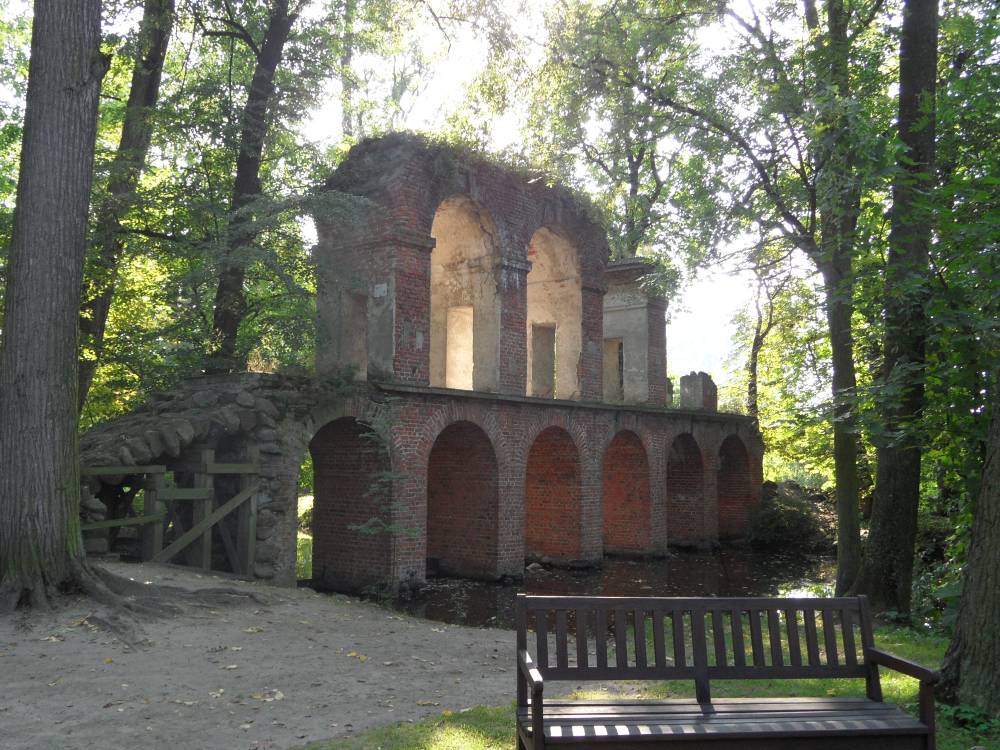 Left: The High Priest's Sanctuary. Right: Remains of a Roman Aqueduct.
Princess Helena Radziwill, an aristocratic blue-stocking, worked on the garden and its buildings until her death, creating an extraordinary romantic rural retreat with specimens of rare trees and various architectural mementoes referring to ancient and medieval works of arts. The Princess invited her friends and relations to visit Arkadia in order to contemplate the beauty of nature and look for numerous allusions hidden in the park architecture, which contained references to antiquity, Dark Romanticism (Gothicism), Christianity, freemasonry, and neo-stoicism. One of the basic functions of Arkadia Park was to promote the arts.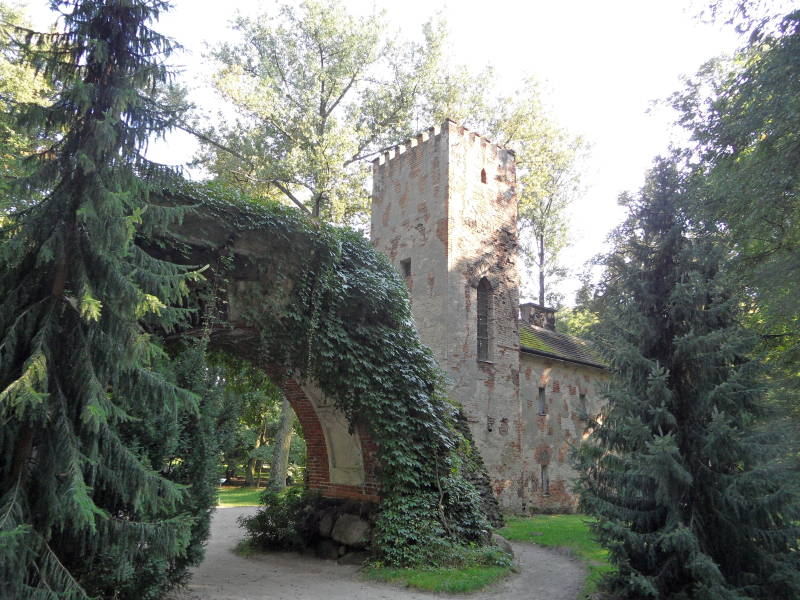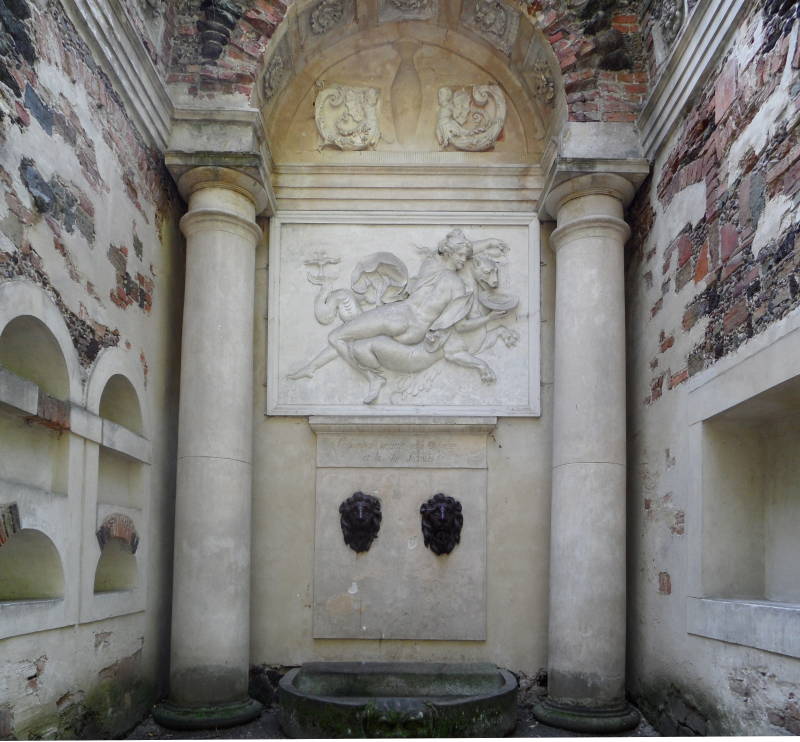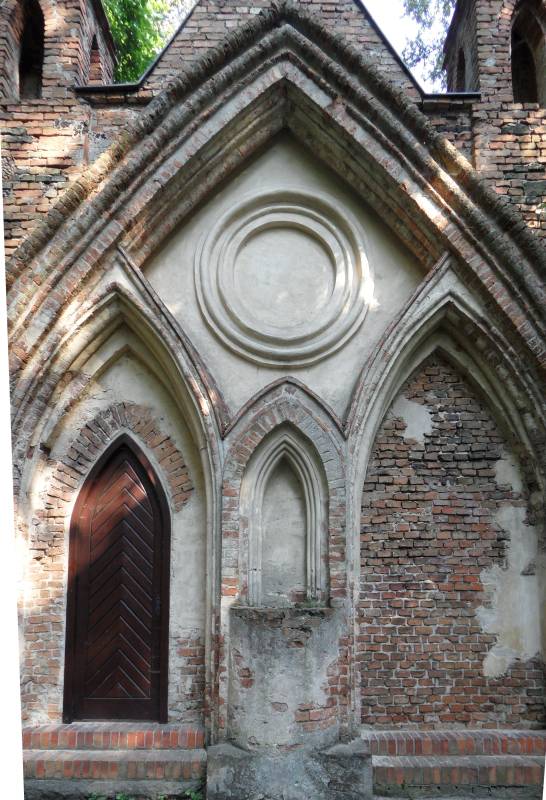 Left: The Margrave's house with a stone arch. Middle: Interior of the High Priest's Sanctuary with a bas-relief of Hope feeding a chimera. Right: Detail of the gothic house.
The construction of Arkadia Park was inspired by the Greek myth popularised by the Roman poet Virgil, revived in the Renaissance by Torquato Tasso, Ludovico Ariosto, and Philip Sidney, and widespread in the English landscape architecture of the late eighteenth century. The romantic park in Arkadia includes a lake, lawns flanked by groves of rare trees and shrubs, a replica of a classical temple of Diana, Gothic ruins with Sybil's grotto, obelisks, remains of an ancient circus, and a Roman Aqueduct. The High Priest's Sanctuary contains a niche with the bas-relief of Hope feeding a chimera. There was also a sepulcher on the Poplar Island with an inscription: Et in Arcadia ego, which, as Panofsky points out in his classic essay, means "Even in Arcadia, I, Death, hold sway" (310). Appropriately, nearby Radziwill placed the Tomb of Illusions, erected to the memory of her three daughters, who died young. Arkadia Park, destroyed during the two world wars, has been now restored to its original form.
It is interesting to note that one of landscape architects involved in the development of Arkadia Park, and some 50 other landscape gardens in Poland and Ukraine, was the Polonised Irishman, Dionizy Mikler (Denis MacClair, 1762-1853), who studied natural sciences in Dublin and horticulture in London, and spent most of his adult life in Poland.
Photographs 2011 by Anna Diniejko-Wąs and text by Andrzej Diniejko. Formatting by George P. Landow. You may use this image without prior permission for any scholarly or educational purpose as long as you (1) credit the photographer and (2) link your document to this URL in a web document or cite the Victorian Web in a print one.]
Bibliography and Further Reading
Grzybowska, Teresa. "Ogrod Armidy arkadyjskiej — Heleny Radziwillowej" (The Garden of Arcadian Armida —Helena Radziwill). Rocznik Historii Sztuki (Yearbook of Art History) 35 (2010): 5-42.
Mikocki, Tomasz.Collection de la Princesse Radziwill. Les monuments antiques et antiquisants d'Arcadie et du château de Nieborów/h3. Wrocław-Warszawa: Ossolineum, 1995.
Panoksky, Erwin. "Et in Arcadia Ego: Poussin and the Elegiac Tradition" in Meaning in the Visual Arts: Papers in and on Art History. Harden City, N.Y.: Doubleday Anchor Books, 1955.
Piwkowski, Włodzimierz. Arkadia. The Romantic Garden of Helena Radziwill. Translated by Teresa Żółtowska Huszcza. Voyager: Warsaw, 1995.
---
Last modified 8 September 2014