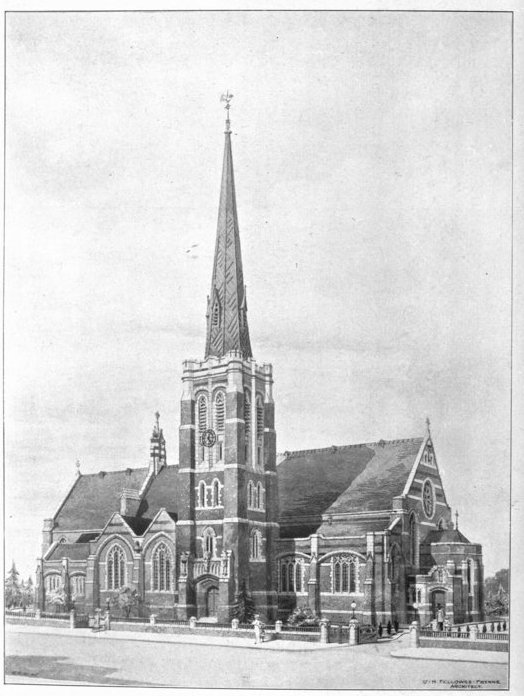 George Halford Fellowes Prynne, FRIBA (1853-1927) was born in Plymouth. His mother was the daughter of Admiral Sir Thomas Fellowes, and his father was George Rundle Prynne, an active and controversial Tractarian clergyman and writer. At the age of eighteen, after attending Chardstock College and Eastman's Royal Naval College (a few sources, like Brodie [417] have Chard College and Haileybury), he went out to Iowa in 1871 to join an uncle who was a farmer. However, he then turned to architecture instead. Following a spell in an architect's office in Toronto, he came back to England, entering the office of G. E. Street while Street was working on the Law Courts. He also studied at the Royal Academy Schools from 1876-78 (see Sharville).
When Street died in 1881, Prynne completed his plans for enlarging his own father's church, St Peter's, Plymouth: according to his obituary in the Times, this was the earliest proof of his exceptional talent. He went on to become a prolific designer and restorer of parish churches, mostly in the southern parts of England, with his first major commission in London being the ambitious All Saint's Church, Rosendale Road, West Dulwich. Built from 1888-92 on land donated by Dulwich College, this is one of only three Grade I listed buildings in south London (McInnes). An associate of the Royal Institute of British Architects since 1881, he became a Fellow in 1891, and was president of the Architectural Association, 1899-1900.
Prynne designed numerous parish churches, often very large "landmark" ones, and is particularly known for his rood screens carved from stone — so much so that Simon Jenkins refers to him, in the context of his rood screen and parclose screen in St Nicholas, Rattlesden, Suffolk, as "the Devon master" (764). He was a staunch Anglo-Catholic, always very much involved with church matters. He married and had seven children, not all of whom survived him: sadly, he lost two of sons in the war, and two others were badly injured (McInnes). After that, understandably enough, he diverted his energies to designing war memorials. His funeral service was held in St Saviour's, Ealing, one of his own churches. He had designed Christ Church Cathedral in Colombo, Sri Lanka, and its completion was overseen after his death by his son Harold Fellowes Prynne, who was practising in Madras (see Farley). — Jacqueline Banerjee
Works
Sources
Academy Architecture and Architectural Review. Ed. Alexander Koch. London: Academy Architecture, 1897-1912. Internet Archive copy from University of Toronto Libraries. Web. 16 May 2013
Brodie, Antonia. Dictionary of British Architects 1834-1914. Vol. 2, L-Z. London: Continuum, 2001. Print.
"Deaths: Prynne." Times. 10 May 1927: 14. The Times Digital Archive. Web. 13 October 2013.
Farley, Jonathan. "George Fellowes Prynne: Architect of St Wilfrid's Church." St Wilfrid, Bognor. Web. 13 October 2013. (This contains a useful list of his works, as extracted from the Pevsner series.)
Gray, A. Stuart. Edwardian Architecture: A Biographical Dictionary. Iowa City: University of Iowa Press, 1986 (see 297-98). Print.
Hooper, E. S., revised George Herring. "Prynne [Prynn], George Rundle (1818-1903)." Oxford Dictionary of National Biography. Online ed. Web. 13 October 2013.
Jenkins, Simon. England's Thousand Best Churches. Pbk ed. London: Penguin, 2000.
McInnes, Ian. "Dulwich Architects — George Fellowes Prynne, 1853-1927." The Dulwich Society. Web. 13 October 2013.
"Mr. Fellowes Prynne." Times. 14 May 1927: 14. The Times Digital Archive. Web. 13 October 2013.
Sharville, Ruth. "George Fellowes Prynne: A Brief Biography." sharville.org.uk. Web. 13 October 2013. (This contains Prynne's own brief, but valuable, account of his life, including his spell in the "Wild West." It gives his schools as St. Mary's College, Harlow, Chardstock College, and Eastman's Royal Naval Academy at Southsea, and shows a picture of the cathedral in Colombo, looking very Byzantine).
---
Last modified 19 October 2013