Photographs by the author. [You may use the images without prior permission for any scholarly or educational purpose as long as you (1) credit the photographer and (2) link your document to this URL in a web document or cite it in a print one. Click on the pictures to enlarge them.]
St Chad's Roman Catholic Cathedral, Queensway (Inner Ring Road dual carriageway), Birmingham, by A. W. N. Pugin (1812-1852), with George Myers (1803-1875) as the builder. 1837-41. Red brick with Bath stone dressings and carvings, and slate roofs.
Not at all typically "Puginesque" in general appearance, St Chad's Cathedral is nevertheless striking and important, both architecturally and in the history of the Catholic Revival. A Grade II* listed building, it could not technically become a cathedral until after the Catholic hierarchy was re-established in 1850, and was designated as such only in 1852. But it was always intended to be one (see Dent 464), and its design, with its symmetrically towered west front, pre-empted the designation. Since it was planned and consecrated before Pugin's London pro-cathedral, St George's, Southwark, it was, in effect, the very first Catholic cathedral to be built in England since the Reformation, and the first cathedral of any denomination to be built since Wren's St Paul's (see Hill 207).
St Chad's was sited in what was originally the Gun Quarter of Birmingham, with factories and workshops all around (Foster 47). Designed in a northern Germanic 13c.style quite unlike the very early nineteenth-century Georgian chapel it replaced, it was deliberately distinctive. Pugin wanted it to look different: "I have adopted a foreign style of pointed architecture because it is both cheap and effective and Likewise because it is totally different from any protestant erection," he wrote to John Hardman in June 1837, in his inimitable hurried style and with his unpredictable spelling and capitalisation, adding "any person would be aware this was a catholic church at first sight and though it is very plain it will have a majestic appearance from its Lofty proportions and will be readilly distinguished at a distance" (77)
Pugin also mentioned that its design was "adapted to the irregular form of the ground" (77), something that always governed his planning in the early stages. In this case, he was faced with a steep slope down to the east, towards a canal, and made use of the 20' drop by factoring in an extra-deep Romanesque crypt (cf. his first church, the Romanesque St James, Reading). The entrance to the crypt can be seen in the middle here, in what has been described as "a well-grouped, rather domestic forward extension, planned as a school" (Foster 49). Indeed, the whole crypt was originally intended for such a purpose (Hill 209). However, as it is, the crypt contains a number of chantry chapels and vaults, including one in which Pugin's second wife Louisa was buried with great ceremony, while Pugin wept inconsolably in the solemn space which he himself had created (see Hill 313). Members of the Hardman family, with which Pugin's was closely associated, are also among those buried here (see Doolan 9).
Further west, the three-sided apse belongs to the north-west chapel, dedicated to St Edward the Confessor. This is not Pugin's. It was erected as a memorial to the cathedral's second Bishop and first archbishop of Birmingham, Edward Ilsley (1838-1926), and dates from much later — 1933. However, it beautifully matches the apse at the east end, just visible here, and, fittingly, was designed by Sebastian Powell Pugin (1866-1949), Pugin's great-grandson.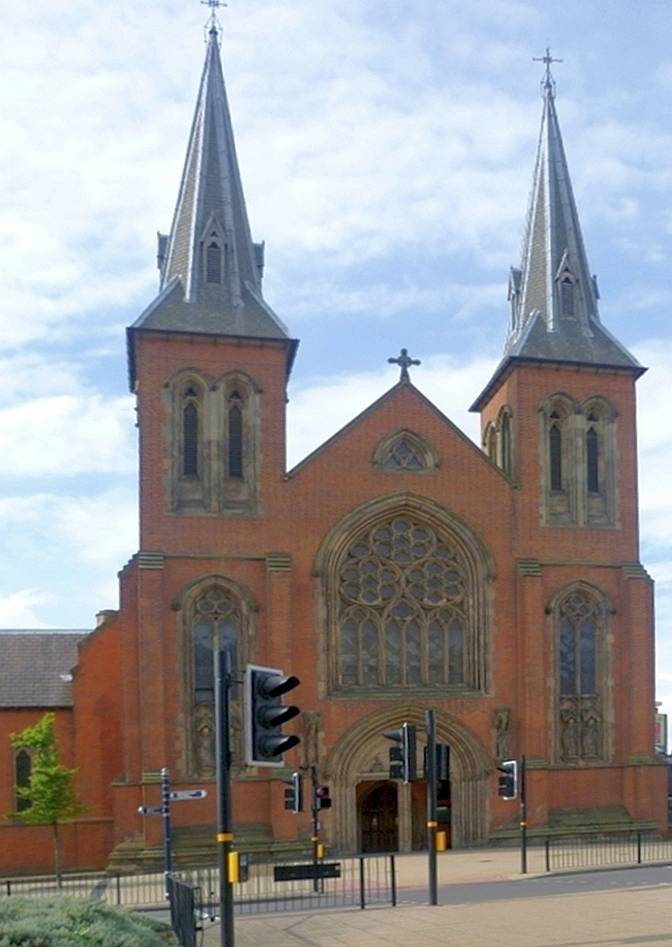 Left: West front, its twin towers marking its status as a cathedral. Right: Detail of façade, showing the architectural sculpture.
The south-west tower was completed only in 1856, by Pugin's eldest son, E. W. Pugin, as a memorial to Canon John Moore, a church administrator who had died in 1848. But the building had been designed from the beginning to have the two towers — and also a central spire at the crossing, that was never built. Pugin was always operating under severe financial constraints, except when he was working for the Earl of Shrewsbury, and even then he had to push for the more costly refinements. In the letter to Hardman quoted above, he writes: "I feel confident that this church could be erected without the upper part of tower & spire for the sum of 3 thousand pounds & perhaps less...," though he adds hastily that that did not include fittings, altars, stained glass or organ. He had also says that ornamentation would be kept to a minimum, his aim being massiveness in "general effect" (77). Nevertheless, there is good detailing on the outside, with the figures of Saints Augustine and Chad (of Lichfield) on the left or north side, Saints Swithun (of Winchester) and Wulstan (of Worcester) on either side of the west doorway, and Saints Thomas (of Canterbury) and Hugh (of Lincoln) on the right or south side. These were designed by Pugin and executed in George Myers' workshop.
Close-up of the Virgin Mary and Infant Jesus, with angels bearing censers, on the tympanum.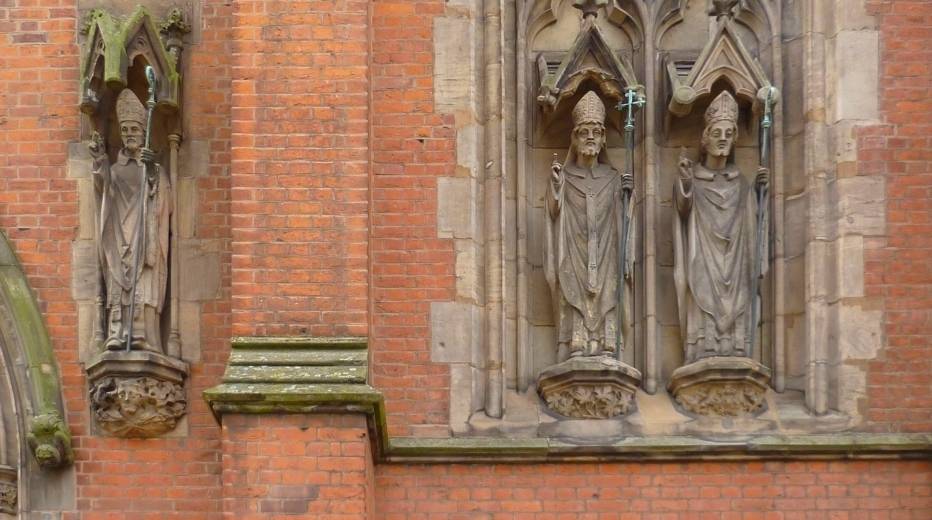 Left to right: (a) The edge of the extension housing the crypt entrance, intended for a school. The crypt was dedicated to St Peter. ( (b) Statue of a bishop on the angle of the building, possibly Bishop Walsh (who was also clean-shaven, is buried within, and has a fine monument in the church itself) looking down compassionately at a kneeling boy. (c) Closer view of bishops on the right-hand side, that is, Wulstan, Thomas à Becket and Hugh of Lincoln, their hands raised in blessing.
The figures and other carvings have lost their crispness, but they would never have been St Chad's best feature. One commentator finds such details as the external sculpture, and the door hinges shown below, "charming, if not as convincing as Pugin was later to be" (O'Donnell 58). But the west front's main impact comes from the strong vertical planes rising from the ground that falls away beside it. These planes are emphasised by the tall buttresses and windows. The total effect is partly negated by the road furniture at this busy junction, and the listing text admits that it is "very much mutilated both in itself and in its setting." It is also sad that the new road system necessitated the demolition in 1960 of Pugin's Bishop's House (1840-41), which once stood opposite. Still, the cathedral has a dramatic outline from the east as well as from the side (more so, perhaps, as it rises so steeply with its assorted roof-lines), and the "presence" of the bishops ranged along the front does lend dignity and a strong sense of spiritual and clerical tradition to the façade. The centrality of the Virgin Mary with the Infant Jesus also signifies its denomination.
MIchael Fisher mentions that in the early 1840s, "the principle centre for converts was Birmingham" (221), and one of the reasons he gives for this is St Chad's itself. Not surprisingly, it was designated a minor basilica in 1941 (Doolan 1), a recognition conferring certain rights and privileges within the Catholic church. Even after the loss of various fittings (notably its important rood screen), the interior alone more than justifies such a designation.
Left: The west entrance, approached from the north side. Right: Finely wrought hinge on the oak door at the west entrance.
Related Material
Sources
"Cathedral Church of St Chad, Birmingham." British Listed Buildings. Web. 6 January 2013.
Dent, Robert Kirkup. Old and New Birmingham: A History of the Town and Its People. Birmingham: Houghton & Hammond, 1880. Internet Archive. Web. 6 January 2013.
Doolan, Father Brian. The Metropolitan Cathedral and Basilica of St Chad Birmingham. 5th revised ed. Birmingham: St Chad's Publications, 2006. Available at the cathedral. Print.
Fisher, Michael. "Gothic For Ever": A. W. N. Pugin, Lord Shrewsbury, and the Rebuilding of Catholic England. Reading: Spire, 2012. Print.
Foster, Andy. Birmingham. Pevsner Architectural Guides. New Haven and London: Yale University Press, 2005. Print.
Hill, Rosemary. God's Architect: Pugin and the Building of Romantic Britain. London: Penguin, 2007. Print.
O'Donnell, Roderick. The Pugins and the Catholic Midlands. Leominster: Gracewing, and the Archdiocese of Birmingham, 2002. Print.
Pugin, A. W. N. The Collected Letters of A. W. N. Pugin, Vol. 1. 1830-42. Ed. Margaret Belcher. Oxford: Oxford University Press, 2001. Print.
---
Last modified 22 January 2013