Introduction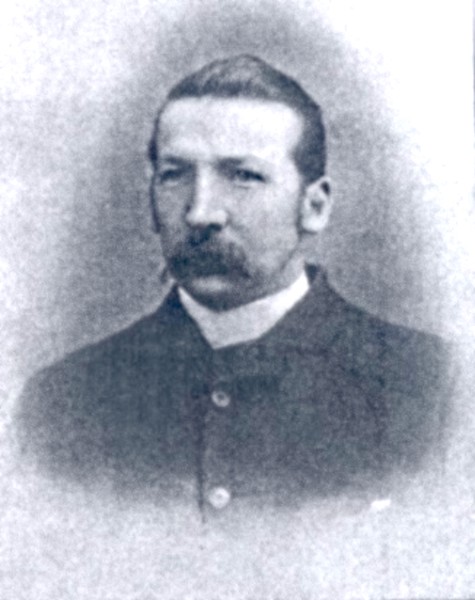 Peter Paul Pugin in The Building News and Engineering Journal, Vol. 59 (3 September 1890).
Peter Paul Pugin (1851-1904) was the youngest son and child of A. W. N. Pugin. Baptised Edmund Peter, he was born to his father's third wife Jane, née Knill. This made him the half-brother of the two boys of the previous marriage, Edward Welby Pugin (1834-1875) and Cuthbert Pugin (1840-1928). Despite the untimely death of their father, all three sons followed in his footsteps and became architects, with Edward inheriting the practice at the very early age of eighteen. In 1860, Edward founded the South East Furniture Company to make up his furniture designs. Cuthbert was largely in charge of this, and when Peter Paul was old enough, he began to assist Cuthbert here. After various ups and downs with earlier partners, Edward took Peter Paul, like Cuthbert, into partnership with him.
Peter Paul was the only one of the three brothers to have a family of his own. A devout Catholic like his father, in 1886 he married the third daughter of the Catholic builder, John Bird of Hammersmith. The couple had five children. By the time of the marriage, Edward Pugin had died, Cuthbert had retired to Ramsgate to run his father's workshop there, and their nephew Sebastian Pugin Powell (1866-1949), the son of John Hardman Powell, had become a member of the firm.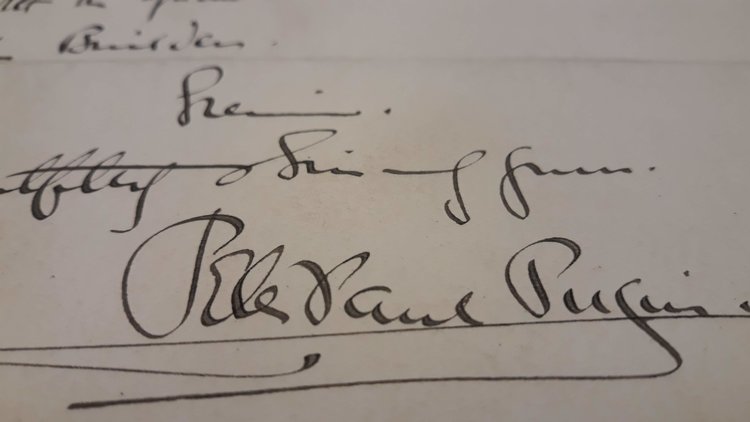 Peter Paul Pugin's signature, by kind permisson of Lancashire Archives.
Practising as Pugin & Pugin, whether with Cuthbert, on his own for a while (1880-1884) or with Sebastian, Peter Paul "continued the national scale of the practice" (O'Donnell, The Pugins and the Catholic Midlands, 3), keeping the London and Liverpool offices going, but mainly operating in Scotland. Here, by far his most important patron was Charles Eyre, the Catholic Archbishop of Glasgow from 1869-93 (O'Donnell, "The Later Pugins," 268). His earlier work was clearly influenced by his father and elder half-brother, but "by the 1880s he had developed a very recognisable curvilinear Gothic style, usually in red sandstone with elaborate altarpieces in coloured marbles" ("Peter Paul Pugin"). He concentrated almost exclusively on churches and associated buildings, and is credited with having designed 450 altars (see O'Donnell, "The Later Pugins," 270).
Peter Paul, like his father and elder half-brother before him, died in middle-age, leaving Sebastian to take over the practice. Cuthbert, the only long-lived brother, came back into partnership at this point, but only "technically" (O'Donnell, "The Later Pugins," 300, n.61). Peter Paul's own sons did not become architects, so after Sebastian Pugin Powell died, the practice continued under his cousin Charles Henry Cuthbert Powell (1874-1958).
A tribute which appeared in The Builder after Peter Paul's death, written by "one who knew him," spoke highly of him: "It is a striking tribute to his character that his piety appealed to all who had association with him, irrespective of creed." But despite his "gentle and kindly nature," it seems that there was something of his father about him, because, as the brief reminiscence continues, those who tried to get the better of him were given a hard ride. Fortunately, such occurrences were rare because "it was Pugin's lot generally to get builders and workmen around him who entered enthusiastically into his work" (436).
Roderick O'Donnell also notes Peter Paul's talent as a watercolourist — he was accomplished enough to exhibit at the Royal Academy — and points out, rather amusingly, that his "incomplete scheme for Fort Augustus Monastery in the Highlands, and a megalomaniac scheme to finish off Edward's church at Belmont with three spires," provides additional proof that he was "in the line of Pugin visionaries" (268, 269). — Jacqueline Banerjee
Works
Bibliography
Anson, Peter F. Churches: Their Plan and Furnishing. Milwaukee: Bruce, 1948. Internet Archive (Universal Digital Library). Web. 21 October 2019.
Blaker, Catriona. Edward Pugin and Kent: His Life and Work within the County. The Pugin Society, 2012. [Review by Jacqueline Banerjee].
"Family Tree" (Peter Paul Pugin page) Pugin Society. Web. 21 October 2019.
Hill, Rosemary. God's Architect: Pugin and the Building of Romantic Britain. London: Penguin, 2008.
Martin, Christopher, A Glimpse of Heaven: Cathedral Churches of England and Wales. London: English Heritage, 2006.
Obituary of Peter Paul Pugin. The Builder, Vol. 86 (Jan-June 1904): 316. Google Books Web. 21 October 2019 (very limited view).
O'Donnell, Roderick. "The Later Pugins." Pugin: A Gothic Passion. Ed. Paul Atterbury and Clive Wainwright. New Haven: Yale University Press, 1994. 259-271.
_____.The Pugins and the Catholic Midlands. Leominster, Herefordshire: Gracewing, 2002.
"Pugin, Peter Paul." Dictionary of Scottish Architects. Web. 21 October 2019.
"A Reminiscence of the Late Peter Paul Pugin." The Builder, Vol. 86 (Jan-June 1904): 436. Google Books Web. 21 October 2019 (very limited view).
---
Created 21 October 2019