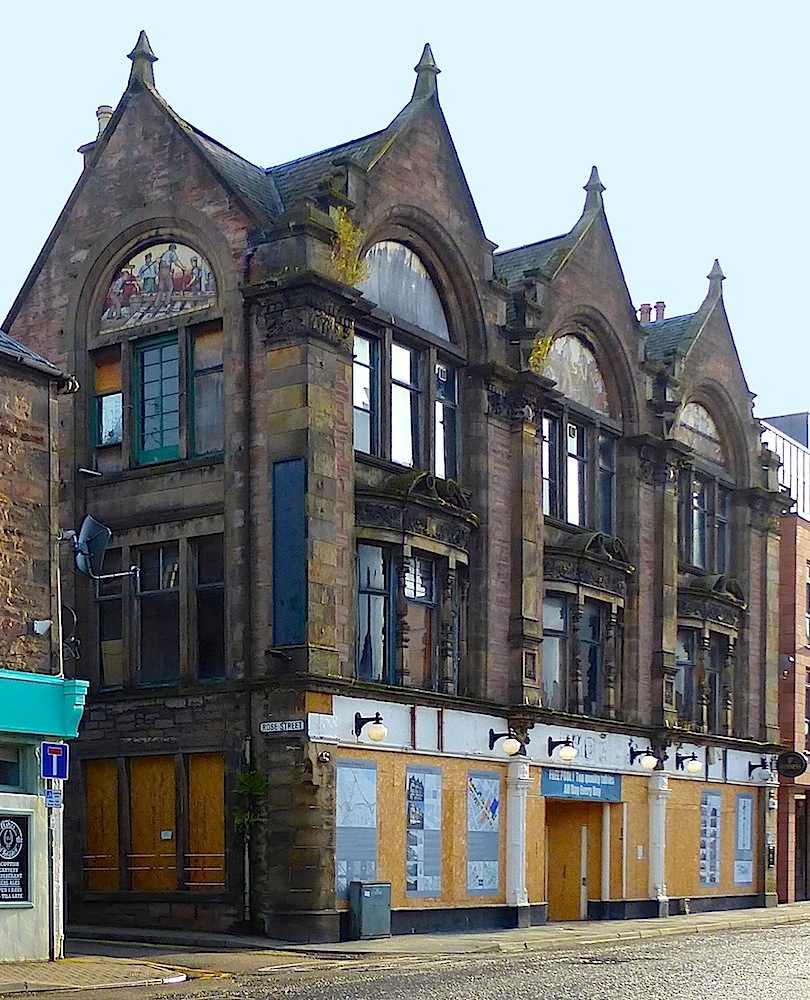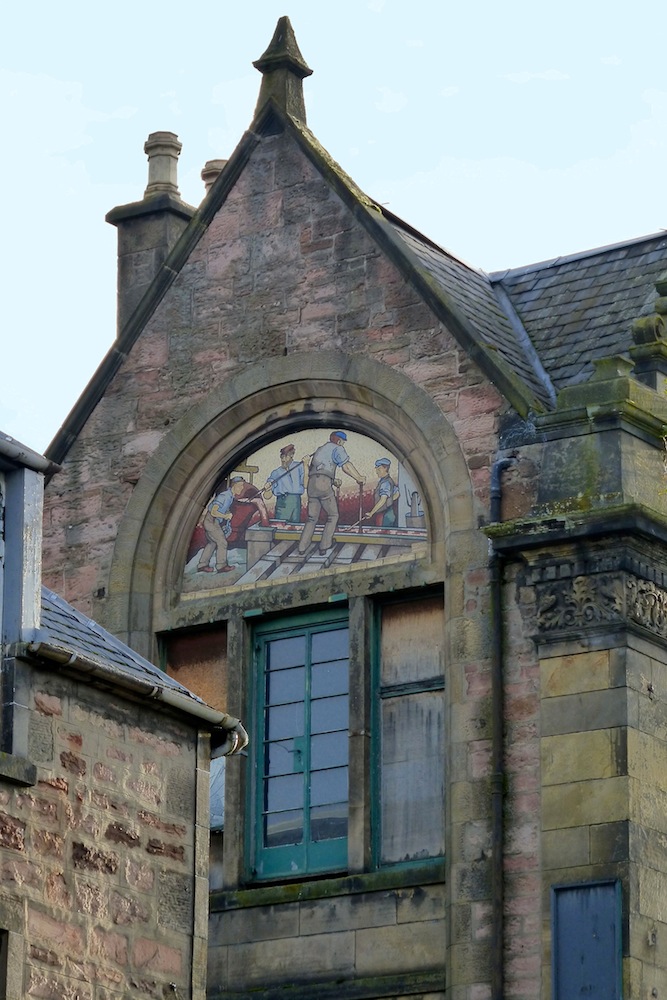 Left: As seen when approaching from the opposite side of Academy Street. Right: Looking up at the corner with Rose Street.
The former Rose Street Foundry, a Category B listed building designed by Alexander Ross (1834-1925) and Robert John Macbeth (1857-1912), built for the Northern Agricultural Implement and Foundry Company in 1893. Typically for Ross, though not for foundry offices, let alone for ones that front the foundry workshops, this is a fine building with a continental touch: in Second Empire (i.e. French Renaissance Revival) style, it has pilasters, carved friezes, etc., and also what John Gifford calls "giant roundheaded overarches" in the top storeys, with all but one of the large tympanums still filled with their original mosaics of men at work in the foundry, hammering, welding, mopping their brows etc. (200). These are above what would have been the offices and then the showrooms or shopfronts. The main block of workshops lies behind the frontage. It is a large complex with more workshops across Rose Street, although these, according to the Canmore site, are "much altered" now.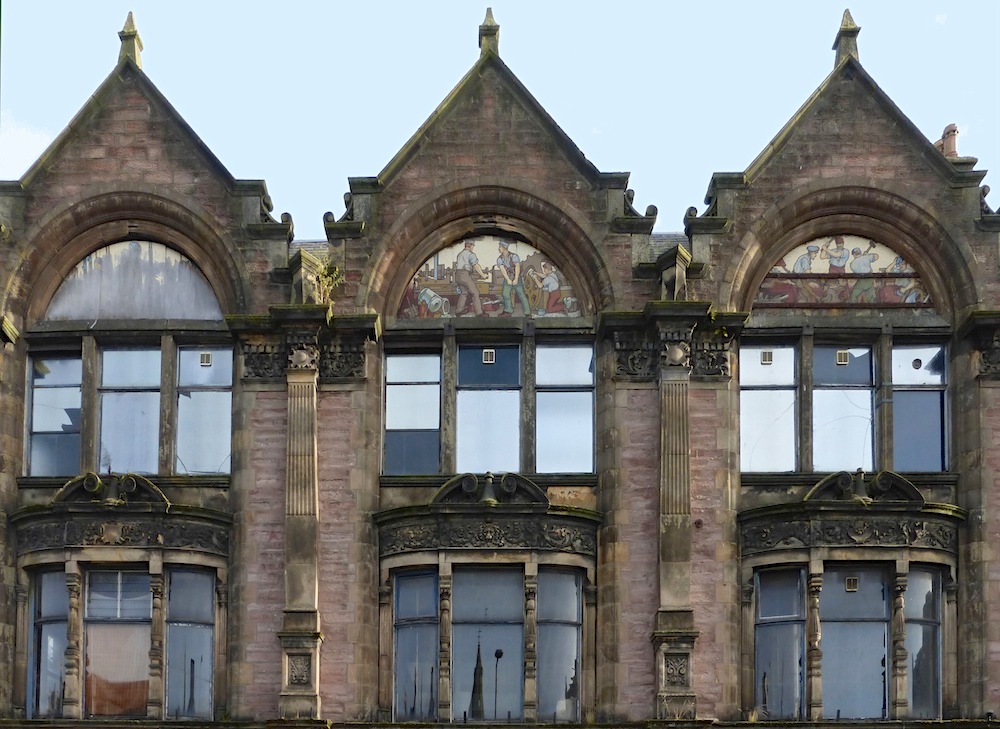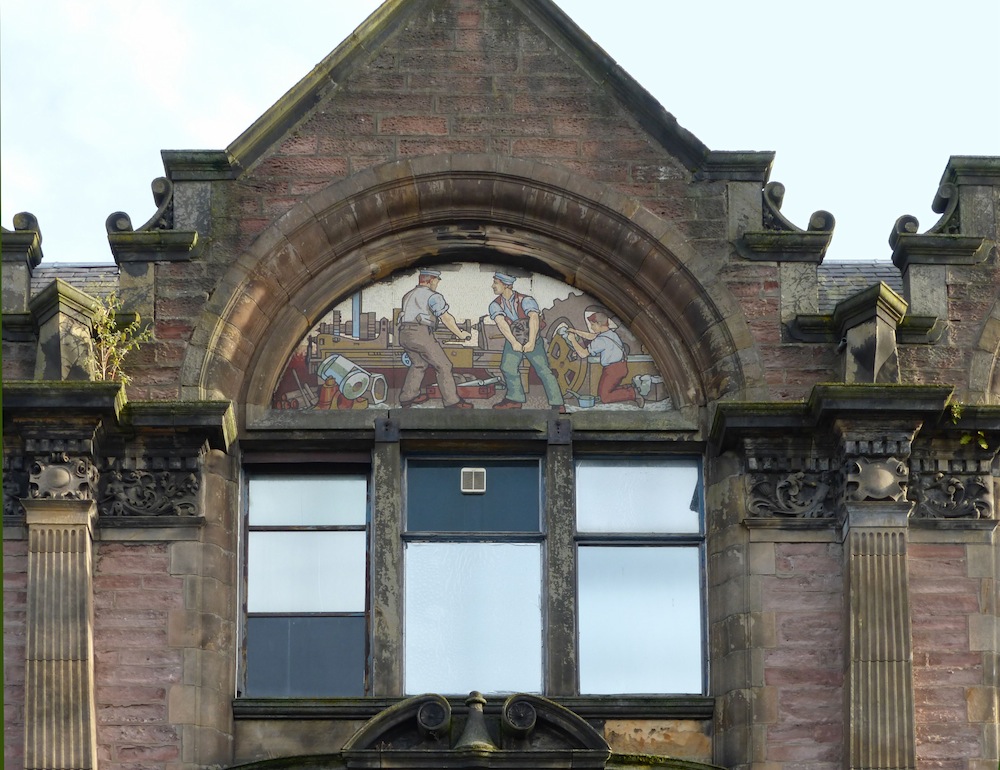 Left: The triple-gabled frontage on Academy Street. Right: The middle gable with its tympanum and architectural features.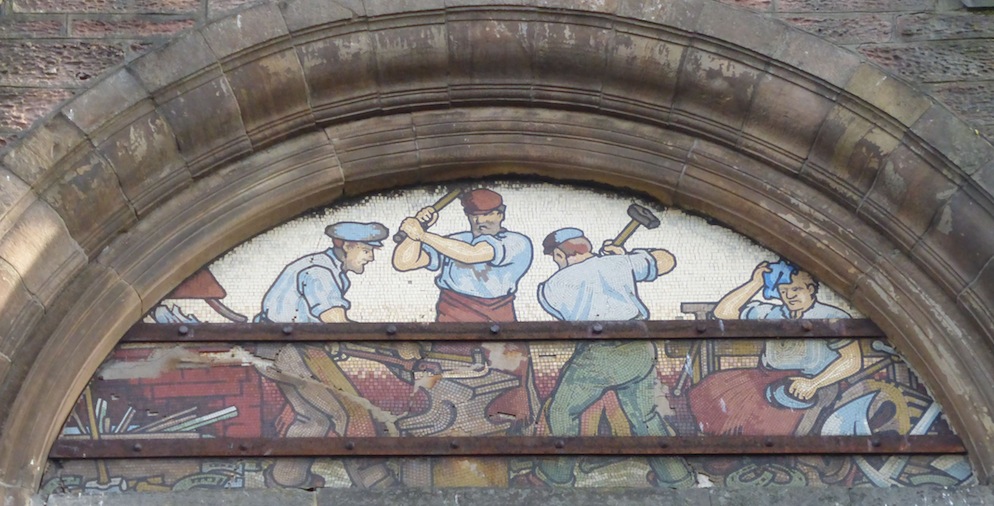 The mosaic on the tympanum to the right.
Operational until 1988, this was the longest lasting of several local foundries (see Conner). Since then, however, the building has not been so lucky. In fact, it has been on the "buildings at risk" register, and the mosaic on the left has fallen off. The ground-level rooms were used for a while as a sports' bar, and the blue sign over the entrance still reads "Free Pool! Top quality tables all day every day!" But in 2014 the Highland Council "secured a stage 1 pass from the Heritage Lottery Fund towards a £1.67 million Townscape Heritage Initiative for Academy Street," and, as part of the wider regeneration of the area, the Cairngorm Brewery has acquired it, and plans to turn the premises into a craft beer bar with a restaurant and accommodation above it (see Aird, and, more recently, White). This project seems to be going ahead, and is much better than letting the building continue its decline.
Photographs, captions and commentary by Jacqueline Banerjee. [You may use these images without prior permission for any scholarly or educational purpose as long as you (1) credit the photographer and (2) link your document to this URL or cite it in a print document. Click on the images to enlarge them.]
Bibliography
Aird, Helen. "Brewery Plans will Breathe New Life into Iconic Building." Inverness Courier. Web. 28 December 2017.
"Alexander Ross." DSA (Dictionary of Scottish Architects). Web. 28 December 2017.
"Archeology Notes." Canmore. Web. 28 December 2017.
Conner, David. "Lost and Found-ry" (report on a talk in September 2015 by Eileen MacAskill). Inverness Local History Forum. Web. 28 December 2017.
Gifford, John. Highland and Islands. The Buildings of Scotland. London: Penguin, 1992.
"Rose Street Foundry Offices (Former), 96-104, Academy Street, Inverness." Buildings at Risk Register for Scotland. Web. 28 December 2017.
White, Gregor. "Cairngorm Brewery wins permission for new pub in Inverness." Highland News. Web. 28 December 2017.
---
Created 28 December 2017