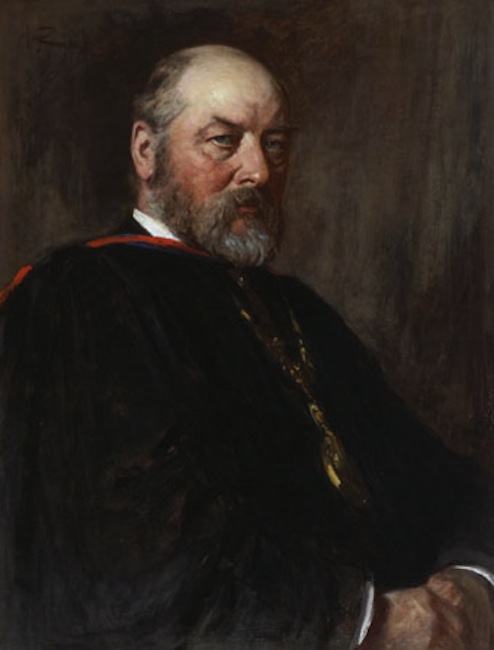 Alexander Ross, in an oil portrait of 1896 by George Reid (1841-1913), by kind permission of the Highland Council, to whom the copyright belongs. [Click on the image to enlarge it.]
Alexander Ross was born on 9 July 1834 in Brechin, Angus, in the Scottish Highlands. His father James, an architect, brought the family to Inverness in 1842, and it was there that Alexander completed his education at Dr Bell's Institution, undertook his training, and embarked on his own career in architecture. When his father died in 1853, he set up practice on his own account. He was still nineteen when he assumed his new responsibilities. It helped that he went on to make a good match: his wife Mary was the daughter of an influential factor, the steward of Sir Alexander Matheson, and in 1868 Ross himself became the factor of Matheson's Inverness estate.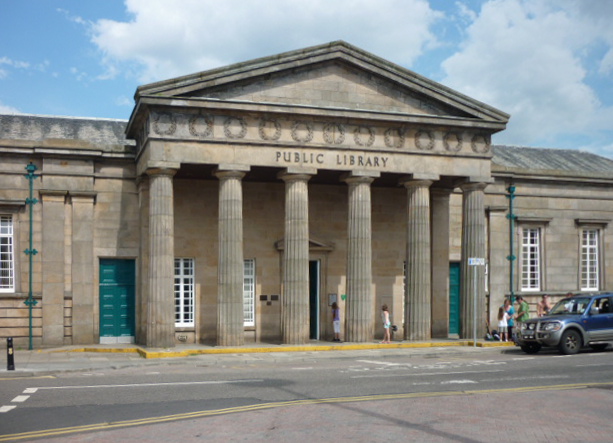 Before becoming the Inverness Public Library, this lovely neo-classical building by William Robertson, built 1839-41, was Dr Bell's Institution where the young Ross was educated. [Click on the image to enlarge it; photo by JB.]
Inverness is not simply the gateway to the Highlands but its "undisputed capital and ... by far its largest town" (Gifford 182). This was a boom time for building, here as elsewhere in Britain, especially after the railway arrived in 1855. But it was also a challenging one. As towns expanded, new developments had to take account the various problems caused by the expansion, including slums, epidemics and moral decline (see Glendinning and MacKechnie 146). Ross greatly extended the scope of his father's practice, designing not only many new churches, mainly but by no means exclusively for the Scottish Episcopalians, of which he himself was one, and also a large number of schools — so many of the latter that his designs for the school board were followed all over the Highlands. In fact, according Tristram Clarke, he designed, altered or restored over 650 buildings of all kinds, including residential properties, from castles to more ordinary housing. It is not for nothing that he is sometimes called "the Christopher Wren of the Highlands" (Pollit 63). But Inverness was the main beneficiary of his energy. "Ross was responsible for several building schemes which transformed Inverness from the 1860s" (Clarke).
He had his disappointments, of course. In particular, his designs for St Mary's Cathedral, Edinburgh, were much admired, but the commission eventually went to Sir George Gilbert Scott — who, however, was later asked to incorporate Ross's idea of having two west towers. This whole affair caused some acrimony (see Gifford et al., 363; also "Alexander Ross," which gives more details). Nevertheless, Ross's practice thrived, with Inverness Cathedral, which was dedicated to St. Andrew, coming to be seen as his masterpiece. It would be the church in which he and his family worshipped, and in which his funeral service would eventually be held.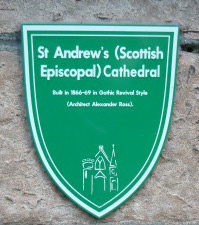 Sign outside Inverness Cathedral: "(Architect: Alexander Ross)."
Ross was not the only architect of note working in Inverness and the Highlands, and in the course of his long career he entered into partnerships with some of the others: with William Joass, from 1859-65; David Mackintosh, during a period of very extensive building for the school board from around the turn of the 1870s to 1883; with Robert John Macbeth, by far the longest partnership, from 1887-1907; and with his son John Alistair Ross, from 1907. But in all his various commissions, he seems to have been the principal designer.
Many of Ross's works, from all stages of his professional career, and in various parts of the Highlands and neighbouring areas, have been praised. For example, St Matthew's Episcopal church in Oldmeldrum (1862-63), built while he was in partnership with Joass, has been seen as "simple yet refined" (Walker and Woodworth 325). St Margaret's in Charlestown, Aberlour (1874-79), is described rather differently, as "sumptuous," its capitals "bursting with life," its corbels "voluptuous" and its furnishing altogether "dazzling" (Walker and Woodworth 503-4). The recently and beautifully restored Lerwick Town Hall, completed to his design in 1883, is a treasured gem of the Shetlands. And St Drostan in Insch, in South Aberdeenshire (1894-95), is praised for its impressive nave with "excellent exposed stonework, open timber roof..." and so on (Sharples et al., 550).
Ross must have been positively indefatigable. On top of his heavy workload, he was always very active in public life. He became a lieutenant-colonel in the local volunteer army artillery, a freemason (and master of his lodge in 1873-76), a member of the town council and then for some years (1889-95) its Provost, and also "director of the Northern Infirmary and the Inverness College, the Caledonian Bank, the Lancashire Assurance Company and Inverness tweed mills." In addition to all this, he was "a major shareholder of the Rose Street Foundry," and "one of the founders of the Inverness Scientific Society and Field Club ... and the Gaelic Society of Inverness." The University of Aberdeen gave him an honorary LLD in 1891. In everything her did, he was a patriotic Scotsman, "wearing full Highland dress on any occasion that was at all formal" (all details from "Alexander Ross").
From the same source we learn that in a vigorous old age Ross served as president of the Inverness Architectural Association from 1917 to 1920. He died in his nineties, well-liked, active and energetic to the last, on 17 May 1925. All in all, it was, as another account puts it, "a life of incredible achievement" ("Dr Alexander Ross"). — Jacqueline Banerjee
Bibliography
"Alexander Ross." DSA (Dictionary of Scottish Architects). Web. 21 December 2017.
"Alexander Ross & Son." DSA (Dictionary of Scottish Architects). Web. 21 December 2017.
Clarke, Tristram. "Ross, Alexander (1834–1925), architect." Oxford Dictionary of National Biography. Web. 21 December 2017.
"Dr Alexander Ross at an Inverness Field Club Outing." Am Baile: Highland History and Culture. Web. 18 December 2017.
Gifford, John. Highland and Islands. The Buildings of Scotland. London: Penguin, 1992.
Gifford, John, et al. Edinburgh. London: Penguin, 1984.
Glendinning, Miles and Aonghus MacKechnie. Scottish Architecture. London: Thames & Hudson, 2004.
Pollitt, Arthur Gerald. Historic Inverness. Perth: The Melven Press, 1981.
Sharples, Joseph et al. Aberdeenshire: South and Aberdeen.. The Buildings of Scotland. New York and London: Yale University Press, 2015.
Walker, David W., and Matthew Woodworth. Aberdeenshire: North and Moray. The Buildings of Scotland. New York and London: Yale University Press, 2015.
---
Created 21 December 2017