[The following biography of Scott comes from 1897 edition of the Dictionary of National Biography uploaded to the Internet Archive by the State Central Library, Hyderabad, India. Editors of the Victorian Web have corrected the rough unproofed text created by the Internet Archive's OCR software, adding subtitles, links, and images.
A significant difference between this entry and the new (not revised) entry in the current ODNB entry by Gavin Stamp is that the latter discusses the controversy over Scott's restoration activities. Referring first to Ruskin's anti-restoration stance, Stamp cites criticisms by the Revd. W. J. Loftie and the architect J. J. Stevenson. However, Stamp then quotes the sensible riposte by Scott's pupil, J. T. Micklethwaite, to the effect that the restorations would, "in all probability, have been done much worse if he had not done them, or if they had been done by men who did not possess his skill." — George P. Landow and Jacqueline Banerjee.
Click on all images to enlarge them and obtain additional information.]
Parents, education, and early career
SCOTT, SIR GEORGE GILBERT (1811-1878), architect, born in 1811 at Gawcott, Buckinghamshire, was the son of Thomas Scott, perpetual curate of that place, and grandson of Thomas Scott the [famous biblical] commentator. Scott's mother was daughter of Dr. Lynch of Antigua, and was descended maternally from the Gilberts, a family of "West Indian proprietors. The members of the large household at Gawcott parsonage, including Miss Gilbert (Scott's great-aunt), who had been kissed by John Wesley, were bound by many traditions to the evangelical party, and their pronounced religious opinions raised a social barrier between them and their neighbours. Scott was first educated at home, but his father, who was an amateur in building operations, soon recognised in his son's love of sketching churches a predilection for architecture. After spending a year (1826-7) in preparatory schooling with his uncle, the Rev. Samuel King, at Latimers, near Ohesham, he was accordingly articled in 1827 to James Edmeston, who is said to have been 'better known as a poet than an architect.' His evangelical views doubtless recommended him to Scott's father.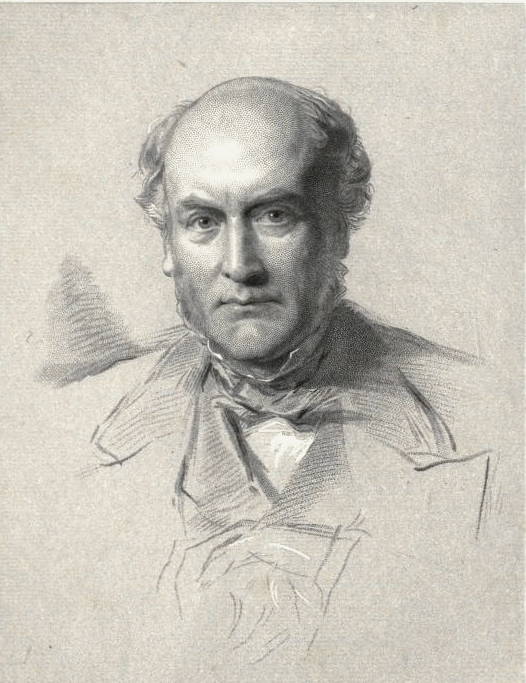 Sir George Gilbert Scott by George Richmond (frontispiece to Scott's Recollections.
At Edmeston's office Scott got little encouragement in the style which afterwards made him famous. His master, who had experimented with Gothic in a chapel at Leytonstone, condemned it as expensive, and warned Scott's father that his pupil wasted his time in sketching mediaeval buildings.
After the conclusion of his pupilage in 1831 Scott spent two months in sketchirg near Gawcott, and, returning to London, took lodgings with his brother John in Warwick Court, Holborn. In order to gain practical experience he attached himself for a time to the firm of Grissell & Peto [see PETO, Sra SAMUEL MOETON], who appointed him superintendent of their works in progress at Hungerford Market.
In 1832 he began an engagement lasting two years in the office of Henry Roberts, trained under Sir Robert Smirke [q. v.], and assisted him in the working-drawings, execution, and 'measuring up ' of the Fishmongers' Hall. Scott looked back to this as a barren period; he did little sketching; 'Smirkism and practical work' were, he considered, chilling his natural tastes, and even in his two opportunities of private Design (a rectory for his father's new living at Wappenham, and a private house at Chesham) he was disheartened by a sense of deficient originality.
Partnership with Moffat: designing workhouses and churches
The death of his father in 1834 threw upon Scott the necessity of immediate bread-winning. He was engaged at the time in assisting Kempthorne (an architect with whom he occupied rooms in Carlton Chambers, Regent Street) in preparing model plans for the workhouses to be erected under the new poor law. Scott resolved to turn this special experience to account, and, besides issuing a printed appeal to his father's friends for general architectural patronage, went down to Wappenham and conducted, a vigorous canvass among the guardians of the district. This aggressive action, though an infringement of more recent ideas of professional etiquette, produced immediate fruit. He became architect to four poor-law unions, and engaged as clerk of the works (subsequently as collaborator) W. B. Moffat, a builder's son, whose acquaintance he had made when both were pupils of Edmeston.
Their combined exertions (for Moffat surpassed Scott in the campaign of self-recommendation) produced a brisk and, at first, inartistic practice, which was supplemented by success in many competitions. Scott eventually took his companion into formal partnership, which terminated in 1845, after the erection of some fifty buildings of the workhouse class, the most successful of which were the union buildings at Dunmow, Belper, Windsor, Amersham, and Macclesfield, and the orphan asylum at Wanstead all, in Elizabethan style.
During his partnership with Moffat, Scott was not without ecclesiastical commissions. His first seven churches (at Birmingham, Lincoln, Shaftesbury, Hanwell, Turnham, Bridlington Quay, and Norbiton) were Scott's own opinion, ignoble. Though not actually uniform in design, they suffered from the wholesale method of his workhouse practice. Their lack of chancels, their galleries, their stucco mouldings, and general disregard of the requirements of ritual are to be explained and excused as the logical result of a training which, under his parents and his masters, had intentionally excluded the picturesque aspects of church worship and church architecture.
The influence of Pugin and Scott's first restorations
Though Scott was not at the outset in sympathy with the high church ecclesiological party, it was by an interview with Benjamin Webb [q, v], the secretary of the Cambridge Camden Society (a high-church organisation), as well as to the writings of Augustus Welby Northmore Pugin, and to a meeting with the latter, brought about through Myers (Pugin's builder), that he owed his first insight into the principles of Gothic art. He strengthened his knowledge of these principles by careful study in the competition for the Martyr's Memorial at Oxford, for which he was selected as architect (1840). His first Gothic building of any size or artistic value was the church of St. Giles at Camberwell, during the progress of which his faith in Gothic architecture was assured.
Scott's first restoration was that of Chesterfield church, followed shortly afterwards by works at St. Mary's, Stafford, and by a successful competition for the restoration of St. Mary's Chapel on Wakefield bridge. There he made the mistake, which he always regretted, of permitting the builder, who had got a good offer for the re-erection of the old front in a private park, to substitute new work in Caen stone for old work which should have heen left.
In, 1844 Scott achieved European reputation by winning the open competition for the church of St. Nicholas at Hamburg, the preparation for which made the occasion of his first continental journey. He was attacked in the Ecclesiologist (voL i. new ser. No. 4, p. 184) for designing a Lutheran place of worship, and considered himself bound in self defence to defend the Lutheran position in a paper, which was refused publication. The style adopted in the design of this building was German Gothic of the fourteenth century. The work was the outcome of a special and careful study of German ecclesiastical architecture. Scott did not then know, what he afterwards realised, that France, not Germany, was the real cradle of Gothic church-building.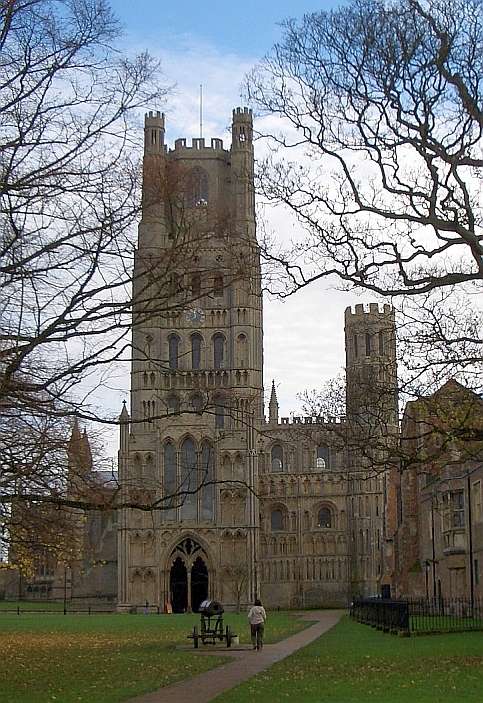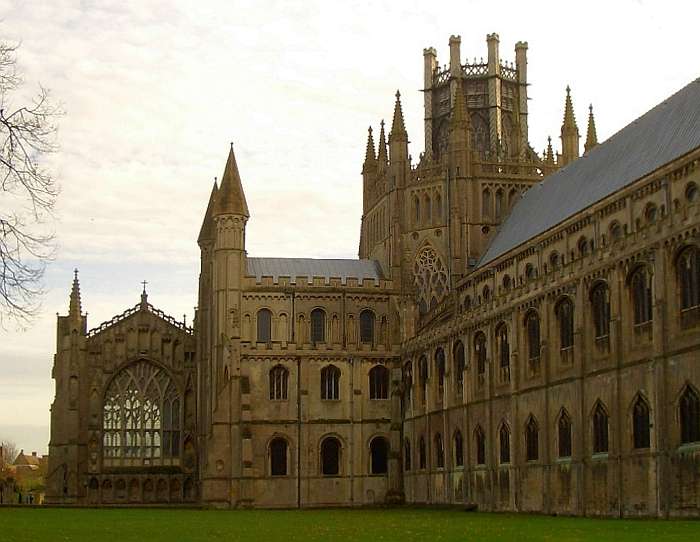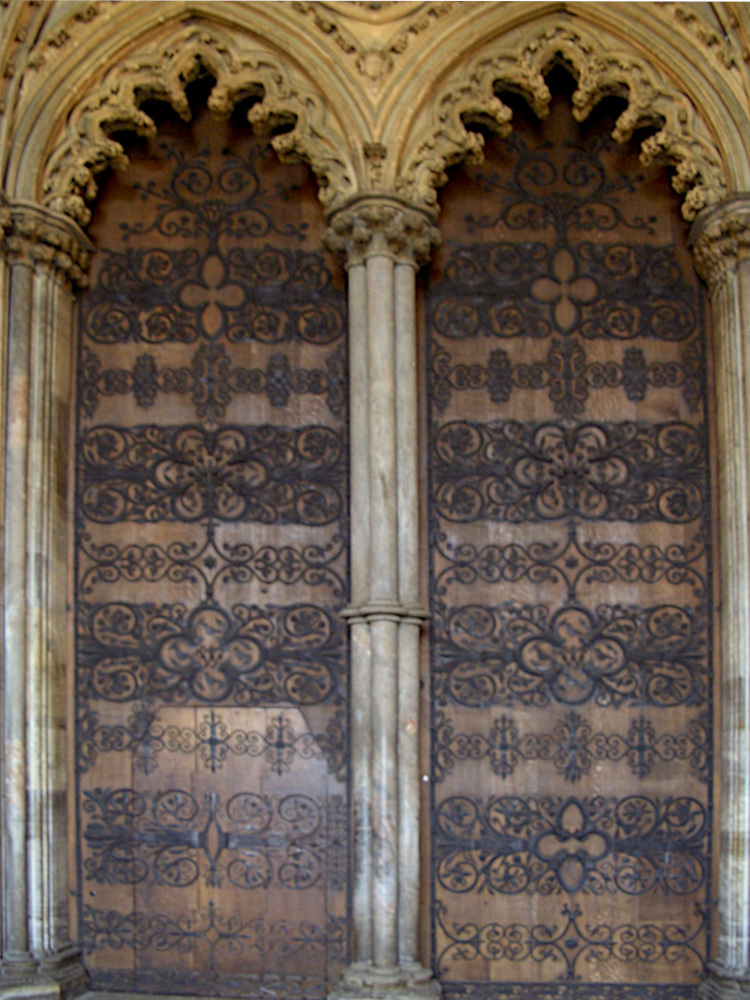 Ely Cathedral. Left to right: (a) The West Tower. (b) The Octagon and Lantern, with the Lady Chapel to the left. (c) Nave Ceiling. (d) Victorian scrollwork on the West Door. [Click on these images for larger pictures.]
In 1847 the chapter of Ely gave him his first appointment as restoring architect to a cathedral. The enthusiasm of George Peacock [q. v.], dean, of Ely, for Amiens Cathedral led him to pay his first visit to the great French churches, which was followed up in later life by many continental journeys.
The years between 1845 and 1862 were full of commissions and appointments involving designs of new buildings, restorations, and reports. Among the minor work of this period were Bradfield church, Berkshire, rebuilt for the Rev. Thomas Stevens (founder of Bradfield College, in the building of which Scott had an influential though indirect share); Worsley church, begun iu partnership with Moffat; St. Mary's, Nottingham, finished by Moffat; St. Peter's Church, Croydon; the restoration or rebuilding of churches at Aylesbury, Newark, Nantwich, and Ellesmere; new churches at West Derby, Holbeck, London (St. Matthew, City Road), Haley Hill, near Halifax, and Ranmore Common, near Dorking. Domestic and secular work was meanwhile represented by Pippbrook House, near Dorking; Kelham, Hall, near Newark, Hafodunos, near Llanrwst; Walton Hall, near Warwick; a row of houses in Broad Sanctuary, Westminster; the town-hall at Preston; and Brighton College. In spite of Scott's Gothic tendencies, he carried out during the same period a few classic or semi-classic works, such as the chapel at Hawkstone and that at King's College, London, Partis College, and the remodelling of St. Michael's Church, Cornhill.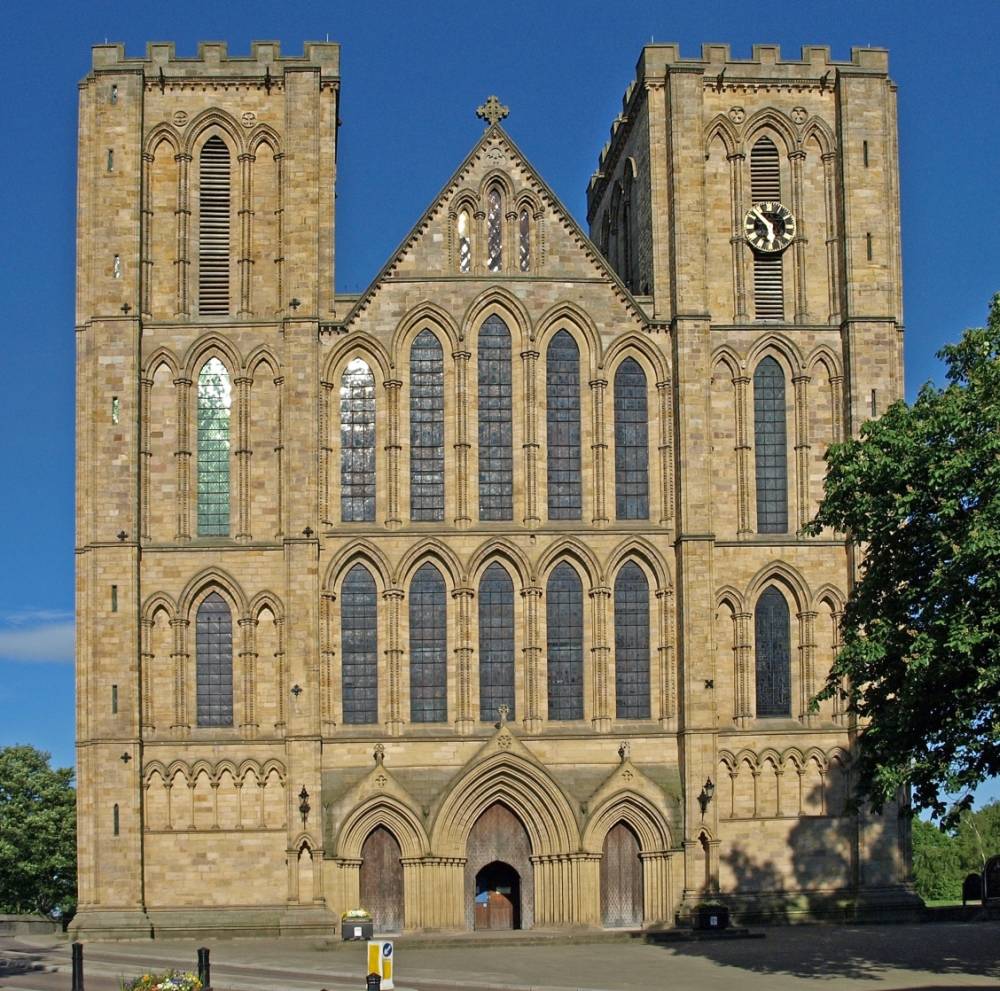 Sir George Gilbert Scott's Restoration of Ripon Cathedral.
About this time a design was prepared for the cathedral of St. John, Newfoundland, and Scott's appointment as restorer at Ely Cathedral led to similar engagement at Hereford, Lichfield, Salisbury, and Ripon. The additions at Exeter College, Oxford, including the chapel, a characteristic work on a French model, were the flrst of his collegiate undertakings.
In 1849 came the important appointment of architect to the dean and chapter of Westminster Abbey, which gave Bcott the opportunity for much careful and creditable work (especially in the restoration of the chapterhouse and the monuments), and provided the materials for his Gleanings from Westminster Abbey (published in 1862). The restored front of the north transept, sometimes attributed to Scott, was mainly designed by Mr. J. L. Pearson, R A., the triple portals alone being of Scott's restoration. Scott indurated the monuments and other internal work with a composition of shellac dissolved in spirits of wine, a process which proved a failure when applied to the roof of the cloisters.
In 1854 Scott began, under the instructions of Mr. E. B. Denison (now Lord Grimthorpe), the reconstruction of Doncaster church, which had been destroyed by fire, and in the same year was again successful ha an open competition at Hamburg (this time for the Rathhaus), but his design was not carried out.
Elected to the Royal Academy and the Foreign Office Competition and Controversy
The next year (1855) he was elected to the associateship of the Royal Academy, and he became a full member in 1861.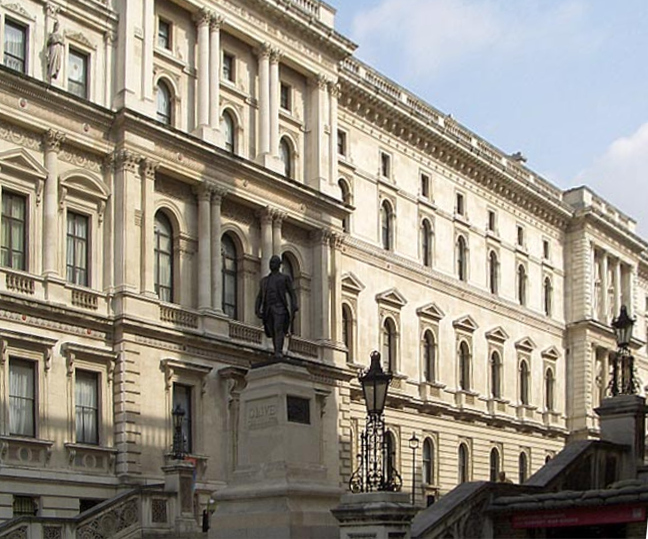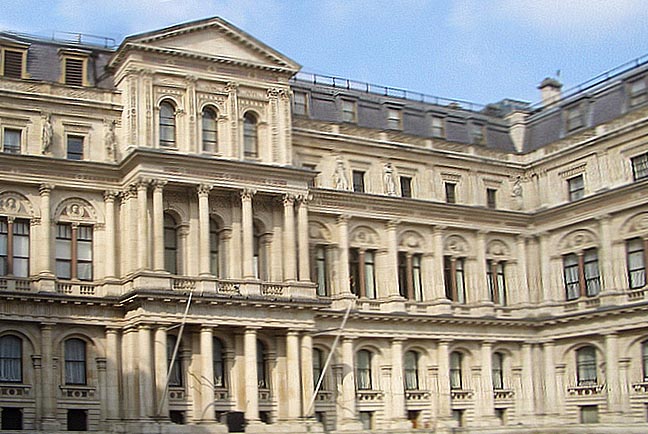 Two views of the Foreign and Colonial Office. Left: From Whitehall. Right: From the inner courtyard.
The competition for the rebuilding of the war and foreign offices in the autumn of 1856 was signalised by a stormy conflict between the Gothic and classic schools of architecture, waged even in the House of Commons, Scott's first design submitted in the competition was a sincere attempt to adapt the elements of French and Italian Gothic to the purposes of a modern English institution. Scott's name did not appear among the five premiated designs for the war office, but he was placed third for the foreign office, and it was subsequently discovered that the architectural assessors engaged to advise the judges had placed Scott's design second for both buildings. In November 1858 he was appointed architect, and set to work on certain necessary revisions of his design. The war office portion of the scheme was abandoned, but it was arranged that Scott should be associated in a design for the India office with (Sir) Matthew Digby Wyatt, the official architect to that department. At this point the classical opposition gathered strength, and its cause was taken up in ignorant warmth by Lord Palmerston.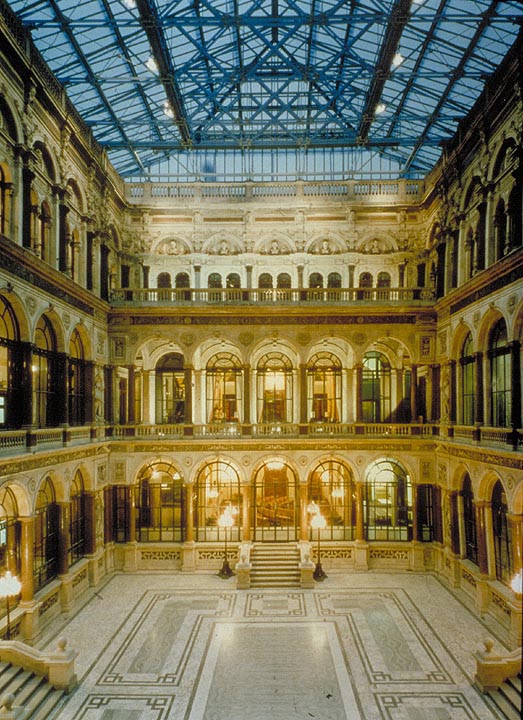 Interior of the Foreign and Colonial Office. Left: Corridor. Right two: Durbar Court.
After prolonged debates and controversy Scott was induced, by the threat of the appointment of a classical coadjutor, to prepare a fresh elevation. Parliament gave orders for an Italian design to be submitted in comparison with the Gothic drawings. Scott sought a compromise in the 'Byzantine of the early Venetian palaces/only to be told (on 8 Sept. 1860) by Lord Palmerston that it "was neither one thing nor t'other; a regular mongrel affair," and that "he would have nothing to do with it." Scott was thus forced either to abandon his appointment or to strike his colours as the Gothic champion. He chose the latter course, accepted Wyatt's collaboration as before arranged for the India office, and, after the purchase "of some costly works on Italian architecture" and a visit to Paris, produced a design which satisfied Lord Palmerston. As might be expected, it encountered stout opposition from Scott's old friends of the Gothic party, but finally passed the House of Commons in 1861, nearly five years after the competition was initiated. Nine years later he was commissioned to complete the block of buildings by the erection of the home and colonial offices. Scott's Gothic design is to be seen in the diploma gallery at the Royal Academy,
The Albert Memorial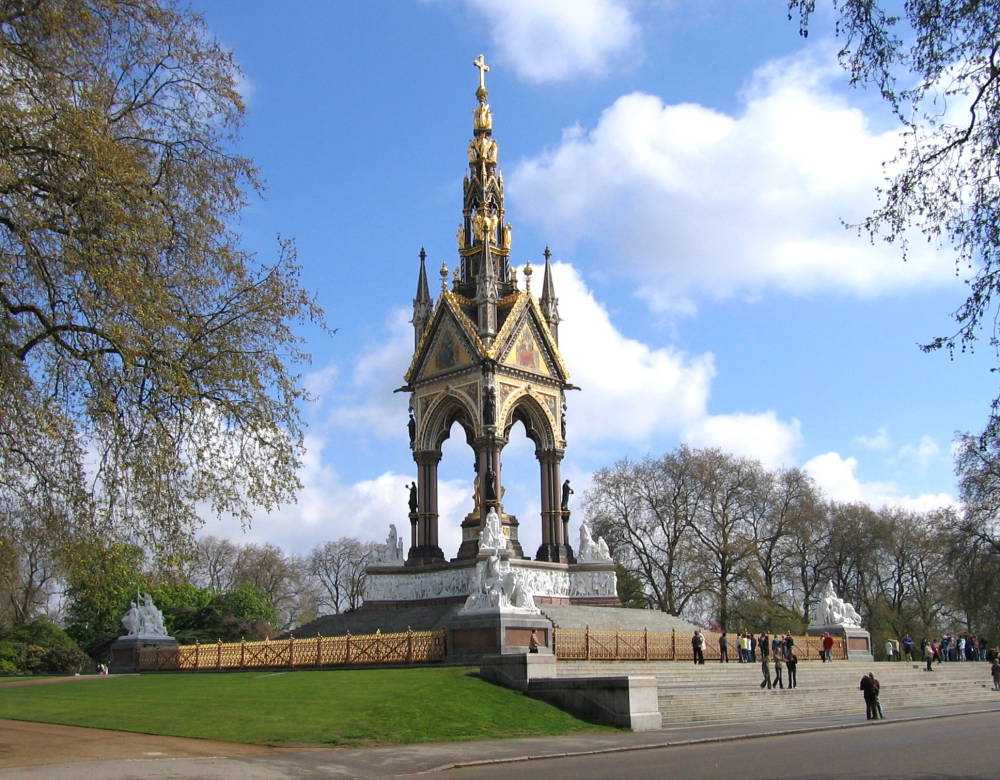 The Albert memorial. Scott made the overall design while John Henry Foley was the sculptor of the gilded bronze statue of Prince Albert, and John Bell, John Lawlor, Patrick McDowell, William Calder Marshall, William Theed, Thomas Thornycroft, and Henry Weekes created the various sculptural groups representing the continents and useful arts. H. H. Armstead and John Birnie Philip sculpted The Frieze of Parnassus around the base, whose various sections depicted the great painters, poets, architects, sculptors, and engineers of the Western tradition. Francis Skidmore did much of the metalwork, and Clayton and Bell the mosaics on the canopy.
In 1864 Scott was engaged in carrying out the Albert memorial. He entered, by royal invitation, a limited competition for this work [see COCKERELL, FREDERICK PEPYS], and submitted, besides his design for the monument, several schemes for the Albert Hall, which were not accepted. The successful project for the memorial was, in its author's intention, to be a "kind of ciborium to protect the statue of the prince;" in fact an attempt to realise the class of building of which a shrine is the supposed imitation in miniature. Another royal commission was the rearrangement of Wolsey's chapel at Windsor to form a memorial to Prince Albert. To Scott was due the substitution of stone and mosaic for the timber and plaster of which the vaulting was formerly composed, but he had no responsibility for the marble inlay by Baron Triqueti, of which he disapproved.
Station and Hotel at St. Pancras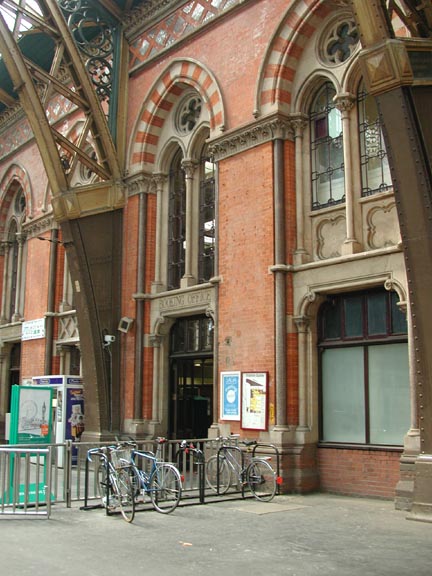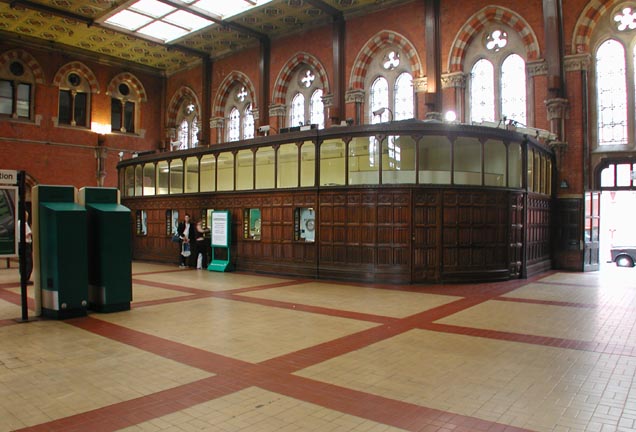 Three views of the Grand Midland Hotel and St. Pancras Station.
In 1865 Scott designed one of his finest works, the station and hotel at St. Pancras. He regarded it as the fullest realisation of his own special treatment of Gothic for modern purposes, and classed it in this respect with his work on the town-hall at Preston, Kelham Hall in Nottinghamshire, and the old bank at Leeds. The idea of working the iron roof trusses of the station into the form of a pointed arch was due, not to Scott himself, but to the engineer of the company. The buildings of the Glasgow University, undertaken at about the same time, were designed in a manner which Scott had already adopted in the Albert Institute at Dundee, a "thirteenth or fourteenth century secular style with the addition of certain Scottish features."
In 1866 Scott was one of the six architects (afterwards increased to twelve) invited to compete for the royal courts of justice, The officially appointed judges decided in favour of two architects, George Edmund Street and Edward Middleton Barry, and the government, after much confusion, eventually displaced the latter. The competitors believed they had been unjustly treated. Scott, who acted as chairman at the meetings of the competitors, keenly felt his own failure (cf.Reminiscences, p. 274).
Scott's honors. His death and burial in Westminster Abbey
In 1870 the Royal Institute of British Architects, which had awarded Scott its royal gold medal in 1859, invited him to accept nomination as president, an honor which he then declined. He, however, held the office from 1873 to 1876. From 1868 he was professor of architecture at the Royal Academy, a post which he filled with great distinction. His lectures were published in 1879 as Mediaeval Architecture, 2 vols. An enterprise with which Scott was actively associated was the establishment of, the Architectural Museum, now located in Tuffton Street, Westminster.
In 1872 he received knighthood in consideration of his works for the royal family. On 19 March 1878 his health began to give way, and he died from a heart attack on the 27th of the same month. He was buried on 6 April in Westminster Abbey.
Left to right. Three projects still in progress at the time of Scott's death: St. Mary Abbot's. (b) St. Alban's Cathedral and Abbey Church. (c) St. Margaret's Westminster.
The principal works still in progress at the time of his death were the refitting of the choir at Canterbury, the restoration of Tewkesbury Abbey, the great hall of Glasgow University, the cathedral of Edinburgh, the church of St. Mary Abbotts, Kensington, the restoration of St. Alban's Abbey (since continued, though on different lines, by Lord Grimthorpe), works at Beverley Minster, the Hook memorial church at Leeds, and the restoration of the cathedrals of Salisbury, St. Davids, Lichfield, and St. Margaret's Church, Westminster.
Personal Matters: Family and Residences
Scott married, on 5 June 1838, a second cousin, Caroline Oldrid (her sister married his brother, the Rev. Thomas Scott). By her he had five sons, two of whom, George Gilbert Scott, F.S. A., and John Oldrid Scott, followed the profession of architecture, and carried out some of the works left unfinished at his death.
In 1838, shortly after his marriage, Scott established himself at 20 (now 31) Spring Gardens, where he continued to conduct his work till the end of his life. He changed his residence in 1844 to St. John's Wood, afterwards to Hampstead, and in 1864 to Ham. About 1870 he left Ham for Rooksnest, near Godstone. In 1877, after a short return to Ham, he removed to Courtfield House, South Kensington, where he died.
The Builder (1878, p. 360) contains an incomplete list, dating from 1847, of 732 buildings or projects with which Scott was connected as architect or restorer or as the author of a report. Among these are 29 cathedrals, British or colonial, 10 minsters, 476 churches, 25 schools, 23 parsonages, 58 monumental works, 25 colleges or college chapels, 26 public buildings, 43 mansions, and various small ecclesiastical accessories. Besides the buildings already mentioned, special allusion may be made to the chapel of St John's College, Cambridge, the additions to New College, Oxford, the Leeds infirmary, the column to commemorate the Westminster scholars who fell in the Crimea, the horseshoe cloisters, Windsor, and the restoration of St. Cuthbert's Church, Darlington.
Churches restored by Scott: Left to right: (a) Chester Cathedral. (b) Rochester Cathedral. [Click on these images for larger pictures.]
The principal works of cathedral restoration not already mentioned were those at Chester, Worcester, Chichester, Gloucester, Rochester, and Exeter. The work at Chichester consisted chiefly of the rebuilding of the tower and spire which had collapsed in 1861. At Chester very extensive external renovation was thought necessary, owing to the extent to which the old stonework had become decayed. The restoration at Exeter led to litigation over the reredos in which the propriety of the use of sculpture was discussed (Phillpotts v. Boyd, L.R.6. P.C. 485). Minor works were carried out at Winchester, Durham, Peterborough, Bangor, and St. Asaph.
Scott's style and the controversy over his restorations
Of Scott's style as an original artist it may be said that, starting (in his maturer practice) with a marked prejudice in favour of the fourteenth-century characteristics of English architecture, he subsequently changed his views, adopting in domestic and aecular work a modification of Gothic, and inclining in church work to that importation of French models of the thirteenth century which prevailed among his contemporaries. In a design submitted (1875) in conjunction with his son, John Oldrid Scott, for the parliament house at Berlin, he attempted to realise a development at which German Gothic might have arrived had it not been for the submission to French influence. In restoration he showed an unrivalled power of searching for evidences, and a remarkable fertility in following up a clue or conjecturing an original design from a few remaining fragments.
That Scott, as the greatest of architectural restorers, should have been the object of severe attack was natural. Certainly he sometimes remodelled rather than restored, and more than once his critics were successtul in convicting him of an excessive energy in renovation. In the last year of Scott's life the growing opposition to the prevalent practice of architectural restoration with which bis name was identified took definite form, and the Society for the Protection of Ancient Buildings was inaugurated.
Scott was an enthusiastic though not m accomplished writer. He published, besides various pamphlets, 1. A Plea for the Faithful Restoration of Ancient Churches 1850. 2. Remarks on Secular and Domestic Architecture, 1850. Gleanings from Westminster Abbey, 1862.
Many architects were trained in his office, among them George Edmund Street, R.A., and Mr. G. F. Bodley, A.R.A.
There are two portraits of Scott, both by George Richmond, R.A. one in the councilroom of the Royal Academy, the other at the Royal Institute of British Architects. The steel engraving given in the Reminiscences is also after a drawing by Richmond.
Bibliography [1897]
Personal and Professional Recollections, by Sir George Gilbert Scott, B.A., London, 1879 ; Builder, 1878, xxxvi, 339, 343, 350, 391, 440; Building News, 1878, xxiv. 309, 339, 385; Dict[ionary] of Architecture.] P. W.
Bibliography for this online version
"Scott, Sir George Gilbert, R.A." The Dictionary of National Biography (Scoffin-Sheares). Ed. Sidney Lee. London: Smith, Elder & Co, 1897). 19-23. Helpfully uploaded to the Internet Archive by the State Central Library, Hyderabad, India.
Scott, Sir George Gilbert, R.A. Personal and Professional Recollections, edited by his son, G. Gilbert Scott, F.S.A.. London: Sampson Low, Marston, Searle, & Rivington, 1879. Internet Archive. Web. 5 January 2012.
Stamp, G. "Scott, Sir George Gilbert (1811-1878)." Oxford Dictionary of National Biography. Online ed. Web. 5 January 2012.
---
Last modified 11 September 2015