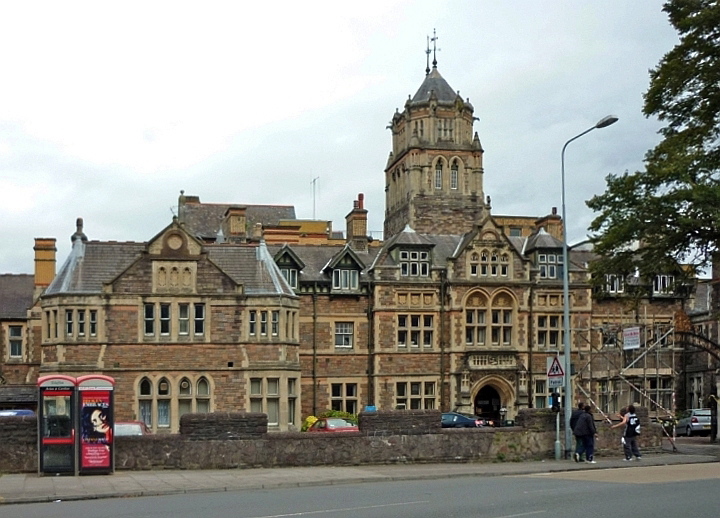 Cardiff Royal Infirmary, by Edwin Seward (1853-1924). [Close-up of tower, which John Newman calls "quite an idiosyncratic ensemble" (307).] Opened in 1883. High-quality, richly-coloured Welsh stone with plain stone dressings. Newport Road, Wales. Although the history of the Cardiff Royal Infirmary goes back to 1822 (see the Glamorgan Archives), this building, with its neo-Gothic and mock-Tudor elements, was designed very early in the 1880s. According to a late Victorian guide to Cardiff:
The present infirmary comprises an administrative block, wards right and left of a central corridor, children's ward, operation room, and kitchens, laundry and mortuary. The wards of the institution are named after the donors of £1,000, as follows: — "Bute," "Gwendolen," "Insole," "Leigh Morgan," "Shand," "Tredegar," "Ware," and "Windsor." The total cost of the building, including furnishing and laying out the grounds, was £28,000. During 1892 extensions were made costing an additional £12,000. From the architectural standpoint the infirmary is, perhaps, the best of Mr. Seward's buildings: it is in a domestic Gothic style, which has a character of its own; the small central tower is very graceful in design, and the treatment of the projecting wings, each with a semi-octagon bay at each side, forms a very pretty and unusual piece of architectural grouping. The infirmary is recognised by the Royal College of Physicians and Surgeons and the Society of the Apothecaries' Hall, London, as a place for clinical teaching in connection with the Cardiff Medical School. The institution is supported by voluntary subscriptions, donations, and legacies. (93-95)
After a period of neglect, the Infirmary is now being restored, with its "shoddy extensions" being removed to reveal the original building in all its splendour (Brindley). With Seward himself as its leading light, the firm of James, Seward & Thomas was responsible for a number of other important buildings of the period in Cardiff and the surrounding area.
Photograph (2009) and text by Jacqueline Banerjee. [You may use this image without prior permission for any scholarly or educational purpose as long as you (1) credit the photographer and (2) link your document to this URL or cite it in a print one.]
Sources
"1881 — New Infirmary." archiseek. Web. 3 April 2011.
Brindley, Madeleine. Cardiff Royal Infirmary £40m. Health Boost." Western Mail, 13 March 2010.
Brodie, Antonia. Dictionary of British Architects 1834-1914. Vol. 2, L-Z. London: Continuum, 2001.
Glamorgan Archives: Cardiff Royal Infirmary Records. Web. 8 April 2011.
The Illustrated Guide to Cardiff and Its Neighbourhood. Cardiff & London: Western Mail Ltd, 1897. Internet Archives. Web. 8 April 2011
Newman, John. Glamorgan (The Buildings of Wales series). London: Penguin, 1995.
"Seward, Edwin." archiseek. Web. 8 April 2011
---
Last modified 8 April 2011.