[Paul Johnson has kindly shared the photographs and research on his UK site about John Shaw, Junior and Senior, and Philip Hardwick, which he has "dedicated to the Memory of the Finest Architectural Family London Has Ever Seen." Readers might like to look at his original presentation. GPL]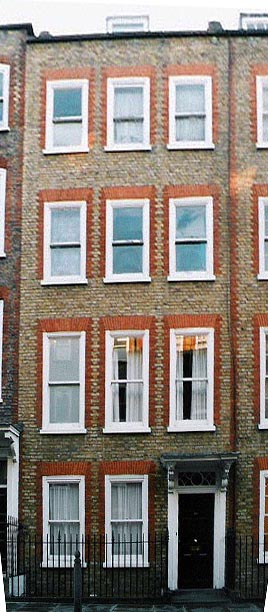 The Shaw Residence, St. James Street, London
John Shaw Senior (1776-1832) was born in Bexley, Kent, and at the age of fourteen he had quickly moved to London to pursue a career in architecture. He was apprenticed for seven years to the architect George Gwilt the elder who lived and worked in Southwark. John then married in 1799 and moved to 25 Great James Street in Holborn.
Shaw Senior worked a great deal on alterations and extensions of old buildings and is noted for his fine redevelopment of Newstead Abbey in Nottinghamshire; formerly home to Lord Byron. He was appointed to work at Newstead by a Col. Thomas Wildman who had bought the property from Lord Byron. Shaw was called upon because Wildman had heard and maybe seen the alterations Shaw had achieved at Chilam Castle in Kent.
John, who became associated with the very first designs for semi-detached housing in London, was a respected designer of villas built for the rich in the countryside.
It seems that he worked not only in London but kept contacts in his home county of Kent. He was appointed architect at Ramsgate Harbour, where he designed the giant obelisk to mark the visit of King George IV in 1821. He also contributed to the clock house and redesigned the Jacob's Ladder stairway.
Back in London he was given the expensive duty of making new extensions to the former Christ's Hospital, Newgate. And in Fleet Street he finished his career by designing the revival gothic church of St Dunstan's in The West, but he died before the it was completed, and it was left to his eldest son John Shaw, Junior, to finish the job. The main entrance of the Church of St Dunstan's has a memorial plaque in remembrance of Shaw Senior.
---
Last modified 3 June 2005