Dr Moat has kindly allowed us to include excerpts from his doctoral thesis on T. R. Spence, and has added some explanatory comments to them — JB.
Although T. R. Spence (1845-1918) came to attention as a Newcastle artist and architect, he was not himself a native Tynesider. He was born in the village of West Gilling, near Richmond (North Yorkshire), where his father was a cabinetmaker and builder. According to family tradition, John Spence (1820-92) would not consent to his son pursuing a career as an artist, and the profession of an architect was settled on instead. He trained in several architectural offices, both in the north of England and in London, but details of Spence's architectural pupillage are otherwise hard to come by. Although Spence would later lecture at meetings of the Architectural Association and the Royal Institute of British Architects, he never registered with either of these bodies.
Spence's friend and colleague Frederick Hamilton Jackson (1848-1923), writing in his 1903 retrospective on the artist, noted that it was whilst Spence was employed by a Newcastle architect that he made the acquaintance of the Aberdeen-born, Tyneside-based shipbuilder and art-collector Charles Mitchell (1820-95) — a long-standing business associate of Sir William George Armstrong (1810-1900), and from 1882, a senior partner in the immensely powerful engineering, armaments and shipbuilding conglomerate Sir W. G. Armstrong, Mitchell & Co. (see Jackson 81). This strongly suggests that he was in the office of Thomas Oliver junr. (1824-1902), who from 1869 onwards had been engaged on major estate works at Mitchell's Newcastle mansion, Jesmond Towers, and where Spence would subsequently (1883-6) undertake further tactful extensions and interior work.
Spence moved to London late in 1885, where he established himself as an "architectural decorator" just off Oxford Street, in a district noted for its many artisan cabinet-makers, high-class decorating firms and art-suppliers. It seems probable that the move was encouraged by the artist Charles William Mitchell (1855-1903) — the only son of the Newcastle shipbuilder — in order to capitalise on the latest metropolitan developments as design work began on his father's new church. Thus in January 1886, T. R. Spence joined the Art Worker's Guild, during J. D. Sedding's tenure as Master, and where the younger Mitchell was already a member (since May 1884). Spence seems to have especially valued the camaraderie of the Guild, and he was to remain an active member, at meetings and on its committees, until his retirement in 1913.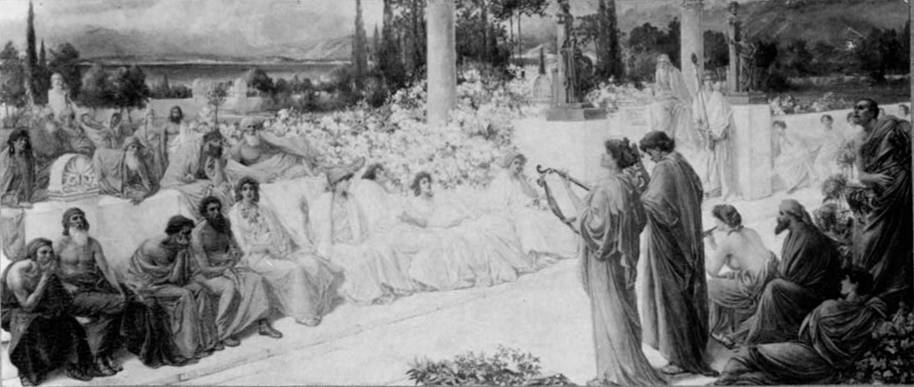 Disciples of Sappho, c.1896. Library of Congress Repro. no. LC USZ 62-120246
In addition, he resumed his ambitions as an easel artist, exhibiting English and Continental landscapes, Biblical scenes and larger essays in the manner of Walter Crane and (Sir) Lawrence Alma-Tadema (1836-1912). He continued nonetheless to be highly respected as a decorative artist and designer, e.g. as one of the founding members of the Society of Designers (established 1896), contributing stained glass, metalwork (he became something of a specialist designer of light fittings) and decorative schemes for such varied architects as Basil Champneys (1843-1935), John McKean Brydon (1840-1901), Aston Webb (1849-1930) — with Ingress Bell (1837-1914) — and Henry T. Hare (1860-1921).
There is moreover a significant body of work in South Africa, largely commissioned through Frank Emley (1861-1938), a former pupil of Messrs. Oliver — Leeson in Newcastle, who had emigrated to the Transvaal for health reasons, later establishing the prestigious practice of Messrs. Leck & Emley in Johannesburg. Spence's work for these architects, chiming so effortlessly with their eclectic "Free-style" idiom, is certainly less individual than his work for Charles Mitchell, and is perhaps for that reason easily overlooked.
It should however be noted that Hamilton Jackson, who was noticeably more sympathetic towards Continental Art Nouveau than most English critics of the time (see "'The New Art'...," 123-30), nonetheless held T.R. Spence to be a great innovator, and as having adopted "those qualities of line which formed the basis of the 'new art' ... long before they became fashionable" ("The Work of T. R. Spence," 84). Similarly, in a retrospective article on Spence's metalwork, Jackson voiced a complaint that the artist's many imitators had coarsened and exaggerated his "characteristic treatment," a "vexation to which every inventor is liable, and which he must make up his mind to endure" ("Metal-Work," 365-66). This may well reflect Spence's own view of the matter.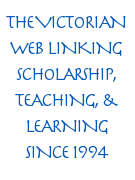 Sources
"Emley, Frank." Dictionary of Architects in South Africa. Web. 3 March 2013.
Jackson, F. Hamilton. "'Metal-Work of an Architect and Designer — T. R. Spence." The Magazine of Art. (London, 1902): 365-70.
_____. "'The New Art' as seen in the Paris Exhibition." The Magazine of Art. (London, 1902): 123-30.
_____. "The Work of T. R. Spence, Designer, Decorator and Architect." The Magazine of Art. (London, 1903): 80-84.
Moat, Neil. A Theatre for the Soul: St George's Church, Jesmond: The Building and Cultural Reception of a late-Victorian Church. Newcastle University: Doctoral thesis, 2011 (N.B. this gives additional archival sources for Spence's biography).
---
Last modified 5 March 2013