Photographs by the author. [You may use these without prior permission for any scholarly or educational purpose as long as you (1) credit the photographer and (2) link your document to this URL in a web document or cite the Victorian Web in a print one. Click on the images for larger pictures.]
The Building and Its Function
Museum and Art Gallery, Birmingham (BMAG) by Yeoville Thomason (1826-1901), 1881-85, facing Chamberlain Square, Birmingham. Left to right: (a) From the north-west, with its corner clock-tower affectionately nicknamed "Big Brum." (b) Closer view of the top-storey portico, cornice and pediment over the main entrance, with its important allegorical sculpture of Birmingham promoting the Arts. (c) From the front (partial view in different light).
Birmingham's Museum and Art Gallery occupies a prominent city centre site opposite the early nineteenth-century neoclassical Town Hall, which it echoes with its portico. Significantly, it serves as an extension of Thomason's Council House, officially opened in 1879 on the adjoining Victoria Square. Despite having been added after some delay and deliberations, it is constructed of similar materials, and serves to complete it. As Colin Cunningham notes (170), the Council House is the only nineteenth-century municipal building that sports a dome as its main feature — rather an unimpressive one at that, as shown above in the background of the middle and right-hand pictures — and the clock-tower on Chamberlain Square helps to compensate for this. The two buildings might have made more impact if built from one blueprint. Nevertheless, the Chamberlain Square façade, with its "confident double-storey portico tightly and picturesquely grouped with the new NW corner tower" (Foster 63), contributes greatly to the general effect of the complex as a whole, and is related to it both in style and purpose.
Its particular significance is suggested by its architectural sculpture. The pediment over the entrance is impressive. It is by the Surrey sculptor Francis John Williamson, and depicts the female figure of Birmingham holding a laurel wreath, as if to crown the efforts of the artists either side of her. On the right, a young man holds a completed statuette; on the left, a young woman observes her subject, perhaps the young man himself, while sketching. Two pairs of plump cherubs are busy (or busy watching) different kinds of modeling in the corners. Williamson exhibited work at Birmingham, and his fine statue of Joseph Priestly stands at the other side of Chamberlain Square. Still, it is a measure of the importance of the building that he should have been commissioned for this key piece of work, and his treatment of it goes right to the heart of the gallery's function.
The Founding Vision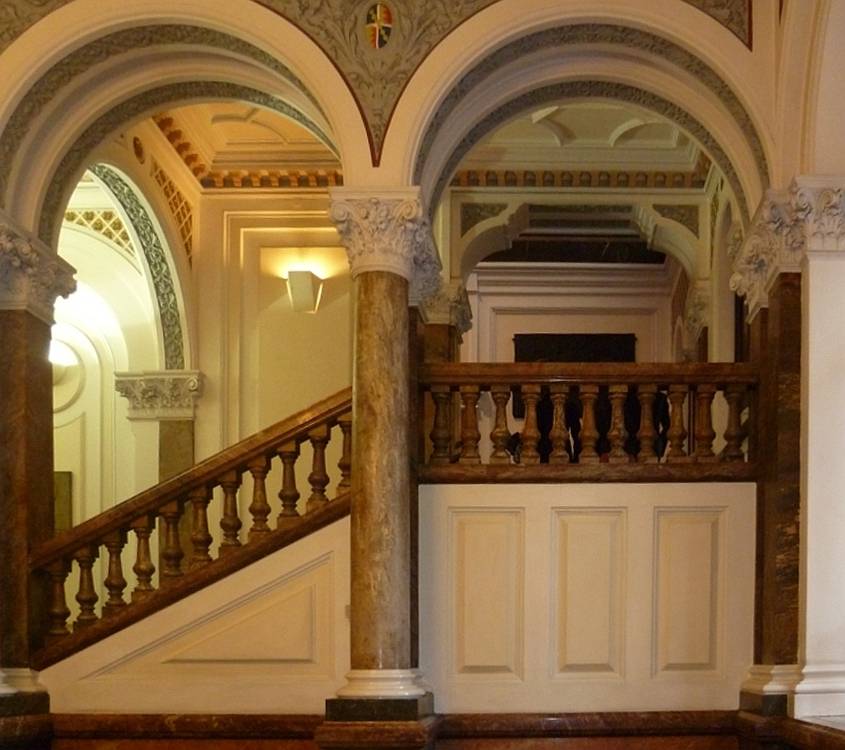 Left to right: (a) Inscription stone. (b) Stairs to the first floor and the principal Round Room gallery. (c) One of the Round Room archways, this one leading through the shop to the Industrial Gallery.
As the inscription stone says, the Museum and Art Gallery was combined with the "offices of the Corporation Gas Department," which were on the ground floor. In fact, the Gas Department paid not only for its own offices, but for the rooms above it (see Shackley 138). Other important benefactors of the museum were George and Sir Richard Tangye, heavy machinery manufacturers, who offered £10,000 for the purchase of artworks, displayed their own important Wedgwood collection here, and are commemorated in a bronze relief by William Robert Colton. The greater confidence of Thomason's exterior here, and the layout and rich décor of the interior, all reflect the powerful vision behind the new institution, of local government and industry holding hands to promote the fine and applied arts. The vision is boldly expressed by words along the bottom of the inscription stone — "By the gains of Industry we promote art" — and powered by the ideas of Ruskin and Morris, who both had a huge influence on the artistic life of Birmingham (see note). This vision was not simply to cultivate the aesthetic sensibilities of the working classes, but also to "make social relations and industrial design more harmonious" (Woodson-Boulton 32). If the founding of the National Gallery in London issued in the "institutionalisation of the arts" (Avery-Quash and Sheldon xvi), this was intended to give art back to the people again. Buit this time it would be accessible not simply to the rich, who had previously been able to collect and display it for their private pleasure, but to the lower orders, to the benefit of society as a whole.
Art and Industry
Two views of the splendid Industrial Gallery.
At the top of the elegant stairs is a wide sky-lit landing with some important artworks, leading to a spacious round gallery, the Round Room, also lit from above by a central, circular glass roof. The walls here are hung with many more Victorian paintings. This leads off into other galleries such as the Pre-Raphaelite Room: the gallery boasts "the world's largest collection of Pre-Raphaelite paintings by Rossetti, Millais, Holman Hunt, Ford Madox Brown and Burne Jones" (BMAG welcome leaflet). This is very much in keeping with BMAG's founding ethos: the anti-establishment Pre-Raphaelites had scorned Sir Joshua Reynolds, first President of the Royal Academy in London, as "Sir Sloshua" (see Amor 37-38), and Sir Charles Eastlake at the National Gallery had an uneasy relationship with them. Birmingham, on the other hand, had been a "recognised centre of Pre-Raphaelite interest" form the 1850s (Everitt). From the architectural point of view, however, the most exciting statement is made by the gallery on the left, after the shop. This is the Industrial Gallery, to the east. With its dividing staircase, upper galleries and exposed ironwork, its iron-and-glass roof reminiscent of railway-shed architecture, and its great hanging gas burners, this perfectly expresses the original intentions for the gallery as a whole, to show how fine and applied arts could support each other.
Left to right: (a) Individual exhibits reinforce the gallery's message: Pugin's Rood screen from St John's Church, Alton, removed during "modernisation," has been installed here, and stands beside stained glass panels by Sir Edward Burne-Jones and others. (b) The Tearoom, also with iron galleries running around it, but this time with a barrel roof. (c) One of the floor's domed roofs with skylights and boldly stenciled surround.
As well as its many famous paintings, the gallery has a wonderful collection of decorative art, including a cabinet of gleaming metalwork items by Pugin and John Hardman, and related pieces (the Hardman factory was nearby in Birmingham's Jewellery Quarter, and Pugin did a great deal of work in the area). Well might BMAG be proud, both of its building and its collection. As Asa Briggs points out, Birmingham was a special case at this time, providing a model for local government and "civic achievement," and eager to promote what he calls "the implementation of the civic gospel" (231). Such initiatives as this were, as they were intended to be, the outward and visible signs of a "civic renaissance" (197). As far as the Museum and Art Gallery was concerned, it was not a solo effort. Liverpool and Manchester both instituted similar projects, Liverpool with its Walker Gallery, and Manchester with its City Art Gallery. These and others all followed Ruskin in trying to "bring art, beauty, and nature to their own cities and towns and to address social problems without wholesale revolution or radical economic restructuring to an imagined preindustrial ideal" (Woodson-Boulton 3). But nowhere were the aims as deliberate and as explicitly expressed as in Birmingham, and nowhere were they more focused on the working classes: in Manchester, for example, "the applied art aimed at the working classes remained in the dark lower galleries year-round" (Woodson-Boulton 51).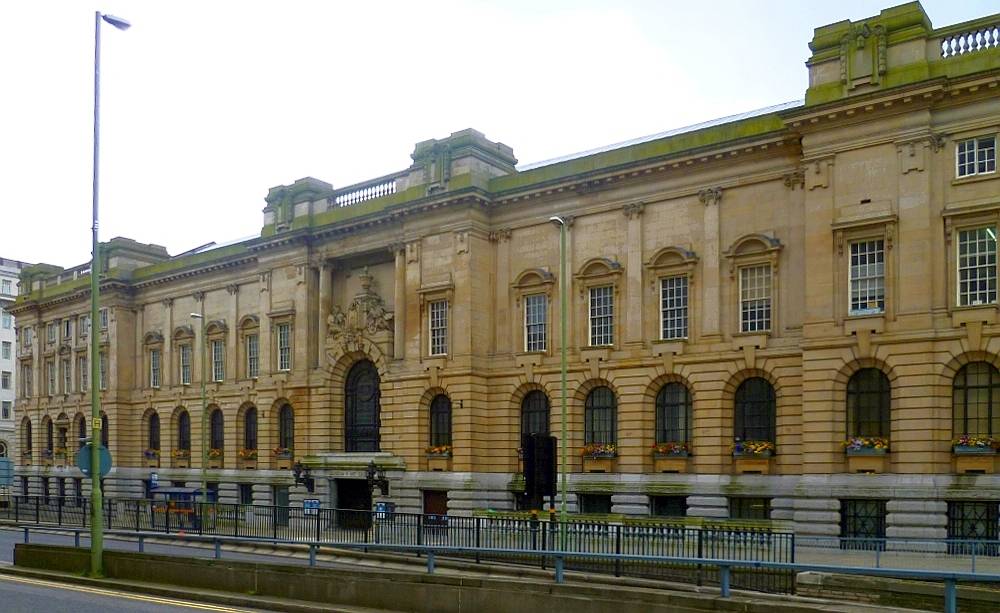 Frontage of the early twentieth-century extension along Great Charles Street, with the carving of Art and Industry either side of the city arms, above the entrance.
The Later Years
Talking of Birmingham, David Cannadine describes the "brief flowering of the creative arts in the service of the civic gospel during the late nineteenth century" (128), commenting that it faded between the wars. Before that, however, there was another boost to the city's cultural life, with the further Council House Extension of the early twentieth century. This is an elegant Edwardian Renaissance-style building by Ashley & Newman, reached by a bridge across Edmund Street to the west, with a long frontage along busy Great Charles Street. Over its north-west entrance here are carved, probably by the ubiquitous later sculptor William Bloye (1890-1975), two seated Art Nouveau women, evidently representing Art and Industry (see "Allegories of Art and Industry"). The partnership that Ruskin had so wanted, in which art gave "delightfulness and worth to the implements of daily use" (Lectures on Art, 114), still prevailed at that time, and the Museum and Art Gallery was eager to advertise it. Yeoville Thomason's building is now not just a local but a world-class showcase for the fine and applied arts.
Note on Ruskin's and Morris's influence here
The first meeting of John Ruskin's utopian Guild of St George (of which our webmaster is a Companion) was held in Birmingham (see Wheeler 220), and the important Birmingham architect, J. H. Chamberlain, was one of its first trustees (Wallis and Chamberlain 128). William Morris was President of the Birmingham Society of Arts in 1878-79 (Foster 21), one of his later visits there being to speak at the prize-giving of Chamberlain's Municipal School of Art in 1899. As Woodson-Boulton says, the BMAG's early catalogue of the permanent collection shows "the extent to which the project had been shaped by the ideas of both John Ruskin and William Morris" (32; see under Wallis below for a later edition of the catalogue itself, where Ruskin's views in particular are frequently mentioned).
Recalling his early travels round the country with his parents, Ruskin talked of his wine-merchant father's "rare love of pictures," explaining that it led to their stopping off "wherever there was a gallery to be seen ... in reverentest manner I thus saw nearly all the noblemen's houses in England " (Fors Clavigera, 132). By the end of the Victorian period, and due in no small part to Ruskin himself, such stops would have introduced art-lovers to the big manufacturing towns as well, where important paintings, and many beautiful articles of daily use besides, were now being displayed in splendid public galleries like this one.
Related Material
References
"Allegories of Art and Industry." PMSA National Recording Project. Web. 16 August 2012.
Amor, Anne Clarke. William Holman Hunt: The True Pre-Raphaelite. London: Constable, 1989. Print.
Avery-Quash, Susanna, and Julie Sheldon. Art forthe Nation: The Eastlakes and the Victorian Art World. London: National Gallery, 2011.
"Birmingham Museum & Art Gallery." Leaflet available at the museum.
Briggs, Asa. Victorian Cities. Berkley: University of California Press, 1993. Print.
Cunningham, Colin. Victorian and Edwardian Town Halls. London: Routledge, 1981. Print.
Everitt, Sian. Birmingham Institute of Art and Design. fineart.ac.uk. Web. 16 August 2012.
Foster, Andy. Birmingham. Pevsner Architectural Guides. New Haven & London: Yale University Press, 2005. Print.
Ruskin, John. Fors Clavigera: Letters to the Workmen and Labourers of Great Britain. Vols. 1-2. Boston & New York: Jefferson, 1900. Internet Archive. Web. 21 August 2012.
_____. Lectures on Art delivered before the University of Oxord in Hilary Term, 1870. New York: Maynard Merrill & Co., 1893. Internet Archive. Web. 21 August 2012.
Shackley, Barbara. "H. R. Yeoville Thomason." Birmingham's Victorian and Edwardian Architects. Ed. Phillada Ballard. Wetherby: Oblong Creative (for the Victorian Society, Birmingham and West Midlands Group), 2009. 123-152. Print.
Wallis, Whitworth, and Arthur Bensley Chamberlain (compliers). City of Birmingham Museum & Art Gallery: Illustrated Catalogue. Birmingham (printed by) Hudson and Son, 1904. Internet Archive.. Web. 21 August 2012.
Wheeler, Michael. Ruskin's God. Cambridge: Cambridge University Press, 1999. Print.
Woodson-Boulton, Amy. Transformative Beauty: Art Museums in Industrial Britain. Berkley: Stanford University Press, 2012. Print.
---
Last modified 16 August 2012