North Western Hotel (now student accommodation), Lime Street Station, Liverpool, seen from the east or station side. Alfred Waterhouse. 1871. Photograph, caption, and commentary by Jacqueline Banerjee, 2009. You may use this image without prior permission for any scholarly or educational purpose as long as you (1) credit the photographer and (2) link your document to this URL.
"The present huge station building was opened in 1871, and incorporated the 300-room North Western Hotel," writes David Lewis:
The Gothic spires and turrets are typical of the work of Alfred Waterhouse, and this is another of his Prague rooflines, with swirls of close-fitting slates like sleek armour, steeply pitched roofs and tiny spiky turrets. The high walls have gigantic industrial Gothic arches, now freshly cleaned of decades of soot to reveal acres of pale golden stone. At night the rooms glow with light as they are halls of residence for Liverpool John Moores University, and inhabited again 40 years since the Hotel closed. (104-5)
Above the entrance, at third-floor level, are two rather lonely figures on plinths by Farmer and Brindley, which Bob Speel suggests may represent Europe (on the left, with a castellated crown, olive leaves, and a classical bust at her feet) and America (on the right, with a leafy crown, a quiver of arrows, a paddle, and a crocodile at her feet). This is a very small concession to sculptural decoration, even compared to that on the façade of Manchester Town Hall, and illustrates a point that Benedict Read makes about Waterhouse's development — that as time goes by he increasingly "articulates for his detailing the more strictly architectural components (fenestration, arcading, colonnettes, mullions etc.) so as to preclude the use of sculpture as a significant element in the decoration of facades." Read continues, though more appropriately for Manchester Town Hall than this Liverpool hotel: "This is paralleled by his concern at the same time for picturesque and elaborate outlines in elevations" (244).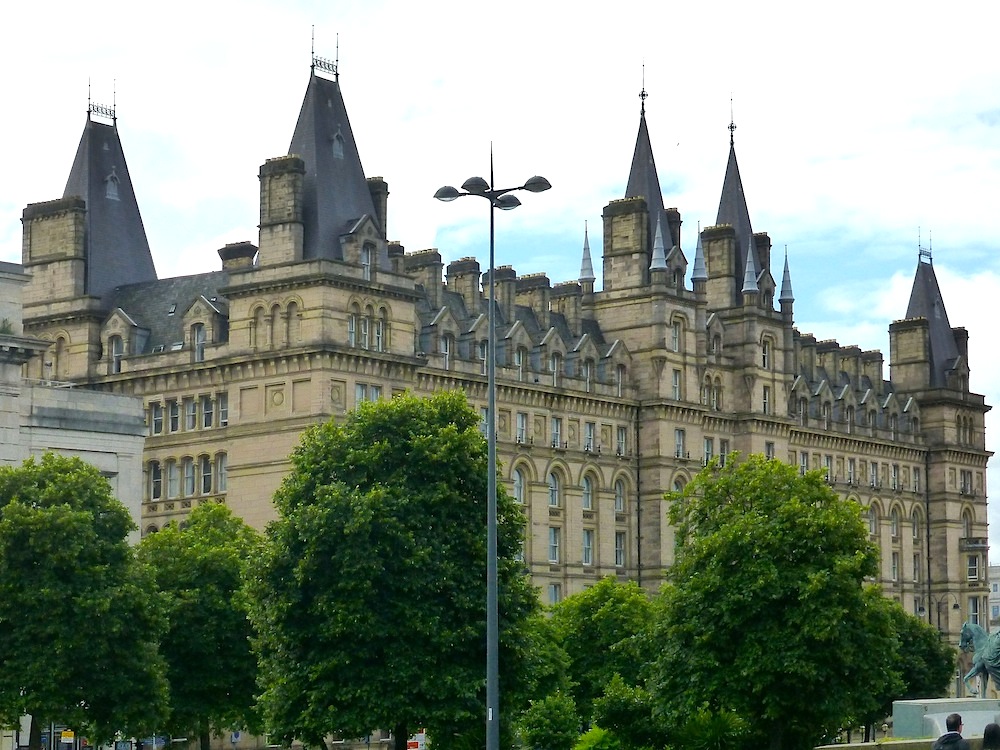 The hotel seen from the west side.
Waterhouse's massive Gothic structure is right opposite Liverpool's grand neo-classical St George's Hall, making a vivid contrast with it. The station itself is a grand structure, recently restored and of special interest too because the more than 150-feet wide roof designed by Richard Turner, collaborating with Joseph Locke and Richard Fairbairn, was constructed without columns in a single span (Sharples 188).
References
Lewis, David. Walks through History: Liverpool. Derby: Breedon, 2004.
Read, Benedict. Victorian Sculpture. New Haven & London: Yale University Press, 1982.
Sharples, Joseph, with contributions by Richard Pollard. Liverpool. Pevsner Architectural Guides. New Haven: Yale, 2004.
Speel, Bob. St George's Hall and St John's Gardens, Liverpool." Viewed 18 May 2009.
---
Last modified 21 July 2016