The Sunday Bonnet
"The pride of the cottager as to have a really good Sunday bonnet. . . . It was invariable in pattern, of black satin, drawn and cored sonewhat in the way of a sun-bonnet. After each Sunday's use, it was dusted with the greatest care and put away in its band-box. It lasted almost a lifetme." (250).
The Muslin Cap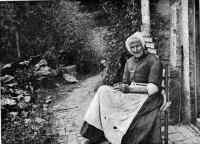 Left: The Sunday Bonnet. Right: The Muslin Cottage Cap.
[Click on thumbnails for larger images.]
"The close-fitting muslin cap showed inside the bonnet and was the usual indoor head-dress. The border of closely-pleated coarse lace edging ws called the 'front' the head-piece the 'caul'. A ribbon went over just behind the front and tied under the chin." [252, 254]
The Head-Handkerchief
"The Cotton handkerchief, almost universal on the Continent as a head covering of women of the peasant class, seems never to have been general in England, used occasionally, and indeed still used for running out to hang up the wash or seme odd job about the garden. . . It is a pity that it should not be in general and constant use.
Etymology claims such use for it, for the word kerchief is from couvre chef, a head-covering." (254-55)
The Sun-Bonnet

Left: The Sun-Bonnet. [Click on thumbnail for larger image.]
"The sun-bonnet was of some light-coloured print, generally lilac. The making of it is ingenious and pretty, and shows how the older folk took pleasure in doing dainty work. In one that I have the forward part measures 3 1/2 inches from front to back, and consists of thirteen rows of plain cording lying close together. This piece is made separately. Then comes an inch-deep pleated frilling put in full, facing forward and ending in a cording at its back. This cording has a more various and richer appearance than that of the front, as it is done 'full' instead of plain. There are three such lines of 'fulled' frilling and cording, then three more rows of cording, separated by a small space, something less than half-an-inch. Then comes the back, which is formed of the downward gathering together of the stuff to join the top of the curtain.
The curtain has a length of 48 inches, measured along its lower free edge, and comes down to the point of the shoulders. The upper edge is gathered in, to fit the lower edge of the bonnet. It is finished at the back with a flat bow, with ends whose length is the same as the depth of the curtain. There are also strings at the front, which as far as I remember were never tied.
A loose print jacket, open at the front, I am told was worn in the older days, but I have no recollection of having seen it. [255-56]
References
Jekyll, Gertrude Old West Surrey: Some Notes and Memories. London: Longmans, Green, and Co., 1904.
---
Last modified 29 January 2009