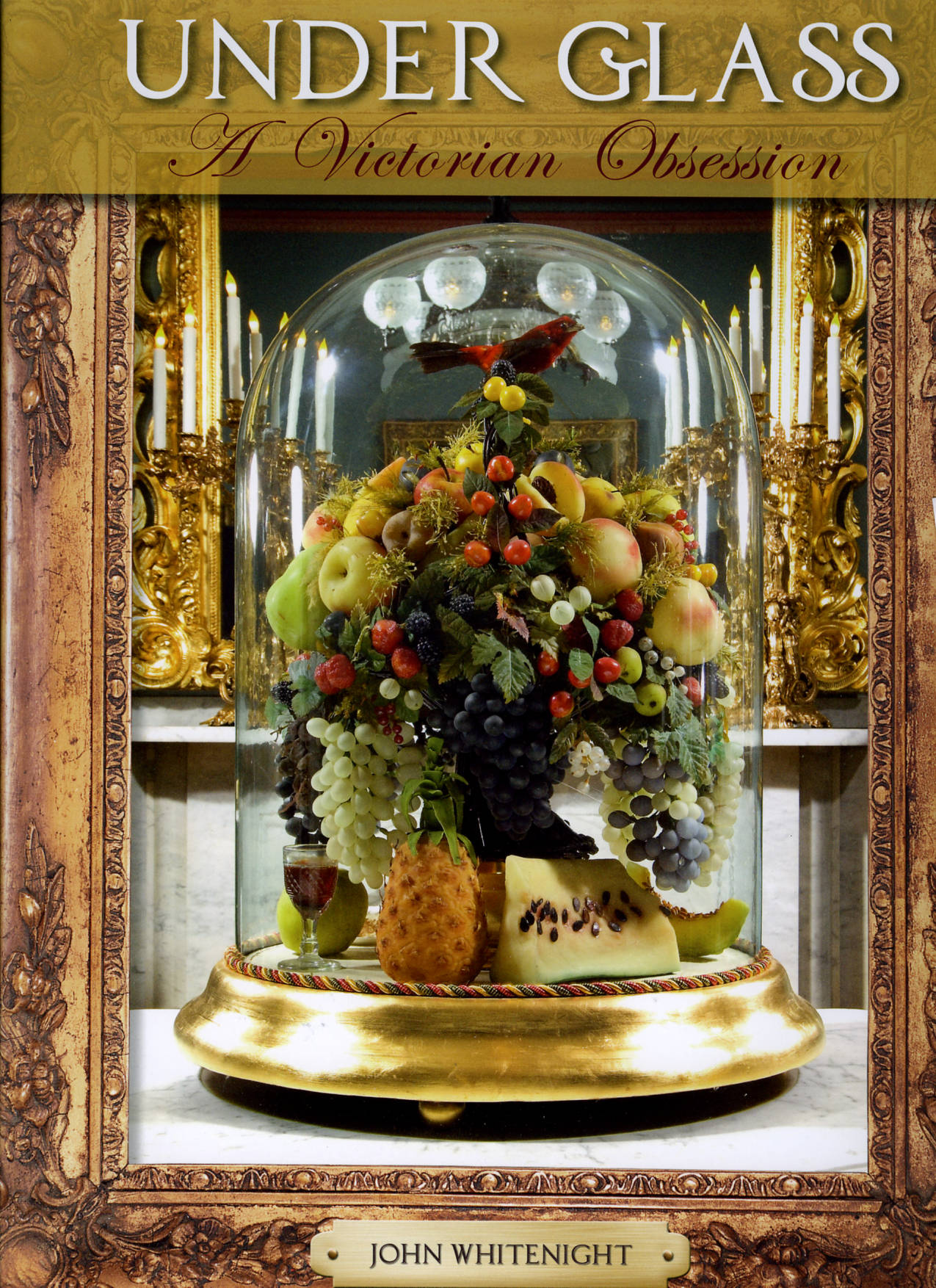 This magnificently produced volume introduces the reader to the occasionally wonderful, sometimes wacky and grotesque, simulated fragments of the natural world that British and American hobbyists placed under bell jars. Both a record of a collector's pride and a beautifully illustrated scholarly treatise, Under Glass takes us through twelve chapters, each organized by a particular medium. Chapter 1, "Beauties from the Beehive," presents wax flowers, foliage plants, fruit, and figures, including a scenes from Dickens's Christmas Carol (see below), shepherdesses, and Elizabeth I and Essex. As Whitenight explains,
No culture heretofore had embraced beeswax, one of the humblest materials found in nature, as an artistic medium the way the Victorians did. Beeswax has been used in western civilization silue the time of ancient Rome in the creation of encaustic paintings and later in religious effigies during the early Christian to Renaissance periods. During the late eighteenth century into the early nineteenth, the popularity of small wax portraits or profiles was common, whether commemorating a royal person or capturing the likeness oi the master and his wife from a prominent household. Wax, with its rather plastic qualities, allowed itself to be softened, molded, cut, and manipulated into a wide variety of shapes and forms. Once it was properly bleached to white, colored pigments could be added to give it the desired hue.
One of the many Victorian obsessions was the art of simulating nature in wax, particularly fruits and flowers. The idea of creating arrangements of flowers that never faded or baskets of fruit dial never spoiled, both intrigued and delighted. . . . . These artificial compositions knew no season. They merely existed to please the viewer and stimulate the senses. [11]
This opening chapter not only provides beautiful examples of wax art under domes (and in shadow boxes) but also explains modeling techniques, lists Victorian manuals, and illustrates tools and other supplies.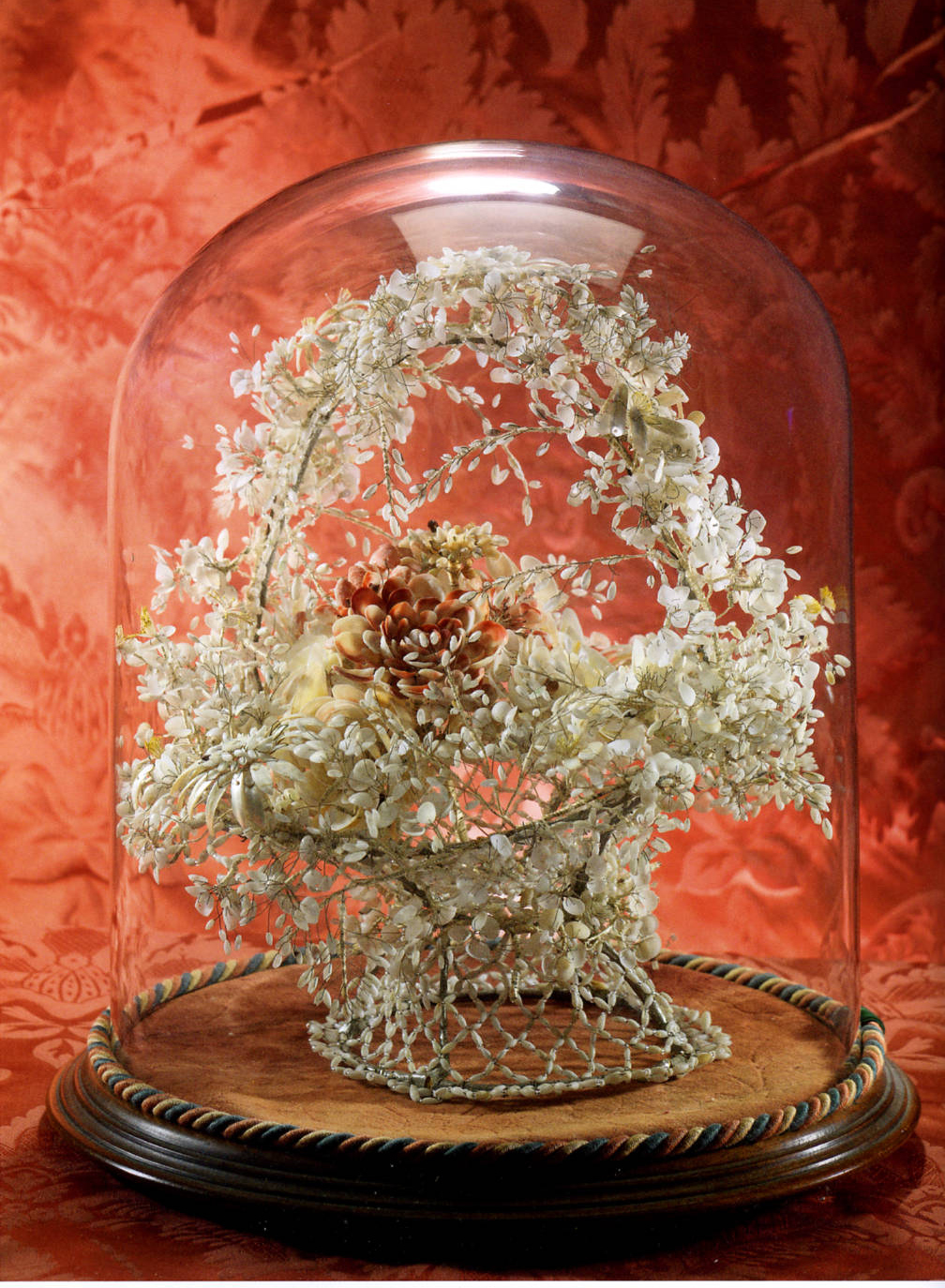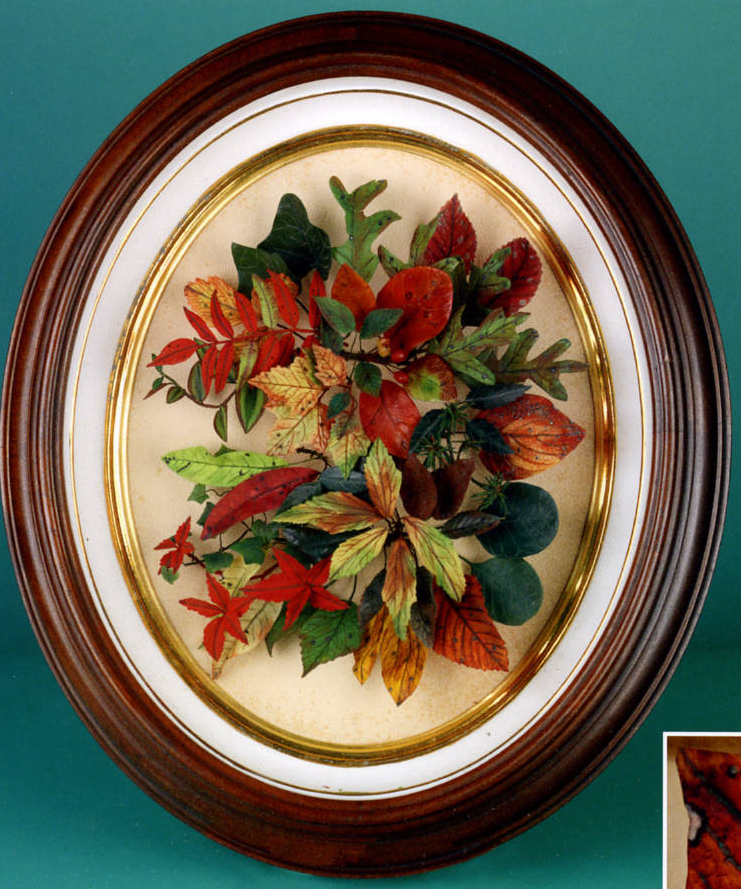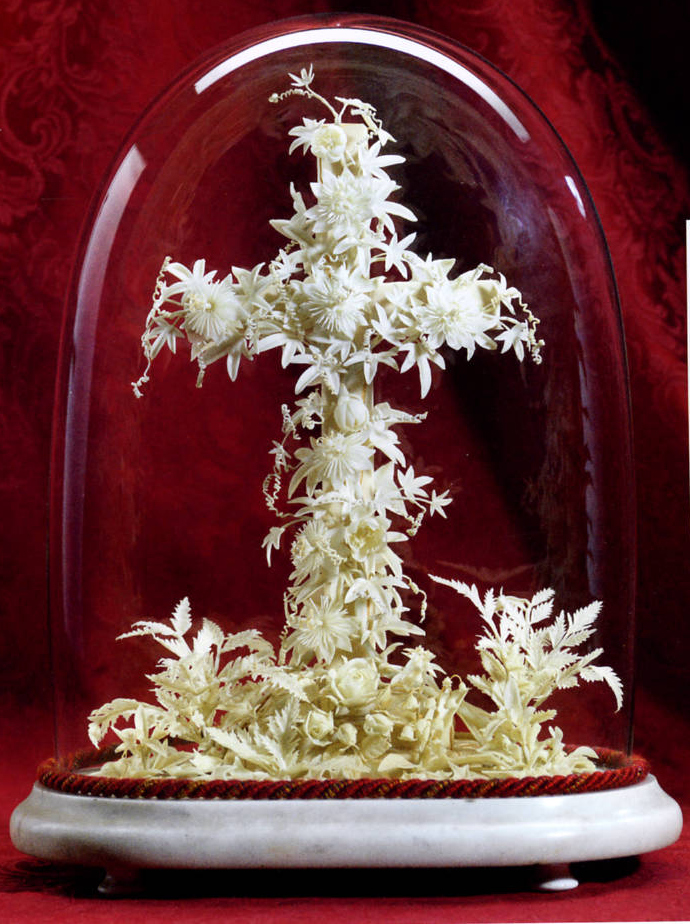 Left to right: (a) Rice shell work basket with rice shell flowers, c. 1855. (b) Wax fall foliage in walnut shadow box (one of a pair), c. 1870s. (c) White wax Easter Cross with passionflowers and roses on white marble base. c. 1870s. [Click on these images for larger pictures.]
Chapter 2, "Flowers from the Sea," does much the same for shell work, and third, "Hair Today, Hair Tomorrow," covers — yes — hair work. Chapter 4, "Birds, Dogs, Frogs, and Monkeys Too!," takes us into the often grotesque worlds of Victorian taxidermy, which ranges from magnificently assembled domes of brightly colored exotic birds to preserved puppies and anthropomorphized frogs playing pool or staggering home drunk. This last, an acquired taste, I think.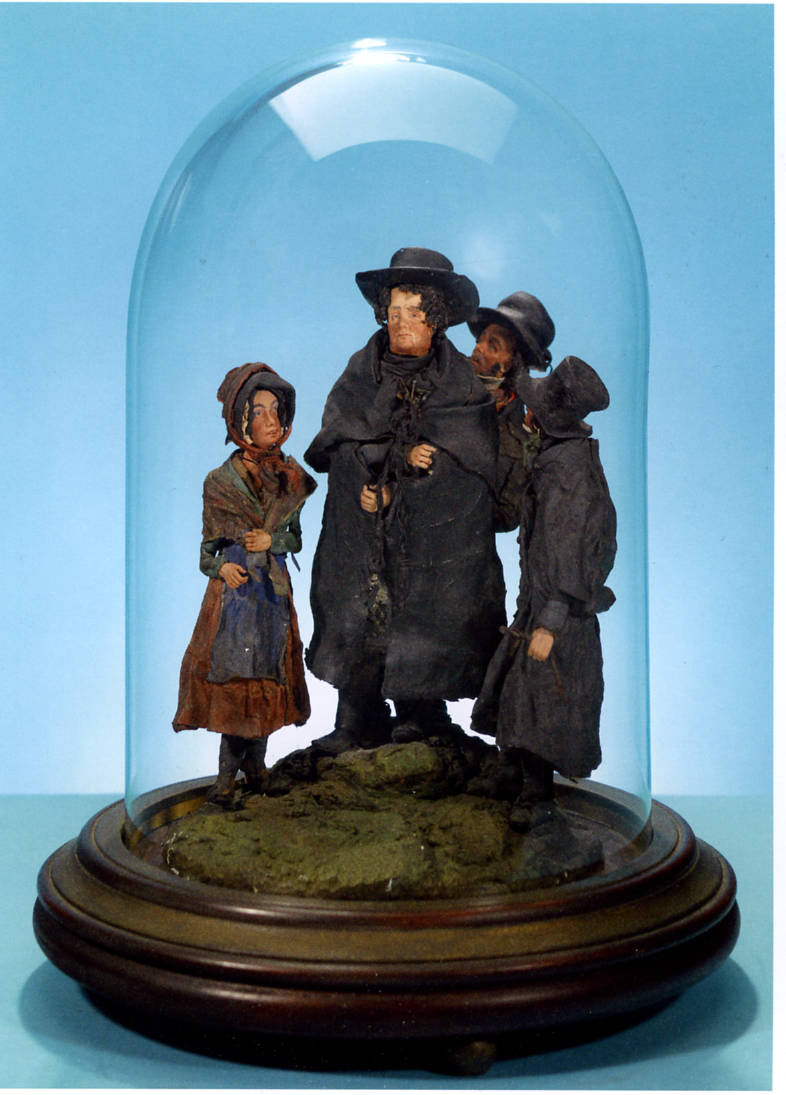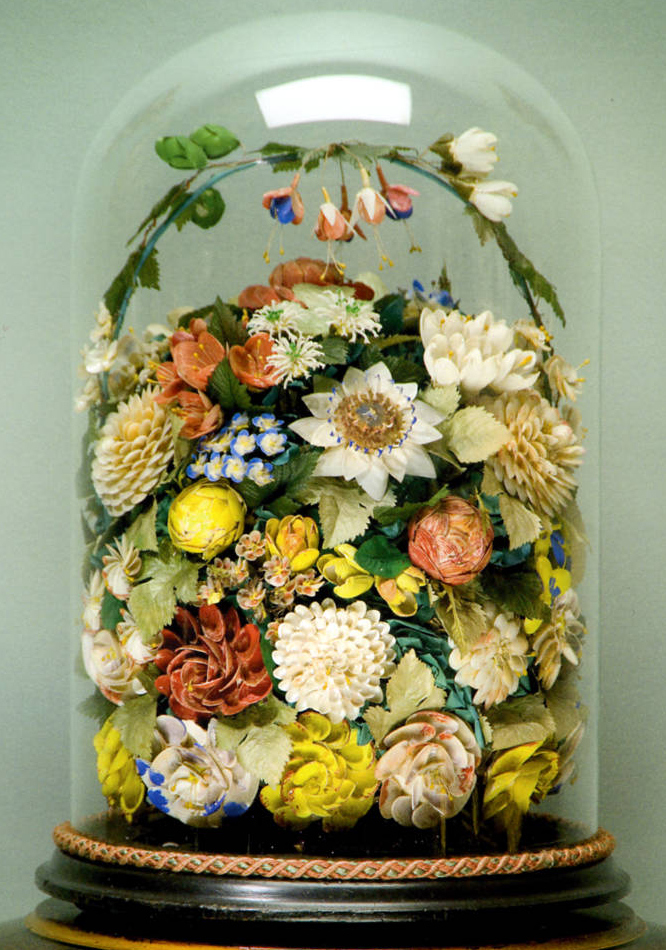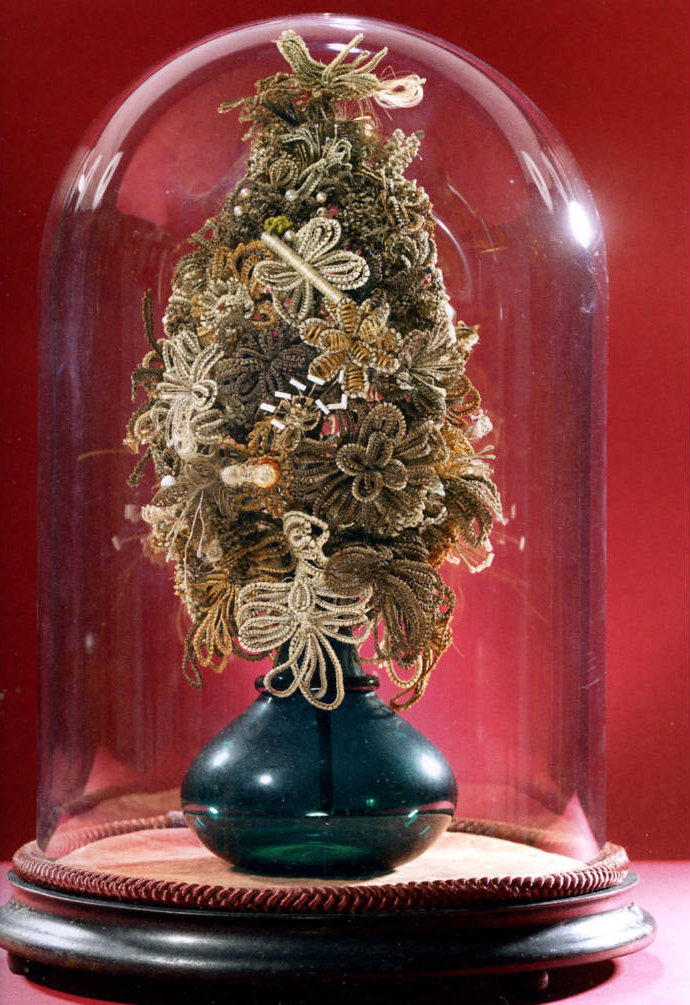 Left to right: (a) Scene from Dickens's Christmas Carol, c. 1850. (b) A basket of shell-work flowers in dome, , c. 1868. (c) A bouquet of hair-work flowers done in folk art manner including a butterfly and a bird, c. 1855. c. [Click on these images for larger pictures.]
The following chapters discuss and display skeleton leaves, and feather, wool, paper, silk, bead, and seed work. "Confections in Glass," chapter 8, takes us to lampwork miniature sculpture, and like the chapter about wool work, reveals to what large extent the medium in these folk arts affects the message: the works in glass and wool — two very different materials — appear far cruder than the magnificent results obtained in wax, paper, and shells. The advantage of these three media seems to be their potential for fine granularity — that is, one may work additively with small elements and slowly built up convincing details and gradated colors — whereas wool seems too coarse. Lampwork has different problems, for it requires great skill to achieve the kind of mimetic pleasures desired under the dome. Interestingly, lampwork has recently had a great revival in the form of sculptured, multi-colored, multi-layered beads that derive much of their beauty from exploring the qualities of molten glass and not from attempts at mimesis.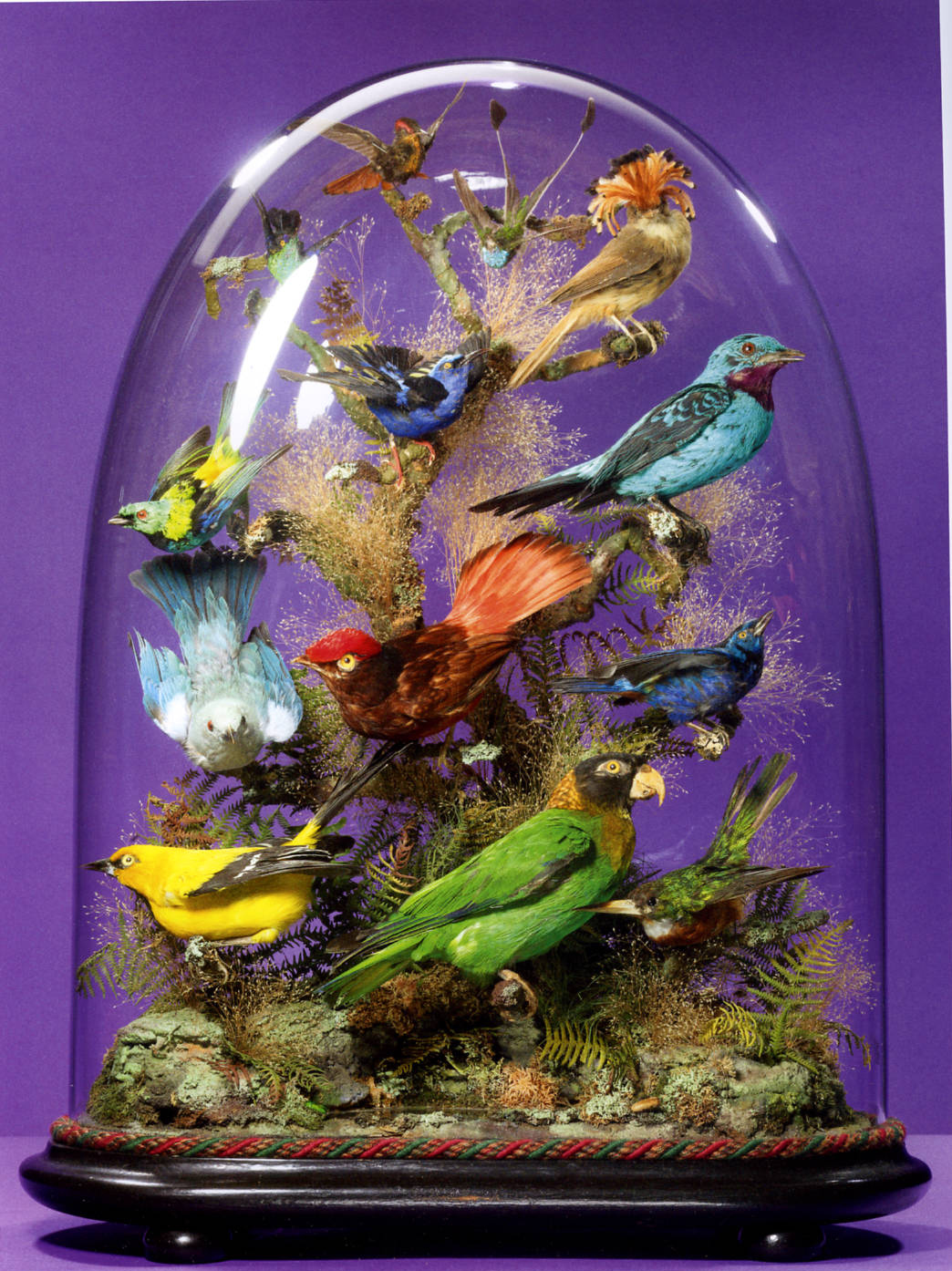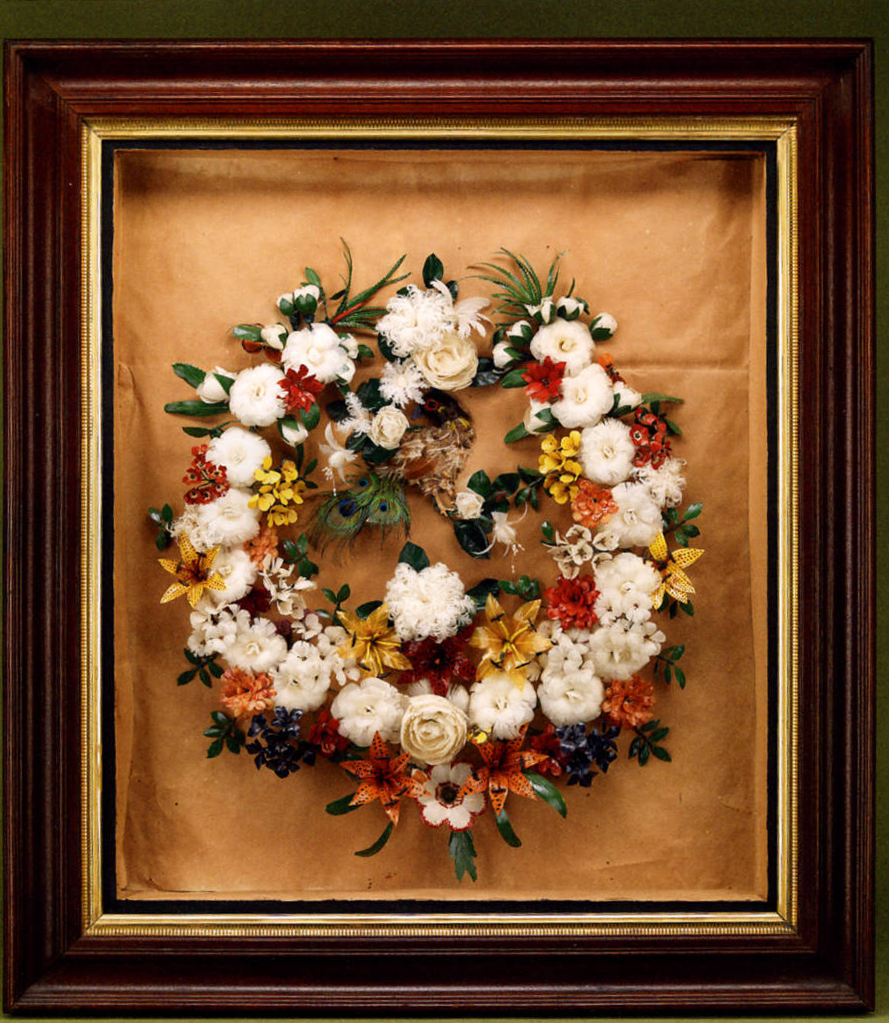 Left to right: (a) Taxidermy as art: Mixed exotic bird dome, attributed to William and Sons, Dublin, Ireland. Late nineteenth century. (b) Monkey Riding the Goat by Walter Potter, c. 1870. (c) Feather flower wreath in walnut shadow box, signed Anna Best 1879. [Click on these images for larger pictures.]
The book's tenth chapter, "Musical Mechanical Masterpices," tantalizes more than satisfies on several counts. First of all, how do automata under glass differ from those not under domes? Surely, one can't hear a music box inside a dome very well, which suggests that unlike the work shown in previous chapters that remain inside the bell jar, these automata are only stored and displayed under glass. Equally important, whereas the rest of the book covers Anglo-American work, this chapter concentrates on French creations, almost all of which are by a single person, Jean Phalibois. British examples take the form of images from the late nineteenth-century Silber and Fleming catalogue. The materials in this chapter probably belong in another book on automata. Instead of considering this chapter's inclusion as an organizational flaw, let's chalk it up to the author's generosity.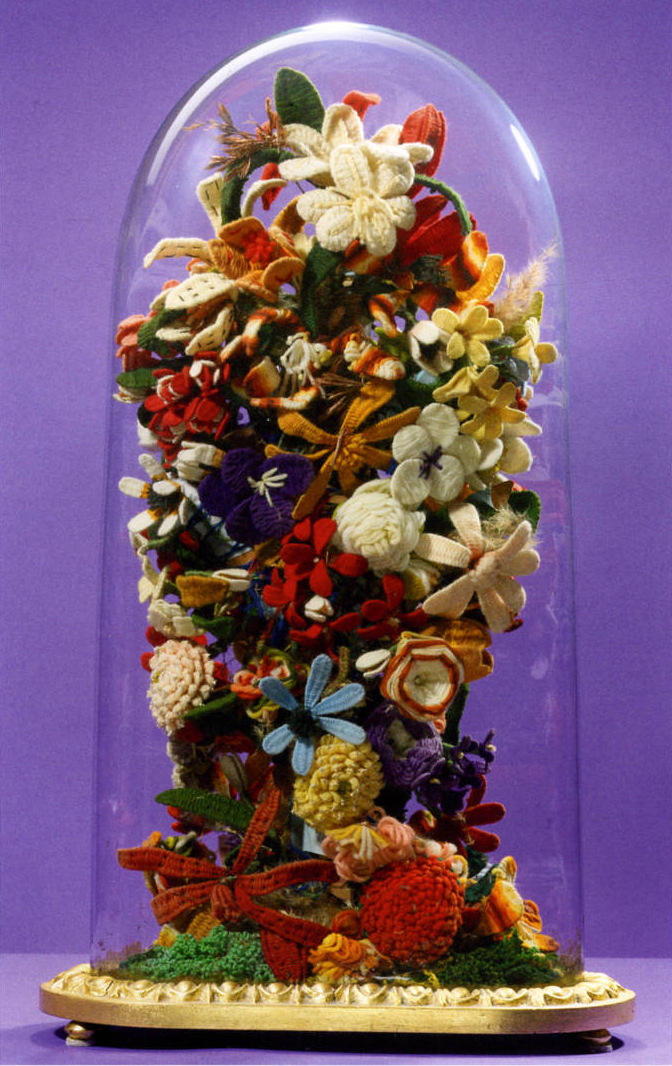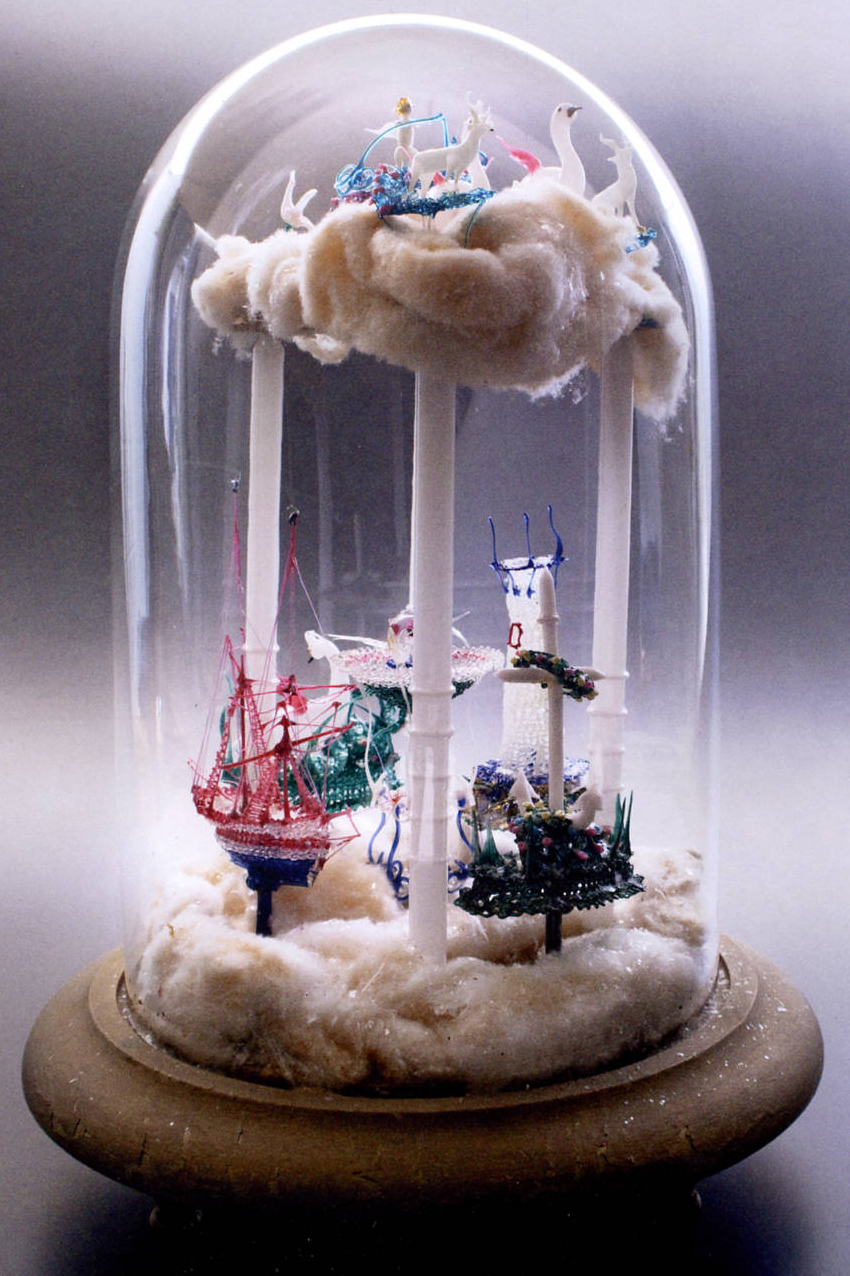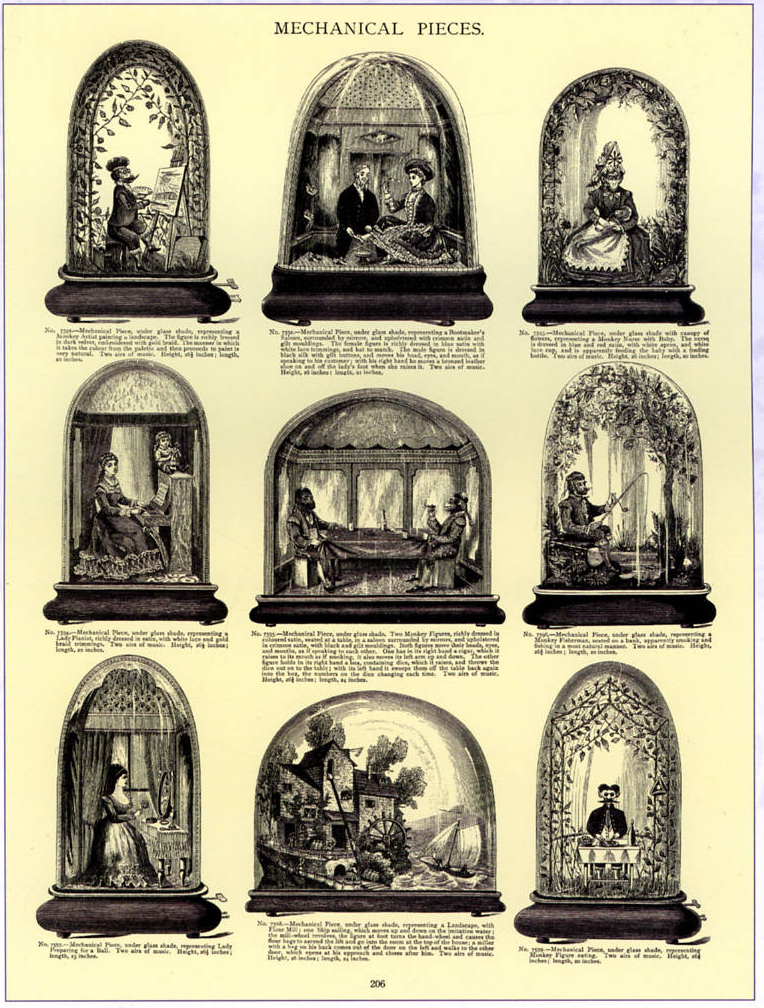 Left to right: (a) Large narrow oval dome of wool flowers with a gilt egg- and dart-decorated base, c. 1875. (b) Lampwork arrangement of glass novelties including ships, birds, and anchor. c, 1875. Photo courtesy The Strong, Rochester, New York. (c) Paper model of a gothic cathedral. English, c. 1875. (d) Page of "Mechanical Pices" from the 1880 Silber and Fleming catalogue, London. Photograph courtesy of the Victoria and Albert Museum. [Click on these images for larger pictures.]
"Esoterica," the penultimate chapter, covers Victorian uses of domes that generally do not involve the owner's handiwork. Thus we find Parianware versions of sculpture, such as Hiram Powers' Greek Slave, or busts of Queen Victoria, as well as dolls, cake toppers, cork architectural models, and a man being guillotined. Under Glass closes with "Gone but not forgotten," which offers examples of contemporary artists who use Victorian practices, such as skeletonized leaves. What had been folk art and hobby that occasionally produced great beauty now has become Fine Art.
Although obviously of great value to collectors of such work, or even just as a lovely coffee-table book, Under Glass offers important material for the student of Victorian art and culture. Victorian poetry has often been considered anti-nature poetry because it so frequently portrays a Nature indifferent to human (and animal) suffering — think Arnold, Tennyson, and Hardy. These bell jar miniature worlds reveal a desire to create simulations of a desired nature, one unattainable in the real world. As Whitenight points out, "If one wished to have roses mixed with tulips in the same bouquet it was possible. . . . These artificial compositions knew no season." Like the larger worlds of religious painting, these fragmentary worlds under glass are virtual worlds, examples, in other words, of analogue virtual reality shaped by human desire.
Bibliography
Whitenight, John. A Victorian Obsession. Atglen, Pennsylvania: Schiffer Publishing, 2013. ISBN: 978-0-7643-4407. 288 pp. 628 color and 23 b/w photographs.
---
Last modified 14 December 2013