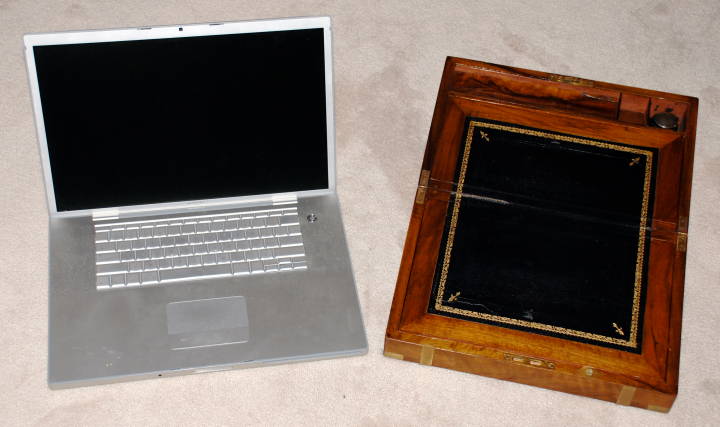 Victorian gentleman's desk next to a twenty-first-century laptop computer. The gentleman's desk, which has a black leather-lined slope with gold detailing around the edges, has a single glass ink well with a screw top, a small sloping compartment for stamps or wafers, and a compartment for pens with a pen rest on top of it. Below the slope is a larger compartment to store writing materials. The secret drawers located underneath the compartment for pens can be released by pulling up the small partition next to the ink well. Photograph by Michael Marx. Text by Catherine Golden.
Related Material
References
Golden, Catherine J. Posting It: The Victorian Revolution in Letter Writing. Gainesville: University Press of Florida, 2009.
Great Exhibition of the Works of Industry of all Nations, 1851. Official Descriptiveand Illustrated Catalogue. By Authority of the Royal Commission. In Three Volumes. London: Spicer Brothers, 1851.
Harris, David. Portable Writing Desks. Buckinghamshire, UK: Shire Publications Ltd., 2001.
---
Last modified 7 June 2010