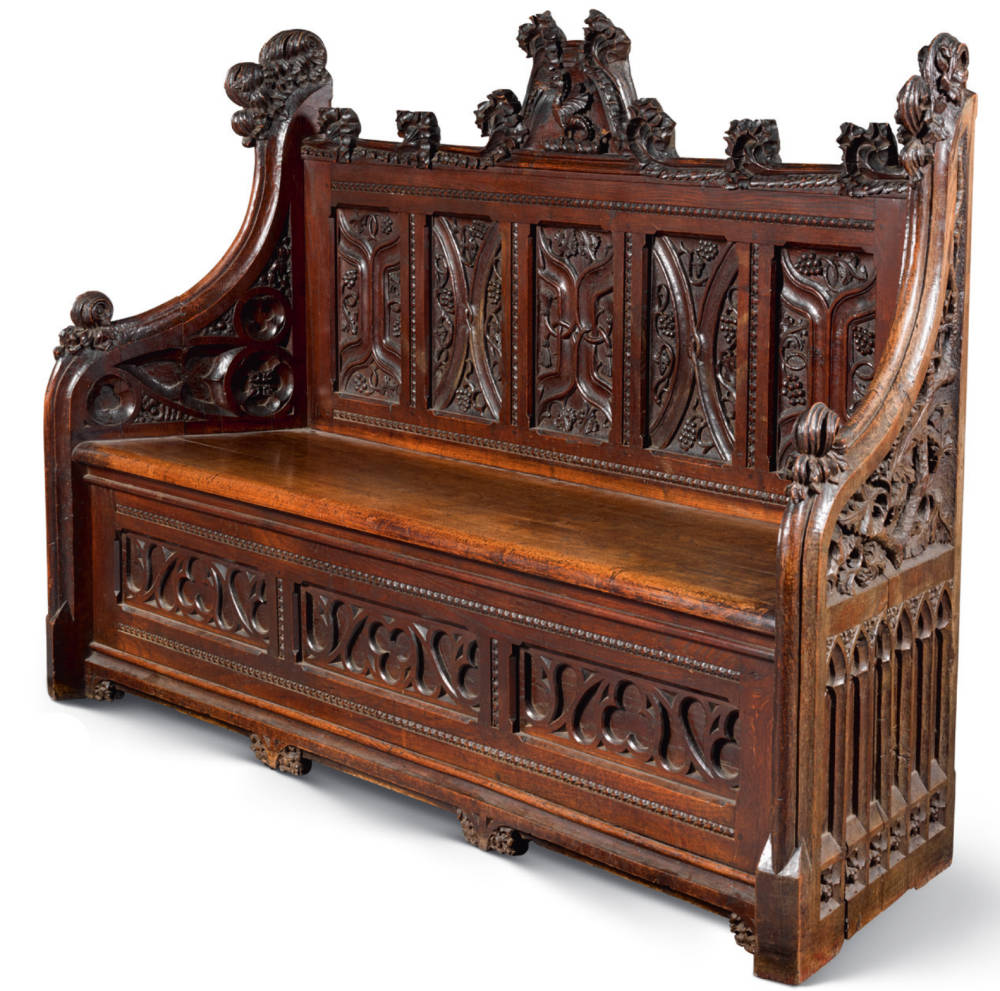 Gothic Revival Settle after a design by A. W. N. Pugin . Made in the third quarter of the 19th century. 117 by 172.5cm., 46 by 68 inches. Courtesy of the Fine Art Society, London. Click on image to enlarge it.
Commentary from the Sotheby's Fine Art Society Sale of February 2019
This piece has the Salvin family crest and was probably acquired by Francis Henry Salvin (d.1904) for Sutton Place after he inherited the estate in 1857.
Interestingly the relief carved back panels relate to a 15th-century fragment which was in Pugin's own collection and is now with the V&A in London, see Atterbury and Wainwright, Pugin: A Gothic Passion, London, 1994, fig. 190. The overall design of the present lot relates to a form drawn by him in 1835 which was published by Ackerman (A.W.N. Pugin, Gothic furniture in the style of the 15th cent'y, London, pi.15). It is likely the piece was made by a local craftsman with access to Pugin's 1835 book of designs rather than one of the more commercial cabinetmakers the designer used such as Crace or Holland.
The bench bears inventory marks for Sutton Place, near Guildford. This great Tudor Mansion was inherited by Salvin from his uncle John Webbe-Weston. The house was largely tenanted during Salvin's time. He was a fascinating character, an Antiquarian, authority on Falconry (so the Antiquity of Sutton Place must have appealed), trained pet otters to follow him like dogs and had a pet pig called 'Lady Susan' who wore a silver collar and bell.
---
Created 25 January 2019