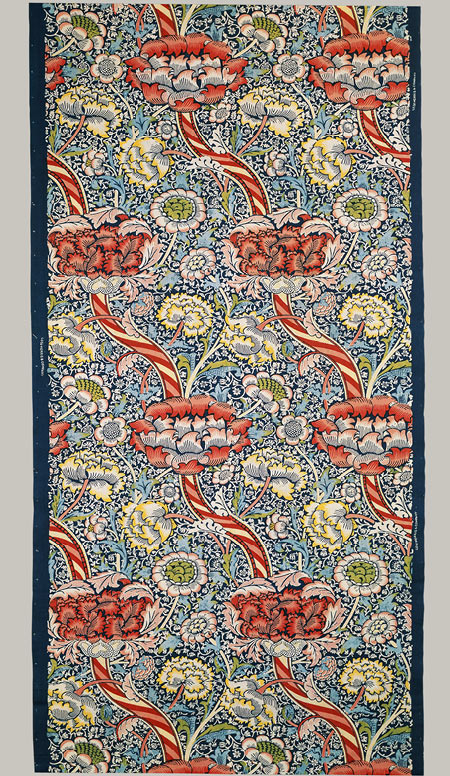 Wandle
Designer: William Morris, 1834-1896
Manufacturer and retailer: Morris & Co.
Printed cotton
108 x 38 1/8 in. (274.3 x 96.8 cm)
The Metropolitan Museum of Art, New York
Purchase, Edward C. Moore Jr. Gift, 1923 (23.163.10)
"This printed design was achieved by a combination of indigo discharge and block printing. This multistep process began with the dying of the entire cloth with blue indigo dye. Then the areas that were not to remain blue were bleached (the blue was "discharged"), and the remaining colors were applied by the block printing method. The discharge process could produce both white areas and several shades of blue, depending on the strength of the bleaching agent applied to the fabric. The design was inspired by historic textiles, especially fifteenth-century velvets that often featured a strong diagonal or meandering branch from which various flowers emanated. The title of the design refers to the river on which the Merton Abbey textile mill was situated—that river being absolutely crucial as a source of power and clean water for textile processing." — Metropolitan Museum of Art
Image and text courtesy of the Metropolitan Museum of Art. All rights reserved.