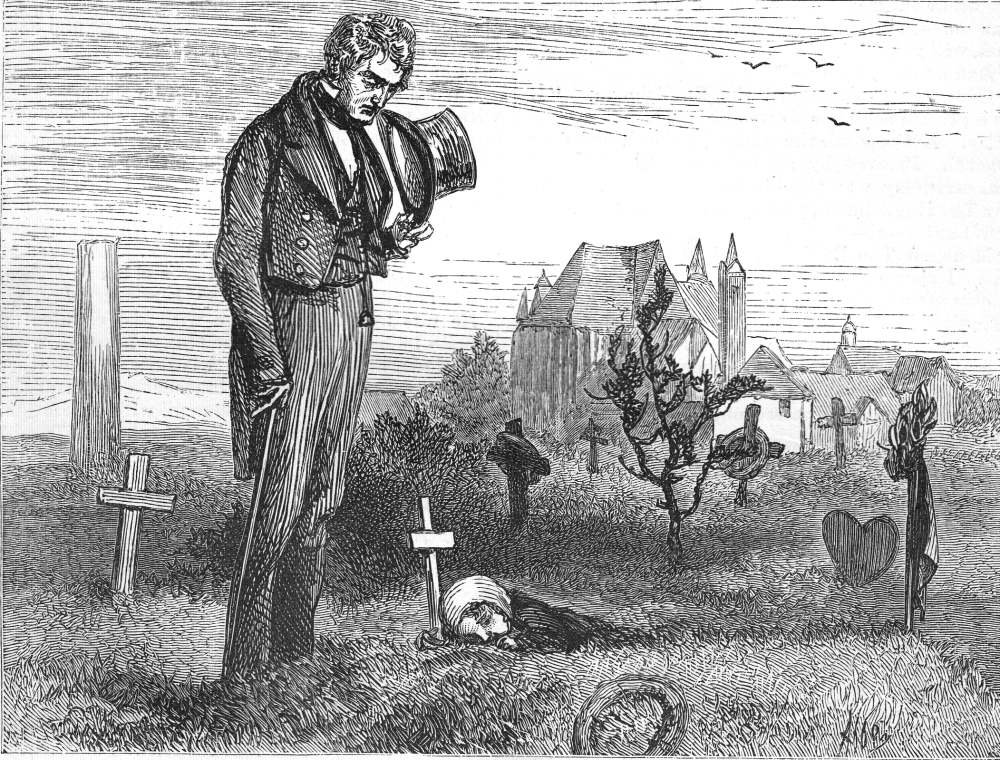 "Bebelle! My little one!" by E. A. Abbey. American Household Edition (1876), illustration for Somebody's Luggage, from Dickens's weekly journal All the Year Round (1862), 10 x 13.4 framed, p. 192. [Click on the image to enlarge it.]
The Passage Illustrated in "His Boots"
In search of the Corporal's grave he went softly on, up this walk and down that, peering in, among the crosses and hearts and columns and obelisks and tombstones, for a recently disturbed spot. It troubled him now to think how many dead there were in the cemetery, — he had not thought them a tenth part so numerous before, — and after he had walked and sought for some time, he said to himself, as he struck down a new vista of tombs, "I might suppose that every one was dead but I."
Not every one. A live child was lying on the ground asleep. Truly he had found something on the Corporal's grave to know it by, and the something was Bebelle.
With such a loving will had the dead soldier's comrades worked at his resting-place, that it was already a neat garden. On the green turf of the garden Bebelle lay sleeping, with her cheek touching it. A plain, unpainted little wooden Cross was planted in the turf, and her short arm embraced this little Cross, as it had many a time embraced the Corporal's neck. They had put a tiny flag (the flag of France) at his head, and a laurel garland.
Mr. The Englishman took off his hat, and stood for a while silent. Then, covering his head again, he bent down on one knee, and softly roused the child.
"Bebelle! My little one!"
Opening her eyes, on which the tears were still wet, Bebelle was at first frightened; but seeing who it was, she suffered him to take her in his arms, looking steadfastly at him.
"You must not lie here, my little one. You must come with me."
"No, no. I can't leave Théophile. I want the good dear Théophile." [Ch. 2, p. 191]
The Englishman living in France, Mr. Langley, the protagonist of "His Boots," the second of the multi-part Christmas story for All the Year Round for 1862, is somewhat reminiscent of Dickens himself at that period. Whereas Langley leads an expatriate existence, and is regarded as something of an odd character by the inhabitants of the small village in which he's settled, Charles Dickens was a celebrity travelling incognito as he periodically escaped across the Channel to the "love nest" at Condette near Bolougne with his young mistress, Ellen Ternan. As the picture and the excerpt make clear, Langley, after finding the child crying on a grave, adopts a little French orphan girl named Bebelle after the death of her noble guardian, Corporal Théophile in a fire in the village of Vauban. Dickens's collaborators on staff for this "framed-tale" series were the noted novelists Wilkie Collins and Elizabeth Gaskell, but Dickens was the author of the framing components (featuring the waiter Christopher) as well as two of the stories. The American Household Edition reprints only the opening, the closing, and this Dickens-authored story.
Scanned image and text by Philip V. Allingham. Formatting, color correction, and linking by George P. Landow. [You may use these images without prior permission for any scholarly or educational purpose as long as you (1) credit the photographer and (2) link your document to this URL in a web document or cite the Victorian Web in a print one.]
References
Cook, James. Bibliography of the Writings of Dickens. London: Frank Kerslake, 1879. As given in Publishers' Circular The English Catalogue of Books.
Davis, Paul. Charles Dickens A to Z: The Essential Reference to His Life and Work. New York: Facts On File, 1998.
Dickens, Charles. Christmas Books. Il. Fred Barnard. The Household Edition. London: Chapman and Hall, 1878.
Dickens, Charles. Christmas Stories. Il. E. A. Abbey. The Household Edition. New York: Harper and Brothers, 1876.
Hammerton, J. A. The Dickens Picture-Book. London: Educational Book, 1912.
Kitton, Frederic G. Dickens and His Illustrators. 1899. Rpt. Honolulu: U. Press of the Pacific, 2004.
Parker, David. "Christmas Books and Stories, 1844 to 1854." Christmas and Charles Dickens. New York: AMS Press, 2005. Pp. 221-282.
Thomas, Deborah A. Dickens and The Short Story. Philadelphia: U. Pennsylvania Press, 1982.
---
Last modified 7 December 2012