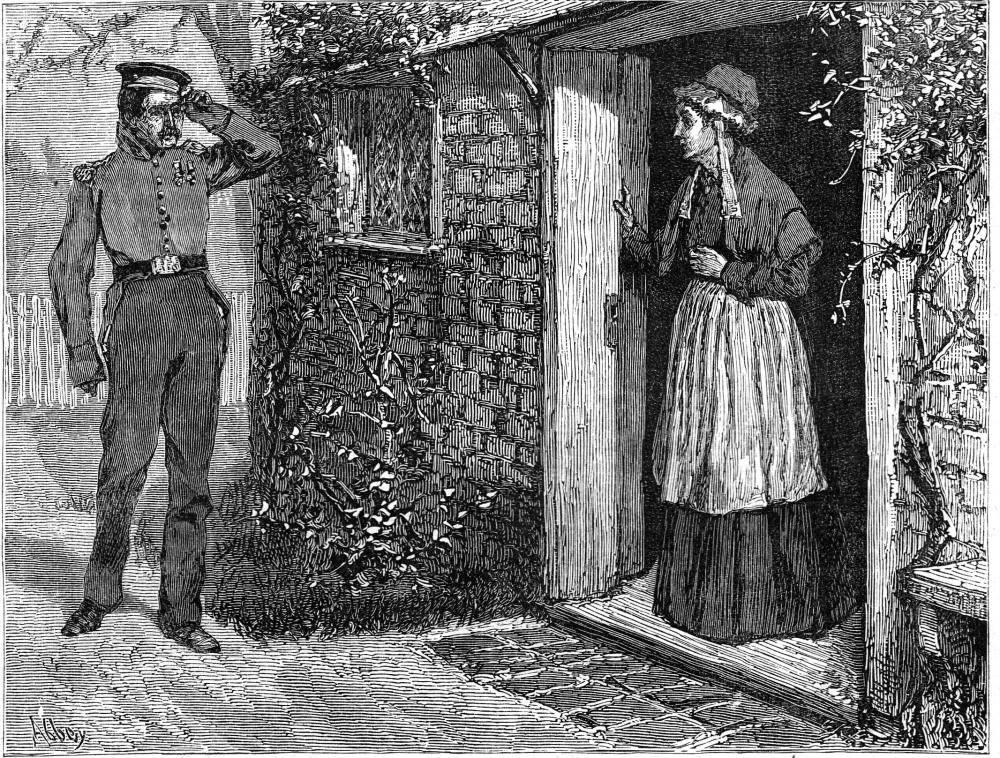 "She came to the door quickly, and fell upon his neck" by E. A. Abbey. 10 x 13.3 cm framed. From the Harper and Brothers Household Edition (1876) of Dickens's Christmas Stories, p. 267. The sentimental frame tale involving story-telling characters availing themselves of Watts's Charity on Christmas Eve in Rochester, Kent (a series for which Dickens himself provided just the introduction, a short story — the subject of Abbey's illustration — and the brief epilogue), originally appeared without illustration in The Seven Poor Travellers in the fifth "Extra Christmas Number" of Household Words, in December 1854. Perhaps because only Dickens's contributions have been widely reprinted, posterity has lost sight of the other tales in the sequence, although these were penned by some of the mid-nineteenth-century short-story writers, as Deborah A. Thomas notes: Wilkie Collins, George Augustus Sala, twenty-nine-year-old Adelaide Procter, and Eliza Lynn Linton, all of whom got their start as professional writers on the staff of Household Words. [Click on the image to enlarge it.]
The American Household Edition of The Seven Poor Travellers contains the only three components which Dickens himself wrote, so that (as in the later Oxford Illustrated Dickens) the multi-part frame-tale is reduced to just three chapters: "In The Old City of Rochester," "The Story of Richard Doubledick," and "The Road."
In Abbey's illustration, the long-suffering veteran of the Napoleonic Wars returns to England to describe the circumstances of his best friend's death in battle to his mother, the Widow Taunton, who lives in the tranquil village of Frome in Somerset. American Household Edition illustrator E. A. Abbey has elected to realise the moment at which the protagonist meets Colonel Taunton's mother to report on his friend's death at the Battle of Waterloo. Abbey depicts the middle-aged officer's face as mahogany brown from service in India, prior to his translation to the European theatre. His apparent stiffness may be a result of his recent hospitalisation for wounds incurred on the field of battle.
Passage Illustrated
At Midsummer-time, in the year eighteen hundred and fourteen, Lieutenant Richard Doubledick, now a browned soldier, seven-and-thirty years of age, came home to England invalided. He brought the hair with him, near his heart. Many a French officer had he seen since that day; many a dreadful night, in searching with men and lanterns for his wounded, had he relieved French officers lying disabled; but the mental picture and the reality had never come together.
Though he was weak and suffered pain, he lost not an hour in getting down to Frome in Somersetshire, where Taunton's mother lived. In the sweet, compassionate words that naturally present themselves to the mind to-night, "he was the only son of his mother, and she was a widow."
It was a Sunday evening, and the lady sat at her quiet garden-window, reading the Bible; reading to herself, in a trembling voice, that very passage in it, as I have heard him tell. He heard the words: "Young man, I say unto thee, arise!"
He had to pass the window; and the bright, dark eyes of his debased time seemed to look at him. Her heart told her who he was; she came to the door quickly, and fell upon his neck.
"He saved me from ruin, made me a human creature, won me from infamy and shame. O, God for ever bless him! As He will, He Will!"
"He will!" the lady answered. "I know he is in heaven!" Then she piteously cried, "But O, my darling boy, my darling boy!"
Never from the hour when Private Richard Doubledick enlisted at Chatham had the Private, Corporal, Sergeant, Sergeant-Major, Ensign, or Lieutenant breathed his right name, or the name of Mary Marshall, or a word of the story of his life, into any ear except his reclaimer's. That previous scene in his existence was closed. He had firmly resolved that his expiation should be to live unknown; to disturb no more the peace that had long grown over his old offences; to let it be revealed, when he was dead, that he had striven and suffered, and had never forgotten; and then, if they could forgive him and believe him — well, it would be time enough — time enough! [266]
British Household Edition illustrator F. A. Fraser chose an entirely different moment in the Christmas story, namely when Taunton, reviewing the young man's record of misdemeanours, upbraids him and Private Richard Doubledick breaks down in his office at hearing a voice that echoes that of his own conscience. In the melodramatic scene of confession and forgiveness, F. A. Fraser is careful in his delineation of the officer's and private's uniforms in "The Seven Poor Travellers". He realizes effectively the tenderness of Captain Taunton in contrast to the emotional breakdown of the enlisted man. In Fraser's illustration, Doubledick is not wearing his regimental jacket (Dickens's text specifies a "disgrace-jacket," presumably of rough fabric suitable to a 48-hour incarceration in The Black Hole) in this personal interview in his Captain's office. Fraser suggests the interior's martial nature through a picture and a sword hanging on the wall behind the figures; curiously, the Captain is still wearing his hat — the Private has pulled his cap off upon entering, but presumably has dropped it. Abbey is more interested in the dramatic situation in which the man in a lieutenant's uniform, fresh from the battlefields of the Napoleonic Wars, meets his deceased friend's mother, knowing that he must describe the Major's death on the field of Badajos in the Peninsular campaign that preceded Waterloo. The vine-covered cottage and the curious, apron-wearing occupant of the little Somersetshire cottage contrast the stiff salute and deportment of the moustached officer.
Scanned image and text by Philip V. Allingham. Formatting, color correction, and linking by George P. Landow. [You may use these images without prior permission for any scholarly or educational purpose as long as you (1) credit the photographer and (2) link your document to this URL in a web document or cite the Victorian Web in a print one.]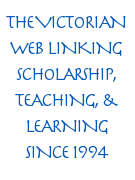 References
Davis, Paul. Charles Dickens A to Z: The Essential Reference to His Life and Work. New York: Facts On File, 1998.
Dickens, Charles. Christmas Stories. Il. Edward Dalziel, Harry French, F. A. Fraser, James Mahoney, Townley Green, and Charles Green. The Oxford Illustrated Dickens. Oxford, New York, and Toronto: Oxford U.P., 1956, rpt. 1989.
Dickens, Charles. Christmas Stories. Il. E. A. Abbey. The Household Edition. New York: Harper and Brothers, 1876.
Thomas, Deborah A. Dickens and The Short Story. Philadelphia: U. Pennsylvania Press, 1982.
---

Last modified 7 January 2013