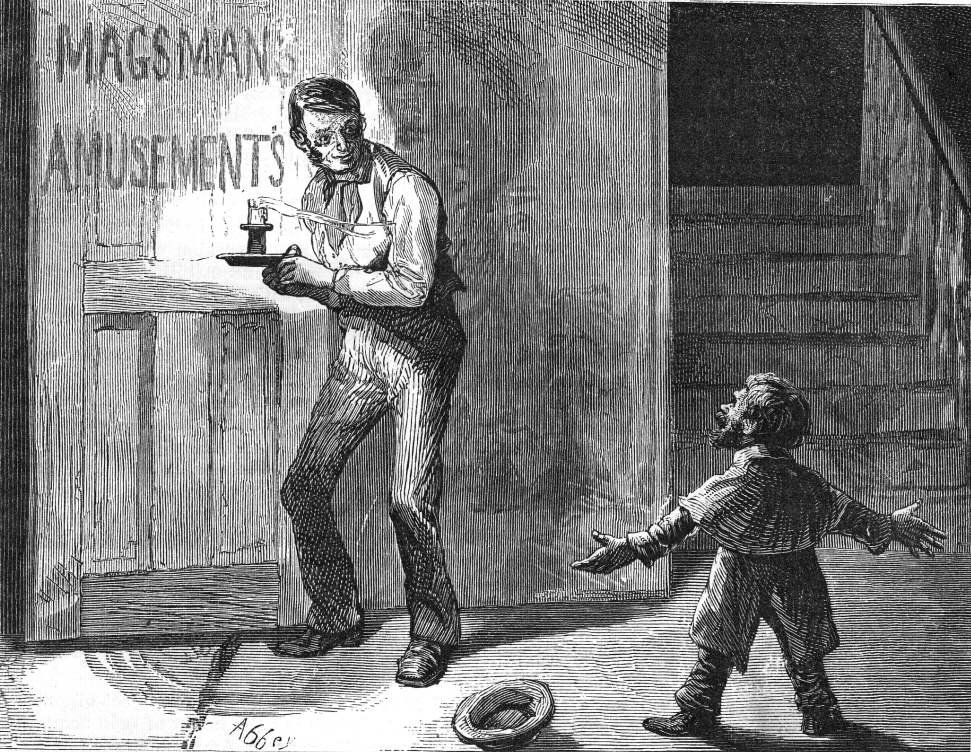 "'Magsman,' he says, 'take me on the hold terms, and you've got me; if it's done, say done!'" by E. A. Abbey. 10 x 13.2 cm framed. From the Harper and Brothers Household Edition (1876) of Dickens's Christmas Stories, p. 292. [Click on the image to enlarge it.]
Originally Dickens had hoped to make what would be his last Christmas story for Household Words a collaborative effort between himself and his protegé, Wilkie Collins. However, the pressure of having to provide half of the stories for the frame tale must have been too great for Dickens, so that he eventually invited two staffers, the novelist Elizabeth Gaskell and the poet Adelaide Anne Procter, to contribute. Writing to Collins on 6 September 1858, the Editor and Conductor of Household Words sketched out his plan for A House to Let as a series of stories for the Extra Christmas number. Dickens and Collins jointly contributed as an introduction to the abandoned house "Over the Way", and also the epilogue, "Let at Last." Between these opening and closing components appeared Gaskell's "The Manchester Marriage," Dickens's character sketch of a social-climbing circus entertainer "Going into Society", Procter's "Three Evenings in the House," and Collins's "Trottle's Report" (a total of six rather than the seven to ten pieces found in Dickens's other frame tale sequences for the season). Abbey has selected for realisation the climax of the sketch when Mr. Chops, the melancholic dwarf in Magsman's Amusements (announced on the door of "The House to Let") returns from his miserable existence in "Society" at his Pall Mall townhouse.
Passage Realised
I took the House as is the subject of present inquiries — though not the honour of bein acquainted — and I run Magsman's Amusements in it thirteen months — sometimes one thing, sometimes another, sometimes nothin particular, but always all the canvasses outside. One night, when we had played the last company out, which was a shy company, through its raining Heavens hard, I was takin a pipe in the one pair back along with the young man with the toes, which I had taken on for a month (though he never drawed — except on paper), and I heard a kickin at the street door. "Halloa!" I says to the young man, "what's up!" He rubs his eyebrows with his toes, and he says, "I can't imagine, Mr. Magsman" — which he never could imagine nothin, and was monotonous company.
The noise not leavin off, I laid down my pipe, and I took up a candle, and I went down and opened the door. I looked out into the street; but nothin could I see, and nothin was I aware of, until I turned round quick, because some creetur run between my legs into the passage. There was Mr. Chops!
"Magsman," he says, "take me, on the old terms, and you've got me; if it's done, say done!"
I was all of a maze, but I said, "Done, sir."
"Done to your done, and double done!" says he. "Have you got a bit of supper in the house?"
We have hundreds more books for your enjoyment. Read them all!
Bearin in mind them sparklin warieties of foreign drains as we'd guzzled away at in Pall Mall, I was ashamed to offer him cold sassages and gin-and-water; but he took 'em both and took 'em free; havin a chair for his table, and sittin down at it on a stool, like hold times. I, all of a maze all the while.
It was arter he had made a clean sweep of the sassages (beef, and to the best of my calculations two pound and a quarter), that the wisdom as was in that little man began to come out of him like prespiration.
"Magsman," he says, "look upon me! You see afore you, One as has both gone into Society and come out." [291-292]
For alternate illustrations of the same story, see the humorously dramatic illustration by Harry Furniss (1910) and the far less dynamic grouping of three of the story's characters (presumably the pair at the table are Magsman and Normandy, rather than the armless writing teacher) by Edward Dalziel. Furniss, essentially a visual humourist with an energetic style, decided that "Major Tpschoffki" (of the Imperial Bulgraderian Brigade) — otherwise known as "Chopski" or simply "Chops" — and his predilection for "a large woman" was a far more interesting subject for illustration than any actual moment in the first-person account: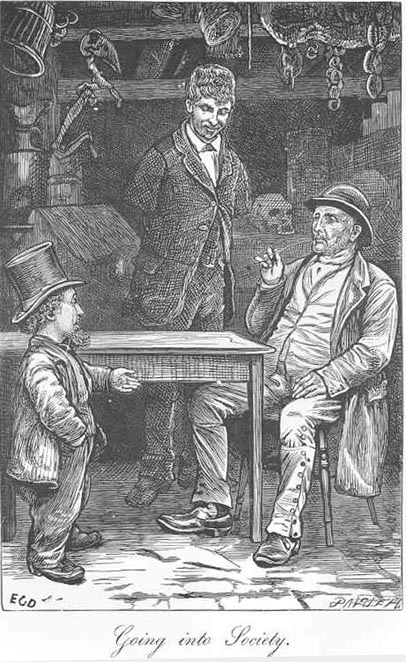 Left: Harry Furniss's Major Tpschoffki. Right: E. G. Dalziel's Going into Society [Click on images to enlarge them.]
As Henry James noted of Abbey, he excelled at rendering "facial expression — above all, in the handling of the female personage" (60). Furniss can do a comic woman of large proportions such as "the Fat Lady from Norfolk," but Abbey excells, as his illustration for "The Holly Tree Inn" asserts, at the female face and form. He had an eye for beauty, so that he could not (apparently) resist giving the circus entrepreneur, Toby Magsman, a handsome masculine shape. Perhaps to contrast the rugged, bearded head and extremely small torso of the loquacious dwarf, Abbey has given the clean-shaven Magsman delicate features and narrow shoulders. Whereas Edward Dalziel is as interested in the peculiar trappings and oddities exhibited in Magsman's "House of Amusements" as he is in the respectably clad dwarf who has come ino a fortune of twelve thousand pounds by winning the State Lottery, Abbey has chosen a more dramatic moment, when Mr. Chops, bilked of his fortune by his handlers, returns to Magsman's establishment and begs to be readmitted not merely to the house, but to his old life. Magsman cuts a much more dashing figure (which will eventually become "Grizzled Velveteen") in a costume part-Elizabethan and part-Victorian in Furniss's comic treatment of the pathetic Mr. Chops, who belongs neither "in" Society nor out of it, and in Abbey's illustration realizes too late where he belongs. Dalziel's illustration apparently realizes the dwarf's entering Magsman's house to recount his misadventure in society, although neither figure resembles the animated showman of Abbey's woodcut or the sartorially fantastical observer of Chops's courting in Furniss's — a scene never actually described by the chief narrator, Toby Magsman.
Scanned image and text by Philip V. Allingham. [You may use these images without prior permission for any scholarly or educational purpose as long as you (1) credit the photographer and (2) link your document to this URL in a web document or cite the Victorian Web in a print one.]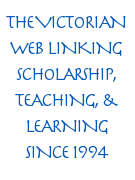 References
Davis, Paul. Charles Dickens A to Z: The Essential Reference to His Life and Work. New York: Facts On File, 1998.
Dickens, Charles. Christmas Stories. Il. Edward Dalziel, Harry French, F. A. Fraser, James Mahoney, Townley Green, and Charles Green. The Oxford Illustrated Dickens. Oxford, New York, and Toronto: Oxford U.P., 1956, rpt. 1989.
Dickens, Charles. Christmas Stories. Il. E. A. Abbey. The Household Edition. New York: Harper and Brothers, 1876.
Dickens, Charles. Christmas Stories. Ed. J. A. Hammerton. Il. Harry Furniss. The Charles Dickens Edition. Vol. 16. London: Educational Book, 1910.
James, Henry. "Edwin A. Abbey." Picture and Text. New York: Harper and Brothers, 1893. Pp. 44-60.
Thomas, Deborah A. Dickens and The Short Story. Philadelphia: U. Pennsylvania Press, 1982.
---

Last modified 16 January 2013