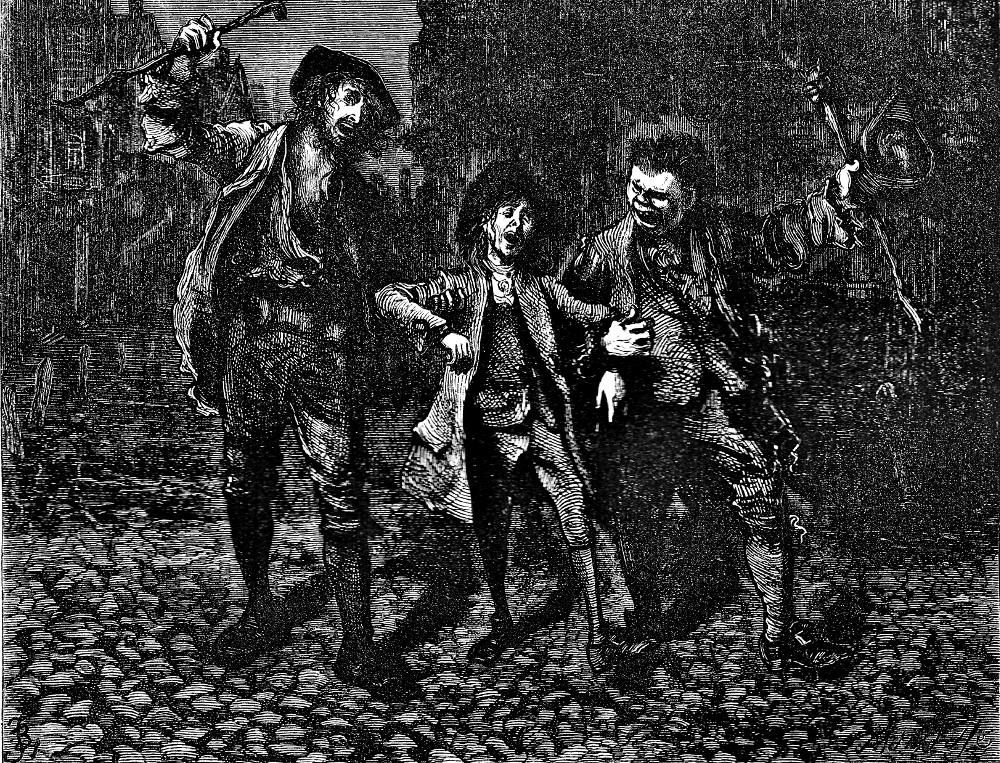 A Nice Trio by Fred Barnard. 1874. 4 ¼ x 5 7⁄16 inches (10.5 cm by 13.7 cm), framed. Dickens's Barnaby Rudge: A Tale of the Riots of 'Eighty, Chapter XXXIX, 152. [Click on the images to enlarge them.]/p>
Context of the Illustration: The Story's Three Villains Leave The Boot
In the midst of all his merriment, and admiration of his captain, Hugh was  made sensible by these and other tokens, of the presence of an air of mystery, akin to that which had so much impressed him out of doors. It was impossible to discard a sense that something serious was going on, and that under the noisy revel of the public-house, there lurked unseen and dangerous matter. Little affected by this, however, he was perfectly satisfied with his quarters and would have remained there till morning, but that his conductor rose soon after midnight, to go home; Mr. Tappertit following his example, left him no excuse to stay. So they all three left the house together: roaring a No-Popery song until the fields resounded with the dismal noise.
"Cheer up, captain!" cried Hugh, when they had roared themselves out of breath. "Another stave!"
Mr. Tappertit, nothing loath, began again; and so the three went staggering on, arm-in-arm, shouting like madmen, and defying the watch with great valour. Indeed this did not require any unusual bravery or boldness, as the watchmen of that time, being selected for the office on account of excessive age and extraordinary infirmity, had a custom of shutting themselves up tight in their boxes on the first symptoms of disturbance, and remaining there until they disappeared. In these proceedings, Mr. Dennis, who had a gruff voice and lungs of considerable power, distinguished himself very much, and acquired great credit with his two companions. [Chapter XXXIX, 151]
Relevant Illustrations from the 1841 and 1910 Charles Dickens Library Editions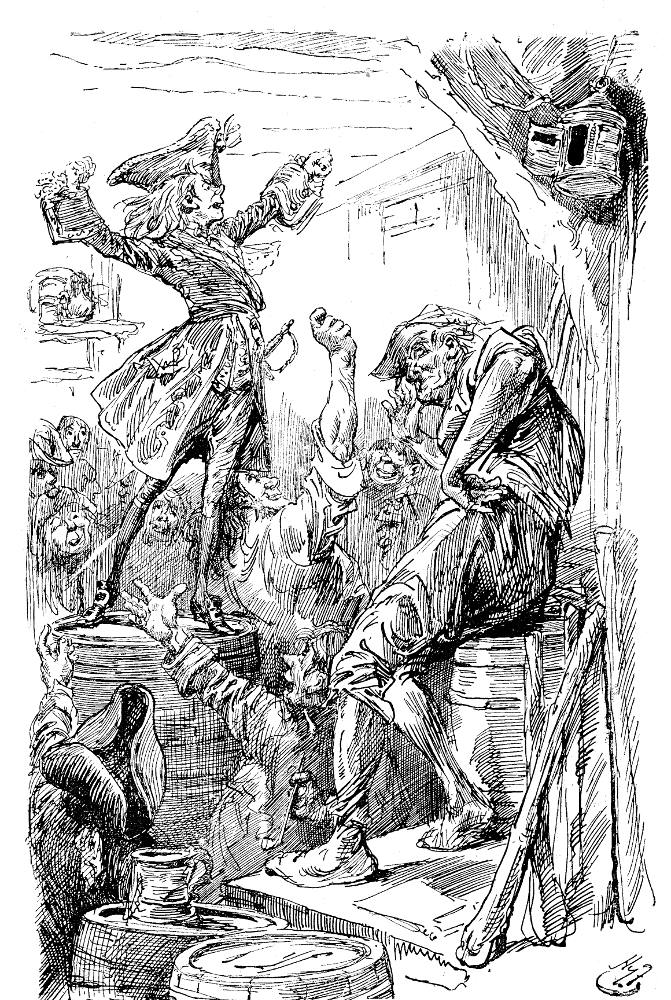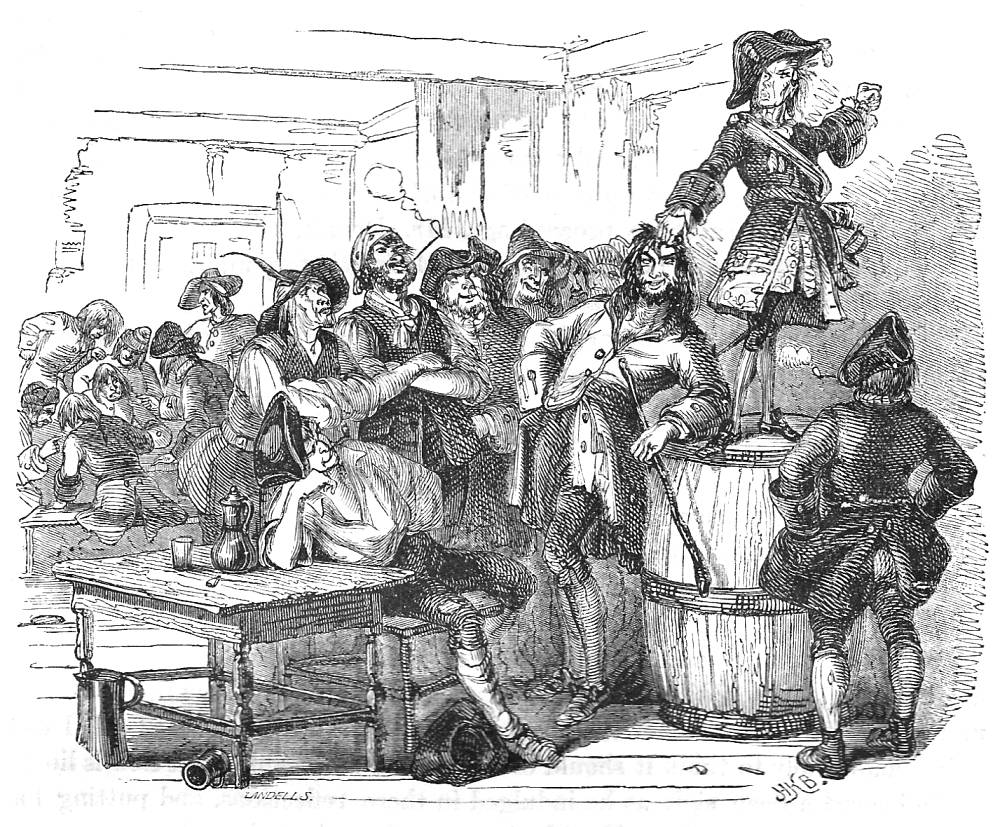 Left: Harry Furniss's description of Sim's singing at The Boot for the benefit of his loutish lieutenants: Meeting of the Protestant Association (1910). Right: Phiz's more caricatural illustration shows the leader of the United Bulldogs leading his followers in song at The Boot: Mr. Tappertit's Harangue (3 July 1841).
Related Material including Other Illustrated Editions of
Barnaby Rudge
Scanned image, colour correction, sizing, caption, and commentary by Philip V. Allingham. [You may use this image without prior permission for any scholarly or educational purpose, as long as you (1) credit the person who scanned the image, and (2) link your document to this URL in a web document or cite the Victorian Web in a print one.]
Bibliography
Dickens, Charles. Barnaby Rudge in Master Humphrey's Clock. Illustrated by Phiz and George Cattermole. 3 vols. London: Chapman and Hall, 1841; rpt., Bradbury and Evans, 1849.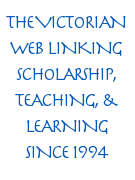 _______. Barnaby Rudge. Illustrated by Sol Eytinge, Jr. The Diamond Edition. 16 vols. Boston: Ticknor and Fields, 1867.
________. Barnaby Rudge — A Tale of the Riots of 'Eighty. Illustrated by Fred Barnard. The Household Edition. 22 vols. London: Chapman and Hall, 1874. VII.
________. The Dickens Souvenir Book. London: Chapman & Hall, 1912.
Hammerton, J. A. "Ch. XIV. Barnaby Rudge." The Dickens Picture-Book. The Charles Dickens Library Edition, illustrated by Harry Furniss. London: Educational Book Co., 1910. 213-55.
---
Created 20 August 2020

Last modified 17 December 2020