"He retort!" cried Haredale. "Look you here, my lord. Do you know this man?" by Fred Barnard. 1874. 4 3⁄16 x 5 ⅜ inches (10.7 cm by 13.7 cm), framed. Dickens's Barnaby Rudge: A Tale of the Riots of 'Eighty, Chapter XLIII, 168. [Click on the images to enlarge them.]
Context of the Illustration: Haredale calls out Gashford and Lord Gordon in public
"I cannot talk to you, sir," replied Lord George in a loud voice, and waving his hand in a disturbed and agitated manner; "we have nothing in common."
"We have much in common — many things — all that the Almighty gave us," said Mr. Haredale; "and common charity, not to say common sense and common decency, should teach you to refrain from these proceedings. If every one of those men had arms in their hands at this moment, as they have them in their heads, I would not leave this place without telling you that you disgrace your station."
"I don't hear you, sir," he replied in the same manner as before; "I can't hear you. It is indifferent to me what you say. Don't retort, Gashford," for the secretary had made a show of wishing to do so; 'I can hold no communion with the worshippers of idols."
As he said this, he glanced at Sir John, who lifted his hands and eyebrows, as if deploring the intemperate conduct of Mr. Haredale, and smiled in admiration of the crowd and of their leader.
"He retort!" cried Haredale. "Look you here, my lord. Do you know this man?"
Lord George replied by laying his hand upon the shoulder of his cringing secretary, and viewing him with a smile of confidence.
"This man," said Mr. Haredale, eyeing him from top to toe, "who in his boyhood was a thief, and has been from that time to this, a servile, false, and truckling knave: this man, who has crawled and crept through life, wounding the hands he licked, and biting those he fawned upon: this sycophant, who never knew what honour, truth, or courage meant; who robbed his benefactor's daughter of her virtue, and married her to break her heart, and did it, with stripes and cruelty: this creature, who has whined at kitchen windows for the broken food, and begged for halfpence at our chapel doors: this apostle of the faith, whose tender conscience cannot bear the altars where his vicious life was publicly denounced — Do you know this man?" [Chapter XLIII, 167-68]
Commentary
The devious toady, Lord Gordon's secretary, Gashford, quails before the accusations of the irate Geoffrey Haredale. Gashford, Lord Gordon, Sir John Chester, and the Catholic nobleman have just had a chance encounter in Westminster Hall as Haredale is about to catch a ferry from the water steps for the Surrey side. Haredale denounces his former schoolmate at St. Omer's Seminary in France as a renegade Catholic, a thief, a seducer, and a plotter who will merely use others to further his own ends. The denunciation here, underscored in Barnard's illustration, prepares readers for Gashford's proving a turncoat once again as he deserts Gordon's cause to become a government spy after the riots.
Relevant Illustrations from the 1841 Edition by Phiz and Cattermole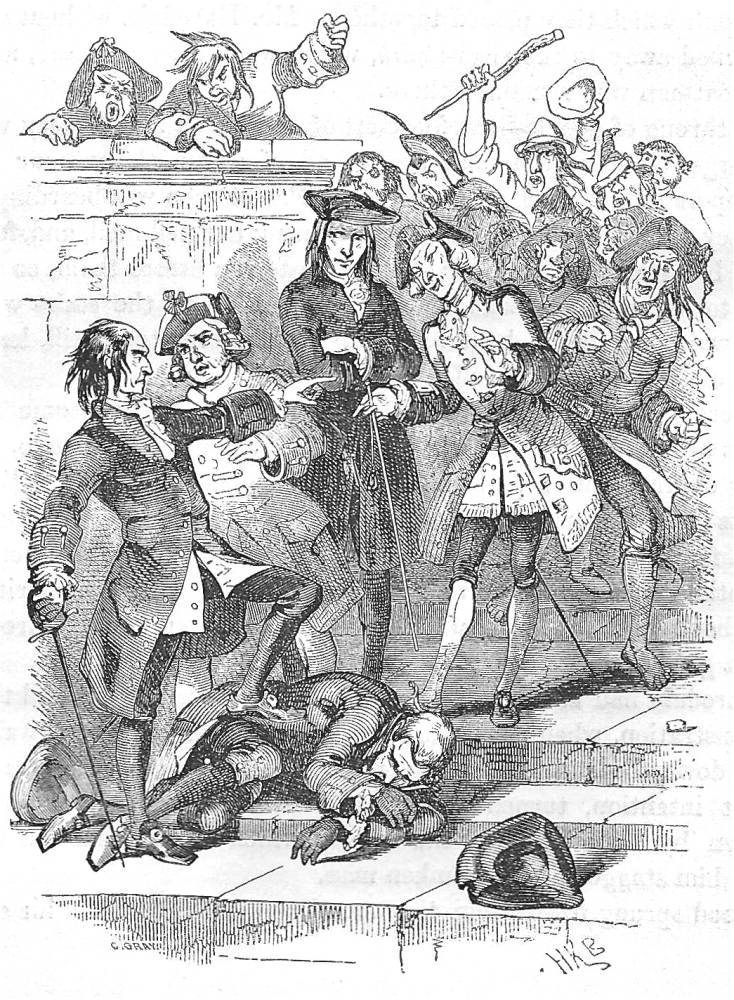 Left: Phiz's original serial illustration of the altercation between Haredale and his adversaries on the water steps: Mr. Haredale Defies the Mob (17 July 1841). Right: George Cattermole's stately architectural study, A Chance Meeting in Westminster Hall (17 July 1841).
Related Material including Other Illustrated Editions of
Barnaby Rudge
Scanned image, colour correction, sizing, caption, and commentary by Philip V. Allingham. [You may use this image without prior permission for any scholarly or educational purpose, as long as you (1) credit the person who scanned the image, and (2) link your document to this URL in a web document or cite the Victorian Web in a print one.]
Bibliography
Dickens, Charles. Barnaby Rudge in Master Humphrey's Clock. Illustrated by Phiz and George Cattermole. 3 vols. London: Chapman and Hall, 1841; rpt., Bradbury and Evans, 1849.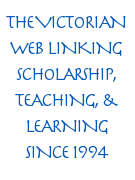 _______. Barnaby Rudge. Illustrated by Sol Eytinge, Jr. The Diamond Edition. 16 vols. Boston: Ticknor and Fields, 1867.
________. Barnaby Rudge — A Tale of the Riots of 'Eighty. Illustrated by Fred Barnard. The Household Edition. 22 vols. London: Chapman and Hall, 1874. VII.
________. The Dickens Souvenir Book. London: Chapman & Hall, 1912.
Hammerton, J. A. "Ch. XIV. Barnaby Rudge." The Dickens Picture-Book. The Charles Dickens Library Edition, illustrated by Harry Furniss. London: Educational Book Co., 1910. 213-55.
---
Created 20 August 2020

Last modified 18 December 2020