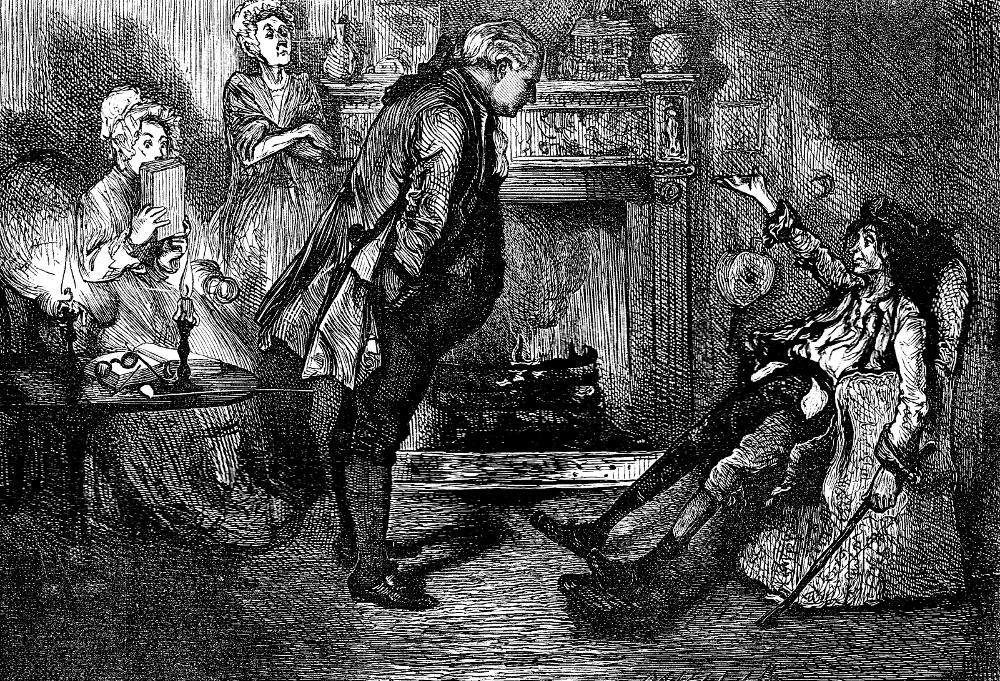 "You have been drinking," said the locksmith. by Fred Barnard. 1874. 3 11⁄16 x 5 ⅜ inches (19.4 cm by 13.7 cm), framed. Dickens's Barnaby Rudge: A Tale of the Riots of 'Eighty, Chapter LI, 200. [Click on the image to enlarge it.]
Context of the Illustration: Sim Tappertit returns in a Drunken Stupour
"Simon," said the locksmith gravely, "how comes it that you return home at this time of night, and in this condition? Give me an assurance that you have not been among the rioters, and I am satisfied."
"Sir," replied Mr. Tappertit, with a contemptuous look, "I wonder at your assurance in making such demands."
"You have been drinking," said the locksmith.
"As a general principle, and in the most offensive sense of the words, sir," returned his journeyman with great self-possession, "I consider you a liar. In that last observation you have unintentionally—unintentionally, sir, — struck upon the truth."
"Martha," said the locksmith, turning to his wife, and shaking his head sorrowfully, while a smile at the absurd figure beside him still played upon his open face, "I trust it may turn out that this poor lad is not the victim of the knaves and fools we have so often had words about, and who have done so much harm to-day. If he has been at Warwick Street or Duke Street to-night —"
"He has been at neither, sir," cried Mr. Tappertit in a loud voice, which he suddenly dropped into a whisper as he repeated, with eyes fixed upon the locksmith, "he has been at neither." [Chapter LI, 198]
Related Material including Other Illustrated Editions of
Barnaby Rudge
Scanned image, colour correction, sizing, caption, and commentary by Philip V. Allingham. [You may use this image without prior permission for any scholarly or educational purpose, as long as you (1) credit the person who scanned the image, and (2) link your document to this URL in a web document or cite the Victorian Web in a print one.]
Bibliography
Dickens, Charles. Barnaby Rudge in Master Humphrey's Clock. Illustrated by Phiz and George Cattermole. 3 vols. London: Chapman and Hall, 1841; rpt., Bradbury and Evans, 1849.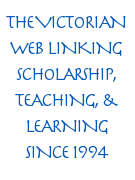 _______. Barnaby Rudge. Illustrated by Sol Eytinge, Jr. The Diamond Edition. 16 vols. Boston: Ticknor and Fields, 1867.
________. Barnaby Rudge — A Tale of the Riots of 'Eighty. Illustrated by Fred Barnard. The Household Edition. 22 vols. London: Chapman and Hall, 1874. VII.
________. The Dickens Souvenir Book. London: Chapman & Hall, 1912.
Hammerton, J. A. The Dickens Picture-Book. The Charles Dickens Edition of the Works of Charles Dickens. London: Educational Book, 1910.
---
Created 20 August 2020

Last modified 18 December 2020