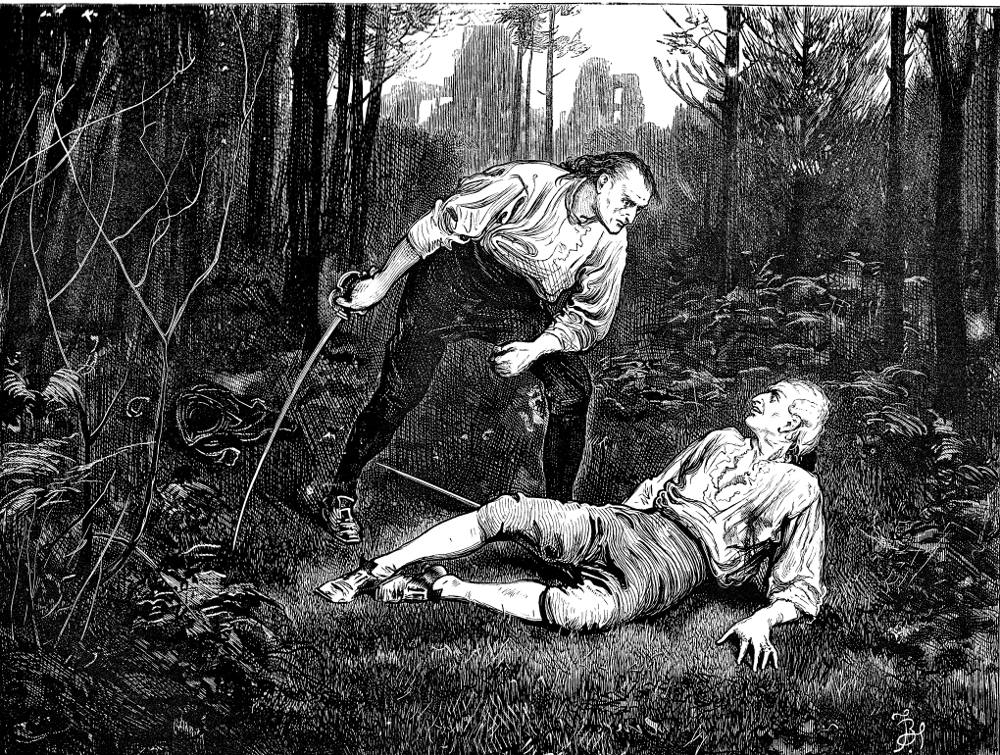 Raising himself upon his hands, he gazed at him for an instant, with scorn and hatred in his look by Fred Barnard. 1874. 5 ⅛ by 13⁄16 inches (12.9 cm by 17.3 cm), framed. Dickens's Barnaby Rudge: A Tale of the Riots of 'Eighty, Full-page illustration, Chapter LXXXI, facing 318. [Click on the images to enlarge them.]
Passage Illustrated: Geoffrey Haredale despatches his life-long enemy
Not another word was spoken on either side. They crossed swords, though it was now quite dusk, and attacked each other fiercely. They were well matched, and each was thoroughly skilled in the management of his weapon.
After a few seconds they grew hotter and more furious, and pressing on each other inflicted and received several slight wounds. It was directly after receiving one of these in his arm, that Mr Haredale, making a keener thrust as he felt the warm blood spirting out, plunged his sword through his opponent's body to the hilt.
Their eyes met, and were on each other as he drew it out. He put his arm about the dying man, who repulsed him, feebly, and dropped upon the turf. Raising himself upon his hands, he gazed at him for an instant, with scorn and hatred in his look; but, seeming to remember, even then, that this expression would distort his features after death, he tried to smile, and, faintly moving his right hand, as if to hide his bloody linen in his vest, fell back dead — the phantom of last night. [Chapter LXXXI, 318]
Commentary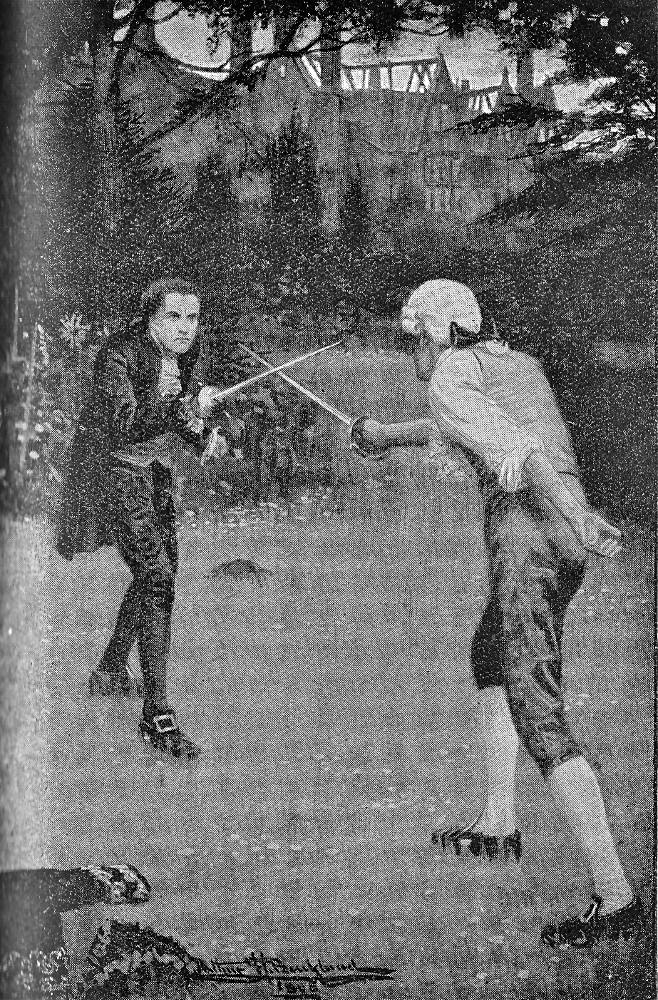 A, H. Buckland's concluding illustration for the 1900 Collins' Clear-type Edition, They crossed swords and attacked each other, Ch. 81.
Dickens and his nineteenth-century illustrators of the duel between Haredale and Chester, George Cattermole and Fred Barnard, are historically accurate in depicting the duel between these aristocratic "men of honour" as a contest involving rapiers rather than pistols. For a contemporary duelling scene set in the eighteenth century, see George Cruikshank's in The Duel in Tothill Fields for William Harrison Ainsworth's The Miser (July 1842 instalment). According to Robert B. Shoemaker, "The first duel involving pistols in the London area took place in Tothill Fields in 1711 between Colonel Richard Thornhill and Sir Cholmley Deering, but pistols were not commonly used until the early 1760s" (528). For this duel, fought in 1780, the antagonists might well have used [pistols if the affair were staged with referees and seconds to mark out the distance.
In the background Cattermole shows merely the woods around the burned-out mansion, but Barnard has emphasized the immediate cause of the antipathy, the blackened ruins of Haredale's mansion, The Warren. He believes that Chester somehow instigated its destruction, whereas the readers realise that the motivator of the destruction of the country-house was Haredale's other inveterate enemy, Lord George Gordon's secretary, the apostate Gashford. Whereas Barnard's victorious Haredale stares into his victim's face, exulting in his vengeance, Cattermole's gentlemanly figure casually wipes his blade, and has turned his gaze away from the expiring member of parliament.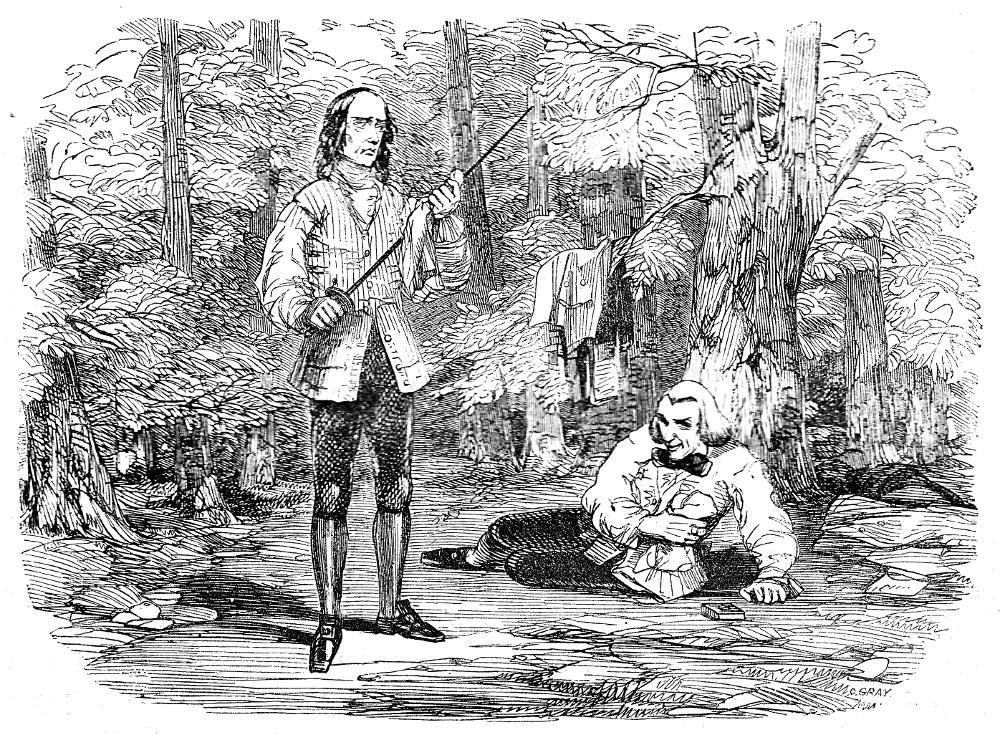 Above: Cattermole's dramatic closeup of Haredale's coolly wiping his rapier blade as Chester expires behind him: Sir John Chester's End (27 November 1841).
Related Material including Other Illustrated Editions of
Barnaby Rudge
Scanned image, colour correction, sizing, caption, and commentary by Philip V. Allingham. [You may use this image without prior permission for any scholarly or educational purpose, as long as you (1) credit the person who scanned the image, and (2) link your document to this URL in a web document or cite the Victorian Web in a print one.] Click on the image to enlarge it.
Bibliography
Dickens, Charles. Barnaby Rudge in Master Humphrey's Clock. Illustrated by Phiz and George Cattermole. 3 vols. London: Chapman and Hall, 1841.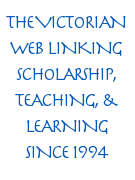 ________. Barnaby Rudge — A Tale of the Riots of 'Eighty. Illustrated by Fred Barnard. The Household Edition. 22 vols. London: Chapman and Hall, 1874. VII.
_______. Barnaby Rudge. Illustrated by A. H. Buckland. London and Glasgow: Collins Clear-type Press. 1900.
Shoemaker, Robert B. "The taming of the duel: masculinity, honour, and ritual violence in London, 1660-1800." The Historical Journal, 45, 3 (2002), pp. 525–545. University of Sheffield. Web. 25 June 2018.
---
Last modified 18 December 2020