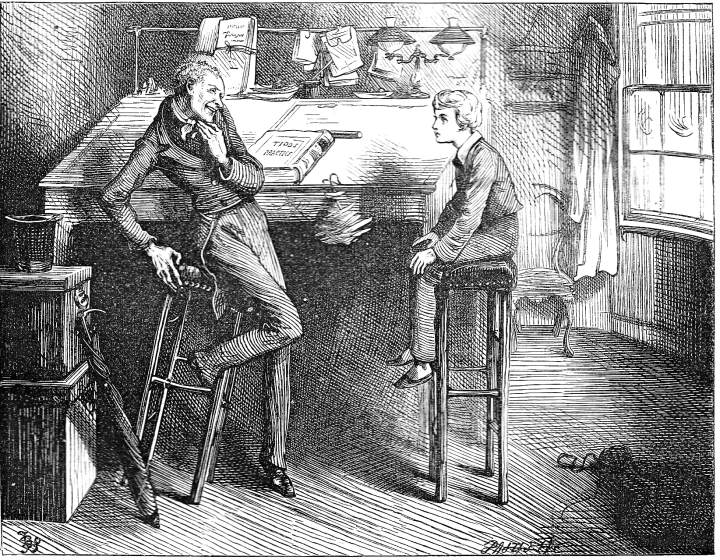 "Oh, thank you, Master Copperfield," said Uriah Heep, "for that remark! It is so true! Umble as I am, I know it is so true! Oh, thank you, Master Copperfield!" 1872. Eighteenth illustration by Fred Barnard for the Household Edition of David Copperfield (Chapter XVI, "I Am A New Boy in More Senses Than One," p. 113). 10.7 x 13.7 mm (4 ⅛ by 5 ⅜ inches) framed. Headline: "Dr. Strong" (113). [Click on the image to enlarge it; mouse over links.]
Passage Illustrated: Introducing Mr. Wickfield's Odious Clerk, Uriah Heep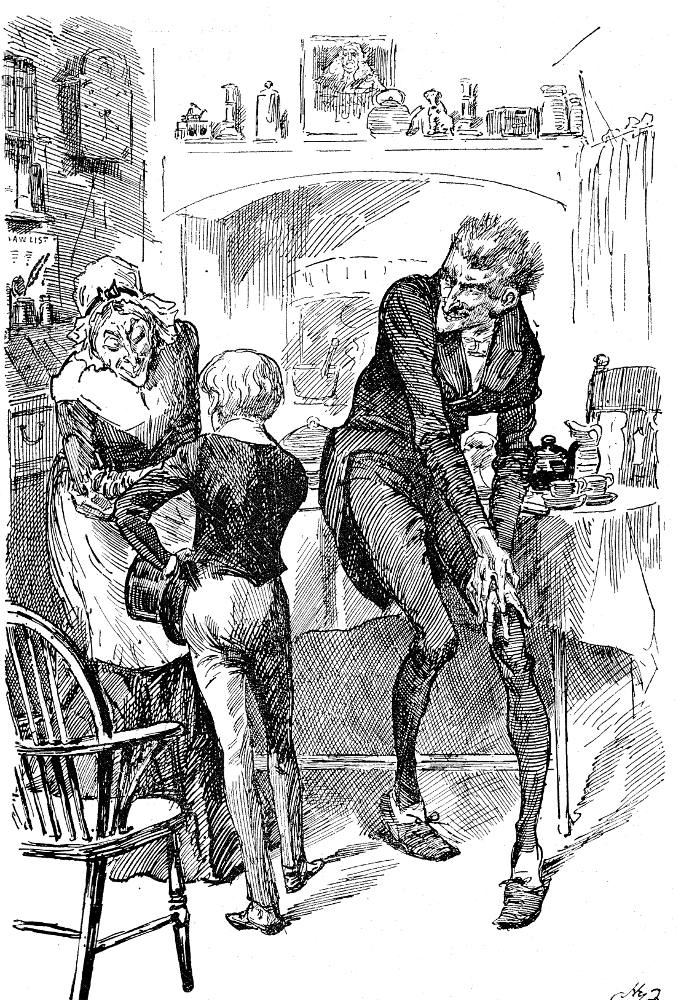 Harry Furniss's reinterpretation of the teatime scene has eliminated Micawber entirely: David visits Uriah and Mrs. Heep (Charles Dickens Library Edition, 1910).
He certainly did look uncommonly like the carved face on the beam outside my window, as he sat, in his humility, eyeing me sideways, with his mouth widened, and the creases in his cheeks.
"Mr. Wickfield is a most excellent man, Master Copperfield," said Uriah. "If you have known him long, you know it, I am sure, much better than I can inform you."
I replied that I was certain he was; but that I had not known him long myself, though he was a friend of my aunt's.
"Oh, indeed, Master Copperfield," said Uriah. "Your aunt is a sweet lady, Master Copperfield!"
He had a way of writhing when he wanted to express enthusiasm, which was very ugly; and which diverted my attention from the compliment he had paid my relation, to the snaky twistings of his throat and body.
"A sweet lady, Master Copperfield!" said Uriah Heep. "She has a great admiration for Miss Agnes, Master Copperfield, I believe?"
I said, 'Yes,' boldly; not that I knew anything about it, Heaven forgive me!
"I hope you have, too, Master Copperfield,' said Uriah. 'But I am sure you must have."
"Everybody must have," I returned.
"Oh, thank you, Master Copperfield," said Uriah Heep, 'for that remark! It is so true! Umble as I am, I know it is so true! Oh, thank you, Master Copperfield!" He writhed himself quite off his stool in the excitement of his feelings, and, being off, began to make arrangements for going home.
"Mother will be expecting me," he said, referring to a pale, inexpressive-faced watch in his pocket, "and getting uneasy; for though we are very umble, Master Copperfield, we are much attached to one another. If you would come and see us, any afternoon, and take a cup of tea at our lowly dwelling, mother would be as proud of your company as I should be." [Chapter XVI, "I Am A New Boy in More Senses Than One," 117]
Commentary: The Oily, Unctuous Uriah, Celebrated Dickensian Villain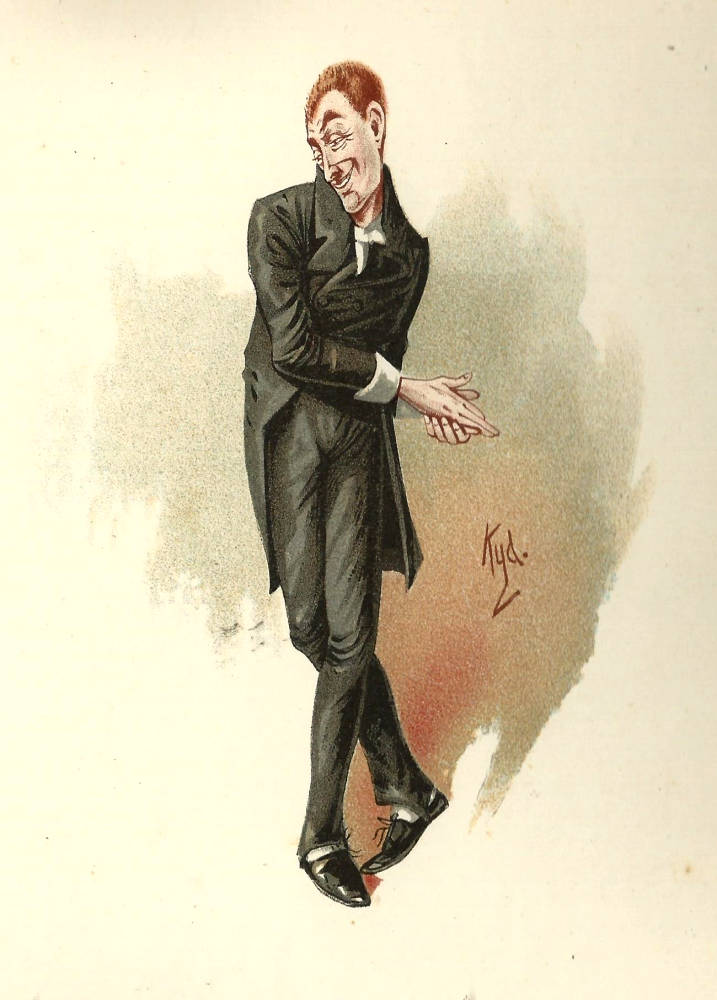 Clayton J. Clarke's (Kyd's) vigorous emulation of Barnard's interpretation of the smiling villain, a vivid watercolour study of an indelible character: Uriah Heep (c. 1910).
And now Dickens brings on stage one of his great comic achievements who also happens to be as oily a rascal as ever graced the boards of a melodrama: the unctuous, ever-'umble law clerk Uriah Heep. Part sanctimonious Puritan, part confidence man, part leering romantic rival, Uriah combines the worst features of the pious humbug Seth Pecksniff from Martin Chuzzlewit, the shrewd, strategic mind of Fagin from Oliver Twist, the self-congratulatory sneer of Daniel Quilp from The Old Curiosity Shop, and the burning envy of the apprentice Sim Tappertit from Barnaby Rudge. But Dickens and Barnard have bestowed upon this later villain a unique feature: a reptilian plasticity of visage and movement in a red-haired Satanic embodiment of evil. Phiz in his original series of 1849-50 had done justice to Uriah's hypocrisy and conveyed something of his fluency of speech, but the slithering movement, seen in the hand-wring pose of Kyd's 1910 study for his Player's Cigarette Cards on Characters from Dickens, seems to have originated with Barnard.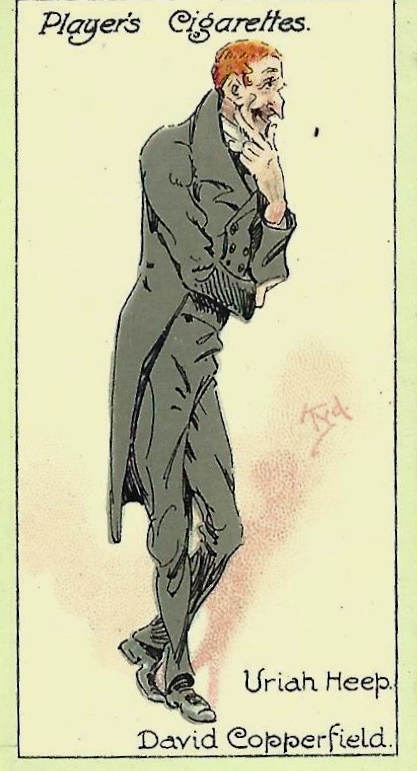 Clayton J. Clarke's (Kyd's) reinterpretation of the scheming villain for Player's Cigarette Card No. 38: Uriah Heep (1910).
Like David, readers have been wondering in the previous illustration, Chapter XV's She always roused him with a question or caress, what has so profoundly upset Miss Betsey's attorney in the after-dinner scene. Barnard suggests an answer here. Wickfield lingers, brooding, over his wine after the meal with his new charge, David Copperfield, has ended because something is amiss in his Canterbury legal practice. Added to this continual concern is the other issue that worries attorney Wickfield, the relationship between young Annie Strong and her handsome cousin, Jack Maldon.
Barnard captures Uriah's slightly repulsive physical features as well as his insidious mock-humble manner: his close-cropped hairstyle, the cadaverous visage and absence of eyebrows and eyelashes, and his writhing, skeletal hands, and general boniness. but what strikes us most about this lean, smarmy law clerk in his initial meeting with little David is his mask-like smile. As David studies Heep, Heep is clearly assessing this new presence in Mr. Wickfield's household who has arrived in Canterbury to attend Dr. Strong's school.
Other Studies of Uriah Heep from Other Editions (1849-1907)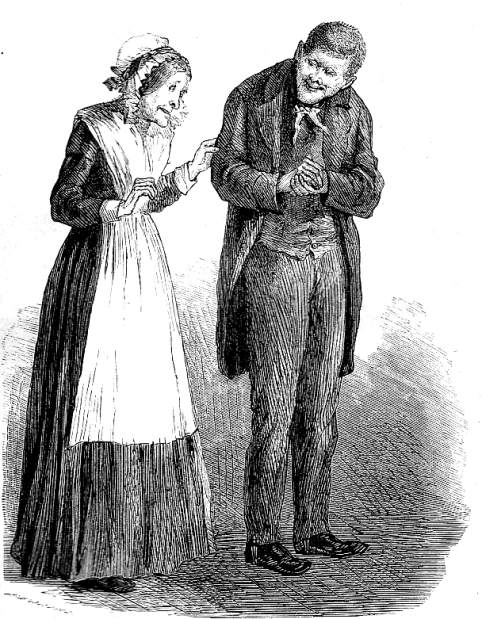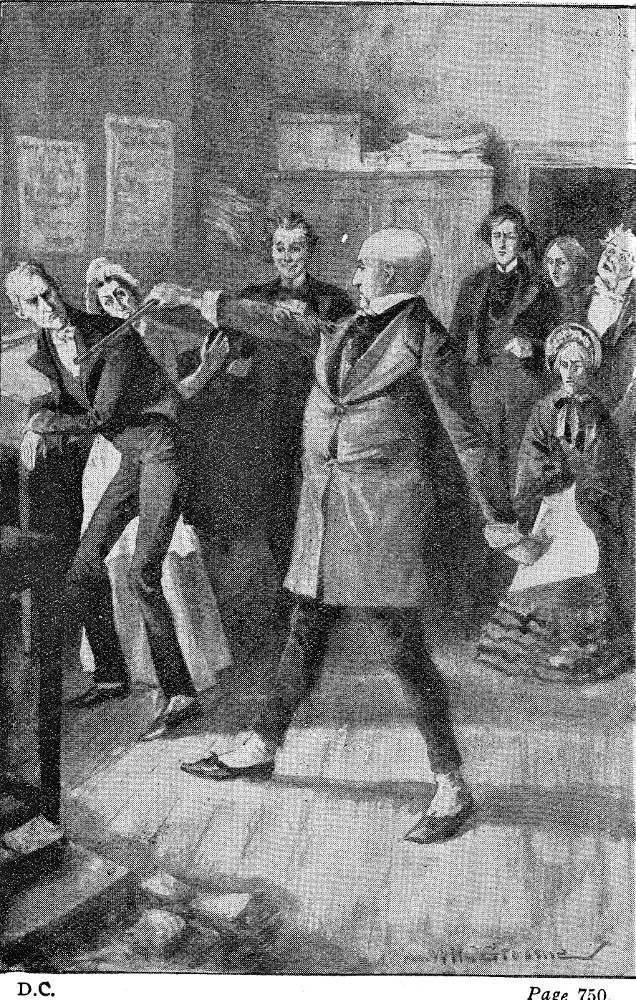 Left: Sol Eytinge, Jr.'s dual character study of the 'umble pair: Uriah Heep and his Mother (Diamond Edition, 1867). Centre: Phiz's original October 1849 steel-engraving of David's taking tea with the Heeps, and Micawber's unexpectedly turning up at their door: Somebody Turns Up. Right: William Henry Charles Groome's group scene in which Micawber denounces the boney hypocrite as an embezzler: You — you Heep of infamy (1907). [Click on the images to enlarge them.]
Relevant Illustrated Editions of this Novel (1863 through 1910)
Scanned image and text by Philip V. Allingham. [You may use this image without prior permission for any scholarly or educational purpose as long as you (1) credit the person who scanned the image and (2) link your document to this URL in a web document or cite the Victorian Web in a print one.]
Bibliography
Bentley, Nicolas, Michael Slater, and Nina Burgis. The Dickens Index. Oxford and New York: Oxford U. P., 1988.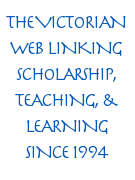 Dickens, Charles. David Copperfield. Illustrated by Hablot Knight Browne ("Phiz"). The Centenary Edition. 2 vols. London and New York: Chapman & Hall, Charles Scribner's Sons, 1911.
_______. The Personal History of David Copperfield. Illustrated by Sol Eytinge, Jr. The Diamond Edition. 14 vols. Boston: Ticknor & Fields, 1867. Vol. V.
_______. David Copperfield. With 61 illustrations by Fred Barnard. Household Edition. London: Chapman and Hall, 1872. Vol. III.
_______. The Personal History and Experiences of David Copperfield. Illustrated by Harry Furniss. The Charles Dickens Library Edition. London: Educational Book Company, 1910. Vol. X.
---
Created 13 June 2009 Last modified 25 July 2022