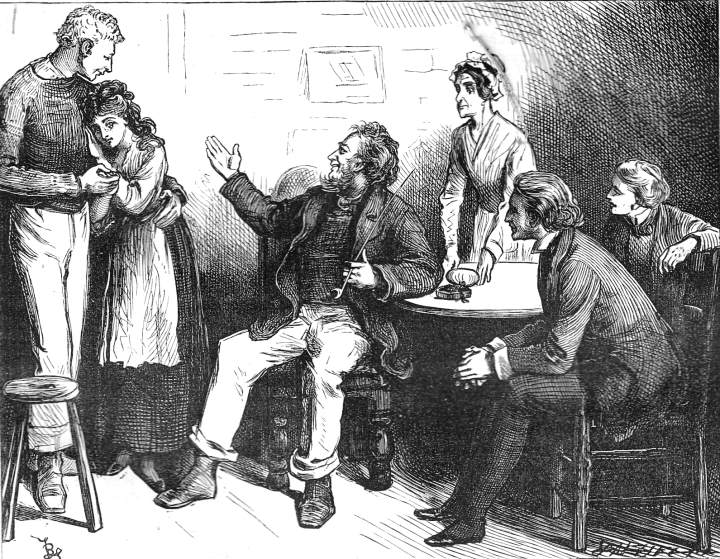 Presently they brought her to the fireside, very much confused, and very shy. 1872. Twenty-second composite woodblock engraving by Fred Barnard for the Household Edition of David Copperfield (Chapter XXI, "Little Em'ly," p. 145). 9.2 x 13.8 mm (3 ⅝ by 5 ⅜ inches) framed. Heading for p. 145: "Miss Dartle." [Click on the image to enlarge it; mouse over links.]
Passage Illustrated: Continuing the Subplot of Little Em'ly
We said no more as we approached the light, but made softly for the door. I laid my hand upon the latch; and whispering Steerforth to keep close to me, went in.
A murmur of voices had been audible on the outside, and, at the moment of our entrance, a clapping of hands: which latter noise, I was surprised to see, proceeded from ' the generally disconsolate Mrs. Gummidge. But Mrs. Gummidge was not the only person there who was unusually excited. Mr. Peggotty, his face lighted up with uncommon satisfaction, and laughing with all his might, held his rough arms wide open, as if for little Em'ly to run into them; Ham, with a mixed expression in his face of admiration, exultation, and a lumbering sort of bashfulness that sat upon him very well, held little Em'ly by the hand, as if he were presenting her to Mr. Peggotty; little Em'ly herself, blushing and shy, but delighted with Mr. Peggotty's delight, as her joyous eyes expressed, was stopped by our entrance (for she saw us first) in the very act of springing from Ham to nestle in Mr. Peggotty's embrace. In the first glimpse we had of them all, and at the moment of our passing from the dark cold night into the warm light room, this was the way in which they were all employed: Mrs. Gummidge in the background, clapping her hands like a madwoman. [Cha[ter XXI, "Little Em'ly," 155]
Commentary: Steerforth Finds Little Em'ly Captivating
David now recounts the beginning of an affair in which he played the role of unwitting facilitator, for it was he who introduced James Steerforth to the Peggottys. They welcome him for David's sake at their Yarmouth houseboat on the sands.
Like Phiz before him and Harry Furniss afterward, Fred Barnard depicts the homely scene in which two sets of familiar characters converge: Steerforth and David (the well-to-do outsiders or upper-middle-class "tourists," so to speak, who in profile look like brothers) and the homespun Peggottys, the working-class fisherfolk of Yarmouth. While Ham, Mrs. Gummidge, and Mr. Peggotty have not changed much in appearance, Em'ly has changed from diminutive child to petite, bashful young woman. Although she is still "little" compared to the others in her blended family, especially her fiancé, the blonde-haired giant Ham, she like David has grown up. Into this tranquil family parlour of simple, hard-working souls David now introduces a womanizing cad who will not be able to resist the opportunity to seduce the beautiful adolescent, violating the hospitality of the girl's kindly family.
The copy of the Household Edition from which this picture was scanned was the gift of George Gorniak, Editor of The Dickens Magazine, whose subject for the fifth series, beginning in January 2010, is this novel.
Studies of Steerforth's Arrival at the Peggottys' from Other Editions (1849 and 1910)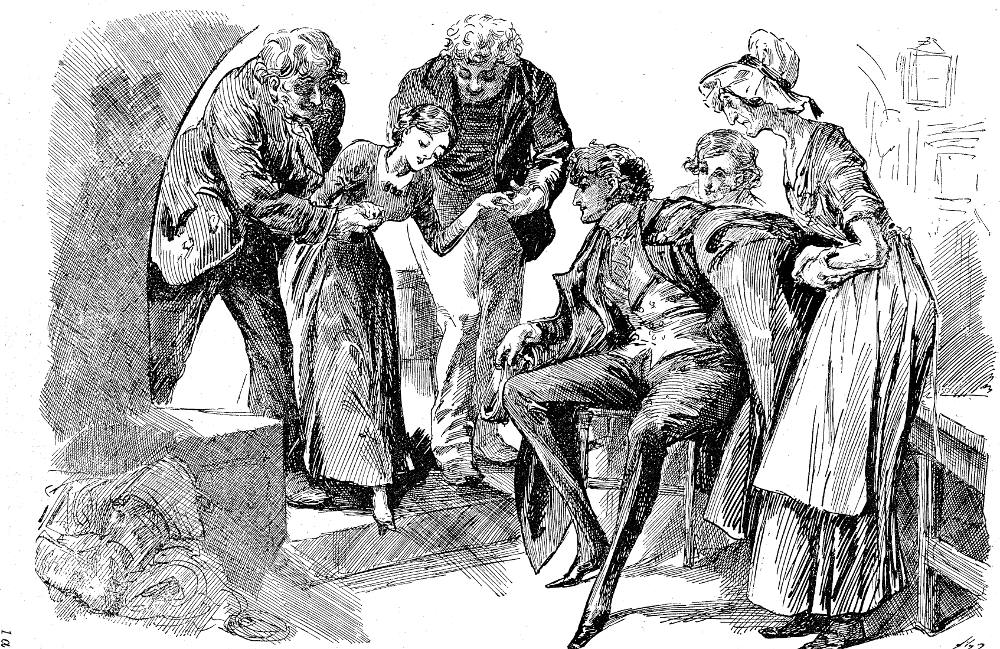 Left: Phiz's original version of this scene, We arrive unexpectedly at Mr. Peggotty's fireside (November 1849). Right: Harry Furniss's version of the same scene: Little Em'ly presented to Steerforth (Charles Dickens Library Edition, 1910. [Click on the images to enlarge them.]
Other Illustrated Editions of this Novel (1849 through 1910)
Scanned image and text by Philip V. Allingham. [You may use this image without prior permission for any scholarly or educational purpose as long as you (1) credit the person who scanned the image and (2) link your document to this URL in a web document or cite the Victorian Web in a print one.]
Bibliography
Bentley, Nicolas, Michael Slater, and Nina Burgis. The Dickens Index. Oxford and New York: Oxford U. P., 1988.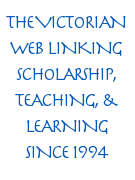 Dickens, Charles. David Copperfield. Illustrated by Hablot Knight Browne ("Phiz"). The Centenary Edition. 2 vols. London and New York: Chapman & Hall, Charles Scribner's Sons, 1911.
_______. The Personal History of David Copperfield. Illustrated by Sol Eytinge, Jr. The Diamond Edition. 14 vols. Boston: Ticknor & Fields, 1867. Vol. V.
_______. David Copperfield. With 61 illustrations by Fred Barnard. Household Edition. London: Chapman and Hall, 1872. Vol. III.
_______. The Personal History and Experiences of David Copperfield. Illustrated by Harry Furniss. The Charles Dickens Library Edition. London: Educational Book Company, 1910. Vol. X.
---
Created 14 June 2009 Last modified 25 July 2022