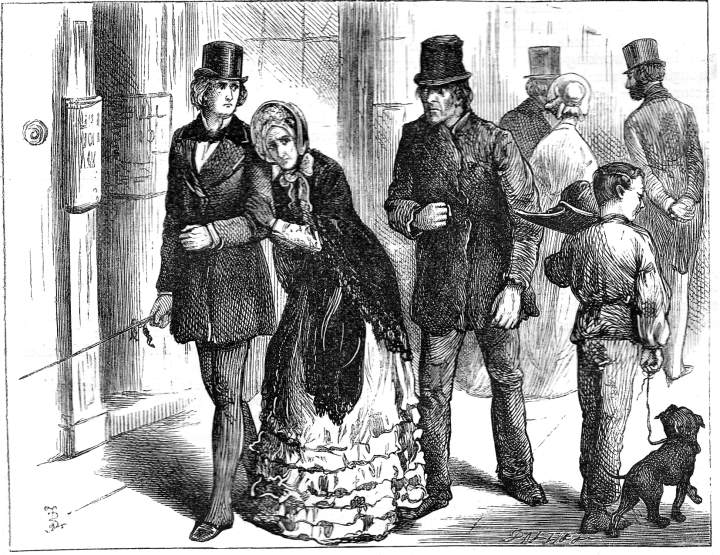 "Trot! My dear Trot!!" cried my aunt, in a terrified whisper, and pressing my arm. "I don't know what I am to do." Twenty-fourth illustration by Fred Barnard for the 1872 Household Edition of David Copperfield (illustrating a moment in Chapter XXIII, "I Corroborate Mr. Dick, and Choose a Profession") p. 161). 10.7 x 13.6 cm (4 ⅛ by 5 ⅜ inches), vignetted. [Click on the image to enlarge it.]
Passage Illustrated
At about mid-day, we set out for the office of Messrs Spenlow and Jorkins, in Doctors' Commons. My aunt, who had this other general opinion in reference to London, that every man she saw was a pickpocket, gave me her purse to carry for her, which had ten guineas in it and some silver.
We made a pause at the toy shop in Fleet Street, to see the giants of Saint Dunstan's strike upon the bells—we had timed our going, so as to catch them at it, at twelve o'clock — and then went on towards Ludgate Hill, and St. Paul's Churchyard. We were crossing to the former place, when I found that my aunt greatly accelerated her speed, and looked frightened. I observed, at the same time, that a lowering ill-dressed man who had stopped and stared at us in passing, a little before, was coming so close after us as to brush against her.
"Trot! My dear Trot!" cried my aunt, in a terrified whisper, and pressing my arm. "I don't know what I am to do."
"Don't be alarmed," said I. "There's nothing to be afraid of. Step into a shop, and I'll soon get rid of this fellow."
"No, no, child!" she returned. "Don't speak to him for the world. I entreat, I order you!"
"Good Heaven, aunt!" said I. "He is nothing but a sturdy beggar."
"You don't know what he is!" replied my aunt. "You don't know who he is! You don't know what you say!"
We had stopped in an empty door-way, while this was passing, and he had stopped too.
"Don't look at him!" said my aunt, as I turned my head indignantly, "but get me a coach, my dear, and wait for me in St. Paul's Churchyard."
"Wait for you?" I replied.
"Yes," rejoined my aunt. "I must go alone. I must go with him."
"With him, aunt? This man?"
"I am in my senses," she replied, "and I tell you I must. Get me a coach!" [Chapter XXIII, "I Corroborate Mr. Dick, and Choose a Profession," 173; page heading: "My Aunt's Mystery," 173]
Commentary: A Mystery Indeed!
So much seems to be happening in young adult David Copperfield's life that added ingredient of Aunt Betsey's mysterious shadow complicates events in these chapters. Ham and Em'ly are engaged to be married, and David is to join the Office of Doctor's Commons at St. Paul's Churchyard with the firm of Spenlow and Jorkins, who will require a substantial professional premium of a thousand pounds. David has only just heard his aunt refer to a troubled personal past the night before at their rooms in London. Discussing the payment, she mentions a possible "claim upon her means" (173). David is surprised as she has never before confided any details of "her past history" to him. And now, the next day, as he and Aunt Betsey walk through the streets about mid-day, she seems apprehensive about pickpockets, and then on Fleet Street starts to walk rapidly away from a strange beggar who seems to be dogging her steps. She is so alarmed by this apparition that she refuses David permission to confront the dingy stranger, and determines to talk with him by herself.
Barnard has placed this tall, ill-clad, ill-shaven, hard-faced beggar at Aunt Betsey's side in an illustration positioned a full dozen pages ahead of the textual moment realised. David looks apprehensively at this determined visage, and Betsey Trotwood, cringing, leans into David for support.
The copy of the Household Edition from which this picture was scanned was the gift of George Gorniak, Editor of The Dickens Magazine, whose subject for the fifth series, beginning in January 2010, is this novel.
Other Illustrated Editions of this Novel (1849 through 1910)
Scanned image and text by Philip V. Allingham. [You may use this image without prior permission for any scholarly or educational purpose as long as you (1) credit the person who scanned the image and (2) link your document to this URL in a web document or cite the Victorian Web in a print one.]
Bibliography
Bentley, Nicolas, Michael Slater, and Nina Burgis. The Dickens Index. Oxford and New York: Oxford U. P., 1988.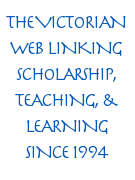 Dickens, Charles. David Copperfield. Illustrated by Hablot Knight Browne ("Phiz"). The Centenary Edition. 2 vols. London and New York: Chapman & Hall, Charles Scribner's Sons, 1911.
_______. The Personal History of David Copperfield. Illustrated by Sol Eytinge, Jr. The Diamond Edition. 14 vols. Boston: Ticknor & Fields, 1867. Vol. V.
_______. David Copperfield, with 61 illustrations by Fred Barnard. Household Edition. London: Chapman and Hall, 1872. Vol. III.
_______. The Personal History and Experiences of David Copperfield. Illustrated by Harry Furniss. The Charles Dickens Library Edition. London: Educational Book Company, 1910. Vol. X.
---
Created 14 June 2009 Last modified 31 July 2022