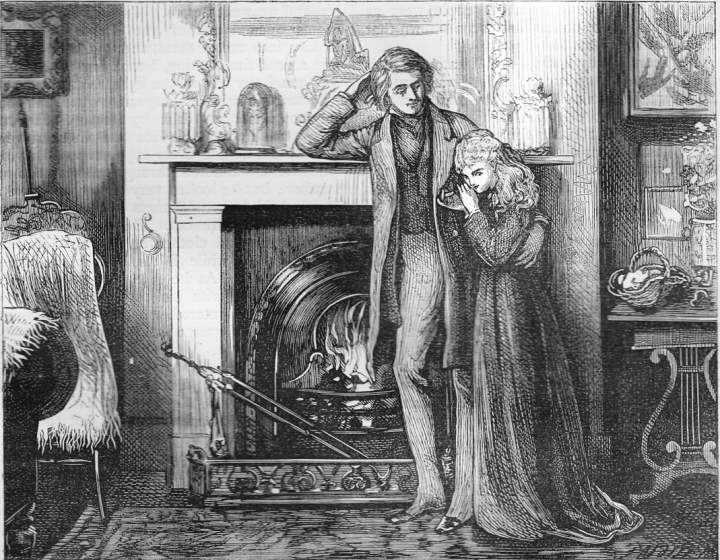 "I wonder why you ever fell in love with me?" said Dora, beginning on another button of my coat." — Forty-first illustration by Fred Barnard for the 1872 Household Edition of David Copperfield (Chapter XLII, "Mischief," but situated on p. 289). 10.8 by 13.7 cm (4 ¼ by 5 ⅜ inches) framed. Descriptive headline: "Agnes Fills Me with LOve and Gratitude," 305. [Click on the image to enlarge it. Mouse over text for links.]
Passage Illustrated: David's Child-bride
We made merry about Dora's wanting to be liked, and Dora said I was a goose, and she didn't like me at any rate, and the short evening flew away on gossamer-wings. The time was at hand when the coach was to call for us. I was standing alone before the fire, when Dora came stealing softly in, to give me that usual precious little kiss before I went.
"Don't you think, if I had had her for a friend a long time ago, Doady," said Dora, her bright eyes shining very brightly, and her little right hand idly busying itself with one of the buttons of my coat, "I might have been more clever perhaps?"
"My love!" said I, "what nonsense!"
"Do you think it is nonsense?" returned Dora, without looking at me. "Are you sure it is?"
"Of course I am!" "I have forgotten," said Dora, still turning the button round and round, "what relation Agnes is to you, you dear bad boy."
"No blood-relation," I replied; "but we were brought up together, like brother and sister."
"I wonder why you ever fell in love with me?' said Dora, beginning on another button of my coat.
"Perhaps because I couldn't see you, and not love you, Dora!"
"Suppose you had never seen me at all," said Dora, going to another button.
"Suppose we had never been born!" said I, gaily. [Chapter XLII, "Mischief," 304]
Commentary
Although Barnard presents a conventional image of the young protagonist's diminutive "child-bride," the accompanying text suggests some sort of emotional maturation or even supra-rational insight in Dora Spenlow, the first Mrs. Copperfield. However, she rarely achieves such insights, and is useless to David's developing a career as a writer:
Dora Copperfield cannot interest herself much in her husband's work; Agnes Copperfield's very silence is eloquent of approval, and she most certainly does not nod asleep when he writes late. [Alexander Welsh, 847]
This chapter is significant in that it marks the first meeting of the two Mrs. Copperfields. Whereas Agnes Wickfield as a steady, older "sister" and then as a second wife permits David to meet the burdens and responsibilities of adulthood, Dora represents a kind of arrested adolescence. Neither heroine is especially "real" since Agnes represents ideal womanhood and Dora is a child in a woman's body, a point that Barnard emphasizes in his depictions of the complementary heroines. The present illustration and the passage it realizes also prepare us for Dora's premature death, although precisely how she succumbs remains unclear. Her gradual decline and early death are plot necessities.
Related Material
Scanned image and text by Philip V. Allingham. [You may use this image without prior permission for any scholarly or educational purpose as long as you (1) credit the person who scanned the image and (2) link your document to this URL in a web document or cite the Victorian Web in a print one.]
Bibliography
Dickens, Charles. The Personal History of David Copperfield, illustrated by Hablot Knight Browne ("Phiz"). The Centenary Edition. London & New York: Chapman & Hall, Charles Scribner's Sons, 1911 [rpt. from 1850]. 2 vols.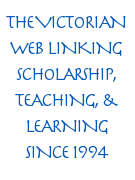 _______. David Copperfield, with 61 illustrations by Fred Barnard. Household Edition. London: Chapman and Hall, 1872. Vol. 3.
_______. David Copperfield. Illustrated by W. H. C. Groome. London and Glasgow: Collins Clear-type Press, 1907. No. 1.
Welsh, Alexander. "A Novelist's Novelist." David Copperfield, ed. Jerome H. Buckley. Norton Critical Editions. New York: W. W. Norton, 1990. Pp. 846-849. Rpt. from From Copyright to Copperfield
The copy of the Household Edition from which this picture was scanned was the gift of George Gorniak, Editor of The Dickens Magazine, whose subject for the fifth series, beginning in January 2010, is this novel.
---
Created 26 August 2016 Last modified 15 August 2022