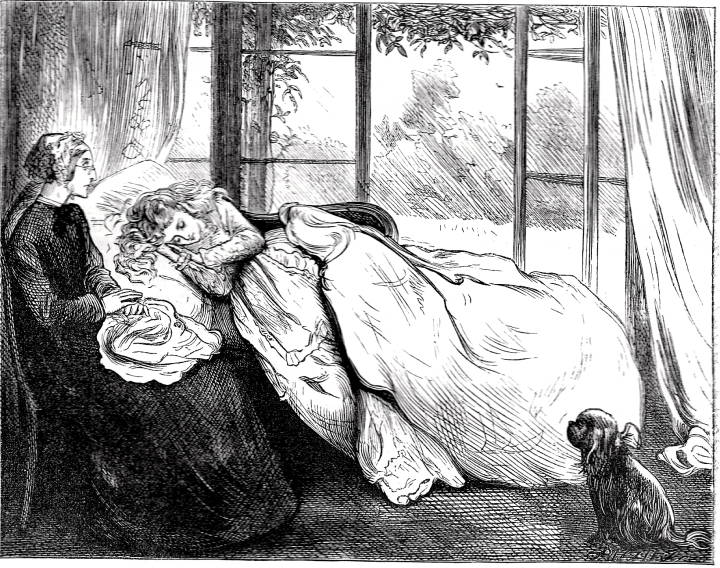 "When I can run about again, as I used to do, Aunt," said Dora, "I shall make Jip race. He is getting quite slow and lazy." — Forty-fifth illustration for the 1872 Household Edition of David Copperfield (illustrating a moment in Chapter XLVIII, "Domestic," but positioned on p. 337). Descriptive Headline: "But I Give It Up" (347). 10.7 x 13.8 cm (4 ¼ by 5 ⅜ inches) framed. [Click on the image to enlarge it. Mouse over text for links.]
Passage Illustrated: Dora on Her Death-bed
But, as that year wore on, Dora was not strong. I had hoped that lighter hands than mine would help to mould her character, and that a baby-smile upon her breast might change my child-wife to a woman. It was not to be. The spirit fluttered for a moment on the threshold of its little prison, and, unconscious of captivity, took wing.
"When I can run about again, as I used to do, aunt," said Dora, "I shall make Jip race. He is getting quite slow and lazy."
"I suspect, my dear," said my aunt quietly working by her side, "he has a worse disorder than that. Age, Dora."
"Do you think he is old?" said Dora, astonished. 'Oh, how strange it seems that Jip should be old!"
"It's a complaint we are all liable to, Little One, as we get on in life," said my aunt, cheerfully; 'I don't feel more free from it than I used to be, I assure you."
"But Jip," said Dora, looking at him with compassion, "even little Jip! Oh, poor fellow!" [Chapter XLVIII, "Domestic," pp. 347-348]
Commentary: Not Merely "Domestic" but "Transitional"
"There can be no disparity in marriage, like unsuitability of mind and purpose." Those words I remembered too. I had endeavoured to adapt Dora to myself, and found it impracticable. It remained for me to adapt myself to Dora . . . . [347]
The physical decline and premature death of the first Mrs. Copperfield coincide with David's giving up parliamentary reporting and becoming a full-time writer. David's efforts to "form Dora's mind" for a suitable role as helpmate and muse have failed; nevertheless, he loves his "child-wife," and accepts her intellectual limitations. During their second year of marriage, her failing mobility compels David to carry her up and down the stairs in their cottage. She becomes literally as well as emotionally and intellectually a burden.
Related Material
Scanned image and text by Philip V. Allingham. [You may use this image without prior permission for any scholarly or educational purpose as long as you (1) credit the person who scanned the image and (2) link your document to this URL in a web document or cite the Victorian Web in a print one.]
The copy of the Household Edition from which this picture was scanned was the gift of George Gorniak, Editor of The Dickens Magazine, whose subject for the fifth series, beginning in January 2010, is this novel.
Bibliography
Bentley, Nicolas, Michael Slater, and Nina Burgis. The Dickens Index. Oxford and New York: Oxford U. P., 1988.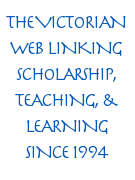 Dickens, Charles. David Copperfield. Illustrated by Hablot Knight Browne ("Phiz"). The Centenary Edition. 2 vols. London and New York: Chapman & Hall, Charles Scribner's Sons, 1911.
_______. The Personal History of David Copperfield. Illustrated by Sol Eytinge, Jr. The Diamond Edition. 14 vols. Boston: Ticknor & Fields, 1867. Vol. V.
_______. David Copperfield, with 61 illustrations by Fred Barnard. Household Edition. London: Chapman and Hall, 1872. Vol. III.
_______. The Personal History and Experiences of David Copperfield. Illustrated by Harry Furniss. The Charles Dickens Library Edition. London: Educational Book Company, 1910. Vol. X.
---
Created 25 August 2016 Last modified 18 August 2022