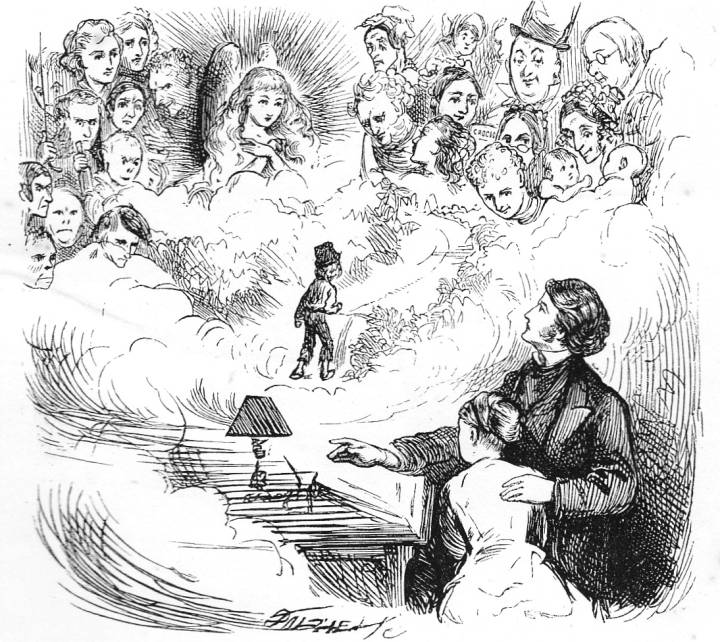 Uncaptioned tail-piece — Fred Barnard's final illustration for the 1872 Household Edition of David Copperfield (complementing Chapter LXIV, "A Last Retrospect," p. 437). Half-page vignette: 8.2 cm. high by 8.6 cm. wide (3 ¼ by 3 ½ inches) framed. DEscriptive headline: "I Close My Story" (437). [Click on the image to enlarge it. Mouse over text for links.]
Commentary: "A Final Retrospect"
In his final large-scale illustration Barnard shows the mature David Copperfield and his second wife, Agnes, lower right, at his writing desk, with all the characters of the story, notably a waif-like David, centre, and above him, in the clouds, an angelic young woman (realized from the closing paragraphs of the letterpress, to the left of whom are the autobiography's less pleasant persons, notably Uriah Heep). The apotheosis of his former wife, Dora, which Barnard has chosen to effect in spite of the text's invoking Agnes as the great spiritual force in David's life, anticipates Coventry Patmore's treatment of marriage:
The Married Lover
Why, having won her, do I woo? Because her spirit's vestal grace Provokes me always to pursue, But, spirit-like, eludes embrace; Because her womanhood is such That, as on court-days subjects kiss The Queen's hand, yet so near a touch Affirms no mean familiarness. . . . (Coventry Patmore, "Husband and Wife," The Angel in the House, Canto XII, 1-10)
Coventry Patmore's poetic bildungsromanen The Angel in the House (1854) and The Victories of Love (1862) were immensely influential in crystallizing Victorian attitudes towards middle-class, married women not merely as chatelaines, but as vessels of purity and "vestal grace" upon whom the moral health of the entire society depended. However, that Patmore was working on his initial multi-part dramatic monologue while the last installments of the hero-narrated David Copperfield were appearing in print points to the enormous influence of Dickens in both assimilating and authorizing this construction of sainted Victorian womanhood. (Patmore would likely have been following Copperfield since in August 1850, in the midst of the novel's serial run, the poet submitted to Dickens a short story entitled "Evil is Wrought by Want of Thought" for publication in the recently founded Household Words.) In a sense, Agnes Wickfield is but the noblest and most sanctified of a long line of Dickensian heroines, including Mary Graham in Martin Chuzzlewit (1843-4), Edith Dombey in Dombey and Son (1846-1848), and Milly Swidger in The Haunted Man (1848), all of whom owe something of their intense inner spirituality and outward beauty to Dickens's sister-in-law, Mary Hogarth. However, this incarnation of the Victorian feminine ideal is not merely a sainted maiden, but a wife and mother who replaces the childless and immature Dora Spenlow as David's life's companion, and who performs the role of ministering angel for which Dora was neither morally nor intellectually equipped.
The decidedly masculine shift in the final chapter, "A Last Retrospect," foregrounding the fortunes of Mr. Dick and Tommy Traddles, reinforces David's role as pater familias, but does not diminish the importance of Agnes as the Angel in the House, reified by Barnard's final illustration for the novel, in which he translates into the visual medium Dickens' effusion of Agnes as a ministering spirit ("O Agnes, O my soul, so may thy face be by me when I close my life indeed"), but substitutes in the clouds above the couple's heads the beaming visage of Dora with angel's wings and arms crossed on her breast. Thus, Barnard, having had the advantage of access to Patmore's poems and being aware of the convention of "The Angel in the House," elides Dora and Agnes as the presiding "Angel" in David Copperfield's house.
Relevant Illustrated Editions of this Novel (1863 through 1910)
Scanned image and text by Philip V. Allingham. [You may use this image without prior permission for any scholarly or educational purpose as long as you (1) credit the person who scanned the image and (2) link your document to this URL in a web document or cite the Victorian Web in a print one.]
Bibliography
Dickens, Charles. The Personal History of David Copperfield, illustrated by Hablot Knight Browne ("Phiz"). The Centenary Edition. London & New York: Chapman & Hall, Charles Scribner's Sons, 1911 [rpt. from 1850]. 2 vols.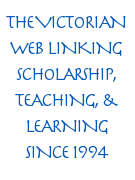 _______. David Copperfield, with 61 illustrations by Fred Barnard. Household Edition. London: Chapman and Hall, 1872. Vol. 3.
_______. David Copperfield. Illustrated by W. H. C. Groome. London and Glasgow: Collins Clear-type Press, 1907. No. 1.
The copy of the Household Edition from which this picture was scanned was the gift of George Gorniak, Editor of The Dickens Magazine, whose subject for the fifth series, beginning in January 2010, is this novel.
---
Created 15 March 2010 Last modified 15 August 2022