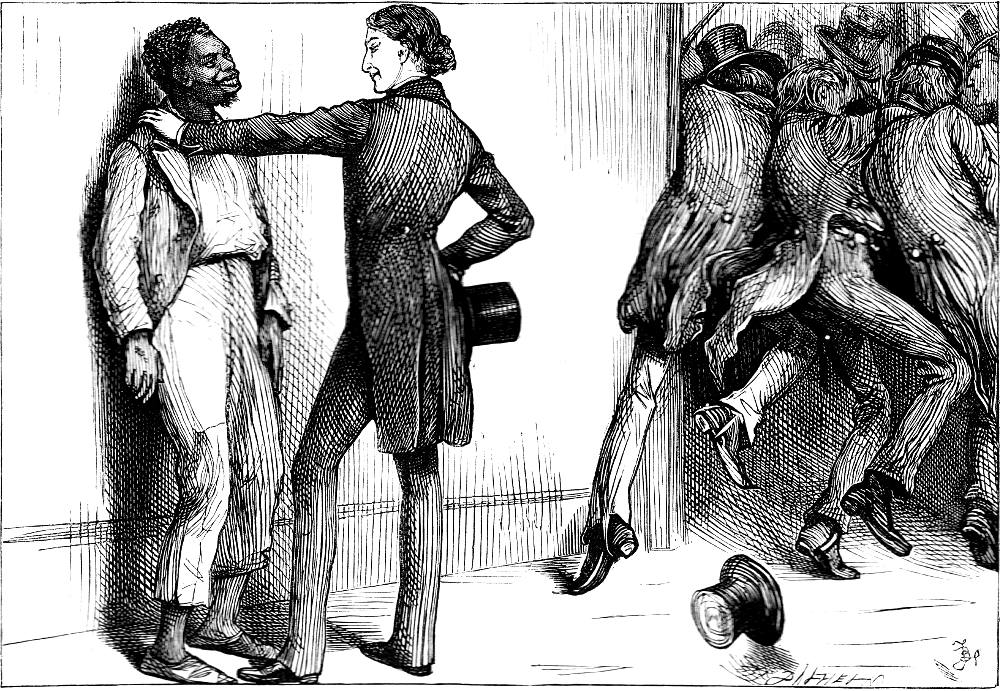 "You're the pleasantest fellow I have seen yet," said Martin, clapping him on the back, "And give me a better appetite than bitters." (1872). — Fred Barnard's twenty-second illustration for Dickens's Martin Chuzzlewit, (Chapter XVI), page 137. [After the discourteous and ill-mannered behaviour of most New Yorkers, Martin is delighted to meet a civil and sanguine servant at Major Pawkins' rooming-house.] 9.4 cm x 13.8 cm. Scanned image and text by Philip V. Allingham. [You may use this image without prior permission for any scholarly or educational purpose as long as you (1) credit the person who scanned the image and (2) link your document to this URL in a web document or cite the Victorian Web in a print one. ]
Passage Illustrated
They were walking back very leisurely; Martin arm-in-arm with Mr. Jefferson Brick, and the major and the colonel side-by-side before them; when, as they came within a house or two of the major's residence, they heard a bell ringing violently. The instant this sound struck upon their ears, the colonel and the major darted off, dashed up the steps and in at the street-door (which stood ajar) like lunatics; while Mr. Jefferson Brick, detaching his arm from Martin's, made a precipitate dive in the same direction, and vanished also.
"Good Heaven!" thought Martin. "The premises are on fire! It was an alarm bell!"
But there was no smoke to be seen, nor any flame, nor was there any smell of fire. As Martin faltered on the pavement, three more gentlemen, with horror and agitation depicted in their faces, came plunging wildly round the street corner; jostled each other on the steps; struggled for an instant; and rushed into the house, a confused heap of arms and legs. Unable to bear it any longer, Martin followed. Even in his rapid progress he was run down, thrust aside, and passed, by two more gentlemen, stark mad, as it appeared, with fierce excitement.
"Where is it?" cried Martin, breathlessly, to a negro whom he encountered in the passage.
"In a eatin room, sa. Kernell, sa, him kep a seat 'side himself, sa."
"A seat!" cried Martin.
"For a dinnar, sa."
Martin started at him for a moment, and burst into a hearty laugh; to which the negro, out of his natural good humour and desire to please, so heartily responded, that his teeth shone like a gleam of light. 'You're the pleasantest fellow I have seen yet," said Martin clapping him on the back, "and give me a better appetite than bitters." — Chapter XVI, "Martin Disembarks from That Noble and Fast-Sailing Line-of-Packet Ship, The Screw, at the Port of New York, in the United States of America. He Makes Some Acquaintances, and Dines at a Boarding-house. The Particulars of Those Transactions," p. 139.
Relevant Illustrations, 1843-1872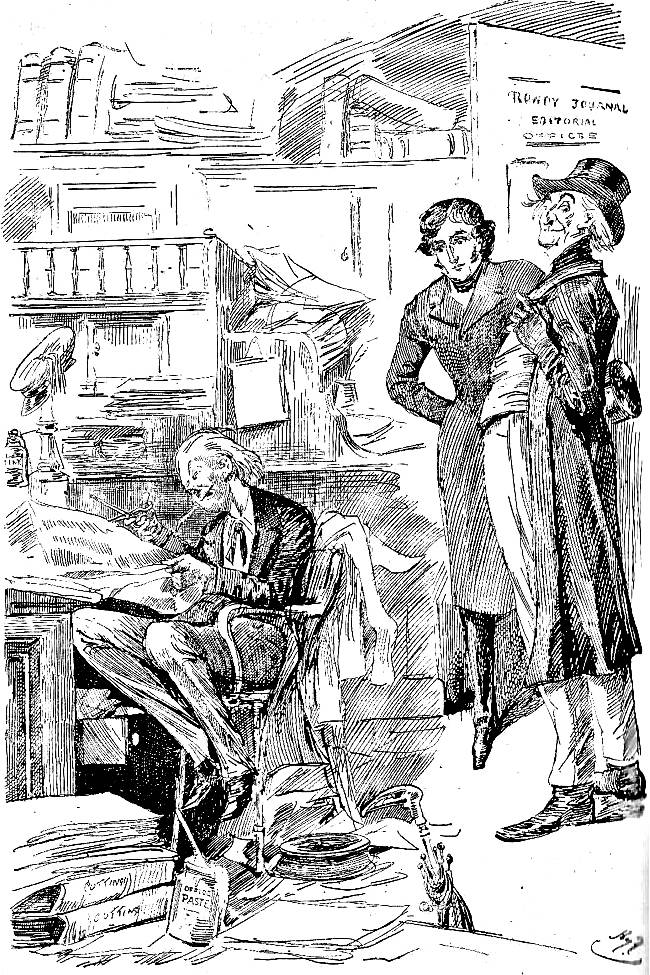 Left: Harry Furniss's version of young Martin's visit to the newspaper's editorial offices, "The Rowdy Journal" Office (1910). Centre: Phiz's support of Dickens's anti-slavery sympathies, Mr. Tapley succeeds in finding a jolly subject for contemplation (July 1843). Right: Sol Eytinge, Jr.'s more appreciative treatment of the newspaper editor, Colonel Diver and Jefferson Brick (1867). [Click on the images to enlarge them.]
References
Bentley, Nicolas, Michael Slater, and Nina Burgis. The Dickens Index. New York and Oxford: Oxford U. P., 1990.
Dickens, Charles. The Life and Adventures of Martin Chuzzlewit. Illustrated by Hablot Knight Browne. London: Chapman and Hall, 1844.
_____. Martin Chuzzlewit. Works of Charles Dickens. Household Edition. 55 vols. Il. F. O. C. Darley and John Gilbert. New York: Sheldon and Co., 1863. Vol. 2 of 4.
_____. The Life and Adventures of Martin Chuzzlewit. Illustrated by Sol Eytinge, Junior. The Diamond Edition. Boston: Ticknor and Fields, 1867.
_____. The Life and Adventures of Martin Chuzzlewit, with 59 illustrations by Fred Barnard. Household Edition, volume 2. London: Chapman and Hall, 1871-1880. The copy of the Household Edition from which this picture was scanned was the gift of George Gorniak, proprietor of The Dickens Magazine, whose subject for the fifth series, beginning in January 2008, was this novel.
_____. Life and Adventures of Martin Chuzzlewit. Illustrated by Harry Furniss. The Charles Dickens Library Edition. 18 vols. London: Educational Book, 1910. Vol. 7.
Kyd [Clayton J. Clarke]. Characters from Dickens. Nottingham: John Player & Sons, 1910.
Steig, Michael. "Martin Chuzzlewit's Progress by Dickens and Phiz. Dickens Studies Annual 2 (1972): 119-149.
---
Last modified 30 July 2016