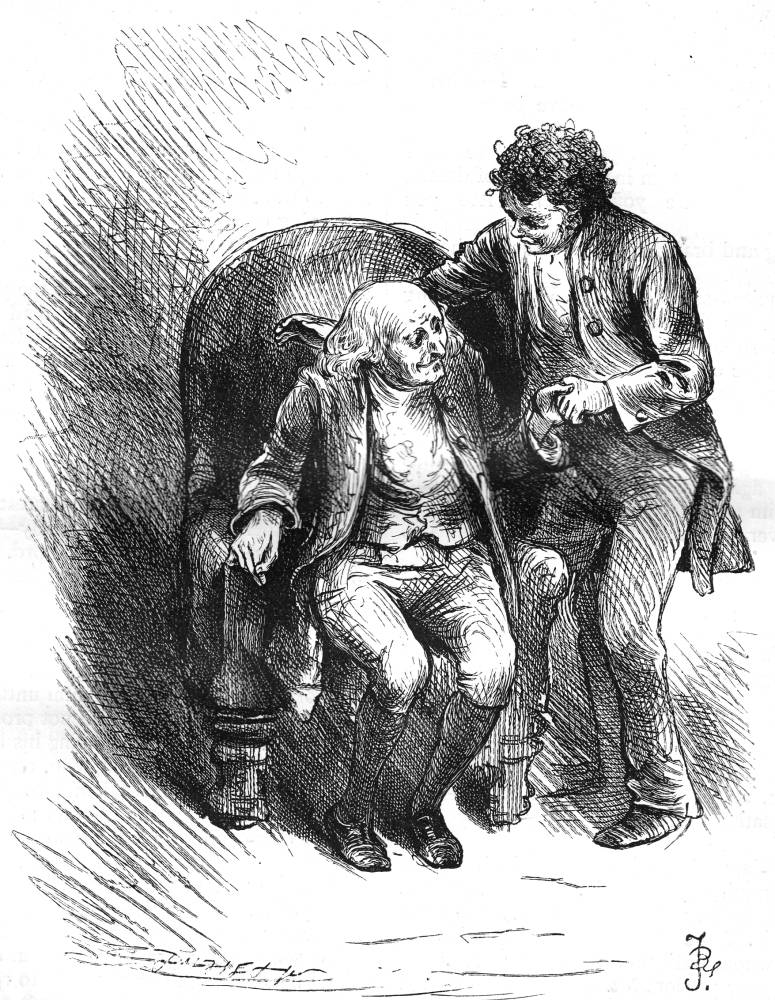 "'What a wonderful man you are, Father! — And how are you, Father? Are you really pretty hearty, though?' said William, shaking hands with him again, and patting him again, and rubbing him gently down again."
Fred Barnard
1878
14 x 11 cm vignetted
[Click on image to enlarge it.]
Scanned image and text by Philip V. Allingham
You may use these images without prior permission for any scholarly or educational purpose as long as you (1) credit the person who scanned the image, and (2) link your document to this URL in a web document or cite the Victorian Web in a print one.
Philip Swidger, William's old father, is functionally important in The Haunted Man. He demonstrates how memory can heal, and he makes the connection between memory and Christmas. It is through him that we learn that it is Christmas Eve. [Parker 250]
Thus, in depicting the restoration of intergenerational amity in the penultimate illustration Barnard has brought us full circle from the opening illustration, when Milly, the Old Man, and William were decorating on Christmas Eve the college's great Dinner Hall for the Christmas Day dinner that is now about to occur. Over the course of reading the pictures and responding to the text we have come to know something of these characters, so that the gentle smile of the old man and the tenderness of his son have additional significance. The pose itself, suggesting both respect and assistance that should come with age as a recompense for parental care, is not described in the text (although as Milly enters "the old man was sitting in his chair in the chimney-corner," William does not attempt to help him rise from his chair), but is an appropriate extension of the text that Dickens provided his Household Edition illustrator.
The Passage Illustrated in "The Gift Reversed"
"That's what I say myself, father," returned his son. "I have been in an ugly sort of dream, I think. — How are you, father? Are you pretty well?"
"Strong and brave, my boy," returned the old man.
It was quite a sight to see Mr. William shaking hands with his father, and patting him on the back, and rubbing him gently down with his hand, as if he could not possibly do enough to show an interest in him.
"What a wonderful man you are, father! — How are you, father? Are you really pretty hearty, though?" said William, shaking hands with him again, and patting him again, and rubbing him gently down again.
"I never was fresher or stouter in my life, my boy."
"What a wonderful man you are, father! But that's exactly where it is," said Mr. William, with enthusiasm. "When I think of all that my father's gone through, and all the chances and changes, and sorrows and troubles, that have happened to him in the course of his long life, and under which his head has grown grey, and years upon years have gathered on it, I feel as if we couldn't do enough to honour the old gentleman, and make his old age easy. — How are you, father? Are you really pretty well, though?" ["Chapter Three," British Household Edition, p. 195]
Barnard's illustration of William and "The Old Man" compared to "Milly and the Old Man" by Frank Stone (1848)
Although Dickens's original illustrators — John Leech, Clarkson Stanfield, John Tenniel, and Frank Stone — were not much interested in "The Old Man," Philip Swidger, father of William and father-in-law of Milly, Fred Barnard in his short series of eight illustrations depicts the old man twice, individualising him and eliciting the reader's sympathy for him. In both the initial illustration and the penultimate wood-engraving, Barnard shows Philip with his son William, whereas Frank Stone in the 1848 edition depicted him just once, with Milly, in the act of decorating the great Dinner Hall of the sixteenth-century college — and gives the reader little insight to the old man with his slightly stooping back and eighteenth-century great-coat towards the viewer.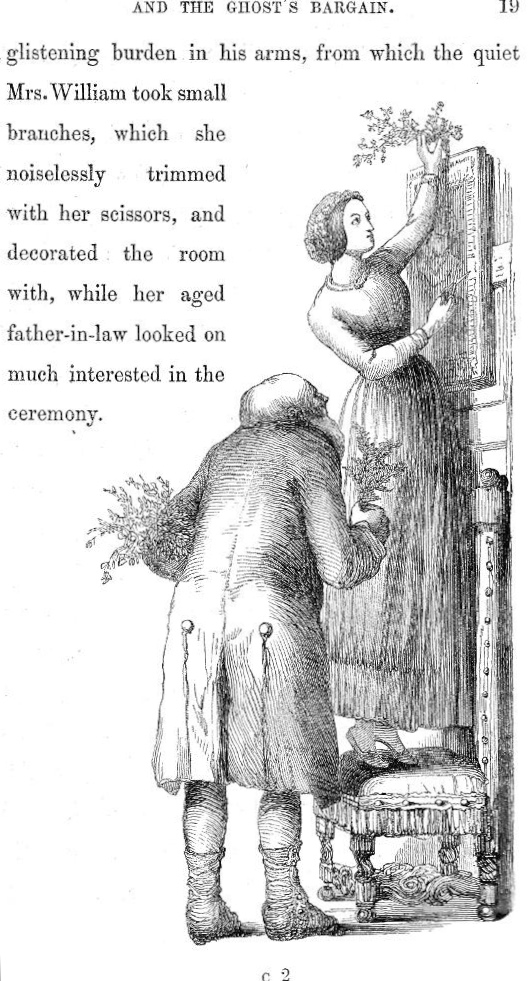 Stone's elegant study versus Barnard's modelled group portrait and Abbey's more detailed treatment — left: Stone's "Milly and The Old Man"; right, Abbey's "I'm eighty-seven!"
The original Frank Stone cartoon of 1848 does not reveal much about the old man, whose wonderful memory and central role in the Swidger family are thematically associated with the novella's motto "Lord, keep my memory green." Rather, Stone, like his fellow Haunted Man illustrators, is much more interested in the sanctified figure of "Mrs. William" or "Milly," whose comforting presence and cheerful, open, uncomplicated nature make her the obvious foil to the gloomy intellectual protagonist and his baneful double, the Phantom. She appears, in fact, in all three of Stone's painterly compositions: "Milly and The Old Man," "Milly and The Student", and "Milly and The Children". Whereas the other Household Edition illustrator, E. A. Abbey, has little interest in either the Old Man or his saintly daughter-in-law (for they appear just once in his brief program, and merely fill out a scene emphasizing Redlaw's depressed mental state in the midst of the Swidgers' almost sacramental observation of the festive season at Redlaw's Christmas Eve dinner), the original illustrators have focused on Milly's positive relationships with the Tetterbys, Longford, the Boy, and Redlaw, as if she, like Lucie Manette in A Tale of Two Cities ten years later, is the "Golden Thread" whose beauty and kindness connect the story's other characters as a unifying principle. If Milly, surrounded by children and shadowed by imaginary figures from fairy tales, is the story-teller before the fire in the "Illustrated Page to Chapter One", she appears half-a-dozen times seventeen illustrations, as many times, in other words, as Redlaw himself.
Perhaps owing to his having read John Forster's Life of Charles Dickens and his awareness of the close bond between the profligate but quixotic John and his brilliant son, Barnard focuses in this and his initial illustration on the father-son relationship. Tenderly the grownup child takes his aged parent by the hand and supports his back as he assists the eighty-seven-year-old (appropriately attired in the fashion of the eighteenth-century) in rising from his throne-like chair.
Father and son are restored to mutual satisfaction with each other, as the cancellation of Redlaw's "gift" enables the Old Man to revert to his positive perception of himself, despite his advanced age, after he has learned that a wholly pragmatic and Utilitarian perspective does not make life more bearable, let alone enjoyable. For both father and son, as Deborah A. Thomas remarks, " memories are humanising impulses" (58) that enable us to bear life's burden. Old Philip's spiritual regeneration underscores the depth of Redlaw's own. However, the constraints of the form of the novella, its brief compass and limited opportunities for character development, result in William's inane "tag line" with his father becoming dreadfully forced and artificial — unlike the genuine sympathy communicated through Barnard's scene, which adds juxtaposition, emotion, movement, and above all authenticity to Dickens's cloying dialogue.
Repetition is used cumulatively to build up our sense of Redlaw's affliction. In the presentation of the Swidger family it is used for little more than stylistic ornament. It is easy enough to feel affection for William Swidger, the garrulous, amiable college lodge-keeper. We can accept his repetitious gossip about his wife and his innumerable Swidger relations. But his repetition of the phrase, "That's what I always say, sir" — plus variants — amounts to no more than arbitrary badge of identity. [Parker 250]
Barnard, then, eschews the maudlin sentimentality of the scene by eliminating the effervescent and saccharine sweetness of Milly, the "quiet Mouse" (195) who has become through juxtaposition and obvious repetition the "Angel in the House."
References
Brereton, D. N. "Introduction." Charles Dickens's Christmas Books. London and Glasgow: Collins Clear-Type Press, n. d.
Cohen, Jane Rabb. Charles Dickens and his Original Illustrators. Columbus: University of Ohio Press, 1980.
Cook, James. Bibliography of the Writings of Dickens. London: Frank Kerslake, 1879. As given in Publishers' Circular The English Catalogue of Books.
Davis, Paul. Charles Dickens A to Z: The Essential Reference to His Life and Work. New York: Facts On File, 1998.
Dickens, Charles. The Haunted Man and The Ghost's Bargain. Christmas Stories. Il. E. A. Abbey. The Household Edition. New York: Harper and Brothers, 1876. Pp. 143-175.
Dickens, Charles. The Haunted Man and The Ghost's Bargain. Christmas Books. Il. Fred Barnard. The Household Edition. London: Chapman and Hall, 1878. Pp. 157-200.
Dickens, Charles. The Haunted Man and The Ghost's Bargain. Il. John Leech, John Tenniel, Frank Stone, and Clarkson Stanfield. London: Bradbury and Evans, 1848.
Hammerton, J. A. The Dickens Picture-Book. London: Educational Book, 1912.
Kitton, Frederic G. Dickens and His Illustrators. 1899. Rpt. Honolulu: U. Press of the Pacific, 2004.
Parker, David. "Christmas Books and Stories, 1844 to 1854." Christmas and Charles Dickens. New York: AMS Press, 2005. Pp. 221-282.
Patten, Robert L. Charles Dickens and His Publishers. University of California at Santa Cruz. The Dickens Project, 1991. rpt. from Oxford U. p., 1978.
Slater, Michael. "Introduction to The Haunted Man." Dickens's Christmas Books. Harmondsworth, Middlesex: Penguin, 1971. Rpt., 1978. Vol. 2: 235-238.
Slater, Michael. "Notes to The Haunted Man." Dickens's Christmas Books. Harmondsworth, Middlesex: Penguin, 1971. Rpt., 1978. Vol. 2: 365-366.
Solberg, Sarah A. "'Text Dropped into the Woodcuts': Dickens' Christmas Books." Dickens Studies Annual 8 (1980): 103-118.
Thomas, Deborah A. Dickens and The Short Story. Philadelphia: U. Pennsylvania Press, 1982.
---

Victorian
Web

Illus-
tration

Christmas
Carol

Fred
Barnard

Next
Last modified 5 November 2012