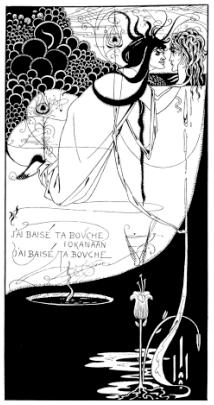 "J'ai baisé ta bouche[,] Iokanaan"
Aubrey Beardsley, 1872-1898
1894
Study of Salome for The Studio
"J'ai baisé ta bouche[,] Iokanaan" — "I kiss your lips, Iokanaan [Jonathan]" won Beardsley the commission to illustrate Wilde's Salome. Its published version, now entitled The Climax, removed many of the nervous calligraphic lines, thereby producing a much stronger image: Beardsley removed dialogue — in part, of course, because this version of the play appeared in English rather than the original French, and he also removed the peacock feathers and lines that cluttered what became a characteristic Beardsley white space. He also simplified the flower at lower right and removed lines in the flow of blood. Salome's hair no longer has spikey edges, and the long vertical lock has disappeared, too.
Related Material